The AFL Update: Week 2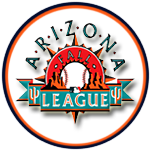 After two weeks of play, the Peoria Javelinas are 5-5 and in 2nd place in the AFL National Division after playing the 1st place Surprise Rafters to a 9-9 tie last night. That's right, just like in the all star game, the AFL has ties! If that doesn't tell you how unimportant the wins and losses are, I don't know what will.
Jason Kipnis
-2B: Kipnis is hitting just .161, but does have 2 HR and 9 RBI. He's walked twice, struck out four times and stolen a base. By all accounts, he's had a lot of tough-luck outs, hitting the ball hard but right at people. Kipnis has seen a little more time at 3B in addition to 2B, but that's purely to get him AB's with more second basemen than third basemen on the roster. He did make a throwing error from 3B his last game there. In case you haven't already seen it, Kipnis is blogging about his AFL experience for MLB at
http://jasonkipnis.mlblogs.com/
.
Cord Phelps
-3B/2B: Phelps has hits in 4 of the 5 games he's played in AZ, and is batting .273 (6-22) with a 2B, 3B and an RBI. He has five walks to go with five K's, and has two stolen bases without being caught. The walks are helping him to a .816 OPS.
Adam Abraham
-3B/C: Abraham is on the taxi squad, which means he's only eligible to play on Wednesdays and Saturdays. He's 4-12 on the season with a 2B, one RBI, 2 BB and 2 K. He was behind the plate on Saturday, and threw out a baserunner trying to steal. For more on Abraham, check out
Tony's AFL Spotlight
article.
Roberto Perez
-C: Perez has played just four games for the Javelinas, hitting .200 (3-15) with a 2B and 2 RBI. He has 2 K and a BB.
Scott Barnes
-SP: Barnes got the start for Peoria on Saturday the 23rd, and threw the first 4 innings of a Javelinas victory. He struck out three, walked two and gave up an earned run on five hits. So far in the AFL, Barnes has pitched 10 2/3 innings and has given up 6 ER, 11 hits, walked 2 and struck out 14. The 14 K lead the AFL, and 5 of the 6 ER given up were in his first start where he was also the victim of some bad luck.
Eric Berger
-RP: Berger has had just one appearance since last week's AFL update, and he continues to sport a 0.00 ERA despite living on the edge. He threw 2/3's of an inning on Oct. 21, walking three, striking out one and giving up an unearned run. Berger has now allowed 7 baserunners in 2 2/3 innings, but no earned runs. He does have 4 K's in his 3 appearances as well.
Chen Lee
-RP: Lee has been far more hittable in Arizona than he was in Akron. In 5 innings over 4 appearances, Lee has given up 5 earned runs on 7 hits and walked a batter. One of the 7 hits was a HR. His record stands at 0-1, and he blew a save opportunity back on Oct. 21 as well as last night. He does have 6 K's in his 5 innings, so he's missing some bats. But when he isn't missing bats, he's getting hit hard.
Bryan Price
-RP: Price has also struggled in the dry Arizona air, as he currently has an ERA of 12.27. After his initial appearance where he gave up an unearned run, Price has allowed 5 ER in 1 2/3 innings. He's allowed 12 baserunners in 3 2/3 innings and struck out 2.
Travis Turek
-RP: Turek has appeared in one more game since the last AFL update, pitching a single inning and giving up one run on one hit. For the season, the taxi squad pitcher has thrown 2 innings, given up one run on two hits and struck out a batter.
In non-Indians news, #1 overall pick Bryce Harper played in his first two AFL games for the Scottsdale Scorpions this past week. Harper is on the taxi squad, and got the start in both games he was eligible to play in. He went 3-8 between the two games with a 2B, 2 RBI and a K. The 2B just missed being an opposite-field HR, and several of his outs were loud outs. Harper turned 18 earlier this month, and the fact that he can hold his own in the AFL bodes well for his future.
User Comments
No comments currently. Be the first to comment!