The AZL/DSL Rookie Report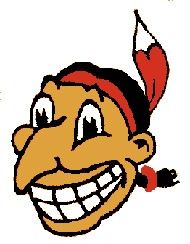 Arizona League Indians Report
Record: 11-11, 3rd place, 0.5 games back
Last Five Games: 2-3
Team Hitting: .277, 7th out of 13 teams
Team Pitching: 3.96, 3rd out of 13 teams
Game Recaps
Wed., July 13 - OFFThurs., July 14 - L Reds 2-6 (L Robbie Aviles 0-1)
Robbie Aviles threw just 2/3 of an inning to start the game giving up 2 earned runs. Felix Sterling threw 6 1/3 innings of relief striking out 8 while allowing 2 earned runs on 2 hits. The Indians made 4 errors and catcher Charlie Valerio was 1-3 with a double.
Fri., July 15 - W Dodgers 5-4 (W Manuel Carmona 1-0)
Jake Sisco started and threw what has been his customary 3 innings allowing just 1 earned run. Manuel Carmona got the win, but that was after he blew the save opportunity on the top of the 9th allowing the Dodgers to tie the score at 4-4. Third baseman Robel Garcia hit a walk-off sacrifice fly to end the game in the bottom of the ninth for the Indians. DH Jorge Martinez was 3-5 with 2 runs scored and 1B Leonardo Castillo was 1-4 with 2 RBI.
Sat., July 16 - W Reds 10-8 (W Elvis Araujo 4-1)
Elvis Araujo got his 4th win of the season in an unimpressive start as he allowed 6 hits and 5 earned runs in 5 innings of work. Rafael Homblert threw 3 innings of relief allowing just 1 run while striking out 5. 2B Jose Ramirez was 2-4 with 3 RBI, 3B Robel Garcia was 2-4 with 2 RBI, and LF Hunter Jones had a hit and 3 RBI.
Sun., July 17 - L Dodgers 4-8 (L Robbie Aviles 0-2)
Aviles got the ball first again and threw just 1 inning allowing 1 run. Moisses Ramirez made his stateside debut after nearly 3 years playing for the DSL Indians. He went 3 1/3 innings allowing 1 hit and 1 unearned run while striking out 6. 1B Leonardo Castillo led the offense going 2-5 with a 2-run home run and 2 RBI and 3B Robel Garcia also had a solo home run. Luigi Rodriguez also had 3 hits for the AZL team.
Mon., July 18 - OFFTues., July 19 - L D'Backs 6-8 (L Felix Sterling 2-3)
Felix Sterling gave the Indians 5 solid innings, but the bullpen let him down. He allowed just 3 hits and 1 earned run while strking out 9 with three walks. Leonardo Castillo continued his strong week going 2-4 with 2 RBI and Luigi Rodriguez was 3-4 with a 2B and 2 runs scored.
Notes
Luigi Rodriguez (OF)
- 9/22 (.409) over the last 5 games raising his average to .400 (24/60) with 2 home runs and 10 RBI. Rodriguez has 24 hits in just 17 games played for the Indians. His average is 4th in the AZL League and his SB (8) are 5th. Tony did a nice article on Luigi last week.
Robel Garcia (3B)
- Robel was 4/12 (.333) with a HR and 5 RBI over the last week. He's now hitting .322 on the season.
Leonardo Castillo (1B)
- Had a breakout week going 5/17 (.294) with a HR and 7 RBI in 5 games. Hitting .260 on the year with 13 RBI in the early going.
Elvis Araujo (SP)
- Got another win on the week giving him an AZL league leading 4 for the season. His ERA is also ranked 9th best in the league (2.57)
Manuel Carmona (RP)
- The reliever is tied for 4th in the league with 31 strikeouts and is 5th in the league with a 1.89 ERA.
Transactions
7/18 - Moisses Ramirez assigned to the AZL Indians from the DSL Indians
Dominican Summer League Indians Report
Record: 19-22, 6th Place, -7.0 games back
Last Six Games: (4-2) - Just 25 games left in their season (ends 8/20)
Team Hitting: .209, 31st out of 33 teams
Team Pitching: 3.27, 7th out of 33 teams
Game Recaps
Weds., July 13 - W Pirates 4-1 (W Jeffry Cleto 2-2)
Cleto threw 6 strong innings allowing just 3 hits and 1 earned run while striking out 4 and walking none. Moisses Ramirez got his 7th save of the season throwing 3 shutout innings and he got his promotion to the AZL team later in the week. 3B Juan Herrera was 2-4 with a 2B and 2 RBI.
Thurs., July 14 - W Rays 10-9 (W Estevenson Encarnacion 4-1)
Breily Puerta had a terrible start for the Indians and Encarnacion held serve for 4 solid innings in picking up the win. Felix Lora (OF) was 3-5 with a 2-run HR and 6 RBI and 3B Juan Herrera was 3-5 with 2 runs scored.
Fri., July 15 - OFFSat., July 16 - L Mariners 0-4 (L Anderson Polanco 2-3)
Polanco threw 4 innings allowing just one earned run, but the offense had just 3 hits on the day.
Sun., July 17 - L Yankees2 1-10 (L Alexis Paredes 1-3)
No outstanding pitching performances to disucss in a 10-1 beating. Juan Herrera continued his hot streak going 2-4 while playing shortstop.
Mon., July 18 - W Mets2 4-1 (W Yeiker Lovera 3-1)
Lovera had 5 shutout innings for the Indians and he lowered his ERA to 1.46 (10th in the DSL). Besides having a long name, Estevenson Encarnacion got the save, his first of the seaosn. Juan Herrera was 2-5 with an RBI and 3B Claudio Bautista was 2-5 with an RBI as well.
Tues., July 19 - W Red Sox 4-3 (W Jeffry Cleto 3-2)
Cleto got another win going 5 innings, allowing just 2 hits and 1 unearned run. Estevenson Encarnacion, who needs a nickname - a short one, got his 2nd consecutive save and it appears that he may be taking over for the promoted Moisses Ramirez as the closer. Once again, Juan Herrera led the way going 2-5 with 2 doubles, and Claudio Bautista was 2-4 with 2 RBI.
Notes
Claudio Bautista (3B)
- 7/21 (.333) for the week with 5 RBI. A midseason addition, Bautista is now hitting .321 (17-53) on the season with 10 RBI.
Juan Herrera (3B/SS)
- Herrera had a great week going 12/27 (.444) with 3 doubles and 3 RBI. He's now hitting .291 on the year (34/117) with 11 RBI and an OBP of .399.
Felix Lora (OF)
- Just 5/20 (.250) on the week, but with a HR and 8 RBI. Just a .217 hitter on the season (30/138), Lora leads the team with 2 HR and 19 RBI.
Jeffry Cleto (SP)
- Cleto got 2 wins in 2 starts and threw 11.0 innings, allowing 5 hits, while striking out 7 against 2 walks.
Estevenson Encarnacion (CL)
- A win, and 2 saves in 6 games is a great week. He's made 15 appearances this season going 4-1 with a 2.12 ERA and 2 saves.
Transactions
7/18 - P Eliezer Sanchez assigned to the DSL Indians
7/18 - P Moisses Ramirez assigned to the AZL Indians from the DSL Indians
Follow Tony and the Indians Prospect Insider on Twitter @TonyIPI. Also, his latest book the 2011 Cleveland Indians Top 100 Prospects & More is available for purchase for $20.95 to customers in the US (shipping and handling extra).
User Comments
No comments currently. Be the first to comment!