The Draft's of the 2000's
The Indians window for contention was supposed to reopen during the 2012 season. The Tribe used several avenues to get to this "window." This included players that were added in trades, players that were signed as free agents, and finally, players that were drafted over the past several years. All the acquisitions added together were supposed to set the team up to compete for the division.
While they were able to compete for the first half during the past two seasons, the second half collapse was so bad, they ended up with the second worst record in the American League. There are a lot of reasons for this collapse, but a major factor in this failure was the team's inability to draft any major league talent for a majority of the 2000's.
Since I have been using the stat WAR recently, this seemed like a simple way to look at drafts. If we sum up the total players from each draft, it would give us a number which would allow for a pretty easy way to evaluate drafts. I then went back through the 1980's and used excel to get a look at these numbers. The issue with this though is that since WAR has an accumulation value, it means that the 2000's drafts just have not had the time to accumulate value like the 80's have. These numbers are also just the players drafted, not signed, which I was able to get thanks to baseball reference. Still, some of these drafts are just plain and simply never going to accumulate any value (2007).
This graph takes and shows the value of Tribe drafts over the years, as you can see the peak values from the late 1980's, and the depression of value since then outside of a few outlying drafts.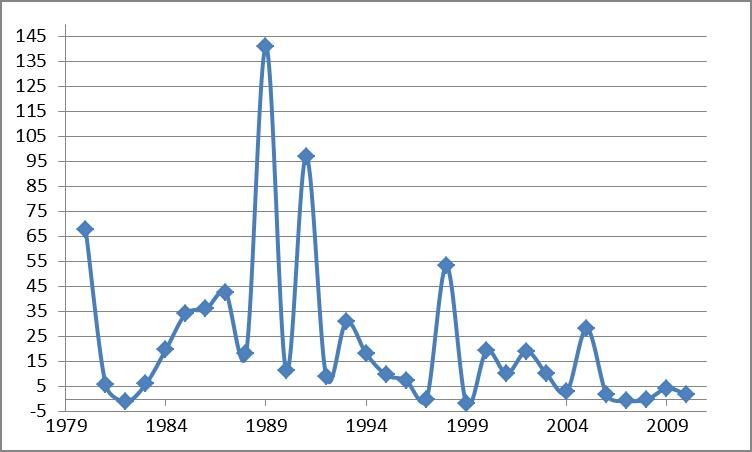 So if we look just at the raw total per decade, it goes as expect with the 1980's being the highest with a total of 292, with over a third of the value being Jim Thome and Albert Belle. The 1990's have the second highest value at 224.2, with over half being Manny Ramirez and CC Sabathia. Then come the 2000's that come in with a value of 97.7, with over a third of it being Tim Lincecum and Jeremy Guthrie.
I know people are already pointing out that Lincecum never played with the Indians, but the Indians drafted him the year before he became a top 10 selection. He took a quantum leap between those years, but the Indians still thought enough of him to draft him. This article is about picks, not who played with the Tribe, as Guthrie hardly played for the Indians either. These are two of the major problems the Indians had during the 2000's when drafting: failing to sign talent and failing to identify their own talent.
During the 2000's, the Indians have drafted seven players who have a five or better WAR for their career. They failed to sign Brian Wilson, Desmond Jennings, and Tim Lincecum. They failed to properly evaluate Kevin Kouzmanoff,Luke Scott, Ryan Church, and Jeremy Guthrie. The three players the Indians received when those four players were lost were Scott Stewart , Jeriome Robertson, and Josh Barfield. Two of them failed to last a whole season, and the third, Barfield, was a complete bust.
If you were curious as to who are the top six picks of the 2000's to contribute to the Indians, here they are. They are in order with their total values included: Jason Kipnis (4.8), Vinnie Pestano (4.2), Ryan Garko (2.5), Aaron Laffey(2), Ben Francisco (1.9), and Jensen Lewis (1.9). Of those six players, two have not played in the majors since 2010, and another two have been backups for other teams. It is hard to not look at the list and realize how the draft has been an issue. Remember, these are the top talents to help the Indians over the last decade of drafts.
The First Round Failures
In the years from 2000-2003, the Indians owned 12 first round picks. Think about that for a second. They averaged three first rounder's a year for four years. This was during the first rebuilding period, after the 1990's run. The Indians had a golden chance to restock and replenish. The pain of this is that the front office had done a good job of getting pieces of a possible championship team together thanks to other moves.
They made the trades to get Sizemore, Lee, and Pronk. Victor and Peralta were already in the system, and CC and Westbrook were in the majors. The core of this team was in place. If they could have just hit on three of those picks, I think there is a good chance they might have won the big one in 2007.
So let's look at each of those years, and see where things went wrong. Hindsight is 20/20, but still a big 0-for-12 in 4 years, including high picks leaves a lot to question. They produced only five players who even reached the majors, and just one who became an everyday player.
The 2000 draft was considered a weak one, and the Indians had the 26th and 37th pick, they had gotten a supplemental pick for losing Mike Jackson. It's hard to blame them for going for upside and taking a pair of high schoolers in Corey Smith and Derek Thompson. Atlanta went the exact same route taking a high school shortstop and starting pitcher at pick 29 and 38 in Adam Wainwright and Kelly Johnson. The Indians draft picks played a total of 5 games in the majors, while Atlanta's are both still playing in the majors, 12 years after being drafted.
In 2001, the Indians owned four draft picks. This was because of the losses of Sandy Alomar, David Segui, and Manny Ramirez. They owned picks 17, 27, 35, 43, and once again went for high school players with every one of the picks. They drafted Dan Denham, Alan Horne, JD Martin, and Mike Conroy, and from that group only Martin reached the majors. He pitched in 34 games for the Nationals over two years. The Indians passed on a high school 3BDavid Wright three times before the Mets took a gamble on him. In fairness it was not a strong first round, but at least every pick between 18-26 made the majors. The bookended picks of that stretch who failed to make the majors were both Indians picks.
The 2002 draft will forever be known as the Moneyball draft. If you read the book, they talk about how the number one pitcher on their board was Jeremy Guthrie but they knew they could not afford to sign him, so he was off the A's draft board. The Indians drafted Guthrie at pick 22, which he fell thanks to his signing demands. Guthrie's three million dollar bonus is still the highest draft pick bonus the Indians have ever given.
The Indians had two more picks after him for the loss of Juan Gonzalez, and the failure to sign Alan Horne from the year before. The Guthrie pick ended up being good, and he is the second best player the team drafted in the 2000's. Yet he actually never helped this team, and unlike a Brandon Phillips, the Indians got nothing for Guthrie when they gave up on him. The next pick was Matt Whitney, who started the injury issues which began to plague promising players. After Whitney, they took high school hitter Micah Shilling, who PGcrosschecker said was an athlete with one of the best bats in the country.
Shilling's power was shockingly bad. In five years, he hit 13 homeruns and never made it to Double-A. He got out-"Micah-ed" by Micah Owings, who went ten picks later. In the second round that year, Joey Votto, Jon Lester, Jesse Crain, Jonathon Broxton, Brian McCann, and Brandon Weeden were all selected.
In 2003, the Indians had three picks, thanks to the loss of Jim Thome, and were also picking 11th, thanks to their first bad season in quite a time. I mentioned how Matt Whitney was the beginning of injury plague that struck the Tribe. This draft was the culmination of it.
The first pick for the Tribe was one of the best hitters in college baseball in Michael Aubrey, who was considered aMark Grace clone at the time. Many believed that he was going to win multiple gold gloves. In his first two years, he moved quickly and looked like a guy who would be the Indians first baseman some time in 2005. Instead, he managed to play in less than 100 total games over the next three years.
The last pick was the much heralded and discussed Adam Miller, a flame thrower who ended up being one of the top 20 prospects in baseball. His injury issues began during the same time that Aubrey's, but he managed to come back better in 2006. He was seen as the long term replacement to CC, and one of the top pitching prospects in baseball. Then, he just lost his career to injuries, and at 27 is now pitching in the independent league, never having reached the majors.
The pick between them was Brad Snyder, the best player in the MAC who never could cut down on his strikeouts, but was seen as a guy who had five-tool potential. They passed on a local pitcher twice in Chad Billingsley, who if they had taken at 17, would have given the them a pair of super interesting high school arms. Still the story of the draft is the injuries, which lead to a lot of what ifs.
The Year they should have passed
The Indians 2007 draft was the rock bottom, and as it right now, has a negative WAR of-.5. If you look at those draft picks, only TJ McFarland and Kyle Landis have any chance of making it to the majors. Right now this draft is actually costing this team wins, that's how bad it is. At this point it would have been better for the Indians to have not even made a pick.
They had the 13th pick, and selected a player (Beau Mills) whose father is now a coach for the Tribe (Brad Mills). They cut four of their top ten picks after only three seasons, and failed to sign another. The first ten picks are the most important, and the Tribe had lost half of those picks within three years.
This was not bad, it was awful. It was a complete failure of scouting and drafting. This is a draft were the Indians cut a majority of the players, and not one player has shown that he will be able to even be a player who bounces from the minors to the majors. The positive was the Indians seemed to learn a lesson after this draft, and the Indians started to spend more, scout better, and take more chances.
So where are we now?
The Indians' drafts have seemingly improved, as the front office is taking a more risk-reward approach. The 2010 draft has already produced the best player the Indians have drafted, developed, and played since CC Sabathia, in Jason Kipnis.
The ultimate in this improvement to me was the 2011 draft, where the Indians selected Francisco Lindor, a blue chip player who brought some much needed star player to the Indians minors. On top of that, I have stated many times that I think this draft will produce at least six major league players, and to me that even feels conservative.Cody Allen has already made the majors for this draft. I expect Shawn Armstrong will make it next year, and there is a lot of talent down the road. This was a draft where the Indians had a plan, scouted, signed, and added top talent.
The only problem is that Major League Baseball changed their draft rules after this draft. The idea was to help make it easier for smaller market teams to sign the best players, thanks to the draft pool system. Yet it actually does the opposite, as the small markets teams tended to spend the most in the draft, since they can't compete in free agency. This change really kills a team like the Indians, who were spending freely, and taking chances. The 2012 draft, the first with the pools, the Indians spent more than half as much as they had spent in 2011.
Next season, the Indians will have their first top five selection in a draft since they took Drew Pomeranz, and it will be their third highest selection since 1990. Picks this high give a team a chance to add a star, and I have faith that they will do just that. In Mark Shapiro's recent interview, he recognized and spoke on this teams failures to draft, but I think the Indians are taking the right steps, and the drafts have improved over recent years.
Speaking of drafts remember to follow this site though out the lead up to the draft this year. No one has more coverage specifically about the Indians or will have more information on all of the Indians picks.
Follow Jeff on Twitter @jeffmlbdraft, or email him at jellis121@yahoo.com
User Comments
Willie
November 13, 2012 - 5:38 PM EST
Alex White was a qk moving college arm. IF the Tribe missed him then so did every one else. Just saying players like that are rare. White seemed a safe solid pk when chosen. Btw, White could still become a solid ML arm no comparison to Trout at all but few if any would be. It's a moot point to point to Trout, players like that are just so rare.
Pete Podnar
November 12, 2012 - 11:04 PM EST
So I'll say it since nobody else has, "Why didn't the Indians fire John Mirabelli?"

I think we're encourged by Brad Grant but even with him, I'd ask some tough questions like: Brad, in the 2009 draft, what did your scouts and cross-checkers say about Mike Trout and given their analysis, what made you rate him lower than Alex White?

You can't get better until you learn from the mistakes of the past
Rocky55
November 12, 2012 - 10:09 AM EST
Agree generally with what Homer said. The thing that I'd like to hear from the org is that they liked Naquin better than Shaffer, Wacha & Stratton, all of whom were available when we picked, and all of whom our boardies would have preferred to Naquin. I've never read any ringing endorsement from the FO of Naquin but if I read that they really liked him better than the other available & similarly priced options I'd give them the benefit of the doubt. Re the rest of the '12 Draft, I especially liked the Baker pick although he's no sure thing. Big upside though. The Brown pick seems solid also.

I've been pretty happy with Brad Grant's job so far. Maybe it's just the contrast with previous drafts but he's getting guys to MLB. Big improvement but the bar wasn't set very high.
Adam
November 12, 2012 - 9:36 AM EST
I still just think that even with the new spending rules, the best player available rule should still apply in the first round. There were a handful of guys still available that Baseball America had ranked well ahead of Naquin heading into the draft. I don't hate the pick, I think he would have been a good choice in the supplemental round, but I just think it was a chance we missed to add a real impact player to the system. Giolito would've been the only arm in the entire organization that truly profiles as a future ace. There's a ton of risk in taking him obviously, but being risk-adverse is what has our farm system in such bad shape to begin with.
Rich
November 12, 2012 - 9:27 AM EST
"This [2007 draft] was not bad, it was awful. It was a complete failure of scouting and drafting...The positive was the Indians seemed to learn a lesson after this draft, and the Indians started to spend more, scout better, and take more chances."

It's a shame it took seven years of total failure for the Indians to realize they needed to "spend more, scout better, and take more chances". And once the necessary changes were made, it still takes 4-5 years for the results to start showing up at the ML level, except in a rare cases like Cody Allen.

The question is whether they really are scouting better since 2007. To be fair, they had a lot of bad luck prior to that with injuries to high picks, especially Whitney, Aubrey, and Miller, but they also used high picks on "safe" prospects with high floors and low ceilings like Sowers and Mills. And maybe Naquin.
Homer
November 12, 2012 - 8:39 AM EST
My only knock on the 2012 draft is the Tyler Naquin pk. I get the fact the Tribe reached on Naquin who I think develops into a Gerardo Parra type---light hitting OF that can man any of the 3 OF spots. Naquin also fell into the organizational value slot...Naquin is a middle of the diamond player (CF) and signed underslot with a likely quick ascent to the majors bc he is a polished hitter, with solid D and one of the best OF arms in the minors.
I really like Mitch Brown who I think could develop into a 2/3. He's a mature kid with a solid build and strong arm.
Keiran Lovegrove tall skinny kid with the potential to develop into a 2/3. Lovegrove could add a few pounds and a cpl mph on his FB.
D'Vone McClure is a toolsy OF, personally I really like the pk. I think he develops into a Desmon Jennings type OF.
Dylan Baker is another nice pk by the Tribe. He had first rd talent but fell to the fifth rd. He eventually signed underslot, which I think kind of surprised some.
The 2012 draft as a whole could offer the Tribe some nice pieces and could be one of the better drafts in recent yrs in the long run. The Tribe did take several gambles in the middle and late rds that didn't come through, but overall the sheer numbers from this draft seem pretty solid when you consider the whole.
The kicker is many of us fans look and see guys like Lucas Giolitto -specifically- bc of his FOR top 5pk potential, Matt Smoral, Michael Wacha, Lucas Sims, Lance McCullers, Chris Stratton, Stephen Piscotty, and Richie Shafer as guys that would of / could of been solid / better pks.
Overall, I think it will be a productive draft but at the same time I would have preferred the Tribe grab a guy like Michael Wacha over Naquin or take the gamble with Giolito.
At some point this club has to step outside the box and take some risks. I get all the reasons why they went Naquin. IMO it simply came down to adding as much talent as possible and at the same time trying to play it safe. I think one influencing factor we overlook is the void of talent that has been present in the org. if the upper and lower levels had more talent the club would have been more capable of taking a chance.
Tony
November 12, 2012 - 1:11 AM EST
Nice piece here by Jeff. Kudos.

I'm not Jeff, but I think the 2012 Draft is encouraging. They may not have made a sexy 1st round pick, but there is a lot to like from that point forward. I think they did well in finding ways to be aggressive even with a limited budget set forth by MLB. The Naquin pick looks like a way to save money to sign other players later they may not have bothered to pick because of the cost involved. While they will never formally admit doing so, the players available when the Indians picked were underwhelming, so they took Naquin as somewhat of a reach so they could be more aggressive later.
Willie
November 11, 2012 - 11:55 PM EST
I think as a whole Grant as done well. I'm not. Fan ofthe Naquin pk. Yes it was a safe pk and yes he's probably a major leaguer soon BUT obviously wasn't the most talented player there. There's a number of arms I would rather have saw the Tribe draft. Naquin was a safe and affordable pk and it gave them chance to spend on a few others that went overslot.
Hopefully, this yr the Tribe hits on the 5th pk and lands an AS caliber player/pitcher. The Tribe will also have that competitive balance pk after round two that will allow the club some more flexibility. Personally I'd love to see the Tribe land an extra competitive balance pk or two - which are tradable.
With a larger pool this yr and a YR of EXPERIENCE with the pool system hopefully the Tribe has a more aggressive approach. Btw, teams can go up to 10 before incurring a penalty - I think they should be willing to 'toe the line' if necessary to get the players they want. After all amateur players are cheaper than FA.
Kyle
November 11, 2012 - 9:26 PM EST
I know it would have been possibly as weird as Naquin but I was hoping they would go after Victor Roache. Maybe he could have blossumed into a home run machine. Short on arms and home run power.
Adam
November 11, 2012 - 8:19 PM EST
Okay thank you for your opinion. I don't mean to discount the players we took after Naquin, but I didn't see Naquin listed higher than #25 by any national ranking...taking him where we did, IMO, was a big time stretch.

Giolito would have instantly become the #1 prospect in our system, even knowing he wont pitch for a year. We went over slot on both Brown and McClure, and while they're both interesting players with upside, they aren't anything close to the prospect Giolito is. The Nats went overslot by 800k to sign Giolito, obviously that's a lot...but the Indians went overslot by 375k on McClure alone.

There were several players that I had well ahead of Naquin who were taken after we picked. Davis, Seager, Wacha, Marrero, etc. I think all would have been better picks at 15.
Seth
November 11, 2012 - 7:39 PM EST
That graph would look a lot uglier if you looked only at WAR with Cleveland. Much of that is derived from guys who didn't sign or whose value came with other teams. Pretty much a boatload of nothing since Hart took over. Outside of Sabathia, the only guys Hart hit on were ones he traded away like Sean Casey. Better than the Shapiro years, though if Adam Miller hadn't had the weird finger thing, Shapiro's drafts would've been about as equally horrible as Hart's. That 2007 draft is disgusting. The '06 draft in retrospect is not horrible. Interestingly it still has two guys who could make an impact down the line, in Archer and Steven Wright.
Norm
November 11, 2012 - 7:17 PM EST
Amen to the pitching concerns Jeff. Nothing is more unpredictable than young pitching projection. You almost have to assume they will all suffer some injury it is very difficult to project improvement in command and secondary pitches for the best of arms, much less the others. You mentioned Martin who was a classic example. He was projected to reach mid 90s with a great curve and command. That never happened with the toll injuries took on a fragile body that did not fill out as expected. I do want to see some of the young arms at LC before we decide on the past two drafts.
Jeff
November 11, 2012 - 6:02 PM EST
I think the lower levels could match up with most teams, a ton of depth. The Indians have a lot of very interesting players, just wish there were more arms. Just lower levels alone they would be above average to good to me compared to everyone else
Jeff
November 11, 2012 - 5:55 PM EST
Naquin is a bit underwhelming yes, but I had him 22 on my board because he is going to hit. I think he could be an ideal 2 type not sexy but I think he will make the majors. He has proven himself on a high level, 2007 the first pick was a CC player. Plus they then took a bunch of easy sign guys. I agree I would have liked to have seen them spend the entire pool, but they took a lot of risks and high upside guys in picks 2-8.

I think the problem is way too much focus on Naquin and missing the rest of the picks.

I think 2012 has a lot of potential, and would still rather have the draft they had then spend your entire pool on player like Giolito.
Kyle
November 11, 2012 - 5:54 PM EST
So i know that AAA has nothing to offer and AA barely has anything to offer. How would you rate our lower levels in comparison to other teams?
Jim
November 11, 2012 - 5:38 PM EST
I'll let Jeff handle that, but don't agree with it at all....
Adam
November 11, 2012 - 5:29 PM EST
What are your initial thoughts on the 2012 draft? Obviously it's too early to comment on individual players, but what did you think about their overall strategy and process?

The Naquin pick is really, really underwhelming. I know the draft pool puts contraints on how much a team can spend, but the Indians didn't even spend their allotted amount. They had a chance to add some actual upside talent in the middle of the first round, and it seemed like they slipped back into 2007 and took the safe sign instead.