The dual offensive profiles of Carlos Santana
When Robinson Cano signed with the Seattle Mariners in November 2013, the $240 Million total for his contract was not entirely unexpected – his 2013 line of .314/.383/.516 was excellent, good for a 142 wRC+, a holistic batting stat that adjusts itself to park factors and a league average of 100.
And it was a wRC+ of 142 – in short, identical run production to Cano – that was precisely what Indians catcher Carlos Santana posted against left-handed pitching last season – genuinely excellent offensive numbers, particularly for a player who started half of 2013's games as a catcher. Against right-handed pitching, however, Santana's 131 wRC+ places him more as a Carlos Beltran or a Mike Napoli – neither of which are in any way poor batters, but decidedly not the same tier as Cano.
To restate what Tribe fans already know: Carlos Santana is a switch-hitter, facing lefties as a right-handed batter, facing righties as a left-handed batter – and Santana's 2013 135 wRC+ overall made him the best switch hitter in the league. Nevertheless, whereas purely left-handed or purely right-handed hitters need only cultivate different approaches to opposite or same-handed pitching, switch hitters need to cultivate two entirely different swings.
What we find, then, is that switch hitters behave like entirely different hitters from each side of the plate. Such is the case with Santana, as his right-handed approach is a low-strikeout, high-walk, high batting-average, high-power hitter: in sum, a well-rounded, terrifying hitter. Yet as a left-handed hitter, his approach has flaws that can be, and have been, exploited.
When one says that Carlos Santana has problems against right-handed pitching as a left-handed batter, one says so only in relief of Santana's success as a right-handed hitter against lefties. Santana, in spite of any and all issues, was still one of the 30 best offensive performers in the majors by any holistic stats that take into account on-base percentage and power. Santana's performance against right-handed pitchers, while worse than his performance against lefties, was nevertheless out of the 244 batters with 250 or more plate appearance against righties, 27th in on-base percentage. The weaknesses in Santana's game highlighted hereafter are solely within the context of a very good offensive profile.
Confined to this elaborate qualification, Santana's problem against righties do, in fact, exist, and include a defining pull tendency and an elevated whiff rate. Against right-handed pitchers, Ryan McCrystal has dissected, in succulent detail, Santana's pull tendency over at It's Pronounced "Lajaway". Put simply, against right-handed pitching Santana had one of the strongest pull tendencies in the game on groundballs, and consequently, Santana was a batter against whom defenses shifted at one of the highest rates in the league. In short, his hitting patterns were predictable, and that predictability was exploited.
If one combines McCrystal's analysis with left-handed hitting Santana's dual limitations against righties, namely the below-league-average line drive rate and an overall career BABIP against righties of .264. That line drive rate is the prime mover in a high batting average on balls in play. With a .285 BABIP against righties once can draw the grim conclusion that even this rate, despite being below league average, might not be below average because of bad luck; to the contrary, it may have been good luck that prevented it from being worse.
Looking forward, whereas it seems plausible that hitters like Asdrubal Cabrera and Nick Swisher - two hitters with high line drive rates and low 2013 BABIP numbers - might be expected to bounce back to above-average BABIPs, it would require a fundamental improvement in left-handed hitting Santana's plate approach to sustainably improve his BABIP against them.
Yet while left-handed hitting Santana's BABIP curtails his batting average once he makes contact, his batting average is further truncated by his relatively high strikeout rate against righties. It's important to note that this rate is high only relative to right-handed hItting Santana's impressively low 14.2% strikeout-per-plate appearance ratio against left-handed pitching. At 18.6%, left-handed hitting Santana's strikeout rate against righties is still better than league average.
However, for a batter with as low a BABIP as left-handed hitting Santana's, strikeout rate becomes the primary input in a solid batting average. Fewer strikeouts means a better batting average, but even a better-than-average strikeout rate does not fully offset a poor BABIP.
While poor plate discipline is frequently a cause of high strikeout rates, Santana's issue is not plate discipline. He swings at pitches in the zone at a much higher rate than pitches out of the zone (58.1% Z-Swing vs. 25.1% O-Swing), but he has a rather extremely whiff-prone swing as a left-handed batter, particularly against off-speed pitches.
Against offspeed pitches, left-handed hitting Santana's whiff rate is an alarmingly high 15.24% with 36.07% whiff-per-swing rate – both of which are tremendously high figures. For reference, Danny Salazar's split-change, a pitch both exceptional at inducing whiffs and also capable of imbuing a spectator with a knowledge of the Platonic Good, induced a whiff-per-swing percentage against all batters at a 36.27% rate – nearly identical to left-handed hitting Santana's own rate. In contrast, right-handed hitting Santana's whiff rate against offspeed pitches was a much more acceptable 9.08%, though his whiff-per-swing rate was still a rather high 28.35%.
While the higher whiff-per-swing rate against righties is primarily to blame for the increase in total whiffs, his change in swing rate is an important secondary cause for the large 6% gap between his overall whiff rates. Left-handed hitting Santana's swing rate against offspeed pitches was 42.25%, while for right-handed hitting Santana that figure was only 32.03%. While Santana's plate recognition is widely and deservedly lauded, it appears to be the case that left-handed hitting Santana, against offspeed pitches, does have a genuine chase problem.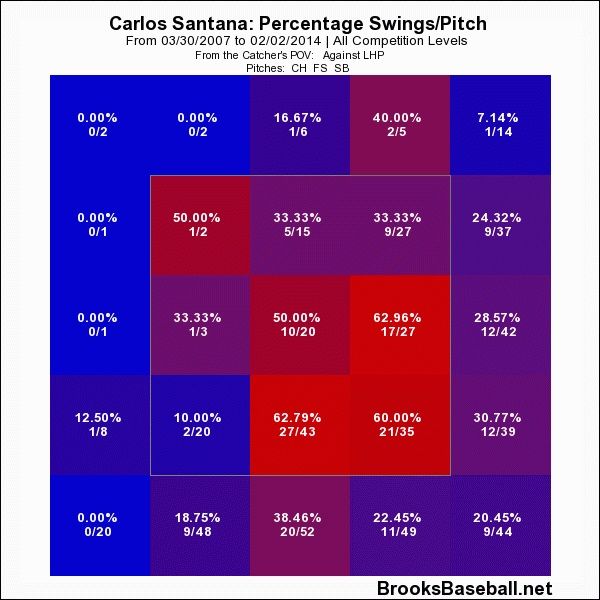 (Source: BrooksBaseball.net; Heat Maps from Catcher Perspective)
One notices immediately that, from both sides of the plate, Santana's O-Swing rate against offspeed pitches is quite high. This should be expected given that off-speed pitches are typically more effective against same-handed hitters than opposite-handed hitters. Yet even given that, the thrilling graphics above illustrate that Santana's O-Swing rate against off-speed pitches is far higher from the left side than the right side, despite seeing similar ratios of in-zone/out-of-zone pitches. It suggests that, in addition to having a more whiff-prone swing from the left side, Santana also swings at low-and-away pitches more frequently from that side.
Given this high O-Swing rate, the conclusion that Santana simply has worse plate discipline while batting left-handed seems inevitable. Yet it is this assumption that leads to the greatest apparent contradiction in Carlos Santana's switch-hitting split: while his walk rates from each side of the plate have been nearly equal, in 2013, Santana's walk rate was far higher as a left-handed hitter than as a right-handed hitter.
In 2013, right-handed hitting Santana's walk rate was a very good 10.8% rate – a rate not elite but nevertheless well above average. As a left-handed hitter, however, Santana's walk rate was an abnormally high 16.3% - among batters with 250+ plate appearances against right-handed pitching, a rate good for fourth in the majors behind Joey Votto, Shin-Soo Choo, and noted fitful enigma, Ike Davis. At first glance, it's difficult to reconcile a high O-Swing rate with elite walk ability.
Much of his walk rate, however, stems from the above graphic. While his O-Swing and O-Whiff rates are higher from the left side, the fact remains that Santana is offered more out-of-zone pitches by right-handers than he is by lefties. Even though Santana swings at them at a higher rate, pitchers throw left-handed hitting Santana more balls overallthan they do to right-handed hitting Santana. The result of this, however, is that Santana, despite having a batting average .044 lower from the left side, had an exactly equal on-base percentage from each side of the plate.
This appears at face value both extraordinary and unsustainable. If left-handed hitting Santana is a worse overall hitter than right-handed hitting Santana, and if left-handed hitting Santana has a below-average strikeout proclivity, it seems as though pitchers could effectively start challenging left-handed hitting Santana with more in-zone pitches than right-handed hitting Santana.
However, while left-handed hitting Santana's average and BABIP are far lower than right-handed hitting Santana, left-handed hitting Santana hits for better pure power than right-handed hitting Santana. While Santana's 2013 isolated power (ISO), a measure of extra bases per at-bat, suggests that he had equal power from both sides of the plate in 2013 (.187 RHH vs .186 LHH), a more useful metric for Santana's left-handed hitting power production is power factor (slugging/BA). While ISO measures the number of extra bases per plate appearance, power factor measures the number of extra bases per hit. Given two players with equal pure power, the one with the higher batting average will have the higher ISO – in short, ISO measures playable power, and power factor measures purepower.
In 2013, left-handed hitting Santana's power factor was 1.74 and right-handed hitting Santana's was 1.62. To put it in terms of player comparisons, Santana's left-handed hitting pure power was comparable to that of Marlon Byrd or Troy Tulowitski. Santana's right-handed hitting power factor was comparable to Shin-Soo Choo or Kendrys Morales – certainly a noticeable dichotomy.
Between his pull tendency and his power factor comparables, it's clear that left-handed hitting Santana sells out for power, and this absolutely damages his overall offensive profile – but he only totally sells out when he puts the ball in play. For a player with a dead-pull power swing as extreme as left-handed hitting Santana's, his ability to both get on base and avoid strikeouts is both exceptional and establishes him as a firmly above-average hitter from the left side. And while from the right side of the plate Carlos Santana is certainly Mr. Hyde, his counterpart, left-handed hitting Dr. Jekyll, does more than enough to get by.
John can be reached on Twitter at @JHGrimm. He can also be reached by e-mail at john.h.grimm@hotmail.com.
User Comments
Jim
February 10, 2014 - 7:36 PM EST
The Indians are working on multi-year deals for a few folks behind the scenes. I'm sure Brantley won't be the only one. It should be an interesting deal though...and could really shine a light on what kind of deal a player like Kipnis could get...
yourtribe
February 10, 2014 - 7:27 PM EST
Tribe and Brantley close to multi year deal per PD!
Tony
February 10, 2014 - 3:15 PM EST
Yes, loved this piece John. I've always felt Santana was a better left-handed hitter regardless of his number splits....but maybe now I am convinced he is better from the right side. Excellent research.
JHGrimm
February 10, 2014 - 12:51 PM EST
Santana actually did bat one major league game right-handed against a righty. 0-2 with 2 Ks, as if to tell us 'let us just accept that Carlos Santana is a switch-hitter.'
BrianM
February 10, 2014 - 12:26 PM EST
Well written article, but even better topic. Definitely something worth discussing.

After reading, I feel obligated to ask...should a player like Santana just drop batting from the left side all together? I don't really know how something like this works, so it may be a ludicrous proposal, but we don't see too many power hitting switch hitters anymore and generally right on right splits are not as bad as left on left splits. Santana's plate discipline should also play in his favor in this situation. It may take him time to adjust, but in the long run may help him cut the K's and allow him to be a little more consistent.

Just a thought.
Joe Chengery
February 10, 2014 - 11:46 AM EST
What Mike said: Great article indeed! Thank you for the effort put into this article- much appreciated! Keep up the great work!
Mike
February 10, 2014 - 11:13 AM EST
This was an outstanding read!!! Thank you for the effort you put into this article.