The evolution of Chris Perez
How constant adjustments are keeping Perez effective
To most fans, right-hander Chris Perez is a hothead with a loud mouth who needs to learn how to shut up. Or, once he shuts up and decides not to talk to the media for the rest of the season, he is a grouch who is shirking his responsibilities to his teammates.
While all of this may be true, what is going unseen is the evolution of Perez. Despite all of the off-the-field drama, there is a lot more to "Pure Rage" Perez than a grip-and-rip approach. Fans may view him as an idiot, but the truth is that Perez has constantly tweaked and adjusted his pitching style in order to be effective.
Traditional stats paint Perez as one of the best closers currently in baseball. I cannot count the number of times I have heard a variation of the "I put a Chris Perez poster on my door and now it won't close" joke, but in all actuality, Perez closes out opposing teams more often than not.
With an 84.6 save percentage in his career and an 82.6 percent mark in 2013, there are certainly worse pitchers to have at the back-end of a bullpen. That, plus the fact that the only closers to hold that job with the same team since the start of 2011 are Perez, Mariano Rivera, and Craig Kimbrel, indicates that Perez is much better than he is given credit for.
Of course, there is a lot more to judge a pitcher on than a largely made-up and useless save statistic. Advanced metrics have not always been Perez's friend, though 320.2 innings into his career, he could just be someone who finds a way to outpitch his peripherals (3.26 career ERA, 4.02 career FIP).
The biggest issue with Perez is his strikeout rate. Early is his career, Perez was a lights-out flamethrower who racked up a ton of strikeouts. Over time, however, the strikeouts have started to disappear for Perez.
| | |
| --- | --- |
| Year | Strikeout Rate |
| 2008 | 23.7% |
| 2009 | 28.5% |
| 2010 | 23.5% |
| 2011 | 15.7% |
| 2012 | 24.4% |
| 2013 | 20.7% |
Obviously, Perez rebounded from a rough 2011, but he still is not mowing batters down like 2009. That change left Perez susceptible, however, and drove down his performance.
The root to Perez's lost strikeouts lies in his fastball velocity. Per Brooks Baseball, Perez only throws two pitches – a four seam fastball and a slider – making him very reliant on his fastball getting results.
Unfortunately for Perez, that fastball has steadily been losing its zip through the years.
Naturally, a slower fastball leads to fewer strikeouts. This is not something unique to Perez; every year plenty of pitchers have to learn to deal with reduced velocity. Some pitchers never learn how to transition from a thrower reliant on their fastball to a pitcher who can utilize what stuff he does have. Perez, however, has.
Here is a graph of Perez's pitch usage in his career: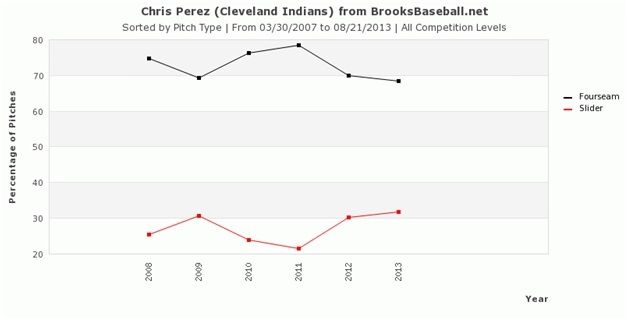 As you can see, Perez has used his slider much more in 2012 and 2013 than earlier in his career. This followed a 2011 season that saw Perez quite dependent on his fastball, more than any other year.
The funny thing about that 2011 season is that is the year Perez's fastball rate dropped to his career-low. Perez still got results (3.32 ERA), but overall, he looked like a pitcher heading for a major drop-off.
To avoid that drop-off, Perez began to use his slider much more frequently.
You can see that increase on the graph above. The red line dropped low in 2010 and 2011, though lately Perez has used his slider more than 30 percent of the time.
That increase has coincided with Perez developing his slider as a better pitch. While before it looks like Perez used his slider more as a change-of-pace pitch, now it is moving more than ever.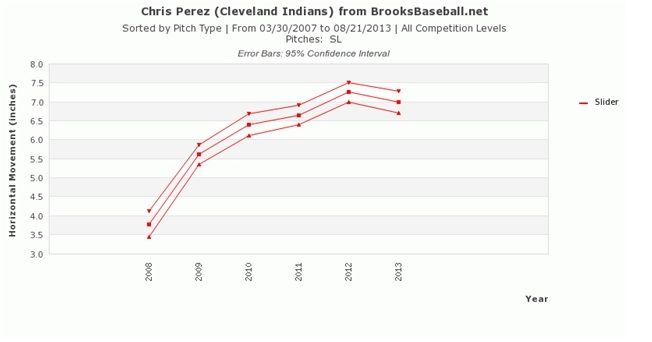 Movement is not everything, but clearly Perez's slider is biting more than it did in the past. Even that extra inch or two is helping Perez cover up for what he lost on his fastball.
Just how much has Perez lost on his fastball? Well, here is how often batters are swinging and missing at each pitch throughout Perez's career: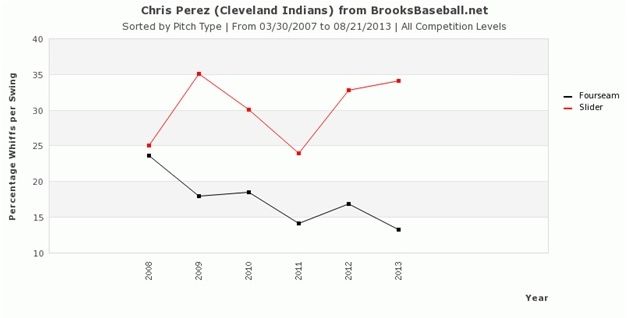 Perez has seen batters make contact with his fastball more and more often while, outside of 2011 when he rarely threw it, whiffing frequently on his slider. It looks like Perez realized this after 2011 and reinvented himself as a pitcher who uses his off-speed pitch to generate outs.
As for why things look so bad in 2013, the answer lies in Perez's home run rate.
| | |
| --- | --- |
| Year | Home Run/Fly Ball Rate |
| 2008 | 10.9% |
| 2009 | 12.5% |
| 2010 | 5.5% |
| 2011 | 5.7% |
| 2012 | 9.1% |
| 2013 | 16.7% |
For his career, Perez has allowed home runs on 9.0 percent of his fly balls. The average is around 10.5 percent, so Perez is in the right neighborhood. Outside of 2010 and 2011, Perez has not shown an elite ability to suppress home runs, which is not a surprise considering that he plays half of his games in Progressive Field. Progressive Field plays pretty neutral in terms of home runs, whereas a pitcher in Petco Park or Safeco Field could expect to see a lower home run rate.
Given that Perez should be expected to be somewhat average in terms of home runs allowed, the question is why he is giving so many home runs up this season. That answer appears to lie in Perez's reduced fastball.
Before the 2013 season, batters had a .207 isolated power on fastballs Perez threw in the strike zone. That number is not necessarily good -- New York Mets phenom Matt Harvey owns a .121 ISO on fastballs in the zone this year -- but it is light-years above his mark this season.
In 2013 Perez has allowed a .463 ISO on fastballs within the zone, meaning that batters are simply lighting him up on fastballs in the zone this year.
Now some pictures the show what I am saying. Here is pre-2013 (note the basically even distribution of power in each part of the strike zone):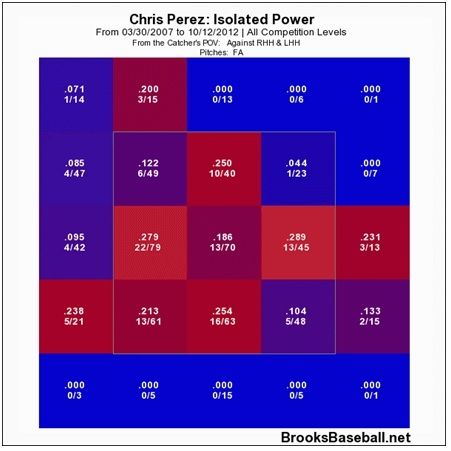 And here is 2013 (ignore the blue outside of the strike zone and note how poor the numbers are for Perez):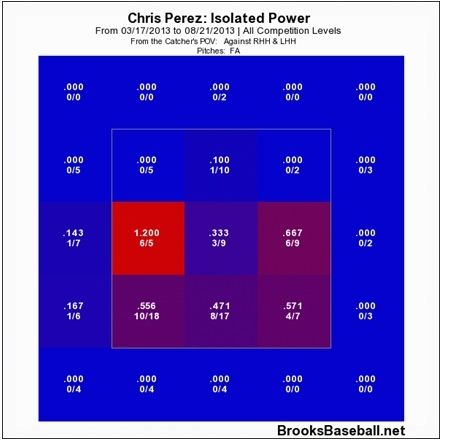 Perez has always had issues with his fastball being hit hard in the zone, which is not too much of a surprise. This is a measure, after all, of what hitters are doing with a four seam fastball, the straight version of the fastball; it rarely ends well for a pitcher.
The level to which Perez is struggling this year, especially down in the zone, is worrisome, though.
So where does this leave us? In my opinion, despite his best efforts, Perez is just not going to be able to hold his effectiveness for much longer. Velocity tends to peak at a younger age, so expecting Perez to regain that as he ages is likely foolish.
Additionally, Perez's increased usage of his slider will have diminishing returns at some point. There will come a time when Perez will need to use his fastball to get batters out and, as this year is showing, that just is not happening.
Given how quickly elite relievers become non-factors (with Vinnie Pestano serving as the latest example of this) and Perez's salary reaching the $8-10 million range for 2014, I would not have an issue with non-tendering Perez. His stuff has slowly declined and I think that he is going to run out of tricks sooner rather than later.
But that will not happen because of a lack of trying on Perez's part. No matter what the perception is, Perez has always worked his hardest to stay an effective closer at the back-end of the Cleveland bullpen.
If you want to follow Jim on Twitter, he's @JimPiascik. If you want to e-mail him, you can do so at jpiasci1@gmail.com. If you want to read his Master's thesis on college athletes and Twitter, you can do so here.
User Comments
anonymous
September 27, 2013 - 10:13 AM EDT
the numbers don't lie so what are y'all talking about?
Jay Schroeder
August 22, 2013 - 11:42 PM EDT
The bigger drops in velocity in 2011 and this year coincide with his arm injuries...in 2011 he said he experimented with a changeup in spring training and I believe he blamed that for a lack of arm strength...can't remember if he missed time in Arizona or not. Then the shoulder issues this year, both in spring and in the regular season. I think if he's completely healthy next year, you'll see a bump up in velocity like he had in 2012. But as he gets older, he's less likely to be completely healthy, so it's a better bet to deal him this winter if there is a market for him.
Derek
August 22, 2013 - 12:44 PM EDT
I think it's funny how people seems to draw their own very different conclusions from the same article. How anybody could read that and determine that Perez has become a liability is beyond me.
William
August 22, 2013 - 11:53 AM EDT
One of the best pieces I have read on this site in some time. Nice job Jim. I agree that Perez is evolving and the slider seems to be his go to pitch, but if he can't consistently hit the black with his fastball, he's a liability. An interesting concern for sure. Thanks Jim!
shy
August 22, 2013 - 11:51 AM EDT
It's interesting to see the big data from the computer corroborate what my eyes and heart tell me- Perez has become a liablility at his position and is trying to hang on. It may be a little easier to watch when you see guys like Trevor Hoffman or Mariano Rivera or even Joe freakin' Borowski get lit up because they are 40 yrs old. Perez is still in his 20's. He will out of the majors when he hits 30 IMO. Maybe he will find some juice in an Indy League and get called up by the Astros for a pennant run in 2016!
Rich
August 22, 2013 - 7:44 AM EDT
To elaborate on what I said before, looking at those IP charts he absolutely gets killed on pitches just above the knees - .556/.471/.571 from one side of the plate to the other. And .667 on the inner half against lefites. That's from the 2013 chart.

Compare those numbers to the same areas on the chart for 2007-12; the numbers are .213/.254/.104/.289. It's clear - his stuff is now extremely hittable in the center of the strike zone, and it gets hit a long way.

Even with the decreased velocity he's still very effective when he puts his pitches on the edges of the zone as the 2013 chart shows. But it changes dramatically when his pitches drift into the center of the zone. He'll be a decent closer as long as he can keep everything on the black or right at the knees, but his margin for error has all but disappeared.


Rich
August 22, 2013 - 7:33 AM EDT
Awesome analysis. This is the stuff that makes this website the best there is.

Good example last night when Perez threw a fastball down the middle to a lefty who drilled it high off the right field wall. Perez's fastballs have to be on the edge of the plate or they get hammered. He has a razor thin margin of error right now.

I agree he won't be worth $8 million next year. I think Cody Allen will be our closer. He's developing a nice changeup to go with that 97 mph heat.
Roger
August 21, 2013 - 5:35 PM EDT
jim the most salient part of a complicated colume is he is high on the tenure of closers list and the two ahead of him are as good as they get in an imperfect world. he has his blemishes however he does have the mindset of a closer and those are few and far between you must be able to have focus when the world is crumbling around you he seems to. it is rare when he blows two saves in a row and even moe did that earlier this month, by no means am i putting him in that class however the point is the closer is as high profile as it gets on a major league roster so what they do good and bad can get blown out of proportion and the 90% close average from mid 09 thru today is pretty impressive overall and if he returns to the tribe in 2014 he will shatter wickie's save record. which although lesss that some teams all time leaders is pretty good and overall the age of the closer the tribe has done all right in that area whether olin jones wickman or mike jackson we have had some good ones and chris perez in 2025 will be remembered as having been a good closer here be careful, those who wish to see him go, what you wish for. he isnt some old guy on the other side of age 32 hanging around for a pay check he is still young and still very effective our closers seem to always need more drama. i would love to have a lights out closer who 2/3rd of the time is 3 up 3 down effective but somehow that never seems to land here in cleveland and chris perez is fine with me.
Jim Piascik
August 21, 2013 - 3:27 PM EDT
Thanks Mike! I love how pitchers change adapt, and adjust throughout their career. Perez isn't an idiot. He lost some of his fastball, so he developed his slider. He didn't just plug away with something that wasn't working. That's so self-aware!
Mike Hattery
August 21, 2013 - 3:18 PM EDT
Really impressive insight, an absolutely great read.