The illusory long ball power of Jason Kipnis
When Jason Kipnis sent a 1-1 Craig Kimbrel offering spiraling into left field for an opposite-field double in the 2013 All-Star Game, Indians fans nodded knowingly, since Kipnis's opposite-field mastery was perhaps the biggest guide of the Indians' success leading up to the All-Star break. Jason Kipnis's month of June, an absolutely torrid run, gave the Indians' second baseman a chance to show the national stage what he was capable of.
Going into 2014, indeed, there are plenty of reasons for optimism on Kipnis's offense.
Carrying a very solid walk rate and an excellent line-drive tendency, the Indians are counting on Kipnis to be a cornerstone for the Indians offense. Yet while the second-round selection in the 2009 draft had a career high 17-home run season in 2013, those expecting a 2014 power surge from Jason Kipnis may be disappointed.
Indeed, even a repeat of his 2013 home run numbers, with all else equal, will be difficult for the Chicago native. As a result of changing his batting style in 2013 to become a more line-drive focused hitter, Kipnis gave up a good deal of his home run power – a tradeoff which almost assuredly helped his overall performance.
In 2013, Kipnis's home runs were, on the whole, exceedingly lucky, luck that is unlikely to be replicated in 2014. His 2013 home runs were, on average, shorter than they were in 2012, and his True Distance on home runs (i.e.: distance where it would have landed on the ground, given average field conditions) decreased approximately ten feet.
Additionally, Kipnis had four fewer '15+ Park' home runs than 2012 – namely, home runs that would have remainedhome runs in more than half of baseball's parks given equal distance. (Note: the following chart excludes Kipnis's Inside-The-Park Home Run in Kansas City on July 3rd.)
| | | | | | | | | |
| --- | --- | --- | --- | --- | --- | --- | --- | --- |
| HR Data | #OOTP-HR | 15+ Parks | Vert. Angle | True Dist. | Speed Off Bat | Horiz.Angle | LgAvg-TruDist | LgAvg-SpdOffBat |
| 2012 | 14 | 10 | 29.2 | 395.1 | 101.5 | 13.3° | 398.3 | 103.5 |
| 2013 | 16 | 7 | 27.6 | 384.7 | 101.6 | 5.6° | 396.6 | 103.3 |
(Source: ESPN Stats and Information)
The most interesting thing about this decline, however, is why his home run distance fell. The speed of the ball off the bat is almost identical between the two years, so Kipnis's contact was just as strong – very slightly stronger, in fact – in 2013 relative to 2012.
In fact, it seems that the prime mover in Kipnis's home run distance decline is the angle at which the ball left the bat on home runs. Given an equal speed off the bat, a ball hit 30° above the horizontal plane will travel further than one hit 27° - hence, the flatter plane of Kipnis's contact likely had a major impact on the distance of his home runs.
Despite this decline, however, Kipnis actually made stronger overall contact in 2013 than in 2012. As illustrated in the figure below, his 2013 fly balls traveled a full nine feet further than in 2012 (note: for all ball-in-play data, taken from the Katron Batted Ball Tool, distance is determined by where the ball is fielded – imperfect, but a generally useful guide).
| | | |
| --- | --- | --- |
| FB Analysis | Average Distance (ft) | Pull Distance |
| 2012 | 276 | 287 |
| 2013 | 285 | 309.1 |
(Source: Katron)
In short, then, Kipnis is hitting the ball just as hard; if his home run rate is sprung from a fundamental change in hitting approach, this change is on prominent display in his 2012 and 2013 home run spray charts.
Figure 1: 2012 HR Spray Rate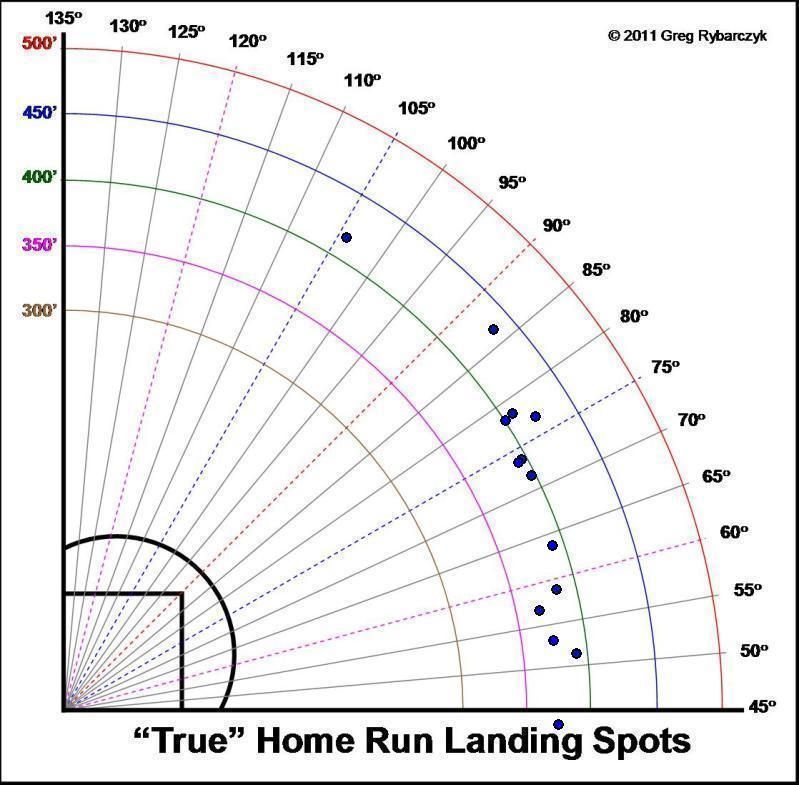 Figure 2: 2013 HR Spray Chart
(Source: ESPN Stats and Information)
Far more noticeable than his change in home run distance is his change in field usage. In 2012, only one of his home runs was left-of-center; however, in 2013 seven home runs are either firmly in left or left-center field.
Kipnis's home run distribution is the most obvious manifestation of a major metamorphosis in Jason Kipnis's batting: in 2013, he evolved from a pronounced pull hitter to an omnidirectional line drive hitter, sacrificing some home run power for an all-around excellent approach to hitting. The following illustrates the median angle of Jason Kipnis's ball-in-play types.
| | | | | |
| --- | --- | --- | --- | --- |
| MEDIAN ANGLE | Line Drive | Ground Ball | Fly Ball | Overall |
| 2012 | .1° | 18° | -4.7° | 4.8° |
| 2013 | -1.9° | 15.9° | -4.5° | 3.5° |
(Source: Katron)
In most categories and overall, Kipnis's median ball in play was closer to the center of the field than in 2012. The only category in which Kipnis moved further away from straight-away center field was his line drive rate, which ended the season very slightly left of center; these opposite-field line drive tendencies earned Kipnis a comparisonto Manny Ramirez from Indians' manager, Terry Francona.
Moreover, it was this very same line drive tendency that buoyed Kipnis's 2013 success. Kipnis's line drive rate (24.7% of balls in play according to FanGraphs, exactly 25% according to Katron) was among the best in the majors, and his 2013 rate was a substantial improvement over already impressive 2012 numbers (22.9% according to FanGraphs). Hence, while a cursory glance might suggest that Kipnis's .346 batting average on balls in play (BABIP) makes him a candidate for regression – given that a high BABIP is frequently a result of nothing more than good luck – this analysis overlooks the fact that Kipnis's line drive rate was so high that a .346 BABIP was precisely average luck.
Nor was this batting average entirely empty – despite an inflated home run total, Kipnis's 2013 total of 36 doubles was tied for 23rd in the Majors. Additionally, Kipnis was hitting the ball harder, with the average 2013 fly ball travelling further than in 2012.
While his home run totals are unlikely to massively eclipse his 2013 numbers, and are rather likely to regress, Kipnis has a chance to post genuinely excellent extra base hit totals and flirt with a .300 batting average and .390 on-base percentage at a time when elite offensive production is increasingly rare and league-wide offense is in decline. Jason Kipnis doesn't need to mash 25 home runs to be an extremely valuable offensive force for the Indians; all he needs to do is continue to continue hitting like the line drive, extra-base hit machine he's shown the Tribe faithful he can be.
If Jason Kipnis continues hitting like Tribe fans know that he can, then the 2014 Indians offense will be in very good hands. If that happens, much as Kipnis took his first step on a national stage in the 2013 All-Star game, Kipnis will almost certainly get a chance to take one the opposite way against the best of the National League in July 2014.
John can be reached on Twitter at @JHGrimm. He can also be reached by e-mail at john.h.grimm@hotmail.com.
User Comments
John
January 22, 2014 - 10:31 PM EST
Seth,

Well, that IS the paradoxical part of the data. General fly ball power increased, but average HR distance decreased substantially. If anything, one would think (!) that those two things are totally opposed, but if we view ast year's high HR distance as the result of a directed effort to hit long pull homers at the expense of the all-field, flatter line drive action he put on display this year (and the flatter vert. angle on his average home run suggests that's the case), then it's possible to interpret the two facts as not mutually exclusive - rather, he got stronger generally but eschewed his 2012 pull HR swing, causing the apparent contradictions.

But the '15+ Parks' part of the first graph and ts accompanying seems to indicate clearly that Kipnis not only hit more luck-based HRs but also fewer luck-independent ones, as well.
Robert
January 22, 2014 - 10:23 PM EST
Nice work. Kipnis is heading in the right direction (or should I say directions!).
Seth
January 22, 2014 - 9:18 PM EST
I would think the fact that all of his fly balls went further in 2013 than 2012 is a lot more meaningful than the average distance on his 16 home runs, and would indicate that his power in 2013 was more sustainable. I seem to recall that one of Kipnis' 16 home runs was a very short home run at Yankee stadium that likely skews that average distance down quite a bit, since the sample size is tiny. His average fly ball distance in 2013 (baseball heat maps shows 287ft) was similar to what Choo's been at for the past few years, for example.
Tony
January 22, 2014 - 8:31 PM EST
I don't get too much into the advanced stats all that much.....but this was an impressive piece. Interesting way to use the data. Well done, sir.