The New Prospect Book Is Available NOW!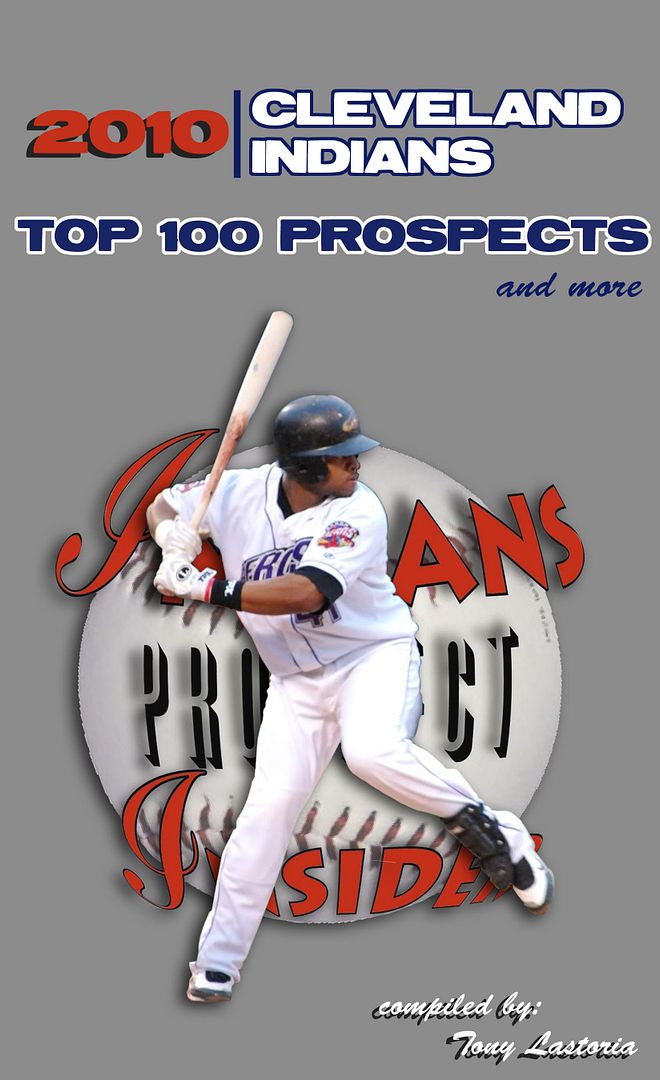 The "2010 Cleveland Indians Top 100 Prospects & More" book is now available. For those interested in purchasing the book, please use the order form below setup through PayPal. The book is $19.95 this year plus shipping and handling.
For those who do not want to place the order through the PayPal form or through me and would rather order it through a third party, the book is also available for direct purchase at Amazon.com. This is a good option for those who wish to remain more anonymous or retain your privacy when making this purchase.
Please go here to view the book and purchase it at Amazon.com
.
The new book is 214 pages in length, and based on feedback was increased in size from 5.5x8.5 to 6x9, and the font size of the book was bumped up one. The book features scouting reports which vary in length for 165+ players in the system where almost every player in the system who has played stateside is profiled. Included in this listing are scouting reports for ALL draft picks from last year's draft and the Top 10 Latin players coming stateside who primarily played in the Dominican Summer League last year. Scouting reports for Rule 5 picks Chuck Lofgren and Hector Ambriz are also included.
In addition to the scouting reports, several other pieces of information are included such as a listing showing the Top 100 prospects by position, rankings history of the Top 50 from 2007-2009, complete affiliate information, 2009 Draft results, projected 2010 full season opening day rosters, 2010-2013 Rule 5 Draft eligibles, Rule 5 FAQ, 2009 released player listing, 2009 transactions recap from Columbus to Arizona, 2010 minor league spring training schedule, 2010 minor league schedule grid, and more!
Order today!
International customers or those who wish to pay by check or money order through the US Mail, please feel free to
contact me
to place an order directly through me. Also, the book is available for purchase at all Cleveland Indians team shops, though will not be available until sometime in May. You can also purchase the book right now at the minor league affiliate team shops for the Lake County Captains, Kinston Indians, and Akron Aeros. It will also likely be available at the Mahoning Valley Scrappers team shop when their season starts in June.
Thanks in advance for the support!
User Comments
No comments currently. Be the first to comment!