The Nostalgia League: August results
As an experiment, I have assembled 18 Cleveland baseball teams from all eras to compete in a 162 game schedule for the Best Team in Cleveland History using Out Of The Park Baseball 13 (OOTP), which is a baseball simulation game. Below are the results for August, and if you missed them, here are the other pieces in the nine-part series:
Nostalgia League preview
Opening day results
April results
May results
June results
July results
August saw the following teams get eliminated: 1908, 1968, 1986, 1956, 2007, 1959, 1976, and 1932. First place in the Speaker Division changed places again and it represents the closest race for a division title.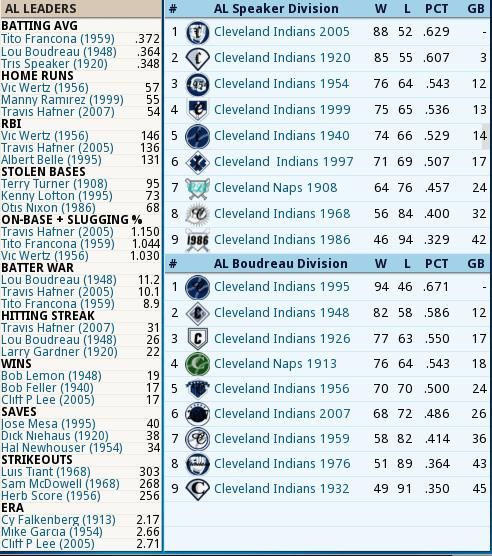 Batter of the Month
Tito Francona's .436 month vaulted him into the lead in batting average. He also added 11 home runs with 33 RBI and 23 runs. Francona's .500 on-base percentage was made possible by his 15 walks. Having grown up after Francona's tenure in Cleveland had ended, I never considered Tito when contemplating which players I'd have liked to see. Well the enthusiasm Tito showed when his son Terry was hired to manage the Indians and what I've found out about him in my research for this series, I'd have to say Tito has to be considered one of the best utility players in Indians history.
Pitcher of the Month
1940 21-year old starter Robert Feller went 5-0 with a 0.96 ERA. He punched out 59 hitters on strikeouts and limited opposition to a .166 batting average. Simply the greatest pitcher in Indians history he was DOMINANT in August. Pitching in the majors before he graduated high school, Feller led barnstorming tours in the off season. Before Jackie Robinson broke the color barrier, Feller's barnstorming tours featured Negro League players like future teammate Satchel Paige. Part of the barnstorming was to make some off season money but also to allow Negro League players to prove they could play with Major League stars.
Players of the Week
August 8: Teams need guys on the bench that can play multiple positions but teams dream of having a utility guy like Tito Francona. Francona, the primary DH for the '59 Indians, hit .500 (14-28) with 6 home runs and 12 RBI to capture the POTW Award. Francona also scored 9 runs on the week.
August 15: 1920 RF Elmer Smith doesn't mind competing with guys from the home run happy post dead ball era players. Smith just does what he does best and that's hit. His .577 batting average with 1 home run and 10 RBI stood out against Indians from every era.
August 22: How are these stats, .414 average, 6 home runs, 9 RBI and 8 runs scored? 1999 RF Manny Ramirez put up those numbers and took home the Player of the Week Award.
August 29: 1948 2B Joe Gordon used a .556 week with 5 home runs and 11 RBI to add the POTW Award to his trophy case. The future manager collected 15 hits and scored 10 runs.
Lajoie's Liners (1908)
Game Highlights: On August 8, Addie Joss (13-12) did what aces do. He stopped the 1995 Indians 10 game winning streak with 8 innings of 4 hit ball. It wasn't easy for the "Human Hairpin". Aside from a 3rd inning mistake to 3B Jim Thome (31) which went for a 2-run home run, Joss was in control. Elmer flick went 2-4 with 2 RBI in the 6-3 win. On August 18, Addie Joss (15-12) gave up 2 hits and shut out the 2007 Indians 2-0. Joss lowered his ERA to 2.99 with 5 strikeouts and 2B Nap Lajoie tripled home CF Wilbur Good then scored on a 1B George Stovall base hit. On August 24th, Addie Joss (16-12) and 1940 starter Bob Feller threw blanks at each other until Feller's 133 pitch count prompted manager Lou Boudreau to send out Nate Andrews for the 9th. "Handsom Lou" wasn't fortunate with that move as the Naps struck for 3 runs to make Joss' day. Joss needed only 101 pitches for his shutout win and only struck out 1 hitter.
Team: Ending the month 14-15, the 7th place Naps have been eliminated from postseason contention.
Offense: Catcher Jay "Nig" Clarke hit .349 with an .883 OPS to lead the '08 Naps in August. In the days before integration players with darker complexions often carried the nickname "Nig" and for Clarke it stuck. Now considered offensive, at least 10 other major leaguers were called this name. With the Naps in the heat of the pennant race in 1908, Clarke asked for a day off (he was newly married) but Lajoie refused. While warming up the pitcher, Clarke allegedly stuck out his bare hand and the pitch cleanly broke his finger. Holding up his bleeding hand, Clarke asked "Now can I go home?" The catcher missed 5 weeks and the Indians finished a half game behind the Tigers.
Pitching: Team leaders put their team on their backs and that is what Addie Joss did in August going 5-1 with a 1.68 ERA with 3 complete games (2 shutouts). On the season, Joss is 16-13 with a 3.03 ERA. The baseball world was shocked when Joss died suddenly in 1911. Major leaguers staged a benefit All Star game for Joss' widow and raised $12,914.
The Jolly Mollies (1913)
Game Highlights: On August 3, SS Roger Peckinpaugh lined a '97 reliever Jose Mesa pitch into left field and 3B Terry Turner scored for a 5-4 11th inning win. CF Buddy Ryan went 3-6 with 2 RBI in the win. On August 17, former manager 2B Nap Lajoie doubled home future manager SS Roger Peckinpaugh in the 11th inning as the Mollies downed the '59 Indians 5-4. Lajoie enjoyed a 4-5 game and LF Jack Graney drove in 3 with his 4th home run. On August 18, Cy Falkenberg (12-7) used the huge dimensions of the cavernous Cleveland Stadium to his advantage as he completely shut down the '59 Indians 6-0. The Nostalgia League ERA leader put more of a gap between him and the competition as he lowered his ERA to 2.04. DH Nemo Leibold drove in 2 with an 8th inning double. On August 22, Vean Gregg (8-10) stymied the '26 Tribe for a 5-0 shutout win. LF Jack Graney went 3-4 with 3 ribbies.
Team: The Mollies string of winning months came to an end in August as they posted a 13-16 record. The Mollies did take 2 of 3 against the 1908 Naps in the fight for the Napionship.
Offense: RF Shoeless Joe Jackson hit .390 with 2 home runs, 4 doubles and 3 triples in August. One of the greatest of all time, Jackson resides in third place in all time batting average but because he was implicated in the 1919 Black Sox Scandal, Jackson is barred from enshrinement in Cooperstown. Allegedly, the real conspirators threw the money to throw the series onto his hotel room floor. There is no evidence that Jackson was a part of the conspiracy. "Say it ain't so Joe."
Pitching: Willie Mitchell went 2-3 with a 3.53 to be chosen spotlight pitcher for August. On the season, Mitchell is 14-13 with a 3.05 ERA. Mitchell played 11 MLB seasons mostly with the Indians and finished his career in Detroit. In 1913, Mitchell went 14-8 with a 1.91 ERA.
Speaker of the House (1920)
Game Highlights: On August 12, after starting the month in first place, the 1920 Indians fell to 3 games out but scored a 7-5 ten inning victory over the 1913 Indians. RF Elmer Smith went 5-6 with 4 RBI including a 2-run 10th inning double to provide the victory margin. On August 22, catcher Steve O'Neill came up with the winner as his single scored RF Elmer Smith in the 9th to down the 1940 Indians 7-6. Both Smith and LF Charlie Jamieson went 3-5 and Jim Bagby (6-5) took the win with 2 innings of relief. On August 25, CF Tris Speaker (7) drove in 6 runs and C Steve O'Neill (2) added another 5 as both Indian stars hit home runs in a 16-5 drubbing of the 1997 Wahoo's. Elmer Myers (11-7) was the beneficiary of the offensive onslaught as he cruised for the complete game win. On August 28, John "Duster" Mails (13-7) was outstanding giving up only 2 hits in a 2-0 shutout of the '68 Indians. 1920 got on the board early when SS Ray Chapman (2-4) and LF Charlie Jamieson (2-3) scored the only runs in the first inning.
Team: Starting the month in first place, the 1920 Indians lost 7 straight from July 31st through August 6th to fall into 2nd place. On the month, Speaker's champions went 16-13 with the league's most effective offense. They hope to use that offense to make a September run for the Nostalgia League crown.
Offense: Buoyed by a 12 game hitting streak, catcher Steve O'Neill hit .380 in August with 2 home runs and 26 RBI. Steve was one of 6 siblings to play major league baseball and the most successful of his siblings. Brothers Michael and Jack were the first brother battery mates in the majors and used Gaelic signals to fool opponents. O'Neill played 13 of his 18 year career in Cleveland for both the Naps and the Indians. In 1935, O'Neill returned to Cleveland to manage. He would later manage for 4 other teams and won the 1945 World Series.
Pitching: Used as a reliever by the OOTP AI, Jim Bagby was tabbed to pitch in 11 games for the 1920 Champions. Bagby went 1-2 with a 1.57. In reality, Bagby won 31 games for the 1920 Indians and was the first pitcher to hit a home run in the World Series. Bagby's son Jim Jr. pitched for the Indians. Bagby's screwball was ranked by Bill James as the 9th best of all time.
Speaker's Last Hurrah (1926)
Game Highlights: On August 6, Dutch Levsen (9-10) worked overtime in a 10 inning complete game win over the '48 Indians. With 2 outs in the bottom of the 10th inning, LF Dale Mitchell dropped a RF Homer Summa fly ball and LF Charlie Jamieson scored the winner. On August 14, leadoff hitter Joe Sewell went 5-7 in a 15-10 12 inning affair with the '95 Indians. Sewell's exploits saw him drive in a game high 5 runs as the '26ies struck for 6 in the 12th for the win.
Team: The 1926 Indians went 15-14 and sit in 3rd place. That's the good news. The bad news? They are 17 games out of first place with only 22 games left.
Offense: SS Joe Sewell romped through August with a .413 batting average with 3 dingers and 27 ribbies. The Hall of Famer came up with the Indians in 1920 and would eventually take over short for the late Ray Chapman. Sewell's younger brother Luke is a catcher for the 1932 Indians and the stadium at the University of Alabama is named after Joe. Joe played 11 years with the Indians before taking his talents to New York. According to his obituary, Joe played his entire 14 year career with one bat.
Pitching: Closer Sherry Smith went 1-1 with 7 saves in August. His 1.04 ERA made him almost automatic for the '26 Indians. Smith has 34 saves and a 1.53 ERA. Smith went 45-48 in his 6 seasons in Cleveland. The old if you can't beat'em then join'em must have occurred to Smith as he was on the Brooklyn Robins team that lost to the Indians in the 1920 World Series.
Pecking Order (1932)
Game Highlights: On August 5th, Nostalgia League fans got to see how good CF Earl Averill really is especially when he crushes two home runs (38) like he did against the 1940 Tribe. Not only did he hit 2 bombs but his second shot of the day was a walk off 9th inning game winner in a 5-4 win. On August 21, DH Bob Seeds went 4-6 and drove in 5 to lead '32's 18 run barrage of 1908 pitching. "Suitcase" hit 2 doubles and raised his average to .252. Ralph Winegarner (3-6) picked up the win in relief of Sarge Connally.
Team: With a 9-20 August, Peckinpaugh's pals fell to 45 games out and will be sitting home come post season.
Offense: 1B Ed Morgan hit .339 with 2 home runs and 21 runs scored. On the season Morgan has a .276 batting average. Morgan played 6 years in Cleveland before completing his career with the Red Sox. Morgan peaked in 1930 hitting 26 of his career 45 home runs with a .349 batting average.
Pitching: Reliever Ralph Winegarner took the mound 12 times in August going 2-1 with a 3.95 ERA. On the season Winegarner is 3-6 with a 7.01 ERA. Winegarner played four years as an Indian and was used as a relief pitcher, third baseman, outfielder and pinch hitter. His primary spot on the team was as a relief pitcher taking the mound only 70 times in his 5 year career.
Crybabies Crib (1940)
Game Highlights: On August 7, catcher Rollie Hemsley hit a 9th inning triple which scored 2 runs and the 1940's downed the '76ers 8-7. 1B Hal Trosky doubled 3 times to lead the 1940 offense. On August 12, 1940 was cruising to a 5-3 win until '97 LF Brian Giles tied up the game with his second home run of the day (45). Things got bleaker when DH David Justice homered in the 13th (37) to give '97 a 7-5 lead. That's when LF Jeff Heath flexed his muscles with a 3-run game winning home run (14). One columnist had this to say: "Vitt finally decided to use Jeff Heath, the chap with the bulging muscles, in his left pasture. There are few better hitters in the American league than the husky from Washington. Jeff is not the most graceful ballhawk in captivity and he may toss to the wrong base, but put a bat in his hands and the opposition's pitcher will tremble."
Team: Ossie Vitt's squad went 16-13 in August and sit 14 games back and in 5th place.
Offense: SS Lou Boudreau is currently sitting on an eleven game hitting streak as he put together a .381 month. The 23 year old shortstop is hitting .321 on the season with 8 big knocks. The two sport star from the University of Illinois arrived in Cleveland as a 21 year old first baseman in 1938. While manning first and then short for the Indians, "Old Shufflefoot" played in the National Basketball League. After the 1941 season, owner Alva Bradley promoted Boudreau to player manager a title he'd hold until 1950. Boudreau's #5 is retired for the Indians. Boudreau used his bare hand to snag a grounder by Joe Dimaggio to help end Joltin' Joe's 56 game hitting streak.
Pitching: While Bob Feller was winning the Pitcher of the Month Award, fellow starter Willis Hudlin went 2-1 with a 3.38 ERA. On the season, "Ace" Hudlin is 11-9 with a 4.93 ERA. Hudlin gave up Babe Ruth's 500th home run but according to Hudlin "Actually, Babe only hit a total of five home runs off me, so I guess that wasn't too bad considering that he hit 714 before he quit.''
Boudreau's Bombers (1948)
Game Highlights: On August 1, manager Lou Boudreau watched "Bullet Bob" Feller (12-7) pitch an impressive 9 innings but his team was locked in a 4-4 tie in the bottom of the ninth. That's when the shortstop decided to do something about it and do something he did. Boudreau drove a 1-2 Humberto Robinson pitch into the left field seats and the '48ers went home happy with a 5-4 win. Feller only gave up 4 hits on the night but the '59 Wahoo's took full advantage by scoring four earned runs. On August 4, Don Black (6-5) held the '26 Indians to only 5 hits in a 104 pitch shutout. 1B Eddie Robinson provided the fire power with 2 long balls (25) including a 3rd inning slam off of George Uhle (14-6) and the '48ers cruised to a 7-0 win. On August 8, Bob Lemon (16-6) scattered 3 hits for a 4-0 shutout win over the 1956 Indians. On August 27, 2B Joe Gordon homered (37) and drove in 7 runs as the 1948 Indians hammered the '13 Naps 14-3. Gordon's home run was a grand slam and 1B Eddie Robinson hit his 29th four bagger.
Team: Going 19-10 in August the '48ites narrowed their deficit to 12 games but time is running out for the 2nd place team.
Offense: CF Larry Doby finished August on a 6 game hitting streak and his .325 average with 6 home runs gave him the spotlight player of the month. Also in August, 2005 Indian 3B Aaron Boone's grandfather made an appearance. The rookie shortstop would go on to be the patriarch of a 3 generation baseball family.
Pitching: Bob Lemon went 5-0 in August with a 2.54 ERA and the Indians ace is 19-6. After starting his career as an infielder, Lemon became a utility man and was the center fielder for Bob Feller's no-hitter against the Yankees in 1946. Lemon's daring catch and throw in the game was credited by Feller as saving the no-hitter. After winning the World Series in 1948, Lemon would win another as a manager for the Yankees 30 years later.
114 Wins (1954)
Game Highlights: On August 24, 3B Rudy Regalado's sacrifice fly in the 11th inning scored CF Larry Doby and 1954 celebrated a 3-2 win over the '68 Indians. The 1954 Indians needed an error by LF Lee Maye to tie it up in the 9th just to get to the 11th inning. On August 25, for the second consecutive night the '54 Indians struck in the 11th to beat the '68 Tribe. This time the hero was DH Dave Pope who stroked his 18th home run. 1954 scored all their runs on solo home runs. 2B Bobby Avila (18) homered in the first and RF Dave Philley followed suit in the 7th before Pope's big thump won it 3-2.
Team: Bolstered by a 10 game winning streak and winning 17 of 18 games the 1954 Indians went 23-6 in August and moved into 3rd place. The team will need to duplicate that in order to overtake 2005 and 1920 in the Speaker Division.
Offense: 2B Bobby Avila hit .347 in August with 4 home runs and 20 RBI. "Beto" came to the Indians in 1949 out of Mexico and by 1951 became the Indians starting 2B. Winning the batting title in 1954, Avila was the spark plug for the 1954 offense while finishing third in the MVP voting. Avila spent 10 years in Cleveland and 11 years total in the majors. Avila was a 3 time All Star and served as the mayor of Vera Cruz, Mexico.
Lopez '56 (1956)
Game Highlights: On August 2, Al Lopez wasn't worried as he watched the 1926 Indians score two 10th inning runs because he just had a feeling things were going to end up right. RF Rocky Colavito turned Lopez' premonition into reality as he drove a By Speece pitch over the left field wall for a walk off 3-run home run (36) as the '56 Tribe won 10-8. On August 3, 1926 starter Garland Buckey surrendered back-to-back-to-back first inning home runs to RF Rocky Colavito, Vic Wertz (45) and LF Al Smith (12) in a barn burner of a game. The Rock wasn't done with the first inning bomb as he creamed another Buckeye offering in the third inning then took Willis Hudlin deep in the 7th for his third home run (39) of the day. Despite Colavito's muscle the game was still tied at 7 in the bottom of the ninth. With runners on first and second '26 reliever Sherry Smith wasn't going to let Colavito beat him and his walk loaded the bases before Wertz drove in the winner with a base hit. On August 21, Vic Wertz hit a first inning homer but wasn't done as he added a 7th inning grand slam (52) as the '56ers hammered the '86 Indians 22-2. Joining Wertz in the home run derby was catcher Hal Naragon (6 & 7), CF Al Smith (15 & 16) and 3B Al Rosen (21). On August 25, a seven run 9th inning was capped by 1B Vic Wertz' 3 run home run (53) absolutely stunned the 1913 Naps. Leading 7-2 with only 3 outs to go the Naps called on Lefty James who didn't record an out and then Fred Blanding (6-7) walked 2 before throwing meat to Wertz.
Team: Too little too late as the '56 Indians went 18-11 but now sit 24 games out and are on the verge of being eliminated.
Offense: RF Rocky Colavito hit 14 August home runs and 1B Vic Wertz hit 14 to lead the 1956 Indians in August. Another player that had a good month was LF Dale Mitchell. Mitchell spent 11 years in Cleveland before being sent to Brooklyn for the Dodgers' playoff run. He hit .336 in which was good for third in the AL during the Indians championship year in 1948. During his brief stay in Brooklyn, Mitchell made the final out in Don Larson's perfect game. Dale was one of the most difficult batters to strike out (34:1) in his major league career.
Pitching: Herb Score and Mike Garcia combined to go 8-0 in August and Don Mossi recorded 7 saves. Score's excellent month included a 2.28 ERA as he improved his season record to 15-7. Herb won the 1955 Rookie of the Year Award while leading the AL in strikeouts with 245. He followed it up in 1956 with a 20-9 record while striking out a league leading 263. After retiring from baseball at the age of 30, Score embarked on a broadcasting career with the Indians which would touch four decades. His trademark line was "It's a beautiful day for baseball."
Gordon's Gamers (1959)
Game Highlights: On August 16, DH Tito Francona singled home C Russ Nixon as the '59 Indians triumphed over the '86 Tribe in a marathon 17 innings. 2B Billy Martin went 4-7 with a home run (11). The win overshadowed Tom Candiotti's 10.1 innings of 1 run pitching for '86. The Candy man struck out 12.
Team: Joe Gordon's boys started August with a dismal 5-12 record but on August 19 the Tribe downed the '13 Naps and went on to win the next 8 games (9 game winning streak). In the end, the '59ers finished August with a 14-15 record and are eliminated from post season play.
Offense: LF Saturnino "Minnie" Minoso hit 6 home runs in August and a .250 batting average. On the season Minnie hit 33 home runs with a .284 batting average. Minoso came up with the Indians in 1949 to start a career where he'd play MLB games in 5 decades, play for 4 teams, and play 7 different positions. The "Cuban Comet" had 2 stints with the Indians hitting .302 but made a name for himself with the White Sox for whom he joined the team for 5 stints. After playing his last game with the ChiSox in 1964, Minnie continued to play in Mexico and in 1976 joined the White Sox for 3 games getting 1 hit in 8 at bats. Then in 1980 he played two games for the White Sox making him only the second 5 decade player in MLB history.
Pitching: Don "Midget" Ferrarese went 3-0 in August to be acknowledged as the spotlight pitcher for the '59 Indians. His ERA in August was an impressive 2.72. On the season, Ferrarese is 8-11 with a 4.95 ERA. Ferrarese was a southpaw who stood 5'9", which lead to his nickname. Ferrarese spent 1958 and 1959 with the Indians going a combined 8-7 with a 3.48. Ferrarese spent 8 years in the majors for 5 teams. The journeyman lefty ever wore the same number for more than 2 years in a row.
Scared of the Dark (1968)
Game Highlights: On August 1, Luis Tiant (10-11) struck out 16 of Pat Corrales' '86 players and LF Lee Maye got 3 hits including a home run (7). C Duke Sims (11) and 1B Tony Horton (18) also homered in the 8-1 win. On August 20, RF Tommy Harper homered twice (19) but the real star of the game was Stan Williams (8-7). "Big Daddy" gave up 7 hits, struck out 8 and walked none in a 4-0 shutout win over the '68ies.
Team: With a 9 game losing streak, the 1968 Indians compiled a disappointing 10-19 record. Sitting in 8th place, Alvin Dark's team has been eliminated.
Offense: RF Tommy Harper hit a team leading 7 home runs in August but still had a disappointing .233 batting average. Harper is the 1968 leadoff hitter with a disappointing .190 batting average. Harper spent 15 years in the majors and 1968 was his only year in Cleveland. Harper must have breathed a sigh of relief when he was selected by the Seattle Pilots in the expansion draft because 1968 was a very poor year for the speedster. Harper revived his career in the Pilot's lone season in Seattle by leading the AL with 73 stolen bases. In 1970, Harper's career peaked in Milwaukee when he joined the 30/30 club. Harper's 31 home runs was his highest total by 13.
Pitching: Reliever Eddie Fisher went 3-1 in 15 innings of relief in August while posting a 1.20 ERA. The 32 year old veteran knuckler went 4-2 with a 2.85 ERA in his lone season on Lake Erie's shore. The 15 year veteran made 690 appearances with all but 63 in relief.
Mr. Robinson's Neighborhood (1976)
Game Highlights: On August 4, facing the prospects of a 2-1 loss in the bottom of the 9th inning, manager Frank Robinson watched as catcher Ray Fosse's ground ball eluded 1956 shortstop Ken Kuhn and 3B Buddy Bell scored the tying run. Then in the 10th inning LF George Hendrick put the '76ers in the win column with a walk off home run (22). On August 9, RF John Lowenstein's 2nd home run (3) of the day broke a 5-5 tie in the 9th inning and Frank Robinson's crew downed the 1940 Indians 6-5. Lowenstein went 3-4 with 4 runs and 4 RBI to raise his average to .227. On August 19, one day after blowing a 9th inning lead, the '76 Indians turned the tables on '99 Wahoo's when CF Rick Manning (5) hit a 2 run walk off 10th inning home run. Manning was 2-5 with 3 ribbies and swiped his 17th base. On August 22, Dennis Eckersley and '68's Sam McDowell staged an old fashion pitcher's duel. Both pitchers were long gone when 3B Buddy Bell singled home 1B Rico Carty for the game's sole run. Bell's heroics took place in the top of the 11th but the victory wasn't sealed until Jim Kern (4 saves) struck out RF Tommy Harper to end it at 1-0.
Team: The 1976 Indians finished the month on an 8 game slide in posting a 10-19 August. Sitting 43 games back the "wait till next year" mantra is being spoken in and around the '76 Indian wigwams.
Offense: SS Larvell "Sugar Bear" Blanks hit .262 in August with 3 home runs, 2 doubles and 2 triples to be identified as the spotlight player for August. The 26 year old Texan played in 104 games for the '76 Indians mostly at second and short hitting .280 and 5 home runs. Blanks broke in with the Braves in '72 and '76 was his first year in an Indian uniform. In total Blanks was an Indian for 3 of his 9 years batting .320 with 13 dingers.
Pitching: The bullpen trio of Jim Kern, Dave LaRoche and Tom Buskey made a combined 41 appearances going 3-2 with 6 saves. Tom Buskey went 16.1 innings with a 2.20 ERA in August. After saving 17 games in 1974, Buskey spent the next 3 years as a setup man in Cleveland. Buskey spent half of his eight MLB seasons pitching out of the Indians bullpen. In fact, Buskey made 0 starts in his 8 year career.
At the OK Corrales (1986)
Game Highlights: On August 11, the Candy Man can especially when the knuckleball is dancing like it did against the 1908 Naps. Tom Candiotti (10-8) gave up 4 hits and if not for an unearned run would have had a shutout. 2B Tony Bernazard homered (24) in the 9-1 win while raising his batting average to .301. On August 15, Pat Corrales' crew staged a dramatic 9th inning comeback to down the '59 Indians 7-6. After '59 scored 2 to break a 4-4 tie in the top of the 9th, closer Humberto Robinson got two quick outs and things looked badly for the '86 Wahoos. LF Joe Carter got things rolling with a solo home run (30). DH Mel Hall followed with a single and 2B Tony Bernazard doubled Hall home to tie it. This set up RF Cory Snyder who singled to left for the winner.
Team: Starting August in the middle of what would be a 12 game losing streak, the '86 Tribe would also lose six in a row later in the month and end the month on a four game slide. That's a lot of losing and the 6-23 record was their worst month of a really bad season.
Offense: 1B Pat Tabler hit .320 with a homer and 14 RBI for the '86 Indians in August. Tabler was a hitter and a clutch one at that. While compiling his 12 year career, Tabler was well known for his ability to hit with the bases loaded going 43-88 with 108 RBI. Tabler spent 6 years with the Tribe hitting .294 with 39 home runs but tons of bases loaded hits.
Pitching: Former first rounder out of Texas, Greg Swindell, held his own during his team's atrocious month. Swindell went 2-2 with 3.83 ERA. On the season the rookie lefty brandishes an 8-15 record with a 5.62 ERA. Drafted with the 2nd pick in the 1986 draft, Swindell didn't last long in the minors making his MLB debut just 21 days after signing. Swindell went 5-2 with a 4.23 ERA that season. Swindell would win 18 in 1988 before leaving in a trade after the '91 season. Swindell would return as a reliever in 1996 but only appear in 13 games. In all, the big southpaw would play 17 MLB seasons finishing in 2002 with a 123-122 career record (61-56 in Cleveland).
Grover's Greatest (1995)
Game Highlights: On August 3, DH Carlos Baerga's second home run (21) of the day gave the '95 Indians a 7-6 12th inning lead and southpaw Paul Assenmacher nailed down the last out for his 3rd save. Besides Carlos' two long balls teammates 1B Paul Sorrento (33), 3B Jim Thome (27), and 2B Alvaro Espinoza (7) also hit bombs off of 1954 pitching. On August 26, 22 hits, 7 free passes and 6 home runs equal 20 runs scored. That's the '95 Indians stat line against the '99 Indians in a 20-11 offensive show. 1B Eddie Murray hit 2 of the bombs (8) and was joined by catcher Sandy Alomar (28), 3B Jim Thome (35), LF Albert Belle (40) and RF Manny Ramirez (36) in the fireworks show. On August 30, El Presidente made a decree that the '76 Indians were not going to score then went out and made it happen in a 14-0 win. Dennis Martinez (14-8) threw a two hitter and battery mate catcher Sandy Alomar homered twice (31).
Team: Starting the month by winning the final 7 games of a 10 game run and finishing by winning 6 straight, the 1995 Indians went 18-11. With a 94-46 record, the '95 Indians appear to be running away with the division.
Offense: 2B Carlos Baerga hit .346 with 4 home runs and 17 ribbies in August. The 26 year old Puerto Rican infielder is hitting .305 with 22 home runs on the Nostalgia League season. Baerga was a key component of an Indians team that revived baseball in northeast Ohio. In 1993, the switch-hitting Baerga homered from each side of the plate in the same inning to be the first to accomplish the feat. In 1992 and 1993, Baerga became only the 2nd second baseman to have back-to-back years of .300+ average, 200+ hits, and 100+ RBI. Carlos had his greatest success in Cleveland and was inducted into the Indians Hall of Fame in February 2013.
Pitching: Jose Mesa didn't give up an August run while recording 9 saves. In fact, the 29 year old reliever has now gone 25 appearances and two whole months without surrendering a run. On the season, Mesa has 40 saves with a brilliant 1.96 ERA. Mesa's bullpen mate Paul Assenmacher went 2-0 with 1 save and a 2.84 ERA. Assenmacher put together a 14 year career with his final 5 years in an Indian uniform. Assenmacher thrived as a lefty on lefty pitcher with a slow curve.
Heartbreak Kids (1997)
Game Highlights: On August 8, Mike Hargrove's Indians scored 4 touchdowns and a field goal to crush the 1932 Indians 31-8. SS Omar Vizquel went 5-6 with 5 runs and the Indians used 8 home runs from catcher Sandy Alomar (21), 1B Jim Thome (37), 2B Tony Fernandez (10), 3B Matt Williams (22), LF Brian Giles (43), CF Chad Curtis (22) and DH David Justice (36). 1932 struck hard in the 2nd inning for 7 runs to take a 7-3 lead but after that it was all '97ites who scored 4 in the 2nd, 5 runs in each of the 4th, 5th and 8th innings, and a 9 spot in the 7th inning. On August 15, Orel "The Bulldog" Hershiser (11-7) twirled a shutout against the 1976 Indians for a 5-0 win. The Bowling Green Falcon gave up only 3 hits and both catcher Sandy Alomar (23) and 3B Matt Williams (26) homered for the '97's. On August 16, LF David Justice homered 3 times (35) in a 9-2 win over the 1948 Indians. Justice drove in 6 and Jaret Wright (9-8) got the win. On August 28, RF Manny Ramirez went 5-6 with 3 RBI and his 33rd home run but it was Black Jack's day. Jack McDowell (7-7) struck out 10 and gave up 4 hits in a 15-0 whitewashing of the '97 Indians.
Team: The 1997 team slumped to a 12-17 record in August and now sits 17 games back in the Speaker Division.
Offense: 3B Matt Williams crushed 10 home runs in August and drove in 28 runs. On the season, Matt is hitting a paltry .219 but has 30 long balls. "Matt the Bat" was a key member of the 1989 Giants World Series team (the quake series). Matt was a 5 time All-Star, NL home run champion (1994) and 4 time Gold Glove winner. He came to Cleveland in 1997 and helped lead the team to the World Series. After the '98 season Williams asked for a trade to Arizona so he could be close to his children and the Indians complied sending him to the Diamondbacks for third baseman Travis Fryman.
Pitching: Closer Mike Jackson had another outstanding month with a 1.38 ERA with 5 saves. On the season Jackson has 28 saves with a 2.91 ERA. Jackson tied with Tribe teammate Paul Assenmacher for the most games pitched in the '90s and he ranks 14th all-time in games pitched.
Land of a Thousand Runs (1999)
Game Highlights: On August 11, David Justice drove a 1956 reliever Ray Narleski (5-8) pitch over the wall for his 31st home run in the 10th inning to make a winner out of reliever Sean DePaula (3-3). Jaret Wright and Sal "The Barber" Maglie started the game but were long gone before Justice's heroics. On August 18, 1B Richie Sexson hit a 9th inning grand slam (6 – his 2nd homer of the game) as the 1999 Indians stunned the '76 Tribe 10-8. Sexson's slam was the central point in a 5 run 9th as 1999 turned an 8-3 deficit into a win.
Team: The 1999 Indians struggled to a 14-15 August record and now sit in 4th place in the Speaker Division. They needed a good month to cut their deficit but didn't get it. They are now 13 games out.
Offense: RF Manny Ramirez hit 15 home runs with 31 RBI in August while hitting .316. On the season, Ramirez is sitting in second place in home runs with 55 but has struck out 191 times. Manny was a 12 time All Star and might have been the most natural hitter in Indians history. After 8 years with the Indians and 8 years with the Red Sox, Manny faced 2 suspensions for PEDs.
Pitching: The bullpen was active for the 1999 Indians in August with guys like Paul Assenmacher (0.96 ERA), Mike Jackson (1.65), Paul Shuey (2.55) and Jerry Spradlin (3.63) putting up solid numbers. Between those 4, the bullpen posted a 3-3 record with 4 saves. Spradlin is the surprising one in that list as he only appeared in 4 games for the 1999 Indians and had an 18.00 ERA.
Sand Wedge (2005)
Game Highlights: On August 5, for 8 innings starter CC Sabathia and '08 starter Heinie Berger staged an old fashioned pitcher's duel. Berger's only blemish was an 8th inning home run by 3B Aaron Boone (14) and Sabathia's only mistake was a 2 out RBI single by C Harry Bemis. Sabathia K'ed 14 '08ies before giving way to Bob Howry (8-5). Berger added 9 K's of his own through 9 innings and the game went to extras. Free baseball finally ended in the 11th inning when SS Jhonny Peralta singled home pinch runner Jose Hernandez for a 2-1 win. On August 8, Ben Broussard booted a RF Rocky Colavito ball in the 2nd inning then the Rock singled in the fourth and that was it. Those were the only base runners that Cliff Lee (15-2) surrendered. Lee's 1 hit shutout of the '59 Indians was as dominant as can be. He struck out 10 and only needed 104 pitches to do the job. CF Grady Sizemore provided the offense with a 3-run home run (22) in the fifth inning and 2005 won 6-0. On August 30, Cliff Lee (17-3) shutout the 1986 offense and the offense exploded for 16 runs on 21 hits. Catcher Victor Martinez (29), DH Travis Hafner (54) and 1B Ben Broussard (26) homered and every starter got at least 1 hit.
Team: Battling it out with the 1920 Indians for the Speaker Division championship, the 2005 Indians did what you do to win. They went 20-9 in August and have opened up a 3 game lead.
Offense: SS Jhonny Peralta hit .300 with 4 home runs in August. The Indians signed Peralta in 1999 out of the Dominican Republic and he came up through the Indians system eventually taking over shortstop for Omar Vizquel. In 2005, Peralta hit .292 with 24 home runs as the Indians shortstop. He remained with the Indians until a trade deadline deal with the Tigers in 2010. Peralta made his first All Star Game in 2011 for the Tigers. In 2007, Jhonny claimed in an interview that he was the only Jhonny to spell his name correctly and all other Johnnies were wrong.
Pitching: Reliever Bob Howry was spot on for Eric Wedge in August saving 6 games and posting a 1-1 record. Howry has 25 saves and an 8-6 record on the season. Howry pitched 2 of his 13 MLB seasons in Cleveland appearing in 116 games but only saving 3 of them. He had his most success with the White Sox from 1998-2002.
Pitching Wedge (2007)
Game Highlights: On August 7, Fausto Carmona's (8-11) sinker was nasty and 1968 hitters could only walk back to their bench scratching their heads. F-Bob (as his name is really Roberto Hernandez) carried a perfect game into the 9th inning but with 1 out, Larry Brown lined a ball up the middle which a diving SS Jhonny Peralta couldn't get a glove on. That was it. No other '68er got on base. The 2007 Tribe hit four home runs in support of F-Bob: DH Travis Hafner (45), CF Grady Sizemore (30), 1B Ryan Garko (27) and 3B Andy Marte (10).
Team: Despite a 7 game winning streak the 2007 Indians fell to 14-15 in August and are now eliminated from post season ball.
Offense: DH Travis Hafner hit 12 home runs in August and CF Grady Sizemore added 10. 2B Asdrubal Cabrera hit .286 while RF Casey Black hit .279. On the downside SS Jhonny Peralta (.171), LF David Dellucci (.182), and 3 Andy Marte (.208) struggled.
Pitching: Paul Byrd made 5 starts and 8 relief appearances in August and the workhorse posted a 4-1 record and picked up one save. Byrd held opponents to a 3.12 ERA in August and on the year he's 9-6. Byrd was originally drafted by the Indians in 1991. He celebrated getting drafted by combining with fellow Tribe draftee Chad Ogea to lead the LSU Tigers to the College World Series title. It would take Byrd 15 years to play a major league game for Cleveland. His journey to Cleveland led him through MLB seasons with the Mets, Braves, Royals, Phillies and Angels. In December 2005, Byrd signed a free agent contract with the Indians and his pro career was full circle. Byrd completed his career with Boston in 2008 and 2009.
User Comments
No comments currently. Be the first to comment!