The Nostalgia League: July results
As an experiment, I have assembled 18 Cleveland baseball teams from all eras to compete in a 162 game schedule for the Best Team in Cleveland History using Out Of The Park Baseball 13 (OOTP), which is a baseball simulation game. Below are the results for July, and if you missed them, here are the other pieces in the nine-part series:
Nostalgia League preview
Opening day results
April results
May results
June results
July started out with a no-no and was bookended on July 30th with another no-no. Mike Hargrove's 1995 Indians have built up a comfortable lead in the Boudreau Division, but the Speaker Division changed leaders. Right now it's shaping into a two team race in the Speaker unless one of the Hargrove teams or 1940 make a move.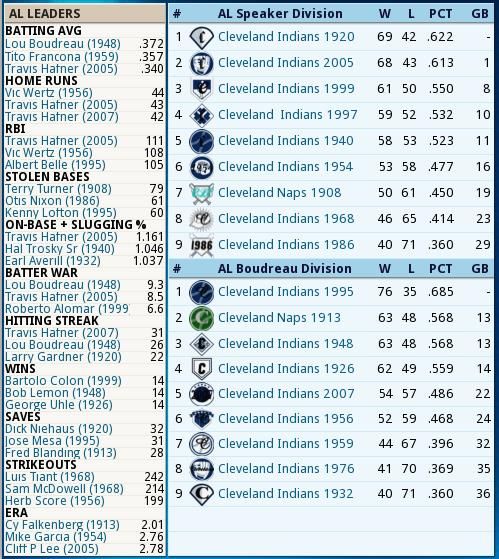 Batter of the Month
Pitchers in July didn't want to play in 1948 CF Larry Doby's playground as the pioneer hit .327 with 6 home runs and 20 RBI. In 1946, Doby helped the Newark Eagles to the Negro League World Series Title and just two years later Doby would lead the 1948 Indians to glory land (and now is trying to lead his team to the Nostalgia League title). Doby signed with the Newark Eagles as a 17-year old but to protect his amateur status he used the alias "Larry Walker". Doby told the following story about his first game in the Negro Leagues: "My first time up, Josh said, 'We're going to find out if you can hit a fastball.' I singled. Next time up, Josh (Gibson) said, 'We're going to find out if you can hit a curveball.' I singled. Third time up, Josh said, 'We're going to find out how you do after you're knocked down.' I popped up the first time after they knocked me down. The second time, I singled."
Pitcher of the Month
Competition was tough for the Pitcher of the Month award with two no-no's thrown in July, but neither of those hurlers won it. The winner was 1954 starter Mike Garcia. "Mexican Mike" went 4-0 with a 1.34 ERA. He struck out 28 in 47 July innings. In 1951 Garcia, who was from California, was roomed with newly signed Bobby Avila. Avila didn't speak English and Garcia served as the interpreter. The Indians in the 50's were not afraid of adding Latino players like Garcia, Avila, Minnie Minoso, and Jesse Flores to go along with manager Al Lopez. The "Big Bear" as teammates called him, raced midget cars during and after his baseball career.
Players of the Week
July 4: 2005 DH/1B Travis "Pronk" Hafner used a 15-24 (.625) onslaught to take the Player of the Week Award. Pronk hit 5 home runs and drove in 6.
July 11: 1926 manager never had to think about who would play center as he just put down his own name and this week it was the right thing to do. Speaker hit .518 and drove in 8 runs to add the Player of the Week award to his trophy case.
July 18: CF Earl Averill had a special place on his mantel for the Player of the Week Award and finally won it by going 11-23 (.478). Averill homered 4 times and drove in 8 RBI.
July 25: 1997 RF David Justice was on fire as he hit .500 in 30 at bats while launching 4 home runs and 9 RBI.
Lajoie's Liners (1908)
Game Highlights: On July 17, DH George Perring singled home catcher Harry Bemis to break a 2-2 tie in the 13th inning and Perring scored an insurance run as the Naps downed the '76 Wahoos 4-2. On July 19, Addie Joss (10-11) shutout the 1959 Indians 2-0. 1B George Stovall provided the offense with his 4th home run on the year.
Team: Nap's Naps slumped to their worst month of the year going 11-17 and sit 19 games back.
Offense: To illustrate how the 1908 offense is, in July LF Josh Clarke lead the team with a .248 average. His 14 ribbies also topped the team and he hit 1 home run. On the season the left fielder is hitting a disappointing .228. Pepper - as Clarke was called - played 5 years in the majors and played 131 games in 1908, which is more than he played in the other four years combined. Josh's brother Fred played 21 years in the majors and was elected to the Hall of Fame in 1945 by the Old Timers Committee.
Pitching: The concept of a closer was pretty much unknown to baseball managers and players in 1908 but Jack Ryan has adjusted to the role nicely. Ryan stepped on the mound 10 times in July going 0-0 with 7 saves. His 2.45 ERA shut the door on opponents when the Naps had 9th inning leads. On the year Ryan has 28 saves and a 2.59 ERA. In 1908 Ryan only appeared in 8 games with a 1-1 record and 2.27 ERA. After the 1908 season, Ryan was traded for Cy Young.
The Jolly Mollies (1913)
Game Highlights: On July 1, LF Jack Graney singled home CF Buddy Ryan in the 13th inning to beat Bob Feller (3-2) and the 1956 Indians. RF Shoeless Joe Jackson homered (5) and drove in 3 on a 3-6 night and 3B Terry Turner drove in 3 runs in the 10-9 win. On July 3, RF Shoeless Joe Jackson went 3-5 with 3 RBI as the Mollies erupted for 7 runs in the 10th inning to shock the 1948 Indians 15-8.
Team: The Mollies duplicated their June record of 16-12 here in July and currently sit 13 games out in the Boudreau Division. Bolstered by four winning months, the most effective pitching staff (#1 in ERA, runs allowed, and starters ERA) the Mollies are sitting in 2nd place.
Offense: The Mollies were led offensively by RF Shoeless Joe Jackson who hit .362 with 2 home runs, 7 doubles and 3 triples in July. One of the greatest hitters in the first half of the 20th century, the 24-year old right fielder is hitting .333 on the season with 35 doubles, 5 triples and 6 dingers. Jackson is the Indians all time batting average leader and triples leader. The Indians traded Jackson to the White Sox in 1915 for financial reasons and he went on to be banned from baseball because of the 1919 World Series fixing scandal. Most accounts support Jackson's denial yet Jackson is still suspended and ineligible for Hall of Fame consideration (which he surely would find a home in Cooperstown).
Pitching: Right-hander Bill Steen had an outstanding month going 4-1 with a 2.02 ERA. On the season the fifth starter is 11-5 with a 3.30. Steen broke in with the Indians in 1912 going 9-8 but in 1913 suffered a broken wrist which limited him to 22 games. The 22 games represented his lowest game totals in his four year major league career. After starting the year 1-4 in 1915, the Indians sold him to the Tigers, who were in a tight pennant race. Steen would go 5-1 for the Tigers as they would fall short in the pennant chase. Steen would never pitch in the majors again after the 1915 season.
Speaker of the House (1920)
Game Highlights: On July 30, 1920 pitchers didn't know how to pitch to 1999 LF David Justice and despite giving up 3 home runs (29) to the 1995 World Series hero, they held on for an 11-10 win. RF Elmer Smith slammed No. 18 off Sean DePaula, and he and 1B Doc Johnston drove in 4 runs apiece. SS Joe Evans (3) added a solo shot.
Team: The World Champions used a 19-9 record to overtake the 2005 Indians for first place in the Speaker Division. The 1920 Indians swept the 1948 Tribe in a three game series to gain bragging writes in the Series of Champions. The Nostalgia League's best hitting team hold a slight one game lead over the 2005 Indians.
Offense: 3B Larry Gardner ends July on a 17 game hitting streak and posted a .333 average with 7 doubles and 1 home run. The Vermont Hall of Fame member played the final 6 years of his 17 year major league career in Cleveland hitting over .300 three times with the 'C' on his hat. In 1920 he played in all 154 regular season games and hit .310. He played on four World Champions including Cleveland's first.
Pitching: Reliever George Uhle started July with a stratospheric ERA of 9.82 but that didn't deter the reliever. The 21 year old Cleveland native took the mound 11 times and threw 11.2 scoreless innings in July. Uhle the Bull hopes his 2-0 record with 1 save is the start of turning around his Nostalgia League season because his team will need this in the tight race. The Bull opened his career in his home town in 1919 and by 1922 joined the 20 game winner club and claimed ace status in 1926 when he went 27-11. For his career (17 years), Uhle won 200 games with 147 of them coming for the Indians.
Speaker's Last Hurrah (1926)
Game Highlights: On July 4, Pat McNulty singled home George Burns for the winner in the 14th inning as '26 sent the '32 Indians fans home 7-6 losers. CF Tris Speaker went 4-7 with 2 RBI. On July 7, the second the ball left his hand '54 reliever Hal Newhouser(1-5) wanted the pitch back but RF Elmer Smith wouldn't give it back as he slammed the 10th inning pitch into the seats for a grand slam (15) and '26 walked off with a 10-6 win.
Team: After slipping in June, the 1926 Indians turned it around in a big way going 20-8 in July. Despite the wonderful month, the team lost a game in the standings to the 1995 Indians. They are currently 14 games back.
Offense: Hall of Fame CF Tris Speaker hit .362 in July to lead the '26 Indians and to prove that the Grey Eagle still has it. In the early part of his career with the Red Sox, Speaker teamed with Duffy Lewis and Harry Hooper to form the "Million Dollar Outfield", one of the finest outfields in MLB history. In 1915, the Boston owner wanted Speaker to take a pay cut (from $15K to $9K) and when he refused the owner sent Speaker to Cleveland. Speaker would then hit over .350 in ten of eleven years in Cleveland, ending Ty Cobb's run of 9 straight batting titles in 1916.
Pitching: When your last name is Buckeye, it would seem fated that you play for an Ohio team and that's what Garland "Gob" Buckeye did. The southpaw went 4-1 with a 3.08 ERA in July. On the season Buckeye is 5-7 with a 3.29 ERA. Buckeye, who was born in Minnesota, made his major league debut for the Senators in 1918 and came to Cleveland in 1925. Gob made a good impression in the Buckeye state going 13-8 in 1925. Buckeye played 5 major league seasons and was pulling double duty in most of them as he played guard in the NFL.
Pecking Order (1932)
Game Highlights: On July 12, 1999 took a 4-3 lead into the bottom of the ninth but closer Jerry Spradlin issued a bases loaded walk to catcher Glenn Myatt then 3B Willie Kamm singled to drive LF Joe Vosmik home with the game winner (5-4).
Team: The 1932 Indians lost their last 7 games in July and finished 10-18 for the month. At 36 games back and tied with the worst record in the Nostalgia League, Roger Peckinpaugh's team have little to no hope of competing. On July 31st, the 1932 Indians opened Cleveland Stadium with a 10-1 loss to Eric Wedges 1940 team (in reality the 1932 Indians lost to the Athletics' Lefty Grove 1-0 with Mel Harder on the mound for the Tribe.)
Offense: 3B Willie Kamm hit .333 with 20 ribbies to lead the '32 Wahoo's in hitting. On the season the 32 year old Californian is hitting .279 with 5 home runs and 55 RBI. Kamm was a slick fielding third baseman who retired with a major league single season record for fielding as a third baseman (eventually broken). He was also a master of the hidden ball trick and in 1929, as a member of the White Sox, used the hidden ball trick to turn a triple play against the Indians.
Pitching: Closer Willis "Ace" Hudlin went 1-1 with 2 saves and a 3.29 ERA in July to lead the '32 Wahoo's. Hudlin broke in with the 1926 Indians but only appeared in 8 games so that made him a rookie in '27 when he went 18-12. Hudlin's career included 15 years with the Indians going 157-151 with the Tribe. While he was mostly a starter, the OOTP AI is using Willis as the closer. Hudlin threw mostly over hand but would sometimes throw side-arm in what he called a "dip of the wrist".
Crybabies Crib (1940)
Game Highlights: On July 18, Johnny Allen (8-7) went 7 innings and was the beneficiary of a 17-run barrage of the 1999 Indians. Catcher Rollie Hemsley (5) and SS Lou Boudreau (7) homered and 2B Ray Mack drove in 5 runs.
Team: Starting the month off with a no-no, the Crybabies went 18-10. Starting the month 3 games below .500, the team finished 5 games over. They are currently 11 games behind the front running 1920 Indians.
Offense: 1B Hal Trosky used an 8 game hitting streak at the end of July to hit .337 with 8 home runs. Trosky homered on July 31st to join the 30 home run club. He is currently 2nd in the Nostalgia League in OPS (1.046). Trosky's career 216 home runs is 5th on the Indians all-time home run list despite retiring at the age of 33. Trosky had his best year in 1936 when he led the AL in RBI with 162, extra base hits (96) and total bases (405) and yet never played in an All Star game.
Pitching: Closer Harry Eisenstat has now put together 18 appearances without giving up a run. In July, the southpaw from Brooklyn saved 5 games and won 2 in 11 games. On the season, Eisenstat has 25 saves and a 5-2 record. Eisenstat pitched 8 seasons in the majors including the final 4 in Cleveland. The Jewish hurler enlisted in the U.S. Army, which ended his career. After the war, Eisenstat stayed in Ohio and opened a hardware store.
Boudreau's Bombers (1948)
Game Highlights: On July 1, Rapid Robert Feller (9-6) gave up 1 runner on a walk as he struck out 10 in a no-hitter against the '86 Tribe. Feller was dominant throwing 118 pitches with 75 of them strikes. '86 3B Brook Jacobywalked to lead-off the third inning and nobody got on before or after. 2B Joe Gordon (20), 3B Ken Keltner, and LFDale Mitchell (6) all homered in the 10-0 win. On July 6, DH Larry Doby hit a 2-run 13th inning bomb (24) and 1948 downed Eric Wedge's 2007 squad 5-3. Doby's bomb salvaged an (up to that point) 0-5 night but all that mattered was the 2 runs that scored. 1948 AL ERA champion Gene Bearden and 2007 Cy Young winner CC Sabathia went toe-to-toe each going 8 innings and giving up 1 run but it was the bullpens that would decide this game. On July 8, 2B Joe Gordon homered 3 times (24) as the '48 Indians crushed the 2007 Indians 12-5. SS Lou Boudreau (17), DH Larry Doby (25), RF Wally Judnich (3) and 1B Johnny Berardino (2) all added home runs and Bob Lemon (12-5) went 7 innings for the win. On July 24, Bob Lemon (13-6) out-dueled 1956 starter Bob Lemon (8-10) for a 3-0 win. 1B Eddie Robinson homered (22) to give the younger Lemon the win. On July 31, Bill Kennedy (7-9) twirled 9 innings of 5 hit ball to shut out the 1908 Naps 7-0. SS Lou Boudreau provided the offense with a home run (22) and 4 ribbies.
Team: Lou Boudreau's team went 17-11 for their third winning month (the other was a .500) month. The World Champions have played impressively but have fallen 13 games behind the high flying 1995 team.
Offense: SS Lou Boudreau didn't let the managerial duties drag him down as he hit .378 on the month. He tagged 6 home runs and drove in 24. The Nostalgia League's leading hitter is sporting a .372 batting average with 22 homers and 90 RBI. "Old Shufflefoot" pulled a unique double in 1948 winning the AL MVP and being the winning manager in the World Series. In 1944, Boudreau won the AL Batting Title and was an 8 time All Star. Many readers of this site know the Tribe hands out the Lou Boudreau Award to the organizations best minor league position player each year.
Pitching: Rapid Robert Feller pitched a no hitter on July 1st then entered the 9th inning with another no-hitter on July 7th but gave up a solo home run to 2007 3B Andy Marte (ugh...the .240 hitting third baseman...why is he even playing?) with 1 out. His 17.1 innings (total 18 innings of hitless) to start the month was just dominant. For the month, Feller went 3-1 with a 3.24 ERA and 43 strike outs. On the season Feller is 11-7 with a 3.09 ERA. Feller's career included 3 no hitters and 12 one hitters, and the former Chief Petty Officer aboard the USS Alabama decided to flash his brilliance in July.
114 Wins (1954)
Game Highlights: On July 13, Mike Garcia (9-4) and 1959 starter Don Ferrarese (4-9) were on their games but a fifth inning double by LF Al Smith drove in 3B Hank Majeski for the only run of the game. Garcia gave up a 2nd inning single to RF Rocky Colavito which was the only hit to separate Garcia from a No-No.
Team: Trying to dig their way out of a terrible April, the '54 Indians used a 16-12 July record to fight their way to a 53-58 record. Sitting in 6th place and 16 games back, the 1954 Indians did take 2 of 3 against the '56 Tribe in the Lop-a-lympics.
Offense: The 1954 Indians primarily use left fielder Dave Pope as their DH in the Nostalgia League and Pope put together a solid July hitting .298 with 3 home runs. On the season Pope is hitting .259 with 11 home runs. Pope played 4 major league seasons with 2 teams. Pope first appeared in 12 games in 1952 but it was 1954 that Pope got into 60 games and hit .294. Then in 1955 Pope was traded to Baltimore but his Cleveland career didn't end there as he was sent back to Cleveland in a 1955 trade. Thus, Pope played all four years of his MLB career in Cleveland, but also parts of two of those years he played with the Orioles.
Pitching: The Big Four (Garcia, Feller, Wynn and Lemon) went a combined 13-6 Garcia won the Nostalgia League's Pitcher of the Month Award and each pitcher won at least 3 games. The team's 5th starter Art Houtteman went 3-2 in five starts but his ERA was an inflated 7.54 in July. Houtteman was 15-7 with a 3.35 ERA in 1954 and the Indians used him and Feller in double headers where the two pitchers combined for a 9-1 record. Houtteman spent parts of 4 of his 12 MLB seasons in an Indian uniform but it was the presence of the Big Four and the emergence of Herb Score which eventually lead to Houtteman falling out of favor in Cleveland. He was eventually shipped out to Baltimore.
Lopez '56 (1956)
Game Highlights: On July 9, Early Wynn (3-9) and 1940 starter Mel Harder went at each other throwing up blanks. Wynn went the distance for the shutout but Harder gave way to Mike Naymick. Naymick made one mistake and Wertz hit it into the seats to be the first to hit 40 home runs. The Wertz blast was the only run scored in the 1-0 1956 win. On July 10, Sal Maglie (6-7) made it two shutouts in a row for the '56 Indians in the 7-0 win over 1940. 2B Bobby Avila (10), DH Gene Woodling (16) and 3B Al Rosen (14) all went deep for manager Al Lopez. On July 14, Early Wynn (4-9) shutout the 1997 Indians for his second consecutive shutout and DH Gene Woodling homered (17) in the 3-0 win. On July 17, Herb Score (10-6) joined the shutout party with a 4-hitter against '68. RF Rocky Colavito homered (33) in the 4-0 win.
Team: The 1956 Indians had two different months in July. They went 5-0 on Sundays but only 8-15 in other days. As a result, the team slumped to a 52-59 record and 24 games behind the Boudreau leaders.
Offense: LF/DH Gene Woodling hit .278 in July and hit 6 home runs for the '56 Indians. On the season, the Akron native has belted 18 home runs and has a .264 batting average. Woodling played on the New York Yankee team which won 5 consecutive World Championships between 1949 and 1953. He also suffered through playing with the 1962 Mets which was arguably the worst team in MLB history (his second expansion team in two years – Washington Senators). In 1954, Woodling was involved in a trade involving a record 17 players.
Pitching: Sal Maglie started five July games going 2-1 with a 1.79 ERA. The Barber is 7-8 with a 3.84 ERA in 21 starts. Maglie got the nickname "The Barber" because of his willingness to throw inside (giving the hitter a close shave). Maglie only pitched part of 2 years of his 17 MLB career in Cleveland, appearing in only 12 games as a Wahoo. He won the 1950 ERA title and tied with Warren Spahn for the NL lead in win (23) in 1951.
Gordon's Gamers (1959)
Game Highlights: On July 6, Cal McLish (9-8) scattered 5 hits as he spun a shutout on the '97 Indians. LF Minnie Minoso (23) and CF Jimmy Piersall (7) homered in the 10-0 win. On July 30, LF Minnie Minoso tied the game in the bottom of the 9th with a 2-run home run (27) and CF Jimmy Piersall sent the '59ers home winners in the 10th with his 10th 4-bagger in a 4-3 win over the 1956 Indians.
Team: Joe Gordon must have battled stomach problems as he watched his team go 7-21 in July and plummet to last place in the Boudreau Division. Now 32 games out of first place, the '59ers are in danger of being eliminated in August if they don't find a way to right the ship.
Offense: One of the truly bright spots for the '59 Tribe is DH/1B/UT/OF Tito Francona. Francona put up a .407 batting average with 6 home runs and 21 RBI. Francona started 1959 as a utility player and pinch hitter. He would then replace Jimmy Piersall in center then move to first base as Vic Power moved to second. Francona was the type of utility player that son Terry Francona would love to have on his team. Tito Francona was part of an Indians quartet that hit back-to-back-to-back-to-back home runs. As he said the fifth batter came up and tried to bunt much to the chagrin (um anger) of his teammates. Tito hit .363 in 1959 but fell 34 plate appearances short of qualifying for the batting title. If Joe Gordon had of just gotten him those 34 extra appearances then Harvey Kuenn wouldn't have won the batting title which may have meant that Trader Joe Lane wouldn't have made the ill-fated Colavito trade (oh how the "maybe" word should be emphasized.)
Pitching: Just to illustrate how bad of a month the '59 Indians had, their best pitcher in July was Cal McLish. Nothing against McLish as he posted a solid 3.07 ERA but his record was 1-3 and in that win he threw a shutout. On the season, McLish is 9-10 with a 4.17 ERA. The three-quarter Choctaw Indian's full name was Calvin Coolidge Julius Caesar Tuskahoma McLish (Tuskahoma is the name of the place in his native Oklahoma and it meant 'red warrior'.) With such a long name, McLish was nicked named Bus (short for Buster).
Scared of the Dark (1968)
Game Highlights: On July 21, catcher Duke Sims homered (10) to tie the game at 3 in the 9th inning and CF Vic Davalillo tripled home SS Larry Brown in the 12th inning for a 4-3 win over the 1948 Indians.
Team: The 1968 Indians climbed out of the cellar in July but did it with a sub .500 13-15 and fell 23 games back. July was their fourth straight losing month in the Nostalgia League.
Offense: Backup catcher Joe Azcue only played in 17 July games but hit .421 to get the spotlight for July. "The Immortal Azcue" hit 1 home run and 4 doubles. Azcue has a .341 batting average in the Nostalgia League for the '68 Indians. In the real world, Azcue was the primary catcher for the 1968 Indians catching 115 games and being named an All Star. Azcue played 7 of his 11 major league years in Cleveland where he hit .266 with 45 home runs in 594 games. On July 29, 1968, Azcue hit into the first unassisted triple play since 1927.
Pitching: Starter Luis Tiant went 3-1 with a 1.98 ERA and 52 strikeouts but the featured '68 Pitcher of the Month is reliever Hal Kurtz. "Bud" went 3-0 in July with a 3.24 ERA in 9 relief appearances. Even Indian fans who remember the '60's might be scratching their heads at the name Hal Kurtz. Kurtz made his major league debut on April 18, 1968 and then his last MLB game was August 12, 1968. The 24 year old hurler won 1 game, which was his finest. On June 3rd, Kurtz entered into a tie game in the 10th inning and threw 5 scoreless innings giving up a single hit (no walks) for his only win.
Mr. Robinson's Neighborhood (1976)
Game Highlights: On July 11, the Beeg Boy 1B Rico Carty had a beeg night driving in 5 runs on a 2-2 night andRick Waits (3-9) went 8 innings as the '76 Indians beat the '20 Tribe 8-1. Carty's beeg night included a grand slam (12) and 2B Duane Kuiper went 3-4 to raise his batting average to .209. On July 19, Big Jim Bibby (7-9) out-dueled 1913 starter Cy Falkenberg (10-5) for a 5-0 shutout victory. Bibby held the Naps to only 4 hits and 3B Buddy Belldrove in 2.
Team: Most Indian fans that survived the '70s could expect what they are getting. The only '70's Indian team represented in the Nostalgia League has put together four straight losing months. This time 11-17 as they drop to 35 games back in the Boudreau Division. The only bright spot is that this team is 1 game better than both the 1986 and 1932 teams. "We're not last!!!!"
Offense: One of many a kid in the 1970's pretended they were Rick Manning flying around the bases and playing Gold Glove caliber center field. Well in July, Manning hit .286 to improve his batting average from .227 to .242 on the season. Manning broke into Cleveland in 1975 and in 1976 hit .292 while winning a Gold Glove. Then, in 1977 Manning slid into second base while playing a game in Seattle and the result was disastrous for Manning and the Indians. Manning suffered a broken back which required surgery. While recuperating, Indians star pitcher Dennis Eckersley opened his house to his teammate. In the end, Manning and Eckersley's wife became romantically involved. As a result, the Indians felt compelled to separate the players and decided to trade Eck. Eck went on to win 20 games for the Red Sox and Manning never achieved the elite player status that was projected. Manning had a very solid 9 years in Cleveland before going to Milwaukee.
Pitching: Jim Kern is on fire. The reliever made 12 July appearances going 2-0 with a 0.52 ERA. Between Kern and lefty Dave LaRoche the 1976 Indians have a bullpen that can shutdown opponents in late innings. On the season, Kern is 6-2 with a 1.94 ERA. In 1976 Kern went 10-7 with a 2.37 ERA and 15 saves. In 1977, LaRoche was traded away and Kern became the team's closer and made the All Star team in '77 and '78 as an Indian. Kern was traded with "Sugar Bear" Larvell Blanks to Texas for Bobby Bonds and Len Barker after the '78 season. Kern would make his third All Star game in '79 with the Rangers.
At the OK Corrales (1986)
Game Highlights: On July 27, Joe Carter went 2-4 with a home run (26) and Greg Swindell (6-13) went 8 scoreless innings as the Indians beat the '40 Indians 2-1. Swindell gave up only 4 hits to lower his ERA to 6.20.
Team: After 3 bad months, the 1986 found even worse performance dropping their July record to 6-22 as they fell to the Nostalgia League cellar with a 40-71 record (a humiliating 29 games back).
Offense: The poor month was not RF/1B Joe Carter's fault as the slugger hit 9 home runs and hit .330 in July. On the season, the 1993 World Series hero is hitting .290 with 28 home runs. In 1986, Carter won the AL RBI crown with 121. Carter came to Cleveland in 1984 in a trade for eventual Cy Young winner Rick Sutcliffe and spent 6 seasons wearing the 'C' on his hat. In a trade that was the catalyst for building the Indians into the AL power in the mid-late 1990's, Carter was sent to San Diego for Carlos Baerga, Sandy Alomar and Chris James. Baerga and Alomar were centerpieces of the AL Champion 1995 Indians.
Pitching: While Carter had a good month, it was the pitching that made Pat Corrales want to puke. No Indian pitcher (not even a reliever with 2 innings) could put up an ERA under 4.50 in July. Two relievers had ERA's over 10.00 and one of them Ken Schrom (1-0) had the only winning record in July. On the season, only 1 starter has a winning record and that is Tom Candiotti (9-7) and he is one of only two pitchers with ERA's under 5.40 (closerErnie Camacho).
Grover's Greatest (1995)
Game Highlights: On July 1, the ball was flying out of Jacobs Field as each of C Sandy Alomar (16), DH Carlos Baerga (12) and 1B Paul Sorrento (21) homered twice in a 15-2 win over the '99 Tribe. The '95 Wahoo's used seven home runs (Albert Belle 30) to take the series. The '95 Indians now have taken down both of the other Hargrove teams to become favorites to win the Grover Cup. On July 4, no fireworks would go off for the 1908 Naps as Charles Nagy (11-6) shutout the Naps 5-0. On July 17, the 2007 pitching staff had no clue on how to pitch 3BJim Thome. Thome drove Fausto Carmona's first inning offering over the fence and followed it up by driving aRoberto Hernandez (not Fausto in disguise but the other Roberto Hernandez) into the seats. Thome's night wasn't done as he tagged Paul Byrd for his 19th home run of the season in the 6th. That wasn't all for the '95 Indians as catcher Sandy Alomar (18), Paul Sorrento (27 & 28) , LF Albert Belle (34) and Manny Ramirez (30) all joined Thome with home runs as the '95 Indians scalped the 2007 team 21-2. On July 30, Charles Nagy (11-7) struck out 8 and recorded the Nostalgia League's 2nd no-hitter of the month. One walk to 1968 DH Leon "Daddy Wags" Wagner and errors by Nagy and 2B Alvaro Espinoza were all that separated Nagy from perfection. SS Omar Vizquel hit a 3 run home run (4) for all the offense Nagy would need in the 3-0 victory.
Team: In June the "95 Indians went 21-7 then duplicated that number in July. While the team had a great month, they beat the 1999 Indians on July 1st to take a 3 game series (2-1) but lost 2 of three to the 1997 Indians later in the Grover Games.
Offense: 1B Paul Sorrento hit 13 home runs with 32 RBI and an outstanding 1.252 OPS in July. His 32 Nostalgia League home runs would best his 31 home run 1997 season. Sorrento was the first player to hit a grand slam at Jacob's Field. He also claimed the first base hit at Camden Yards. Oh and he was the first DH in the Tampa (Devil) Rays history.
Pitching: Indian fans in 1995 got to see Jose Mesa at his best (OK maybe better than his best) and '95 Indians fans saw that in July. Mesa made 13 perfect appearances going 2-0 with 7 saves. On the season Mesa has 31 saves with a 2.35 ERA. Mesa came to Cleveland as a struggling starter for minor leaguer Kyle Washington (if you don't remember Kyle...you're not alone). Mesa was moved to the bullpen and thrived becoming the team's closer in 1994. In 1995 Mesa was unbelievable saving a league high 46 games and finishing as a runner up to the Cy Young Award. Mesa would add 39 saves in 1996 but would only get 16 in '97 and blow a save opportunity in game 7 of the '97 World Series. While Indian fans have a fond memory of his '95 year, his shortcomings in '97 leaves fans with a bitter taste in their mouths.
Heartbreak Kids (1997)
Game Highlights: On July 13, 1B Jim Thome broke a 6-6 tie in the 9th inning with a solo blast (28) and 1997 overcame 2 home runs by league leader Vic Wertz to beat the '56 Indians 7-6.
Team: For a team that almost won a World Series, they have to be disappointed at being 10 games behind the Speaker Division leaders. Their 15-13 July record includes a 3 game sweep of the '99 Indians and series win against the '95 Indians as they vie for the Grover Games championship.
Offense: Catcher Sandy Alomar saw his batting average rise 33 points with a .395 July. The 1990 AL Rookie of the Year belted 7 home runs in July for 20 on the year. In 1997, Alomar had his best year hitting .324 and winning the All Star game MVP. Alomar became the first player to hit an All Star game home run in his own park since Hank Aaron in 1972 and the home run won the game for the AL. Alomar also flirted with the record books by hitting in 30 games in a row, which is one shy of the Indians record (Nap Lajoie) and 4 short of the MLB record for catchers.
Pitching: Michael Jackson went 0-1 with 6 saves while posting an August ERA of 2.19. The 19 season MLB veteran spent three season with the Indians eventually taking over the closer's job from embattled Jose Mesa. His Cleveland career is highlighted by his 94 saves with 40 in 1998.
Land of a Thousand Runs (1999)
Game Highlights: On July 11, LF David Justice hit two home runs off of 2007 starter Fausto Carmona (7-9) then tagged Aaron Laffey for his third home run (22) of the day. Justice's 6 RBI sent Bartolo Colon (13-6) into the winners circle in a 14-3 thrashing of 2007.
Team: The 1999 Indians entered July with three straight winning months and only 5 games behind the '95 Indians. July showed the team just how tough it is to compete in the Nostalgia League. The team posted their first losing month at 12-16 and now sit 8 games back.
Offense: CF Jacob Cruz hit .362 with 4 dingers and 23 RBI in July to get this month's spotlight player. On the season, Cruz is setup to be the starting CF for the '99 Indians by the OOTP AI. For the season Cruz has 14 homers and a .277 batting average. Cruz played 9 years in the majors then in both Korea and Mexico. It appears to me that the former ASU Sun Devil's 14 Nostalgia League home runs may result in him hitting more home runs in the Nostalgia League than he did in his entire MLB career (14). This is more of a result that the AI has decided to make Cruz the CF and Lofton the DH than Mike Hargrove did in real life.
Pitching: Reliever Chris Haney went 3-0 with a 3.48 ERA to be the '99 spotlight pitcher for July. For the season the southpaw sports a 4.07 ERA. Haney made appearances in 11 MLB seasons but only 2 in Cleveland. He was a real journeyman playing for 5 teams, mostly with the Royals. In 1999, Haney gave up Wade Boggs' 3000th hit by throwing the veteran a gopher ball.
Sand Wedge (2005)
Game Highlights: On July 17, the 2005 Wahoo's went on the warpath and the 1932 Indians didn't know what hit them in the 15-4 win. The fans in the outfield seats at Jacobs Field knew that RF Casey Blake (8), 3B Aaron Boone, and LF Coco Crisp (10) homered and C Victor Martinez went 4-5. On July 25, SS Jhonny Peralta drove in 8 runs with two grand slams (25) as the 2005 Indians stomped the '68 Wahoo's 26-4. 1968 closer Horacio Pinamay have hurt his neck giving up an 8th inning slam to Peralta then repeating the mistake in the 9th inning. Three other 2005ers hit two home runs: catcher Victor Martinez (22), DH Travis Hafner (42), and 1B Ben Broussard (23). They were joined by 2B Ronnie Belliard (14), LF Coco Crisp (13), CF Grady Sizemore (18), and RF Casey Blake (10) in the home run derby. CC Sabathia (10-5) was the recipient of the barrage striking out 9 and going the distance. On July 25, Jake Westbrook (8-5) ended July with a 4 hit shutout of the 1954 Indians. Victor Martinez (25) and DH Travis Hafner (43) homered in the 6-0 win.
Team: The 2005 Indians went 14-14 in July and are in the thick of things with the 1920 Indians. Sitting 1 game back and in 2nd place, the 2005 Indians lost their hold on 1st place in July. They did take 2 of 3 from the 2007 Indians in the Battle of the Wedgies.
Offense: Pronk did it again. DH Travis Hafner hit 12 home runs with 30 RBI in a .336 July. His 43 home runs are second in the Nostalgia League and only 1 better than the 2007 version of Pronk. Catcher Victor Martinez hit .305 with 6 dingers and 1B Ben Broussard hit .309. SS Jhonny Peralta hit 9 big knocks but with only a .245 batting average.
Pitching: Jake Westbrook went 4-1 with a 1.82 ERA to establish himself as the pitching force in July. On the season the sinkerballer is 8-5 with a 3.31 ERA. Westbrook's path to Cleveland went from Colorado to Montreal to New York before becoming an Indian in a deal for David Justice. Of the 3 teams he was on before the Indians Westbrook only appeared in 3 games with the Yankees. Westbrook would pitch in 10 seasons with the Indians. In 2004 he induced more double plays than any pitcher in the majors that year.
Pitching Wedge (2007)
Game Highlights: On July 5, RF Franklin Gutierrez hit a 2-run home run (10) in the top of the 9th to tie the game and DH Travis Hafner broke the tie with his second home run (35) of the day as the 2007 Indians turned a 3-1 deficit into a 6-3 win. 1968 starter Sal Maglie went 8 innings before watching his bullpen collapse in the 9th.
Team: For the third consecutive month the 2007 Indians posted a losing record. Their 13-15 record dropped them 22 games back.
Offense: CF Grady Sizemore had a great month with a .318 average and 7 home runs but the spotlight is on 1BRyan Garko who hit .269 and 9 home runs. On the season the Stanford prospect is hitting .268 with 25 home runs. The 2004 Boudreau Award winner spent 5 years in Cleveland and was the starting first baseman on the 2007 Indians team that went to the AL Championship Series.
Pitching: Jake Westbrook went 4-1 with a 3.00 ERA to improve to 7-6, CC Sabathia went 3-1 to improve to 10-7, and Raffy Right (Betancourt) saved 4 games with a 0.00 ERA. If it were not for those three pitchers, the 2007 Indians may have crashed completely as no other pitcher has an ERA below 5.97.
User Comments
Tony
March 29, 2013 - 10:49 PM EDT
This has been an amazing series so far. I know, because I have read every piece of it because I have had to edit it. It is unfortunate that due to the length of these that a lot of people probably won't read these. They should because there is so much great history and stories included throughout each piece. And it's also damn fun. I think we should do this again in the offseason, maybe with some different teams or maybe cut down the amount of teams to 10-12 (one team max per decade...and just forget about the 70s/80s lol). Great stuff!