The Nostalgia League: June results
As an experiment, I have assembled 18 Cleveland baseball teams from all eras to compete in a 162 game schedule for the Best Team in Cleveland History using Out Of The Park Baseball 13 (OOTP), which is a baseball simulation game. Below are the results for June, and if you missed them, here are the other pieces in the nine-part series:
Nostalgia League preview
Opening day results
April results
May results
As the Nostalgia league season passes the midpoint, the 1995 team is beginning to distance themselves in the Boudreau Division while in the Speaker Division it is all 2005 right now but 1920 and 1999 are within striking distance. Predictably, the four selections I made as being team of the decade entries had faded (1932, 1968, 1976 and 1986). It will be interesting to see if some of the teams can make a move on the leaders and make an exciting stretch run.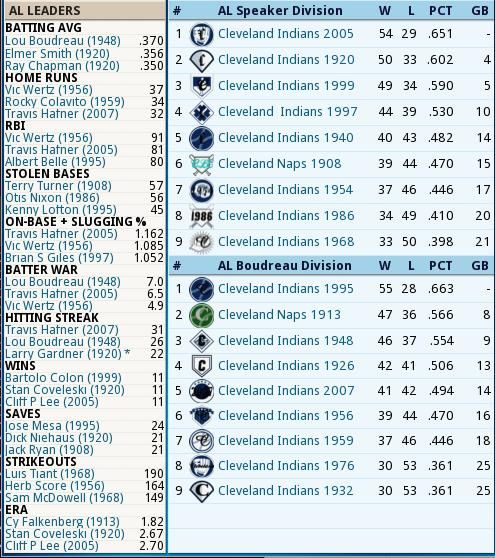 Batter of the Month
2005 DH Travis Hafner went 44-110 (.400) with 13 home runs and 38 RBI to win Batter of the Month for June. Pronk hit in 24 of the 28 June games and scored 24 runs. In 2006 the Indians DH tied an MLB record with six grand slams. Prior to his chronic shoulder injuries and defenses employing an exaggerated shift on him, Pronk was extremely popular putting up MVP numbers and had a candy bar and beef jerky named after him.
Pitcher of the Month
2005 starter Cliff Lee went 5-0 with a 1.51 ERA to up his record to 11-1 and claimed Pitcher of the Month for June. The lefty pitcher won the 2008 Cy Young after an injury plagued year in 2007 prevented him from contributing to the Indians playoff run. After spending his first eight years in Cleveland, the Indians traded him to Philadelphia and he started a journey from Philly to Seattle to Texas before returning to Philly.
Players of the Week
June 6: 2005 DH Travis Hafner went 12-26 (.462) with 6 home runs and 13 RBI.
June 13: 1997 RF Manny Ramirez compiled a .478 batting average with 3 home runs and 9 RBI.
June 20: 1997 LF Brian Giles hit .429 with 7 home runs with 19 RBI and also scored 12 runs.
June 27: 1995 CF Kenny Lofton went 11-27 (.407) with 3 home runs and 4 RBI.
Lajoie's Liners (1908)
Game Highlights: On June 24, 1B George Stoval drove home SS Terry Turner with the winning run in the bottom of the ninth for a 5-4 win over the 2007 Indians. CF Wilbur Good drove in 3 runs and Turner went 4-5 and swiped 2 bases for 55 on the season. On June 26, with the game locked in a 5-5 tie in the top of the 9th inning, an RBI single by catcher Nig Clarke plated 1B George Stovall and the floodgates were opened. When the dust cleared, the Naps had scored 11 on 10 hits for a 16-5 win. Stovall went 5-6 with 2 runs and 3 ribbies. On June 28, Addie Joss (8-9) shut out the 1932 Indians 5-0. Joss walked none and struck out 5 while giving up only 4 hits and 1B George Stovall went 3-5.
Team: The 1908 team posted a 15-13 record in June but slipped to 15 games back falling 4 games further back in June.
Offense: CF Wilbur "Lefty" Good was the man of the month for the 1908 Naps hitting .309 with 13 runs and 13 RBI and put up a team leading .738 OPS. Overall, Good is hitting .276 on the season with two long balls. The Punxsutawney center fielder broke in with the Yankees as a 19 year old in 1905 but didn't resurface until 1908 with the Naps. He only played two seasons in Cleveland hitting .279 in 1908, but was traded to the Boston Braves after the 1909 season. Good played 11 seasons in the majors.
Pitching: Charles "Heinie" Berger went 3-1 with a 2.57 ERA to put Berger's season numbers at 7-7 with a 4.02 ERA. Berger pitched for the Naps from 1907-1910. In 3 of his 4 MLB seasons, Berger had a sub 3.00 ERA and in the other year (his last in 1910) he posted a 3.03 ERA. Berger started 24 games in 1908 with a respectable 13-8 record. His nickname Heinie was a common nickname for German ballplayers prior to World War II but no Major Leaguer has carried that nickname since the war.
The Jolly Mollies (1913)
Game Highlights: On June 1, Cy Falkenberg (7-1) out pitched 1932 starter Wes Ferrell scattering 5 hits for a 4-0 shutout win. Fans at League Park hung 9 K's on the right field railing and 1B Doc Johnston drove in 3 runs on 2 hits. On June 14, Vean Gregg (5-5) shut down the '54 Indians for a 4-0 win. 2B Napolean "the Frenchman" Lajoie drove in 2 and CF Buddy Ryan collected 3 hits. On June 30, Willie Mitchell (10-6) scattered 4 hits and struck out 9 in a shutout victory over Herb Score (9-5) and the 1956 Indians. RF Shoeless Joe Jackson went 2-4 and raised his average to .323.
Team: The Naps went 16-12 in June, but the highlight of the month was the bragging rights they collected. After dropping the first game on June 20, the 1913 team rallied to win games 2 and 3 to take the first round in the Nap-Olympics against the 1908 Naps.
Offense: 2B Nap Lajoie used the month of June to define why the team was named after him. He knocked around opposing pitching to the tune of a .361 average scoring 16 runs and driving in 20. Lajoie started his career as an outfielder and ended it as a first baseman but it was at second base where Lajoie made a name for himself. He was the best player in the American League until Ty Cobb came along. In 1909 Lajoie staged a duel with Ty Cobb for the AL batting title. Lajoie went 8-8 on the season's final day. Six of the hits were bunts that were basically gifts by the St. Louis Browns, who hated Cobb and wanted Lajoie to win the title. The Browns' manager had his infield play back inviting Lajoie to bunt for a hit. Despite the chicanery Lajoie came .0007 points short as both hit .384 and had to go to the fourth decimal.
Pitching: Starter Cy Falkenberg and closer Fred Blanding continued their May success. Another player that had a successful month was George"Krum" Kahler who went 3-1 with a 2.37 ERA. On the season, Kahler is 6-5 with a 3.06 ERA. The Ohio Bobcat began his professional career in 1910 and pitched his entire career in Cleveland until 1914. In 1912, Kahler hit Ty Cobb with a pitch and Cobb vowed to get even. The next time the two played, Cobb hit a grounder to first. When Kahler ran over to cover first, Cobb went to spike him with his cleats but slipped and fell. Kahler stood over Cobb and told him that if he tried to do that again that he (Kahler) would end his career. End of story!!
Speaker of the House (1920)
Game Highlights: On June 5, DH Jack Graney hit a 2 run bases loaded double to spark a 4 run 10th inning as the 1920 Indians topped the 1999 Tribe 8-4. On June 8, Stan Coveleski (9-2) twirled a 4 hit shutout over the 2005 Indians and LF Charlie Jamieson went 3-5 with 2 ribbies. On June 25, the Indians scored 25 on the 25th as they blasted the '32 Indians 25-3. LF Charlie Jamieson scored 6 runs on a 4-5 night and CF Tris Speaker went 5-6 with 5 runs and 3 RBI. Speaker hit a solo home run (3) in the first inning and Ray Caldwell (6-5) went 6 innings for the win. On June 30, Stan Coveleski (11-2) pitched his second shutout of the month this one a 5-0 win over 1997. Coveleski struck out 11 and surrendered only 4 hits. DH Jack Graney drove in 2 runs on a 2-4 night.
Team: Going 17-11 is usually a pretty successful month. The 1920 Tribe posted the .607 winning percentage and slipped 2 games further back. The month started by laying claim to the best championship team by sweeping 1948 in the World Championship Derby.
Offense: 3B Larry Gardner ended June on a 22 game hitting streak. He hit .431 with 4 home runs and 34 RBI. On the season the 34 year old third baseman is hitting .335 with 60 RBI. The Vermont native played with the Red Sox from 1908 through 1917 then spent a year with the Athletics before coming to Cleveland. He played on three World Series Champions with the Red Sox and in his 2nd year in Cleveland made it four. He would spend the last 5 years of his 17 major league career with Tris Speaker's Indians teams.
Pitching: 1920 Ace Stan Coveleski went 4-0 with 2 shutouts in June and his ERA was a low 2.23 with 36 strikeouts. On the season, Coveleski has an 11-2 record and a 2.67 ERA and is an integral part of the team's success. Coveleski was a spitball pitcher, and though the spitball had been outlawed by 1920, Coveleski and others were grandfathered in and allowed to use it. 1920 was a bitter season for Coveleski despite winning the World Series championship. On May 28th, Coveleski's wife suddenly died and Coveleski was given time off to grieve. Nearly 2 months later, Yankee pitcher Carl Mays hit teammate SS Ray Chapman with a pitch and Chapman died the next day. In game 7 of the 1920 World Series (best of 9 in 1920), Coveleski spun a 3-0 shutout giving the title to Cleveland.
Speaker's Last Hurrah (1926)
Game Highlights: On June 5, CF Tris Speaker hit a walk off single and 1B George Burns hustled home in the 12th inning for a 4-3 win over Jim Kern and the 1976 Indians. On June 25, SS Joe Sewell's 14th inning sacrifice fly which scored 2B Freddy Spurgeon to break a 4-4 tie ended up being the winning run in a 5-4 win over the 1986 Indians. 1B George Burns and CF Tris Speaker each went 3-7 in the win and Willis Hudlin (2-0) pitched 4 innings for the win.
Team: When the division leaders are streaking, teams must at least have a winning record each month or they will lose ground. 1926's 12-16 record dropped them to 42-41 overall but they now sit 13 games back in 4th place. The American League runner-up has a lot of work to do to get back into the race.
Offense: RF Homer Summa put together an impressive June hitting .324 and driving in 18 runs. On the season the 27 year old right fielder is hitting .303 with 4 home runs and 59 RBI. Summa played in 10 major league seasons with the bulk of those being in a Cleveland uniform (1922-1928). Summa hit .303 in the 7 years he patrolled right at Dunn Field. League Park was renamed Dunn Field while the team was owned by "Sunny Jim" Dunn. Summa holds the dubious distinction of being the first player to hit into a game ending unassisted triple play (1927).
Pitching: Reliever Norm Lehr took the mound 10 times in June and gave up only 1 run (a solo home run) for a 0.96 ERA. On the season, Lehr is (2-1) with 1 save and a 4.55 ERA in 31.2 innings. In the real world, Lehr pitched in only 4 games for the 1926 Indians going 14.2 innings while compiling a 3.07 ERA. The fact that Lehr had more appearances in one month in the Nostalgia League than he had in his whole MLB career can be attributed to using the 2011 modifiers.
Pecking Order (1932)
Game Highlights: Mel Harder (3-11) out-dueled 1908 Naps starter Bob Rhoads (6-8) for a 3-0 shutout victory. Harder gave up 6 hits and no walks to preserve the shutout. CF Earl Averill homered (26) and LF Joe Vosmik went 3-4.
Team: From June 18 through June 26 the 1932 Indians went on an 8 game slide and their June record of 8-20 has essentially buried the 1932 team. The abysmal June leaves Peckinpaugh's Wahoo's in last place (tied) and 25 games out.
Offense: Hall of Fame CF Earl Averill hit 9 June home runs and drove in 20 runs while hitting .324. On the season, Averill has hit 26 home runs with 67 RBI with a .324 batting average. While his 11 seasons in Cleveland (1929 – 1939) were lean years for the Indians, it proves that there are great players in every era. Averill finished second in batting in 1936 while in his career hit over .330 eight times, scored over 100 runs nine times, and reached the century mark in RBI five times. In 1937, Averill started experiencing paralysis in his legs which was eventually diagnosed as congenital spinal malformation. Averill had to modify his stance to alleviate his condition and would hit .330 in 1938 but his home run totals dropped to 14. Averill was sent to Detroit during the 1939 season and Indians fans were enraged. Averill would see his career decline in Detroit but would make his only World Series appearance with the Tigers in 1940.
Pitching: Mel Harder went 2-2 in June but had a respectable 3.13 ERA. Harder did an impressive job limiting runners by only issuing only 5 free passes in 31.2 innings. On the season, Harder is 3-11 with a 4.4.0 ERA. Harder appeared in four All Star games winning the second All Star game ever played and is the only pitcher to have a 20 year playing career and have a 20 year coaching career.
Crybabies Crib (1940)
Game Highlights: On June 10, 1B Hal Trosky hit a walk off home run (18) with 2 outs in the bottom of the 10th inning to down the 1932 Wahoo's 4-3. On June 22, 3B Ken Keltner hit a triple in the bottom of the ninth and catcher Rollie Hemsley drove him home with a sacrifice fly and the 1940 Indians celebrated a 4-3 win over 1968. Rapid Robert Feller (10-5) went the distance striking out 13 hitters.
Team: With a 14-14 June record, the Crybabies have assembled a 40-43 record but sit in 5th place and 14 games back. The team is still 3 games below .500, but have played above .500 since an 11-15 April start.
Offense: 3B Ken Keltner led the Injuns in June with 8 home runs and 19 RBI while hitting .294. On the season the Milwaukee, Wisconsin third baseman is hitting .275 with 14 home runs and 50 RBI. Keltner was a 7 time All Star with Cleveland from 1937 to 1949. He was a mainstay at third (missed 1945 season) for the Indians and played a significant role in ending Joe Dimaggio's 56 game hitting streak. In 1948, Keltner's career reached its pinnacle with a World Series title after 11 seasons with the Indians and Keltner enjoyed his best season. In a 1 game playoff against the Red Sox, Keltner hit a double, triple and home run in an 8-3 win that catapulted the team into the World Series. Injuries would limit his 1949 season to only 80 games and Keltner was traded to Boston in the off season. Keltner's career came to an end after a disappointing season with the Red Sox in 1950.
Pitching: Reliever Mike Naymick threw 11 scoreless June innings going 1-0. The only mark on his outstanding June were 3 unearned runs. Opponents were only able to hit .175 off the right-hander and he only walked one. The 22 year old Naymick is 1-2 with a 2.43 ERA on the season. Naymick spent 4 years in Cleveland posting a 5-7 mark with a .392 ERA with Chief Wahoo on his sleeve before making a brief stay with the Cardinals.
Boudreau's Bombers (1948)
Game Highlights: On June 7, SS Lou Boudreau (14), C Jim Hegan (6), 2B Joe Gordon (10), 3B Ken Keltner (13) and CF Larry Doby (19) homered in a 17-3 hammering of the '59 Tribe. On June 24, 3B Ken Keltner singled home 2B Joe Gordon to break a 3-3 tie in the top of the 12th, Wally Judnich was hit by a pitch to force home SS Lou Boudreau and CF Larry Doby sprinted home on a wild pitch to take a 6-3 lead. Reliever Steve Gromek (1-2) shut down the 2007 Indians in the bottom of the 12th for the win.
Team: After putting together two impressive months in April and May, the 1948 Indians treaded water with a 14-14 June. While the team is 9 games above .500, the team fell 7 games further behind the 1995 juggernauts and sit in 3rd place.
Offense: 2B Joe Gordon hit 10 home runs and hit .294. Gordon scored 25 runs and drove in 25. Gordon had the nickname "Flash" after the comic strip character (yeah it's over used for anyone named Gordon but Joe may have been the first). Arriving in the majors as a member of the New York Yankees, Gordon collected 4 World Series rings with the Yankees, six All Star appearances and the 1942 AL MVP award. Flash would then spend 2 years serving in the U.S. Army during World War II. He came back to the Yankees in 1946 but an injury plagued year led to him being shipped to Cleveland in the offseason for pitcher Allie Reynolds. In Cleveland, Gordon would make three more All Star appearances and get his fifth World Series championship. After retiring in 1950, Gordon went into coaching and scouting eventually getting a MLB managing job with the Indians in 1958. He is represented in the Nostalgia League with the '59 Indians and joins six other players that appear as both a player and a manager in the Nostalgia League (Lajoie, Birmingham, Speaker, Peckinpaugh, Boudreau, Robinson).
Pitching: Left-handed knuckleball pitcher Gene Bearden went 2-2 with a 3.53 ERA in June. With only a third of an inning under his belt, Bearden hit the majors by storm in 1948 going 20-7 and leading the AL in ERA (2.43). Bearden drew the 155th game, a 1 game playoff versus the Red Sox. Bearden pitched well and the Indians won 8-3 punching their ticket to take on the Braves in the World Series (Indians won in 6). Bearden would pitch five more years in the majors trying to find the 1948 magic but in 1950 the Indians waived him. He would pitch for the Senators, Tigers, Browns, and White Sox.
114 Wins (1954)
Game Highlights: On June 8, Early Wynn (7-5) struck out 10 and held the 1995 Indians scoreless on 4 hits for a 7-0 win. DH Dave Pope went 4-5 with his 5th home run in the win.
Team: I have to admit that I had predicted the 1954 Indians to represent the Speaker Division in the Nostalgia League playoffs but a 12-16 June has sunk the record setters to 7th place and 17 games back. This team's poor April put them behind the eight ball and June just might have sunk them. There are still 3 months for them to rebound but it's not looking good.
Pitching: Bob Lemon went 3-1 with a 3.03 ERA in June and teamed with pitcher Early Wynn, who went 4-1 in June, to lead the '54ites. Overall Lemon is 6-7 with a 3.55 ERA. Opponents hit a measly .183 off of Lemon in June as things started to heat up for him. Lemon hit 37 home runs as a pitcher which ranks second to 1932 Nostalgia League foe Wes Ferrell. Lemon was a 7 time All Star in a 9 year career which started late due to a stint in the Navy during World War II.
Lopez '56 (1956)
Game Highlights: On June 7, RF Rocky Colavito hit a 3 run home run in the 8th inning off of 1926 starter Dutch Levsen (5-4) and then followed up with a 9th inning grand slam (22) off of Ray Benge as the 1956 Indians took a 2-2 tie and morphed it into a 10-2 victory in the last 2 innings. Colavito's 7 RBI lead the way in the offensive explosion. Bob Lemon (5-5) evened his record and Don Mossi got the save (14). On June 18, 1B Vic Wertz hit a 2 run 9th inning home run to turn an 8-7 deficit into a 9-8 win over the 1999 Indians. 2B George Strickland (hitting a paltry .189) hit a 6th inning grand slam (1) and DH Gene Woodling homered (11).
Team: After struggling in April and May, the '56 Indians found their rhythm going 18-10 in June. The team moved up the ladder from 8th place (tie) into 6th place but still fell 3 more games back and are now 16 out. The month provides some hope that they have righted their ship but have a lot of ground to make up.
Offense: 1B Vic Wertz hit 12 home runs and drove in 31 runs to be acknowledged as the '56 Indians best player in June. He hit .372 with a .735 slugging percentage and a 1.164 slugging percentage. During World War II, Wertz served in the US Army Air Force in the Pacific. While serving in the Palau Islands, Wertz played baseball with other servicemen. One day, Wertz was told that he was being benched for a player with more experience. Believe it or not, Wertz was the only serviceman in the Palau Islands with any professional experience.
Pitching: Herb Score went 4-1 in June with a 2.58 ERA and 58 strikeouts. Score improved to 9-5 and his ERA dropped to 3.93. Score showed up on the major league scene in 1955, one year after the 1954 team went to the World Series. He joined the Indians "Big Four" rotation and went on to have a great rookie season going 16-10 with a 2.85 ERA. Score made the cover of Sports Illustrated in May 1955. Score's rookie strike out record was topped by Dwight "Doc" Gooden in 1984. Score followed up his rookie season with a 20-9 campaign. Score's career turned on a crack of the bat. Yankee shortstop Gil McDougal lined a Score offering up the middle striking Score in the face. Score suffered fractures to his facial bones and injured his left eye. Score would deny the injury turned his career and blamed that on arm injuries but whatever the blame his career took a noticeable downturn. Score would provide color on Indians radio broadcasts for 4 decades.
Gordon's Gamers (1959)
Game Highlights: LF Minnie Minoso (17 & 18) and RF Rocky Colavito (32 & 33) played home run derby against the 1986 pitching staff. DH Tito Francona added a home run, Minoso's second home run, and both of Colavito's came in a 9-run 11th inning which blew apart the game for an 11-3 win.
Team: Joe Gordon's boys suffered through a 10-18 June and now sit 18 games out of first place. The team is 26-40 against right-handed starters. They will need to improve on that if they want to get back into the race.
Offense: Power is a great name for a first baseman and Vic Power had a powerful June hitting 7 bombs and hitting .376. The 31 year old Puerto Rican's name was actually Victor Pellot but he used the Power surname for his 12 major league seasons. Power came to Cleveland in 1958 from the Kansas City Athletics and was named to the All Star game in '59 and '60 as an Indian. Power also won the Gold Glove in 1958 starting a string of 7 years in which Power would own the award. He spent 12 years playing major league baseball playing for 5 teams with 4 of those years in Cleveland.
Pitching: When the name Perry is mentioned to Indians fans, fans first think of 1972 Cy Young award winnerGaylord Perry. Before Gaylord came to Cleveland, his older brother had already pitched here. In June of the Nostalgia League Gaylord's older brother went 2-2 with a 4.25 ERA. While the ERA is not very good it was the best of any starting pitcher on the '59 squad. For the year Perry is 4-5 with a 4.83 ERA. Perry was a rookie for the Indians in 1959 and went 12-10 with a 2.65 ERA and really put it together in 1960 going 18-10 (the 18 wins lead the AL). Perry would be traded to Minnesota in 1963 but would return in 1974 going 17-12 for the Tribe. Perry won the AL Cy Young with the Twins in 1970 making him and Gaylord the only brothers to win major league's top pitching award.
Scared of the Dark (1968)
Game Highlights: On June 9, RF Tommy Harper broke a 2-2 12th inning tie with a sacrifice fly to score 3B Vern Fuller and the 1968 Indians downed the 1986 Indians. 3B/SS Billy Harris went 3-5 in the win and 1986 LF Otis Nixon swiped his 42nd base. On June 10, Luis Tiant (4-9) struck out 13 and scattered 3 hits in a 7-0 shutout win over the 1913 naps. LF Lee Maye homered (5) and drove in 5.
Team: Having lost the last four games in May, the '68 Indians' season got darker as the 4 game losing streak stretched to 9 as they started June losing their first 5 games. Overall June was not very good for Dark's crew and they finished the month 12-16 and in last place (21 games out).
Offense: CF Vic Davalillo hit .298 and drove in 15 runs in June to up his batting average to .289. Davalillo joined the Indians in 1963 as a rookie and was a speedy lead-off hitter and Gold Glove (1964) winning center fielder for the Tribe until 1968 when he was traded to the Angels. He would be an All Star in 1965, and was a World Series winner with the Pirates in 1971 and with the Athletics in 1973.
Pitching: Luis "El Tiante" Tiant went 3-2 with a 1.95 ERA in June and struck out a whopping 72 hitters. On the season Tiant is the Nostalgia League strikeout leader with 190. The strong armed pitcher broke in with Cleveland in 1964 but had a real breakthrough season in 1968. Arm injuries had dropped El Tiante's velocity so he changed his pitching motion to a twisting hesitation motion and would lead the league in ERA at 1.60 bolstered by a streak of 4 shutouts. In 1970, the Indians would send Tiant to Minnesota for third baseman Greg Nettles. After a broken scapula nearly ended his career, Tiant came back with the Red Sox and won 20 games three times.
Mr. Robinson's Neighborhood (1976)
Game Highlights: On June 27, Jim Bibby (6-7) and reliever Dave LaRoche (save 14) combined to shutout the 1968 Indians and Larvell "Sugar Bear" Blanks (5) and LF George Hendrick (15) homered to supply all the offense Frank Robinson's team would need as they won 2-0.
Team: The '76 team got off to a solid 5-4 record but then a 10 game losing streak sunk the team to a 9-19 record. At 25 games behind first in the Boudreau division, Frank Robinson's crew needs to find any way to turn their season around.
Offense: 1B/DH Rico "Beeg Boy" Carty had an outstanding June for the falling '76ers hitting .350 but LF George Hendrick led the team in home runs (4) and RBI (15). After 2 years in Oakland, "Captain Easy", as George was sometimes called, came to Cleveland in a deal for Ray Fosse. Hendrick would find his first success in Cleveland hitting 21 home runs in 1973. Hendrick totaled 89 home runs in his 4 years in Cleveland before being dealt to San Diego after the 1976 season.
Pitching: Jim Bibby made five June starts going 3-1 with a 3.16 ERA. On the season Bibby is 6-7. Bibby came to Cleveland in 1975 for popular (future Hall of Famer) Gaylord Perry after Perry had issues playing for Frank Robinson. Bibby would go 13-7 in 1976 and won 12 games in 1977. To illustrate just how bad the Indians were run in the '70's, Bibby was declared a free agent in 1978 after the team failed to pay a $10,000 bonus he had negotiated when he made 30 starts in 1977.
At the OK Corrales (1986)
Game Highlights: On June 21, 1B Pat Tabler hit an 8th inning home run (8) to tie the game and 2B Tony Bernazard tripled home DH Mel Hall to break the 1-1 tie in the 9th inning. Ernie Camacho came in and shut down the 1959 Wahoo's for a 3-1 win. Don Schulze (3-7) picked up the win and '59 starter Cal McLish took the loss.
Team: The OK Corrales boys was not okay in June as the team slumped to a 10-18 month and dropped into 8th place and 20 games back. The poor month gave the '86 team three consecutive months with a losing record.
Offense: CF Brett Butler hit .383, swiped 10 bases and scored 16 runs. On the season Butler is hitting .305. Butler broke in with Atlanta in 1981 and was the player-to-be-named-later in the deal that sent Len Barker to Atlanta. The speedy center fielder would steal 52 bases in 1984 and hit .311 in 1985. After 4 years in Cleveland, Butler would leave as a free agent for the Giants. The Indians would use the compensation pick for losing Butler to take Charles Nagy in the draft.
Pitching: Ernie Camacho did his part successfully closing out 5 games in June and limiting opposition to a 1.15 ERA. Camacho spent half of his 10 year major league career in Cleveland where he accomplished 44 of his career 45 saves. Camacho came to Cleveland in 1983 when the Indians traded popular Rick Manning and Rick Waits for Camacho, Gorman Thomas and Jamie Easterly.
Grover's Greatest (1995)
Game Highlights: On June 5, PH Eddie Murray hit a 2-run homer (5) in the top of the 9th to give the 1995 Indians a 2-0 lead and they held on for a 2-1 win against the 1968 Indians. Chad Ogea and '68 starter Luis Tiant (3-9) were locked up in a scoreless duel until Murray's home run. Tiant struck out 15 in the loss. On June 13, El PresidenteDennis Martinez (6-5) out-dueled 1908 starter Addie Joss (6-9) by blanking the Naps 4-0. 3B Jim Thome powered the offense with his 16th home run.
Team: The 1995 team used a 13-1 run to go 21-7 for the month and vault into first place. On June 20th the team completed a sweep of the '97 Indians in the battle for the Grover Crown.
Offense: When a team has a 21-7 month, there are a lot of players that get credit and LF Albert Belle gets a lot of the credit hitting 11 home runs and driving in 31 while hitting .282. Then there is CF Kenny Lofton, who hit .336 with 16 stolen bases and scored 28 runs. Finally 3B Jim Thome launched 10 home runs and hit .333. Lofton, the speedy center fielder, played basketball at Arizona and backup at point guard in the 1988 Final Four. Lofton didn't play college baseball until his junior year. Lofton excited fans with his speed and athleticism, and no play showed this more than when he scored from second base on a wild pitch by Randy Johnson in the 1995 ALCS. He also had a good World Series and Atlanta manager Bobby Cox once said that Lofton almost altered the World Series. Cox was so impressed that the Braves dealt for Lofton in spring training 1997. Lofton clashed with the Braves clubhouse and returned to Cleveland in 1998.
Pitching: Dennis Martinez went 4-1 with a 2.93 ERA to lead the '95 Indians to the best record in the Nostalgia League. He struck out 32 batters in 43 innings. On the season El Presidente is 8-5 with a 3.57 ERA. In 1994, the Indians signed the 19 year veteran pitcher to a free agent contract and Martinez joined the Indians for the opening of Jacobs Field. In 1993, Martinez got the distinction of having won 100 games in each the American League and National League.
Heartbreak Kids (1997)
Game Highlights: On June 5, catcher Sandy Alomar drove in 6 runs and hit 2 home runs (8) including a first inning grand slam off of 1986 starter Neal Heaton (2-9). Also homering were 1B Jim Thome (19 & 20), DH David Justice(21) and RF Manny Ramirez (15) in the 15-10 win at Jacobs Field. On June 11, Charles Nagy (8-5) struck out 15 '07 Indians in a 7-2 win. 3B Matt Williams (11), DH David Justice (23) and RF Manny Ramirez (17) found the seats as they powered the Indians to victory.
Team: On June 10th, 1997 the '97 Tribe celebrated a 7-3 win over the 2007 team and then went on an eleven game win streak which fueled an 18-10 record for June. The winning record was needed after having losing records in April and May.
Offense: RF Manny Ramirez hit .327 in 110 June at bats. The right fielder hit 7 home runs to reach 21 on the season. Man-Ram was born in the Dominican Republic but his parents moved to New York City when Manny was a child. A third baseman at George Washington High School in Manhattan, he caught the eye of scout Mickey White. While Ramirez was well known to amateur baseball people, he was expected to go in the late first round. White put his foot down and staked his reputation on Ramirez and the Indians used the 13th pick in the first round to grab him. Manny failed to graduate and had little negotiating power and signed with the Indians. Two years later the Indians called him up when rosters expanded in September. In his second major league game, Manny hit 2 home runs in his old home town (New York City).
Pitching: Charles Nagy, a former 1st round draft pick, went 4-1 in June with a 3.82 ERA with a team leading 44 strikeouts. On the season Nagy is 10-6 with a 4.45 ERA. Selected with the Indians second pick in the first round of the 1988 MLB draft out of UConn, the former Team USA starter didn't last long in the minors making his MLB debut in 1990. Nagy toiled with an Indians team until the renaissance starting in 1994. The Indians teams that Nagy pitched for went to two World Series' and won division titles six times. Nagy would win 17 games 3 times in his career with the Indians. In game 7 of the 1997 World Series, manager Mike Hargrove called on Nagy to pitch in the 10th inning. Nagy hadn't made a relief appearance since his rookie season in 1990 and in the 11th inning Charlie gave up a bases loaded single and the Indians were runners up again.
Land of a Thousand Runs (1999)
Game Highlights: On June 8, 1B Jim Thome's 2-run 13th inning home run (21) made the '99 Indians 4-2 winners over the 1908 Naps. Steve Reed (2-0) took the win and Thome went 3-5.
Team: A 16-12 June kept the 1999 Indians in contention as they are in 3rd place only 5 games back.
Offense: 2B Roberto Alomar hit in his last 10 games in June to boost his June batting average to .319. He hit 10 home runs and scored 30 runs in the month. Robbie was a Gold Glove winner and an All Star in all three of his seasons in Cleveland. In total he won 10 Gold Gloves and 4 Silver Slugger awards (twice with Cleveland) and was the All Star Game MVP in 1998.
Pitching: Charles Nagy lead the way going 5-1 in June with a 2.70 ERA. Overall Nagy is 7-9 with a 3.86 ERA.
Sand Wedge (2005)
Game Highlights: On June 3, SS Jhonny Peralta (15) and 1B Ben Broussard homered (15) twice and the 2005 Indians hammered 1954 starter Bob Feller for a 13-2 win. DH Travis Hafner (20) homered and Peralta drove in 5 runs. On June 16, DH Travis Hafner hit a 4th inning grand slam (24) and drove in 5 runs in a 12-2 rout of the 1926 Indians. Catcher Victor Martinez (16) and 3B Aaron Boone (6) homered and both Pronk and V-Mart got 3 hits. Kevin Millwood (7-4) struck out 10 in 7 innings for the win. On June 17, DH Travis Hafner hit his 2nd grand slam (25) in as many days and Cliff Lee (9-1) dominated the '26 Indians for a 6 hit shutout. 3B Aaron Boone hit 2 home runs (8) and 1B Ben Broussard (16) added another in a 14-0 win.
Team: Starting the month on a 6 game roll, the 2005 Indians extended the streak to 12 games en route to a 19-9 month to a Speaker Division best record at 54-29. Eric Wedge's 2005 team padded their lead to 4 games over the 1920 Indians.
Offense: 3B Aaron Boone had a wonderful June hitting .303 with 4 home runs and 17 runs scored. Boone along with brother Brett are the third generation of Boone's that played major league baseball. His grandfather Ray and father Bob preceded him and his brother in the majors. Aaron is a descendant of the more famous settler Daniel Boone. In 2009, Boone had open heart surgery and fought his way back to play major league baseball for the Houston Astros.
Pitching: Rafael Betancourt (Raffy Right) went 17.2 innings and posted a 1-0 record with 1 save. Raffy held opponents to a .156 ERA and a .156 batting average. Raffy came to Cleveland as a minor league free agent in 2003 and spent parts of 7 years in Cleveland. His stay featured a PED suspension in 2005. Betancourt has a metal plate with screws in his right (pitching elbow). He also has a long windup and has been penalized for taking too long between pitches (the major league rule is 12 seconds.)
Pitching Wedge (2007)
Game Highlights: On June 17, CF Grady Sizemore doubled home 2 runs to break a 3-3 tie in the top of the 9th inning then C Victor Martinez homered (16) and the 2007 Indians held on to a 7-4 win. Sizemore, who homered in the 1st inning, went 2-4 and drove in 3 runs.
Team: The 2007 Indians faded to an 11-17 June and dropped to 14 games behind the 1995 Indians which has to be a disappointment for a team that was 1 win away from the World Series.
Offense: When all people have to do is mention your first name and everyone knows who you are talking about, you know that you're a star player. Names like Rocky, Albert, Manny, Tris, and Napolean fit that mold for the Indians (well I'm pretty sure Indian fans were that familiar with Tris and Nap). CF Grady Sizemore is another. When an Indian fan says Grady, other Indian fans know that it's Sizemore. In June, Grady lived up to his name hitting .350 with 7 home runs, 20 RBI and 22 runs scored. On the season, the star center fielder is hitting .289 with 22 big knocks. Indian fans loved his reckless defensive style but it was that reckless style that proved his undoing. Only 33 games into his 7th year with the Indians, Grady suffered a serious knee injury and needed micro-fracture surgery. Grady tried comebacks in 2011 and 2012 with the Indians but now is not on a MLB roster (although he's hoping for a mid-season comeback).
Pitching: Teaming with right-hander Rafael Betancourt, left-hander Rafael Perez provided a 1-2 punch to the backend of the bullpen. Nicknamed Raffy Left, the reliever put together a 1-2 record with 4 saves in June. Perez put up a 3.38 ERA (leading the team in saves). After 7 seasons with the Indians, Perez posted a 21-12 record with 268 strikeouts. In 2007, Perez made 44 appearances with a sparkling 1.78 ERA in mostly a setup role.
User Comments
Bill
March 29, 2013 - 12:08 AM EDT
I'd be interested to see a followup on how the different rules/era you are simulating affects the outcome of this league. Nice job. Go '95 Tribe!
Daingean
March 28, 2013 - 8:31 PM EDT
One point is that the 1995-2007 teams were built to take advantage of the DH while the pre-DH teams were not. 1959 w/Tito Francona was one of the pre-DH teams that had that utility guy that would have been a very solid DH.

By the way I am now running the same league with the year settings for each team (18 seasons) just to see how things change with different settings.
James
March 28, 2013 - 7:24 PM EDT
Interesting how the more recent Indians teams seem to be faring better than the much older ones. The teams in the middle from the 60s-80s such as expected lol!