The Nostalgia League: May results
As an experiment, I have assembled 18 Cleveland baseball teams from all eras to compete in a 162 game schedule for the Best Team in Cleveland History using Out Of The Park Baseball 13 (OOTP), which is a baseball simulation game. Below are the results for May, and if you missed them, here are the other pieces in the nine-part series:
Nostalgia League preview
Opening day results
April results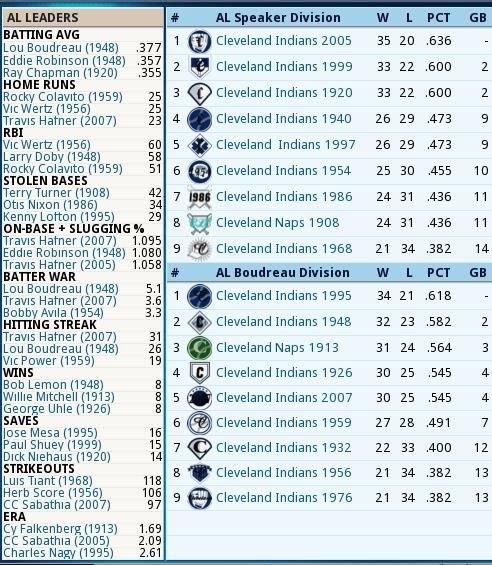 Batter of the Month
1956 1B Vic Wertz slugged 14 home runs and drove in 33 runs while hitting .349 to win the Batter of the Month award. Stricken with a non-paralytic form of polio in 1955, the Indians first baseman rebounded in 1956 to hit a career high 32 home runs. Wertz played primarily in the outfield until the Indians acquired him during the 1954 season. Wertz would take over the first base job, a job he would hold until traded after the 1958 season. Wertz, a World War II veteran, was known as the guy that hit the long fly ball in the 1954 World Series which Willie Maystracked down for "The Catch".
Pitcher of the Month
1913 starter Frederick "Cy" Falkenberg made 6 starts in May and posted a 4-0 record with a 1.26 ERA to be named the Pitcher of the Month. One of the few educated baseball players of his era (University of Illinois), the "emery ball" pitcher didn't achieve a lot of success until he, as a 33 year old, went 23-10 with a 2.22 ERA for the Naps in 1913. He had posted some decent numbers but didn't have a fully impressive season until then. It would be Falkenberg's last in the AL until 1917 because he jumped to the MLB rival Federal League in 1914.
Players of the Week
May 2nd: 1995 RF Manny Ramirez hit .500 (10-20) with 3 home runs, 9 RBI and 7 runs scored.
May 9th: 1948 SS and player-manager Lou Boudreau went 16-33 (.485) with 8 runs scored and 7 RBI.
May 16th: 2007 DH Travis Hafner hit .360 and hit 6 home runs to garner player of the week award. Hafner drove in 11 runs and scored 11 runs.
May 23rd: 1948 1B Eddie Robinson won the player of the week award with a .524 week (11-21) with 4 long balls and 8 RBI.
May 30th: 2007 C Victor Martinez hit .611 with 3 home runs and 9 RBI to take player of the week honors.
Lajoie's Liners (1908)
Game Highlights: On May 30th CF Wilbur Good drove in 3 runs with his 2nd home run of the season and DHGeorge Perring went 4-5 in a 13-5 win over the 1926 Indians.
Team: The 1908 Naps went 12-17 in May and dropped into a tie for 7th place in the Speaker Division. The Naps have been bad at home (10-18) and much better on the road (14-13). They sport a winning record in 1 run games (8-7).
Offense: Hall of Fame 2B Nap Lajoie hit 12 doubles and hit .342 in May to raise his season average to .319. Despite being born in Rhode Island, Nap, sometimes called "The Frenchman" but mostly Larry, came to Cleveland in the 1902 season and in 1904 became the team's player manager. He was so popular that the fans voted to change their name from the Brochos to the Naps. Lajoie would remain the player-manager until 1909 when he resigned as manager but remained with the team until 1914 when he returned to the Athletics. Lajoie would win five batting titles including three with Cleveland. The 1908 Naps lack offensive; in fact in 5 of the 11 important team statistics the team is dead last (.225 average) but rank first in stolen bases (104).
Pitching: Staring pitcher Adiran "Addie" Joss went 4-2 in May with a 1.99 ERA. Joss was the first real ace in franchise history and his twisting pitching motion gave him the nickname "The Human Hairpin". In 1908 Joss went 24-11 and lead the league in ERA (1.16) including pitching a perfect game. Joss caught tuberculosis meningitis in 1911 and perished that same month. Pitching is the 1908 strength ranking 4th in the league in ERA and 1st in least home runs allowed (17) but it was the team's bullpen ERA which hurt the team (4.90). The team is also only 16th defensively.
The Jolly Mollies (1913)
Game Highlights: On May 27 the Naps scored 14 runs on 16 hits and Cy Falkenberg (6-1) went all nine giving up only one run as the Naps crushed Frank Robinson's '76 Indians. Catcher Steve O'Neill and CF Joe Birminghamdrove in three runs apiece.
Team: A six game winning streak from May 21-27 propelled the Molly McGuires to a 15-14 May record. The Naps sit in 3rd place and are 3 games behind the leaders being bolstered by a 28-16 record versus right-handers.
Offense: 2B Nap Lajoie hit .410 in May while driving in 25 runs. A feud arose when Nap jumped from the Phillies to the Athletics and the Pennsylvania Supreme Court ruled he was not allowed to play for any team but the Phillies but the ruling was only enforced in Pennsylvania. This caused the Athletics to trade the popular Lajoie to the Cleveland Bronchos. In 1902 and 1903, Lajoie and teammate Elmer Flick traveled separately from the rest of the team to avoid getting subpoenaed in the Keystone State. Like the other Naps, these Naps are also offensively challenged ranking 12th in batting average and runs scored. The team is second in stolen bases.
Pitching: Cy Falkenberg took the Nostalgia League's pitcher of the month award but closer Fred "Fritz" Blanding was equally effective in May. Blanding made 13 appearances (1-3) with 4 saves (13 total saves) and a 3.14 ERA. In 1913 Blanding went 15-10 with a 2.55 ERA. The 6 foot 185 pound Blanding retired in 1915 because of "excessive weight". Pitching is where this team excels leading the league with a 3.51 ERA with a starters ERA of 3.06. The team is second in runs allowed and home runs allowed. Defensively the team is in the middle of the pack (8th).
Speaker of the House (1920)
Game Highlights: On May 28 the 1920 Indians used two four-run innings (2nd and 7th) and a five run fourth to down the '56 Indians 13-2. RF Elmer Smith went 5-5 and SS Ray Chapman drove in 3 runs. Ray Caldwell went 8.1 to even his record at 4-4.
Team: From May 4th through May 13th the 1920 Indians slumped going 1-8 but immediately went on an 8-1 streak. The team ended the month of May going 13-4. Tris Speaker's World Champions staked a claim over the other Tris team the 1926 Indians with a 2-1 series win. Despite the 1-8 record the team went 17-12 sitting in 3rd place and 2 games back.
Offense: Player manager Tris "The Grey Eagle" Speaker put together a .354 batting average and drove in 17 runs in May. He walked 20 times and scored 17 runs while also driving in 17 runs. Speaker first appeared in the majors for the Boston Americans (Red Sox) and he came to Cleveland in 1916 for two players and $55,000. The trade was a success as Speaker would provide Gold Glove caliber defense in center field and award winning hitting (his first season he would lead the AL with a .386 batting average). For 11 years Speaker would patrol CF for the Indians and hit a whopping .354. The Hall of Famer would collect 3514 hits (1965 as a Wahoo) and retire as the major league leader in doubles (792 which he still holds). Defensively, Speaker would play an extremely shallow center field almost daring opponents to hit one over his head but he had the speed to track down balls and his area behind second base was known as the area where "triples go to die." With the Speaker led offense, the 1920 Indians rank #1 in batting average (.297), #1 in on-base percentage (.371) and 2nd in runs scored (321). They are second in avoiding strikeouts and 3rd in walks.
Pitching: Closer Dick Niehaus made 8 perfect appearances in May accumulating 7 saves (14 total) and his season ERA dipped to 1.96. Niehaus pitched from 1913-15 for the Cardinals but was seldom used, and then in 1920 he reappeared in the majors as a member of the 1920 Indians. Teams didn't have closers and relievers were seldom used but Tris Speaker used Niehaus 19 times ranking 6th in appearances for the 1920 Indians. The lefty reliever went 1-2 with a 3.60 for the World Champions grabbing 2 saves. The 1920 Indians have the 10th ranked pitching staff (4.52) but are the 3rd best staff in preventing walks. Defensively they rank 10th in the league.
Speaker's Last Hurrah (1926)
Game Highlights: On May 28th RF Homer Summa doubled home SS Joe Sewell to end an 11 inning affair with the 1908 Naps 7-6. Amazingly the '26 Tribe needed 5 runs in the 9th just to tie the game. Byron "By" Speece (1-0) pitched the final 4 innings for Speaker's crew to get the win.
Team: With a 16-13 May record, the 1926 Indians sit 30-25 and four games behind the 1995 Indians but in fourth place in Boudreau Division. The '26ers carry a 6-3 extra inning record as well as a 10-5 record in 1 run games.
Offense: CF Tris Speaker had an outstanding May leading the '26ers in RBI (26), OPS (.894), doubles (11) and home runs (2). LF Charlie Jamieson also had a stellar May leading the Indians in average (.328) and runs scored (23). Overall Jamieson is hitting .317 and the left fielder spent 14 of his 18 major league seasons on the shores of Lake Erie with the Indians. Jamieson stands as the only outfielder to initiate two triple plays in the same year, accomplishing the feat in 1928. The '26 Tribe's .292 batting average rank 2nd in the Nostalgia League and the team is the most difficult to strikeout (167). Their 584 hits lead the league.
Pitching: Reliever Sherrod "Sherry" Smith took the ball from Speaker 11 times while accumulating 11.1 innings but held opponents to a .190 batting average and a sparkling 1.59 ERA. He saved 7 games in May for a total of 14. Smith pitched in 17 major league seasons including his last six in Cleveland. He was a member of the 1920 Brooklyn Robins which fell to the '20 Indians in the World Series and would join his former foe just two years later (1922). The bullpen's 5th best ERA lowered the team's ERA from 5.04 (starters) to 4.82 (14th). The team is in the middle defensively, ranking 9th overall.
Pecking Order (1932)
Game Highlights: On May 12th, DH Bob Seeds, PH Bruce Connatser, SS Ed Montague, and LF Joe Vosmik got base hits in a four run 11th inning as the '32 Indians beat the '56 Indians 13-9.
Team: A 3-14 slide from May 9th to May 27th is to blame for the team's 10-19 record in May which dropped the team to 7th place in the Boudreau Division. The team sits 12 games behind the division leaders. While the team is playing .500 in one run games, the team also has had success in extra-inning games going 4-3.
Offense: Red hot catcher Glenn Myatt hit .345 in May with 6 home runs and a team leading 27 RBI. Overall Myatt is hitting .311 with 10 home runs. In the final four games in May Myatt went 9-16 to raise his batting average from .281 to .311. The Arkansas backstop spent 13 years with the Cleveland "C" on his hat and 16 years total in the bigs. After missing the 1922 season, Myatt came to Cleveland to stay in 1923 and would be a roster mainstay until being released in 1935. Roger Peckinpaugh's team ranks 4th in batting average but 13th in runs scored. The defense isn't much better sitting at 14th.
Pitching: The struggling pitching stance was led by Oral Hildebrand who went (2-2) with a 4.53 ERA in May. Hildebrand was the starting center for the 1929 Butler University collegiate national championship team. The 6'3" pitcher joined the Indians in 1931 and was named to the 1933 AL All-Star team going 16-11. He spent six seasons in Cleveland going 56-46 before moving onto the St. Louis Browns then the Yankees. The 5.57 team ERA ranks last in the Nostalgia League and the team is at the bottom in four other major team pitching statistics. The team's only decent ranking in pitching is that they rank 9th in home runs allowed.
Crybabies Crib (1940)
Game Highlights: On May 18th 2B Ray Mack, CF Roy Weatherly, and LF Jeff Heath all drove in 3 runs with Mack (2) and Heath (3) homering in the 14-9 win over the 1948 Indians.
Team: The Crybabies improved in May posting a 15-14 record to now sit at 26-29 which is good for 4th place (9 games back). The team is respectable against right-handers (23-21) but the 3-8 record against lefties is the reason why they are below .500.
Offense: 1B Hal Trosky hit 7 home runs in May (16 overall) and a four line slash of .311/.416/.594/1.010. Trosky spent nine seasons in Cleveland. Trosky is considered one of the best players to never make an All Star game and his 216 home runs as a Wahoo is 5th all time for the Indians. Trosky suffered from migraine headaches which limited his games from 1939 through his final year in Cleveland (1941). He had his finest season in 1936 when he hit 42 home runs and a league leading 162 RBI. The 1940 Indians rank in the middle in many offensive statistics including 9th in batting average and 10th in runs scored.
Pitching: Mel Harder went 4-2 in May with a 3.80 ERA. Overall, Harder is a respectable 5-4 with a 3.69 ERA. Harder, a career Indian, is one of the most important pitchers to ever have his locker in Cleveland Stadium. In fact, the Nebraska native but Clevelander through and through pitched the first game in Cleveland Stadium on July 31, 1932. He was so identified as an Indian as a player, coach and manager (interim) that he was often called "Chief". His number 18 is retired by the Indians and influenced as a teammate or coach such great Indian pitchers such asBob Feller, Bob Lemon, Early Wynn, Mike Garcia, Herb Score, Sam McDowell, and Luis Tiant (as well as Tommy John). With an ERA over five the Crybabies rank 15th and in the lower half in most defensive statistics. The team is in the middle in defensive efficiency (actually 7th).
Boudreau's Bombers (1948)
Game Highlights: On May 6th, SS Lou Boudreau (8) and 3B Ken Keltner (7) each homered twice as the '48 Wahoos used an twelve run 5th inning to rout the 1986 Indians. The eruption featured a Keltner grand slam as he drove in 6 runs on the night. Bob Lemon (4-2) was the beneficiary of the offensive explosion as he went 8 innings. On May 10th, RF Allie Clark hit a grand slam (3) and Bob Kennedy (2-3) threw 8 shutout innings for a 14-0 win over the 1913 Naps. 2B Joe Gordon went 4-5 with 2 doubles for the World Champs. On May 13th, it was a memorable night for 1B Eddie Robinson who homered twice (9) including a grand slam and drove in 6 runs all in the 6th inning as the '48 Tribe downed the 2007 Indians 14-4. Bob Feller (5-2) struck out 12 in the win.
Team: Steadily plodding through May, the 17-12 record kept the champions in the thick of the Boudreau division. The team pastes right-handers with a record to the tune of 29-16.
Offense: SS Lou Boudreau hit .412 in May to boost his batting average to .377. His 8 home runs in May (13 on the season) was third on the team. Boudreau put together a 24 game hitting streak which raised his batting average from .333 to .383. Starting in 1941, the 25 year old Boudreau would pull double duty as the team's shortstop and manager until 1950. He was one of the best defensive shortstops in the 1940's and won the 1944 AL batting title. The star shortstop made his debut as a first baseman although he was a third baseman by trade. In 1939, Indians manager Ossie Vitt moved Boudreau to short because third base was manned by established star Ken Keltner. Boudreau's team hit .291 for 3rd place but the team leads in slugging, OPS, walks and runs scored.
Pitching: Former third baseman Bob Lemon went 5-1 with a 3.64 ERA to lead the pitching staff in May. Overall Lemon is 8-2 in 11 starts with a 3.67 ERA and 61 strikeouts. After returning from a stint in the Navy during World War II, Lemon was converted to pitcher by the Indians and his career blossomed. He would spend the next 13 seasons accumulating a 207-128 record. The career Indian would win two games in the 1948 World Series and was a key member of the "Big Four" pitching staff of the 50's. Lemon would later manage the Royals, Yankees, and White Sox (winning the World Series with the Yankees). The '48 Indians rank 8th in ERA and first in BABIP (.265). The team is the best defensively in the Nostalgia League.
114 Wins (1954)
Game Highlights: On May 23rd, Al Rosen homered (6) and drove in four in a 4-6 night and LF Al Smith went 4-5 as the '54 Tribe downed the 1926 Indians 14-7.
Team: After a poor start in April, the 1954 Indians started to turn it around to go 16-13. The team is in 6th place and 10 games behind the division leader.
Offense: CF Larry Doby homered 10 times and hit .330 in May while leading the '54ites with a 1.102 OPS. Doby got hot on May 16th and hit in 13 of 15 games. He raised his average from .247 to .270 in that span. In 1947 Doby became the 1st black player in the AL when he joined the Indians. Doby and teammate Satchel Paige were the first black players to win a World Series title doing it with the Indians in 1948. Doby appeared in 7 straight All Star games in his 13 MLB seasons (10 with the Indians). The 1954 Indians rank 15th with a .255 batting average and in the bottom half of most of the league rankings.
Pitching: Early Wynn went 5-1 in May with a 3.22 ERA to improve Wynn's season record to 6-4. He was called 'Gus' by his teammates. Not afraid to pitch inside, Wynn once knocked down his own son (15 year old Joe) after Joe hit a few pitches into the bleachers in batting practice. Wynn joined the Indians in 1949 and responded under the tutelage of Mel Harder, who taught Wynn the curve, slider, change-up and knuckleball, by winning 18 games in 1950 and twenty or more games five times. The 1959 Cy Young winner with the White Sox, Wynn returned to Cleveland in 1963 for his swan-song. The 1954 pitching staff featuring the "Big Four" rank 5th in ERA and in the upper half of the majority of pitching statistics. The pitching staff is aided by the 4th ranked defensive unit.
Lopez '56 (1956)
Game Highlights: On May 22, 1B Vic Wertz went 3-3 with all 3 hits being long ones. In the first inning, Wertz drilled aSonny Siebert fastball for a 3-run shot, in the third inning he victimized Siebert again for a solo home run, and then 5th inning Wertz hit his 22nd home run a 3-run bomb off of 1968 reliever Mike Paul. On the night Wertz scored 4 runs and drove in 7 as the '56ites won 10-3.
Team: The '56 Wahoos were swept in three series' in May (by 2007, 1940, and 1954) as they struggled through a 12-17 May. Looking at the poor 9-19 road record, the '56ers are 13 games behind division leaders and in 8th place.
Offense: While 1B Vic Wertz claimed the batter of the month award, LF Gene Woodling had a comfortable .276 average in May. Woodling's 20 runs were second to Wertz on the team. The Akron native had two stints with Cleveland (the first interrupted by World War II) and the second between 1955 and 1957. In 1957 Woodling would hit a career high 18 home runs which only got him traded to Baltimore. Woodling played 17 seasons with six teams and finished up with the hapless 1962 New York Mets, probably the worst team in MLB history. Hitting a paltry .237 the '56 Indians are 16th in the league in average and are dead last in stolen bases (2). On a brighter note, the team's 82 home runs rank 5th but that only raises their runs scored ranking to 14th.
Pitching: Lefty closer Don Mossi saved 5 games in 11 games. His 2.19 ERA was really the only bright spot for the pitching staff. Mossi made one appearance in the All-Star game in 1957 but it wasn't until after he was traded away before Mossi got the chance to start. Because of the "Big Four" there were no open spots in the rotation and Mossi thrived for the Indians in the bullpen. Having the 16th ranked batting average and the 16th ranked ERA is not a recipe for success and things will have to get better in both categories for the '56 Indians to improve. The team has given up the most home runs (80) and most walks (222) in the league. Their defense also ranks 12th in Defensive Efficiency.
Gordon's Gamers (1959)
Game Highlights: On May 3rd, the 1959 Indians scored eight runs in the bottom of the ninth but the rally fell one run short as Gordon's crew fell to the 2007 Indians 14-13. LF Minnie Minoso doubled twice in the rally and CF Jimmy Piersall homered as the '59ers used 8 hits to score 8 runs (1 walk). On May 17, James "Mudcat" Grant (3-2) gave up one 6th inning hit but other than that Grant was unhittable in a 8-1 win over the '68 Indians. RF Rocky Colavitohomered twice (22) and DH Tito Francona went 3-4 with a homer (11), but Grant was the story of the day.
Team: After losing 9 of the first 12 games in May the team rebounded to finish 13-16 in May. The '59 Indians are 15-12 on the road and currently sit in 6th place and trail by 7 games. Going 6-3 against lefties, the 1959 team is a bit of an anomaly at this point.
Offense: Playing mostly DH, Tito Francona hit .371 in May with 11 home runs and 29 RBI. Francona added 13 multi-hit games in May. Tito is the father of current Indians manager and spent 5 seasons in Cleveland arriving in a spring training trade in 1959. In 1959, Francona started as a utility/pinch hitter but took over center field in June then pushed 1B Vic Power to second. His .363 batting average would have won the AL batting title but was short of the minimum plate appearances by 34. In spring training 1961, a Tito home run found a dead body. The ball landed near the body of a wanted fugitive while playing in Arizona. The 1959 Indians rank in the middle of the statistics including 10th in batting average.
Pitching: With a May ERA of 1.56, starter Gary "Ding Dong" Bell went 3-1 to pace the '59ers. Overall Bell is 5-4 with a 2.84 ERA. Bell came up with Cleveland in 1958 as a starter but was converted to a reliever in 1962 after two injury plagued years. Bell was often quoted as hating being a reliever. "Ding Dong" would flip between being a starter and a reliever making the all-star game in 1960, 1966 and 1968 as a starter. With a 4.44 ERA, Joe Gordon's crew rank 9th in the league. The team is currently ranked 2nd defensively.
Scared of the Dark (1968)
Game Highlights: On May 5th, Luis Tiant (2-5) went 10 innings striking out 13 and PH Joe Azcue singled home DH Leon "Daddy Wags" Wagner home for a 10th inning victory. Tiant threw 126 pitches and scattered 5 hits in the win against the 1954 Indians.
Team: Finishing the month of May in a 2-10 quagmire, the '68ems are tied with the worst record in the Nostalgia League (21-34) and their 14 games back is the leagues greatest deficit. The 10-19 May record puts this team in a giant hole. Surprisingly, a 13-14 home record almost looks reasonable but the 8-20 road record has doomed this team.
Offense: 1B Tony Horton hit 6 home runs and batted .308 with a .987 OPS to set the pace for the Dark Knights. Horton played 7 seasons for two teams including his final four in Cleveland. Horton's career came prematurely to an end in 1970 (still only 25 years old) when he started experiencing emotional issues and a suicide attempt. Hitting only .224 the team ranks 17th in the league and their on-base percentage is last.
Pitching: Closer Horacio Pina went 0-1 with 5 saves in posting a 0.90 ERA as he and bullpen mates Billy Rohr,Eddie Fisher and Hal Kurtz paced the team from the mound. Pena, a rookie in 1968, had a stellar 1968 with a 1.72 ERA in 12 games. Pina would only play in Cleveland two years (68 and 69) before taking his talents to Washington/Texas, Philadelphia, Oakland, California, and Chicago. The team's 3.80 bullpen ERA in the 3rd best but the overall ERA is 4.14 (6th). The team is 1st in hits allowed and opposing batting average.
Mr. Robinson's Neighborhood (1976)
Game Highlights: May 22, 1913 starter Heinie Berger held the '76 Tribe down for 8 innings and handed a 2-0 lead over to the bullpen but the '76ers exploded for 10 runs in the top of the 9th for a 10-2 win. 3B Buddy Bell had two 2-run singles in the big inning.
Team: The 1976 Indians plummeted to last place and 13 games back after a 12-17 month of May. The May record is three games better than April but this team will need to make up some serious ground if they aren't going to quickly become irrelevant in the Nostalgia League. The next extra inning win will be their first as they are 0-5.
Offense: 1B/DH Rico Carty hit .327 in May with 3 home runs and 9 RBI. The 36 year old Dominican is hitting .318 on the season with 5 homers. The Indians signed "Beeg Boy" out of the Mexican League in 1974 to be the DH. Carty broke in with the 1963 Milwakee Braves and won the National League batting title in 1970 with a .366 average but conflicts with Hank Aaron forced the Braves to trade him away. After bouncing around with teams like the Rangers, Cubs, and Athletics in 1973, Carty went to Mexico to try and revive his career. In his four seasons in Cleveland, Carty hit .303 and was considered an effective DH. The 1976 Indians rank near the bottom in just about every offensive stat.
Pitching: Closer Dave LaRoche took the mound 9 times for 10 innings in May going 0-2 but saving 5 games with a 1.80 ERA. On the season, the lefty closer is 0-5 with 9 saves and a 4.05 ERA. LaRoche spent parts of three seasons in an Indians uniform and featured a pitch he called "La Lob" which was a variant of an eephus pitch. The eephus pitch was a high arching slow pitch which was thrown to get hitters off guard. LaRoche is the father of current major league/minor league players Adam and Andy. The 1976 Indians have a decent pitching staff ranking in the middle of most statistics such as 7th in ERA. Frank Robinson's team features the 13th ranked defense.
At the OK Corrales (1986)
Game Highlights: On May 29, DH Mel Hall homered (9) and went 5-5 but the '86ers couldn't rally enough and lost to the '32 Indians 8-7. Trailing 8-3 after three innings, the '86ers couldn't complete the rally and fell.
Team: A 13-16 May sunk the '86ers to a 24-31 record and a 7th place spot 11 games behind the league leaders. The bright spots are a 3-1 record in extra-inning games and the 7-3 record verses lefties. May featured a 3 game sweep of the 2007 Indians.
Offense: LF/DH Mel Hall used to wear two batting gloves in his back pockets to "wave good-bye" to the fielders as he passed them and pass them he did in May. Hall hit .350 with 9 home runs and 26 RBI. Hall played parts of five seasons in Cleveland arriving in June 1984 along with Joe Carter for eventual NL Cy Young winner Rick Sutcliffe. The '86 Tribe has the 6th best batting average and also ranks third in stolen bases.
Pitching: The guy with a question for a name, Rich Yett (rich yet?), went 1-0 in May with 1.17 ERA to offset a bad month of April. His season ERA was dropped to 5.02 with his stellar May. Yett's four seasons in Cleveland saw a 4.95 ERA in a career where two one year stints with the Twins sandwiched it. The team is next to last in ERA and Defensive Efficiency which is an area that must be reversed if the '86 Indians are going to make any noise in the Nostalgia League.
Grover's Greatest (1995)
Game Highlights: On May 25, RF Manny Ramirez and catcher Sandy Alomar each got 4 hits and drove in 3 runs as the '95ers blanked the '32's 15-0. Ramirez smacked his 15th home run in the game and Chad Ogea (6-3) went 8.2 innings for the win.
Team: The '95 Wahoo's used a 20-9 May to vault into 1st place in the Boudreau Division and sported a 10-game winning streak. The team sports a 10-5 record against lefties and a 24-16 record against righties.
Offense: 1B Paul Sorrento hit 7 home runs and drove in 19 May runs for the '95ies. After three seasons with the Twins, Sorrento joined the Indians in a spring training trade in 1992 for two minor league pitchers. Sorrento would put four solid seasons in Cleveland with his 1995 and final year being his best. Sorrento homered 25 times in the 1995 season (a season cut short by the MLB work stoppage). They are 8th in batting average (.263), 8th in runs scored (270), and 8th in home runs for a lucky 8-8-8, which is enough to put Hargrove's Tribe at the top of the division.
Pitching: Julian Tavarez went 2-1 with 1 save in 12 appearances in May limiting opponents to a .159 batting average and holding them to 2.03 ERA. Tavarez, a starter in the minors, became an effective reliever for the Tribe in 1995 going 10-2 with a 2.44 ERA. Tavarez was traded with future NL MVP Jeff Kent to the Giants for third basemanMatt Williams. Tavarez spent 4 years in Cleveland and 17 years in the majors with 11 teams. The 1995 Indians sport the 2nd best ERA in the league and are 3rd in runs allowed. Mike Hargrove's team has the 6th most efficient defense.
Heartbreak Kids (1997)
Game Highlights: On May 20th, LF David Justice went 3-5 while scoring 5 runs and driving in 3. The left fielder homered twice (14) in a 17-4 thrashing of the 1956 Indians.
Team: Teams that tread water in a league like this may slowly lose ground and a 14-15 May leaves the '97s nine games back and in 5th place. Losing five of six extra-inning games this year has put the team behind the proverbial 8-ball.
Offense: LF David Justice hit 9 home runs and drove in a team leading 25 runs in May to lead the Indians offensively. His .297 batting average in May help him get his season average up to .288. Justice came to the Indians along with Marquis Grissom in a spring training deal for Kenny Lofton in 1997. The 1990 NL Rookie of the Year hit a home run in Game Six of the 1995 World Series against the Indians, accounting for the lone run in a 1-0 Braves win in the series clincher. The '97's hit .260 to rank 11th in the Nostalgia League but rank 1st in extra base hits (209) and home runs (100).
Pitching: Orel "Bulldog" Hershiser went 3-0 with a 2.95 ERA in May and is now at 5-1 on the year. Hershiser pitched collegiately for the Bowling Green Falcons before being drafted by the Dodgers. Orel gained fame in his 12 seasons with the Dodgers winning the 1988 NL Cy Young. Hershiser signed as a free agent by the Indians in 1995 and proved to be a top of the shelf post season pitcher for the Indians (winning the 1995 AL Championship Series MVP). He spent three years in Cleveland and left after the 1997 season. With a 4.73 ERA the Indians are currently 13th in the league and all of their rankings are middle of the road for the Nostalgia League. The team is also 11th defensively.
Land of a Thousand Runs (1999)
Game Highlights: On May 19th, the 1999 Indians exploded for 25 runs in downing the 1932 Indians 25-10. CatcherEinar Diaz drove in 6 runs off of 3 singles and 2B Roberto Alomar drove in 5 runs.
Team: The Indians used an 18-11 May record to keep pace with the division leaders. They are currently in 2nd place only two games back. Their perfect 4-0 record in extra innings and their 27-17 dominance of right-handers are key factors in their success.
Offense: The Indians hit in 10 consecutive games to end May and hit .287 with 10 home runs and 21 RBI. As a shortstop at Illinois Central College, Thome was discovered by an Indians scout and taken in the 13th round of the 1989 draft. Thome didn't get a team out of the 1990 spring training and was eventually assigned to the rookie level Burlington Indians. That's when Thome's career exploded as he was putting up triple crown numbers before quickly being moved up to the to Kinston. Thome would make his major league debut in 1991 but would spend most of 1992 and 1993 in the minors. Thome made it to Cleveland to stay in 1994 and went on to set the Indians all-time home run record. In 2011, Thome joined the 500 home run club. The 1999 Indians were an offensive juggernaut hitting .274 (5th) and runs scored 317 (3). The team ranks in the top 7 in all major categories except strikeouts (492,17th).
Pitching: Closer Paul Shuey saved 9 games in 14 May appearances while limiting opponents to a 1.72 ERA. The Indians selected Shuey with the 2nd pick in the 1992 draft hoping to get an eventual closer. Shuey had control issues but turned into an effective set-up man. Shuey spent 9 years in Cleveland before being sent to the Dodgers in 2002. Shuey attempted a comeback to Cleveland in 2005 but a hip injury prompted Shuey to retire. The '99ers posted the 2nd best bullpen ERA which salvaged the 14th ranked starter's ERA. The team leads the Nostalgia League with 488 strikeouts. Despite a great keystone combination of Vizquel and Alomar the '99 Indians rank last in defensive efficiency.
Sand Wedge (2005)
Game Highlights: On May 6th, 2005 starter Cliff Lee (5-1) stymied the 1986 Indians for a shutout victory. SS Jhonny Peralta hit a grand slam (9) in the 8-0 victory. On May 21, catcher Victor Martinez drove in 6 runs on a 4-5 night and hit his 9th home run as the 2005 Indians downed the 1932 Indians 12-2. CC Sabathia improved to 5-1 going 7.2 innings.
Team: The '05 Indians built upon their April 18-8 record by going 17-12 in May to a Nostalgia League best 35-20 record and first place in the Speaker Division. Through two months, the 2005 Indians beat right-handed (29-17) and left-handed (6-3) pitchers alike and prevail in 2/3 of their extra-inning games.
Offense: Catcher Victor Martinez hit in 15 of his last 16 games while hitting at a .356 clip with 11 home runs and 31 RBI. For the season V-Mart is hitting .333 with 14 home runs and 47 ribbies. The Venezuelan switch hitting catcher was one of the main offensive cogs in the Indians lineup from 2002-2009 before being traded to Boston. The four time All Star and 2004 Silver Slugger award winner hit .297 and hit 103 home runs in his Indians career. The 2005 Indians are hitting at a .268 pace which is 7th but are 2nd in extra base hits and 4th in home runs.
Pitching: Reliever Arthur Rhodes pitched 21.2 innings in 13 perfect appearances going 2-0. Opponents hit .099 off him in May. Overall his 1.47 ERA combined with a 2-1 record with 1 save is a primary reason why the 2005 Indians have had success. 2005 was Rhodes' only season in Cleveland and pitched for 11 teams in his 20 year major league career. Rhodes is the career major league leader in career holds. The Indians have the 3rd best ERA and have given up the fewest runs in the league. The bullpen ERA of 3.12 leads the Nostalgia League and the team is the second most stingy team in giving up hits.
Pitching Wedge (2007)
Game Highlights: DH Travis Hafner hit a grand slam (10) as the 2007 Indians downed the 1948 Tribe 15-5. LFDavid Dellucci homered (4) and drove in 4 runs in the win.
Team: From May 18 and May 20, the Indians squared off against the 2005 Indians in the battle of the Wedgies. 2007 prevailed on the 18th and 20th to take the series 2-1. The 2007 Indians slipped to 14-15 in May but are 30-25 and within 4 games of first place.
Offense: From April 26th through May 30th, DH Travis Hafner put together a 31 game hitting streak. For the month of May, Hafner hit .325 with 15 home runs. For the season, Pronk is hitting .305 with 23 home runs and 46 RBI. Hafner came to the Indians in 2003 in a trade for Einar Diaz. Travis got the nickname 'Pronk' because he was considered "part project and part donkey". Shoulder injuries reduced Hafner to a DH only though he is the all-time leading home run hitter from North Dakota. The 2007 Indians have the 13th best batting average and rank third in slugging and OPS. The team's 98 home runs are the league's 2nd most. Their 530 strikeouts are the league's worst.
Pitching: Jake Westbrook went 2-1 with a 4.02 ERA to lead the 2007 Indians in pitching. Westbrook was traded twice before making his MLB debut in 2000 with the Yankees then was traded to the Indians for David Justice. Westbrook became an integral pitching asset for the Indians in the 2000's even drawing the opening day start in 2010. Westbrook was traded to the Cardinals in 2010 in a three team deal in which the Indians picked up Corey Kluber. The 2007 Indians rank 11th in ERA with a 4.52 mark, and are first in walks issued with 113. The team's bullpen ERA is 4th and their defense ranks 15th.
User Comments
Daingean
March 28, 2013 - 1:15 PM EDT
Also wrt the high home run totals.......the top pitchers are not seeing huge spikes in ERA's.......certainly the pre-DH pitchers are seeing higher ERAs but still not unusual.....I made a point of setting the modifiers and let it go without intervention. And in the end, it's a game :-)
Daingean
March 28, 2013 - 1:09 PM EDT
Yes the home run totals are a bit high. I've run many seasons (mostly) with make believe teams and didn't see such high home run totals. I think with the 2011 settings, managers go to bullpens earlier than they would their actual year. Because the bullpens for some of the pre-1970 teams were below average (except for maybe 1954 & 56) many of these home runs were off of those bullpens. Add in each team using a DH and more middle relievers.
Bob
March 28, 2013 - 12:56 PM EDT
Wow, the level of detail with his is amazing. Some of the numbers are kind of crazy and I am curious to see how these high home run totals play out, but this is just a lot of fun to see some of our favorite teams duke it out against one another.