The Prospect Book Is Here!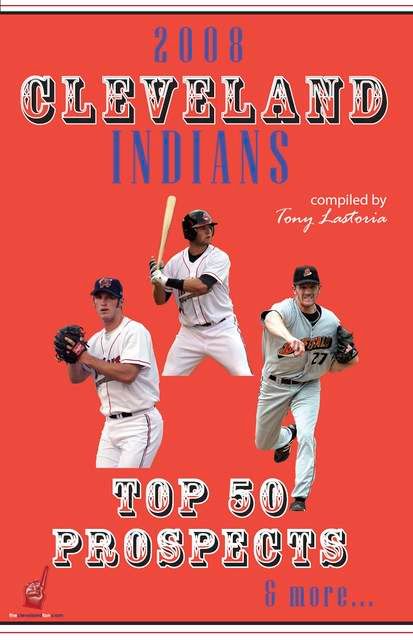 Good news! My Indians prospect book has been printed, and a couple hundred copies are in transit to me as I write this. I should have them by Friday or Saturday.

What this means, is anyone interested in obtaining a copy of the book, you can now officially put in an order for it. I think the final version came out well as the proof looked great, although we will see when I see the actual book in a few days. I also added some last minute goodies to sort of make it a Bible for the upcoming Indians minor league season. Outside of having to check daily stats for 2008 as the players play through the season, everything you need to know about the top prospects in the system and the organization as a whole should be in this book.

Again, in this book you will find:


- Full scouting reports on the Indians Top 50 ranked prospects.
- An additional 25 scouting reports for players from the 2007 Draft, Latin America, the Rule 5 Draft, and more.
- 2007 season and career stats for all players, as well as photos for over 60 players.
- A complete listing of the 2007 draft picks and who signed.
- The complete 2008 player development and coaching staff listing for the upcoming season.
- Complete affiliate listing with basic information for each team.
- Projected 2008 minor league opening day rosters.
- Full minor league spring training game schedule and a complete regular season schedule grid showing the schedules for all six affiliates side by side.


It came out to 92 pages, so will be a nice small "handbook" so to speak for easy reference for the upcoming season and beyond.

TO ORDER: If you are interested, place an order by emailing me at tlastoria@gmail.com with your request. Also, to better route it and for organizational purposes, please type "Prospects Book Order" in the subject line. If you want more than one copy, please be sure to clearly state how many you want.

PRICE: $13.95 plus shipping and handling (about $20 total with shipping and handling).

PAYMENT: People can pay by sending a check by mail, or can pay with Paypal (www.paypal.com) which I actually prefer. My e-mail address is the account you would send payment to. When you email to order, we can discuss this further. Also, I will be requesting payment in full before I send anything. I hope those that have gotten to know me, and those who have read my stuff for the past few years trust me enough and deem me as credible. It is the only way to do this though, as I don't want to get burned and also have to put up all these shipping costs upfront which will be a few hundred dollars due to the large amount of shipments I will be sending at first. I hope people are fine with that. Like I said, when you email we can discuss further.

SHIPPING: Shipping should be about $4.60 (US Priority), and I will be adding a delivery confirmation number which is about $.65-.75
User Comments
No comments currently. Be the first to comment!