The Scrapperbook: All-Star Edition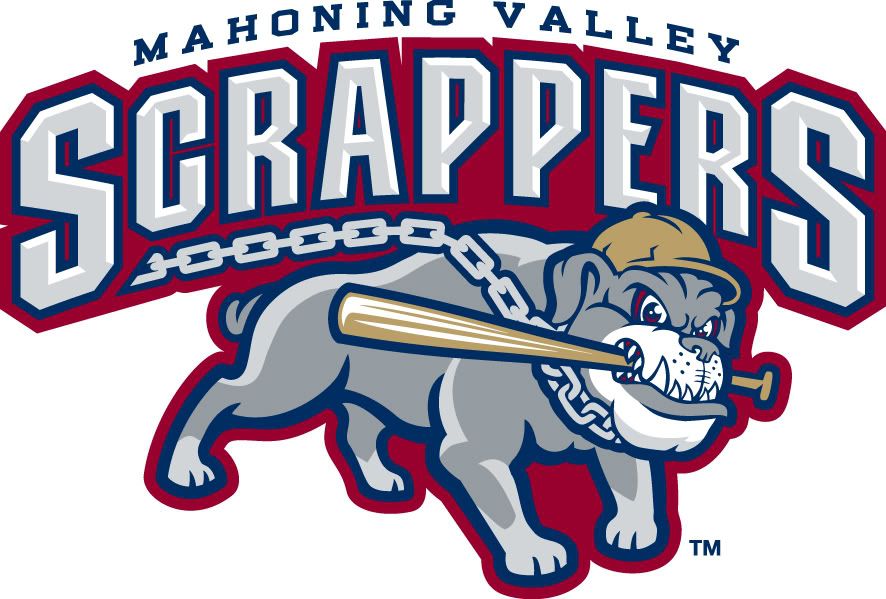 This will be a slightly different version of The Scrapperbook, as this will be the exclusive All-Star edition. It will return to normal next week!
Where We Stand in Week Nine:
Overall Record: 33-26 (1-3 this week) Third place, 3 game behind Auburn.
Week Nine Games:
13 vs. Brooklyn, L 1-2 (WP: S. Winnick; LP: R. Cespedes; SV: T. Weldon)
14 vs. Brooklyn, Cancelled: Rain
17 @ Vermont, W 5-1 (WP: D. Rucinski; LP: J. Menna)
18 @ Vermont, L 6-7 (WP: D. Bailey; LP: N. Striz; SV: J. Urlaub)
19 @ Vermont, L 1-3 (WP: D. Grainer; LP: J. Colon; SV: T. Peters)
The Transactions:
08/13/2011: Cody Anderson assigned to Mahoning Valley Scrappers from Cleveland Indians.
08/16/2011: 2B Zachary MacPhee assigned to Mahoning Valley Scrappers from Cleveland Indians.
All-Star Performances:
SS Tony Wolters - 0-2.
3B Jordan Smith - 2-2.
RF Bryson Myles - 1-2, R, SB.
SP Danny Jimenez - DNP
What Others Had to Say:
"I love [Wolters'] confidence. He has good speed up the line and is advanced at the plate. He needs work defensively, but it's too early to warrant a position change. Give him a few years." - Dave Gershman, Marlins Daily/ESPN Sweetspot
Offensive MVP: Jordan Smith
This is really a no brainer and while the case could be made for Tony Wolters or Bryson Myles, Jordan Smith has played out of his mind this season. He's shown the most consistency at the plate, as well as an advanced approach and great patience. He's hitting .337 on the year, with 26 runs scored, 16 doubles, a triple, and 37 runs driven in. Even more impressively, he's walked 27 times and only struck out 23 times. He also has swiped three bases. Smith boasts a .434 OBP/.430 SLG/.864 OPS. Smith ranks fifth in the league in batting average, tied for fourth in hits, tied for third in doubles, tied for third in runs batted in, and third in OBP.
Pitching MVP: Danny Jimenez
This category was a bit tougher, though it was still a fairly easy decision. Will Roberts and Enosil Tejada have been solid pitchers, but Jimenez has separated himself from the other two. On the year, he's 2-3 with a 2.47 ERA. He's appeared in 14 games (9 starts) and pitched 54.2 innings, allowing 53 hits and 15 ER/24 R, as well as one home run. He's walked 18 and struck out 41. Opposing hitters are hitting just .244 against him. Jimenez ranks sixth in the league in ERA.
2012 All-Star Game

Prior to the All-Star game, it was announced that Mahoning Valley will host the 2012 NY-Penn League All-Star game. The actual date of the contest will not be announced until the NY-Penn League releases the 2012 regular season schedule later this fall, but the game will likely either be on Tuesday August 14th or Tuesday August 21st.
This will be the first time they will be hosting an All Star game. This is an event which should be a lot of fun next year considering a lot of the top draft picks from the 2011 and 2012 drafts will be there. Also, with the draft signing deadline expected to be moved up into mid-July, a lot of the top, elite talent from the 2012 Draft will likely be a part of the game. For the past few years, the All-Star game lacked the punch of All-Star games of the past because of the late signing deadline in August.
Looking Ahead to Week 10:
20 @ Batavia, 7:05 PM
21 @ Batavia, 1:05 PM
22 @ Batavia, 7:05 PM
23 vs. Auburn, 7:05 PM
24 vs. Auburn, 7:05 PM
25 vs. Auburn, 7:05 PM
26 vs. Jamestown, 7:05 PM
Week 10 Promotions:
Tue, Aug 23: Country Night, $2 Tuesday, Second Harvest Food Bank Food Drive
Wed, Aug 24: Retro Night - 1999 Rewind, Ohio Lottery Winners Are Everywhere, Military Nights Miller
Thu, Aug 25: Jersey Shore Night, Lisa Neeld Appearance, Buck Night
Fri, Aug 26: Friday Night Fireworks, Faith Night
You can follow Andrew on Twitter @Andrew_IPI
Follow Tony and the Indians Prospect Insider on Twitter @TonyIPI. Also, his latest book the 2011 Cleveland Indians Top 100 Prospects & More is available for purchase for $20.95 to customers in the US (shipping and handling extra). Use discount code 2Z6F362B to receive 40% off the book through the site store!
User Comments
No comments currently. Be the first to comment!