The Scrapperbook: Prospects Going Forward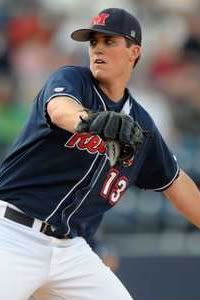 With the season winding to a close, rather than giving a weekly update, where the roster has undergone some change, I'm going to look ahead to next year and beyond. This update will consist of the top five prospects that have been with the team this year to look out for in years to come.
1. Drew Pomeranz
This almost goes without saying that Pomeranz would be an easy choice for the top spot. While he never pitched in a live game for Mahoning Valley, he spent some significant time with the team, working out and getting ramped up again for fall ball.
He throws a plus fastball that usually sits around 91-92 MPH, which can hit 94 MPH at times. He also throws a plus curve, but still needs to develop his changeup in order to become successful. Pomeranz projects as a front of the rotation starter, most likely a number two, going forward. He will take a similar path like Alex White did this year, and you could see Pomeranz rise fast through the organization.
2. Giovanny Urshela
Urshela started off the season somewhat slow, but as of late, has shown what great potential he truly has. Since returning from his hand injury, he has gone 4-for-13 with 2 RBI. In 52 games this season he is hitting .294 with 3 HR, 32 RBI, and a .708 OPS. Those numbers are actually quite remarkable when you consider the following: Urshela is only 18 years of age and quite young for the NYPL. A good portion of the league is composed of guys who were either drafted this past season from college, retread second year players, and also some international talent.
He is definitely someone to keep an eye on going forward, who may be the most highly rated prospect from this current team. The one aspect of Urshela's game that most scouts rave about is his defense at third, which has been labeled as "gold glove caliber". His range is excellent, displays good hands, and a strong throwing arm.
Urshela has grown quickly and has all the physical tools necessary to continue to grow and rise up the organizational ladder. While he still has a lot of room for improvement, don't be surprised to see Giovanny Urshela's name become more prevalent in the near future.
3. Michael Goodnight
One of the many steals in this year's draft for the Tribe was Michael Goodnight, who they drafted in the 13th round. This is another player who you could see rise quickly through the Indians organization and make it to Cleveland soon.
Goodnight is a physical pitcher who displays good arm strength on the mound. Some draft experts had predicted that if he went back to school and decided to re-enter the draft in 2011, he could have been drafted in the late first round or second round. If Goodnight can fix some consistency issues, as well as develop his curveball, the Indians may have came away with a real gem.
4. Cole Cook
When Cook was originally drafted, I described my emotions as "underwhelmed". To this day, I still feel some sentiment of that. However, Cook is still an interesting prospect who still has the tools to make it to the bigs.
His fastball won't blow you away, sitting comfortably around 89-91 MPH, with some movement. He's a big guy at 6'6", 210 lbs and still could add some muscle, which, in turn, could result in a gain in a few MPH on some of hit pitches. His problem, for much of his career, is that by no means does he have control problems, but rather, he sometimes throws too good of strikes and can be very hittable at times. Cook is still very much a raw prospect with some growth needed in order to be successful. If he can make the necessary adjustments, he projects as a back end of the rotation starter or at worst a middle reliever.
5. Nathan Striz
Coming out of one of the top college baseball programs in the country at UNC, he's come with a lot of experience to the Tribe organization. His fastball sits comfortably in the low 90s, with some movement. He also shows a plus changeup that he can throw for strikes, as well as a slider. Overall, he has an impressive three pitch mix which could make him a solid reliever down the road.
Honorable mention to the next five: Owen Dew, Alex Kaminsky, Chase Burnette, Nicholas Bartolone, Nick Kirk
Note: The final addition to the Scrapperbook for the season will be published next Tuesday.
User Comments
No comments currently. Be the first to comment!