The Scrapperbook: Week Eight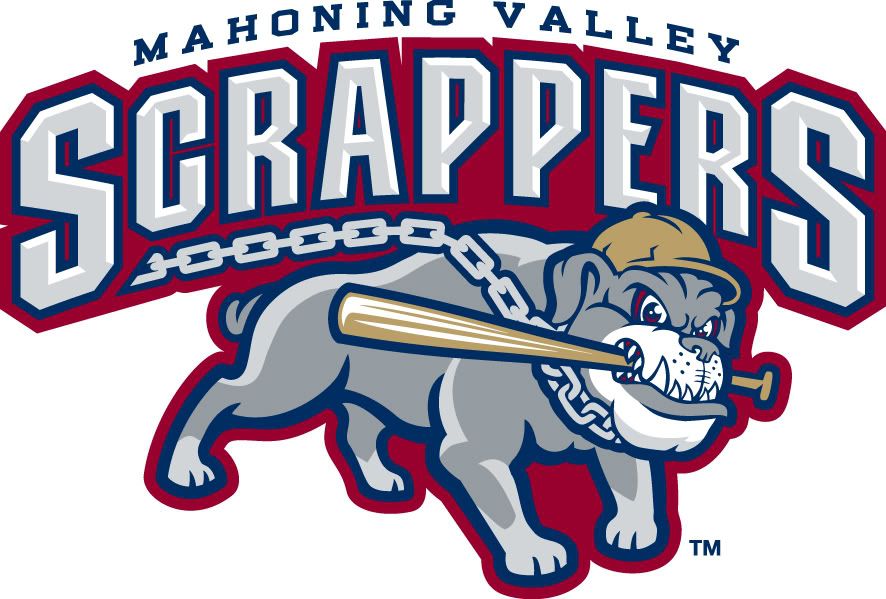 Where We Stand in Week Eight:
Overall Record: 32-23 (4-3 this week) Second place, 1 game behind Auburn.
Week Eight Games:
6 vs. Auburn, W 5-3 (WP: R. Nixon; LP: N. Karns; SV: E. Tejeda)
7 @ Auburn, L 0-7 (WP: B. Dupra; LP: H. Guerrero)
8 @ Auburn, W 7-2 (WP: N. Striz; LP: T. Hill)
9 @ Tri-City, Postponed: Rain
10 @ Tri-City, L 3-4 (WP: R. Cole; LP: W. Krasne)
10 @ Tri-City, W 4-0 (WP: D. Jimenez; LP: D. Diaz; SV: E. Tejeda)
11 @ Tri-City, W 6-5 (WP: R. Nixon; LP: J. Perez; SV: E. Tejeda)
12 vs. Brooklyn, L 6-10 (WP: C. Vazquez; LP: H. Guerrero)
The Transactions:
08/07/2011: Cody Allen assigned to Lake County Captains from Mahoning Valley Scrappers.
Week 8 Offense:
The offense took some steps back this week, managing just 31 runs (30 earned), possible due in part because their opponents were relatively sound in the field. They did, however, manage to grind out 59 hits, the same exact amount as they had last week. That being said, they had a lot of opportunities to capitalized and failed to do so. They also got blanked during one game this week.They now rank tied for fifth in the league in batting average (.255), second in runs (276), fourth in hits (477), second in doubles (104), tied for second in triples (17), dead last in home runs (17), second in RBI (240), sixth in total bases (666), third in walks (206), fewest in strike outs (349), and second in stolen bases (75). They also rank fourth in OBP (.343), seventh in SLG (.356), and seventh in OPS (.699).
Week 8 Offensive Players of the Week: Jake Lowery, Bryson Myles, Tony Wolters
Their numbers are almost identical and each of the three players made their own contributions to the Scrappers' offense. Starting with Lowery, he hit .304 (7-23) with 4 runs scored, 4 doubles, and 5 runs batted in. He also walked 7 times and struck out 5 times. He demonstrated great patience at the plate and good gap power. His season average is not a true indication of how much he's meant to this lineup. Next up is Bryson Myles, who has returned from his hamstring injury, which hasn't hampered him ever since. He hit .321 (9-28) with 5 runs scored, 2 doubles, and a run batted in. He walked three times and also struck out 8 times. Myles also swiped 5 bags, further proving the hamstring injury is long behind him. Last but not least is Tony Wolters who hit .333 (9-27) with 5 runs scored, a double and a run batted in. He also walked twice and struck out 4 times. Wolters also swiped three bags during the week.
Week 8 Pitching:
The pitching staff was near identical to the offense this week, allowing 31 runs (same that the offense scored), 29 of those runs earned (one less than the offense), surrendering 60 hits (one more than the offense). They also shut out their opponent once this week. They now rank sixth in the league in ERA (3.75), sixth fewest in hits allowed (453), sixth fewest runs (242), seventh in earned runs (203), tied for third most in home runs allowed (30), sixth fewest in walks allowed (178), and fourth in strike outs (425).
Week 8 Co-Pitchers of the Week: Danny Jimenez and Enosil Tejada
There were quite a few candidates for this award this week. Jimenez started one game this week, pitching 5 scoreless innings, allowing 3 hits and 2 walks, while striking out 5. He also picked up the win. Tejada appeared in three games, picking up a save in each of them. He pitched a combined 3.1 innings, allowing one hit and an unearned run, while walking 2 and striking out 6. Honorable mention also goes out to Drew Rucinski who appeared in 3 games, pitching a combined 4.1 innings, allowing 5 hits and 2 walks, while striking out 6. Honorable mention also goes out to Grant Sides who appeared in 2 games, pitching a combined 1.2 innings, allowing 2 hits and a walk, while striking out 2.
Random Notes
The NY-Penn League named RHP Will Roberts their Pitcher of the Week for the week of August 1st through August 7th. In his lone start for the week, he went 6 near perfect innings, allowing just one hit
User Comments
No comments currently. Be the first to comment!