The Scrapperbook: Week Eleven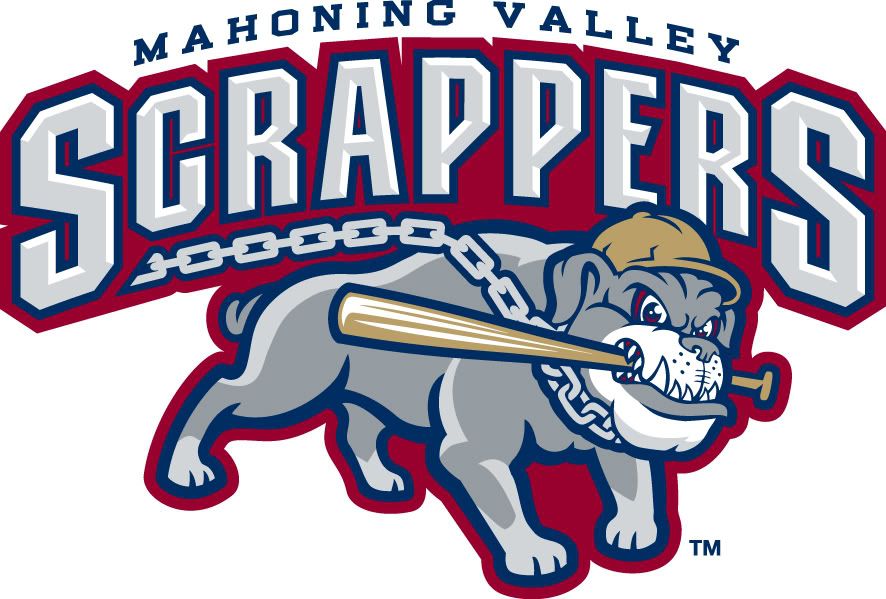 Where We Stand in Week Eleven:
Overall Record: 39-34 (4-3 this week) Third Place, eliminated from playoffs.
Week Eleven Games:
27 vs. Jamestown, W 4-2 (WP: J. Wagoner; LP: J. Urena; SV: E. Tejeda)
28 vs. Jamestown, W 9-2 (WP: W. Krasne; LP: T. Peale)
29 @ Williamsport, L 3-4 (WP: C. Murray; LP: W. Krasne)
30 @ Williamsport, L 2-4 (WP: A. Morgan; LP: J. Colon; SV: G. Arias)
31 vs. Williamsport, L 2-6 (WP: E. Stewart; LP: W. Roberts)
1 vs. Williamsport, W 8-3 (WP: D. Jimenez; LP: M. Nesseth)
2 @ Jamestown, W 8-4 (WP: N. Striz; LP: J. Fernandez)
The Transactions:
08/30/11: RHP Hector Rondon assigned to Mahoning Valley Scrappers.
Week 11 Offense:
The offense did what it needed to do in order to manufacture runs. They weren't overly impressive or sluggish in their attempts. They did capitalize on opponents' mistakes when given the opportunity, however. For the week, they scored 28 ER/36 R, while pounding out 53 H. They now rank fourth to last in the league in batting average (.246), second in runs (358), seventh in hits (604), fourth in doubles (132), tied for third in triples (19), second to last in home runs (22), second in RBI (315), seventh in total bases (840), first in walks (289), third fewest in strike outs (484), and third in stolen bases (92). They also rank fourth in OBP (.338), eighth in SLG (.343), and eighth in OPS (.681).
Week 11 Offensive Player of the Week: Jake Lowery
For week eleven, Lowery hit .346 (9-26) with 5 runs scored, 2 doubles, a home run, and 6 runs driven in. He walked 4 times while striking out 9 times.
Week 11 Pitching:
Overall, I was pretty impressed with the pitching staff. They gave up their fair share of base runners, but controlled the damage often. There were many occasions where their defense behind them simply didn't pick them up. For the week, they gave up 19 ER/25 R and 53 hits. They now rank seventh in the league in ERA (3.66), sixth in hits allowed (599), seventh in runs (313), tied for seventh in earned runs (263), fourth most in home runs allowed (37), seventh in walks allowed (246), and fourth in strike outs (559).
Week 11 Co-Pitchers of the Week: Enosil Tejada and Nate Striz
The bullpen really came through for the Scrappers this week, especially in the cases of Tejada and Striz. Tejada appeared in 3 games this week, pitching a combined 4 innings, allowing a hit and a walk, while striking out 5. He also picked up a save number 11 on the season. Striz appeared in 2 games this week, pitching a combined 7.1 innings, allowing 2 hits and a walk, while striking out 8. He also picked up a win, improving to 4-5.
Looking Ahead to Week 12:
3 @ Jamestown, 7:05 PM
4 @ Jamestown, 1:05 PM
Week 12 Promotions:
No promotions.
Follow Tony and the Indians Prospect Insider on Twitter @TonyIPI. Also, his latest book the 2011 Cleveland Indians Top 100 Prospects & More is available for purchase for $20.95 to customers in the US (shipping and handling extra). Use discount code 2Z6F362B to receive 40% off the book through the site store!
User Comments
No comments currently. Be the first to comment!