The Scrapperbook: Week Five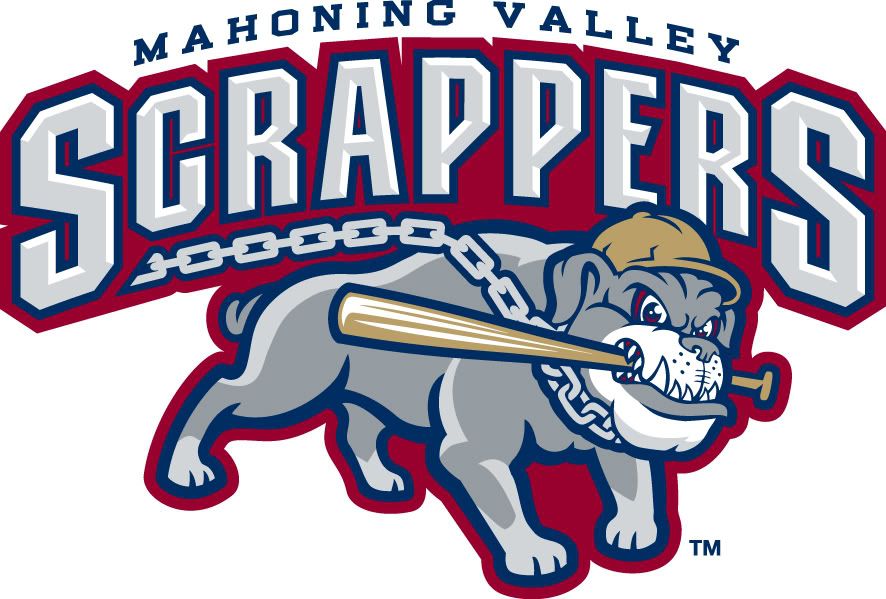 Where We Stand in Week Five:
Overall Record: 20-15 (4-3 this week) Tied for first place.
Week Five Games:
16 @ Jamestown, L 6-13 (WP: M. Mejia; LP: R. Nixon)
17 @ Jamestown, W 6-5 (WP: E. Tejeda; LP: C. Petersen; SV: N. Striz)
18 @ Jamestown, L 5-6 (WP: F. Reed; LP: N. Striz)
19 vs. State College, W 6-1 (WP: H. Guerrero; LP: Z. Dodson)
20 vs. State College, L 4-5 (WP: M. Fienemann; LP: W. Krasne; SV: V. Payne)
21 @ State College, W 17-4 (WP: R. Nixon; LP: M. Benedict)
22 @ State College, W 10-3 (WP: M. Radeke; LP: S. Allie
The Transactions:
07/17/2011: Cleveland Indians recalled Jeanmar Gomez from Mahoning Valley Scrappers.
07/21/2011: Drew Rucinski assigned to Mahoning Valley Scrappers from AZL Indians.
Week 5 Offense:
What could be considered a near complete success for the offense this week, they were on fire this week with the stick. They racked up 81 hits, while scoring 48 ER/54 R, doubling all of their amounts from last week. The offensive explosion helped them in the stats categories, ranking them fifth in the league batting average (.261), previously ranked ninth last week with a .248 batting average, fourth in runs (177), fourth in hits (317), third in doubles (64), tied for fifth in triples (10), tied for eighth in home runs (14), tied for fourth in RBI (154), sixth in total bases (443), tied for second in walks (126), fewest in strike outs (208), and third in stolen bases (56). They also rank second in OBP (.348), eighth in SLG (.364), and sixth in OPS (.712).
Week 5 Offensive Players of the Week: Jake Lowery, Jordan Smith, Tony Wolters
Normally, I try and narrow this award down to one player and if that's difficult, I'll do co-offensive players of the week. This week, however, with the offensive explosion, it was incredibly difficult to say one player deserved it over the other. All three had great weeks. Starting with Tony Wolters, he hit .333 for the week (10-30), scoring 4 runs, while doubling twice and driving in 4. He also walked three times and struck out in 4 at-bats, stealing 2 bases along the way. Jake Lowery hit .300 (9-30), scoring 5 runs and also doubling twice and homering once while driving in 10. He walked 3 times and struck out in 5 at-bats, while also swiping one bag. Finally, offensive machine, Jordan Smith, hit .393 (11-28), scoring 5 runs, doubling 4 times, and driving in 5 runs. He walked twice and struck out only once.
Week 5 Pitching:
The pitching staff was by no means brilliant and had some rough games this week, but for the most part, with the offense clicking on all gears, they didn't need to be. This week, they allowed 30 ER/37 R and surrendered 72 hits. I was hoping that the Tribe brass would promote young prospect Felix Sterling to the Mahoning Valley roster to give them some stability, but instead he went to Lake County. They now rank seventh in the league in ERA (3.73), seventh fewest in hits allowed (273), seventh in runs (156), seventh in earned runs (131), fifth most in home runs allowed (19), seventh fewest in walks allowed (118), and seventh (266).
Week 5 Pitcher of the Week: Mason Radeke
There will be no ties for this award, though two pitchers will receive honorable mention. In two starts this week, Radeke went a combined 10.2 innings, allowing 9 hits, 4 ER/R, and walking 3, while striking out 7. He also surrendered one home run. Honorable mention goes out to reliever Cody Allen, who had two appearances, pitching 3 innings, allowing 4 hits and 2 walks, while striking out 4. Other honorable mention goes out to Will Roberts who started one game, going 4 innings, allowing 5 hits and a walk, while striking out 2.
Looking Ahead to Week 6:
23 @ Hudson Valley, 7:05 PM
24 @ Hudson Valley, 5:05 PM
25 @ Hudson Valley, 7:05 PM
27 vs. Lowell, 7:05 PM
28 vs. Lowell, 7:05 PM
29 vs. Lowell, 7:05 PM
Week 6 Promotions:
Wed, Jul 27: Christmas in July with Toys for Tots Drive, Ohio Lottery Winners Are Everywhere, Military Nights, Liberty/Girard/Hubbard Community Day
Thu, Jul 28: Buffet Night, Buck Night

Fri, Jul 29: Friday Night Fireworks, Scout Night Stadium Sleepover & Movie
You can follow Andrew on Twitter @Andrew_IPI
Follow Tony and the Indians Prospect Insider on Twitter
@TonyIPI
. Also, his latest book the
2011 Cleveland Indians Top 100 Prospects & More
is
available for purchase
for $20.95 to customers in the US (shipping and handling extra).
User Comments
No comments currently. Be the first to comment!