The Scrapperbook: Week Five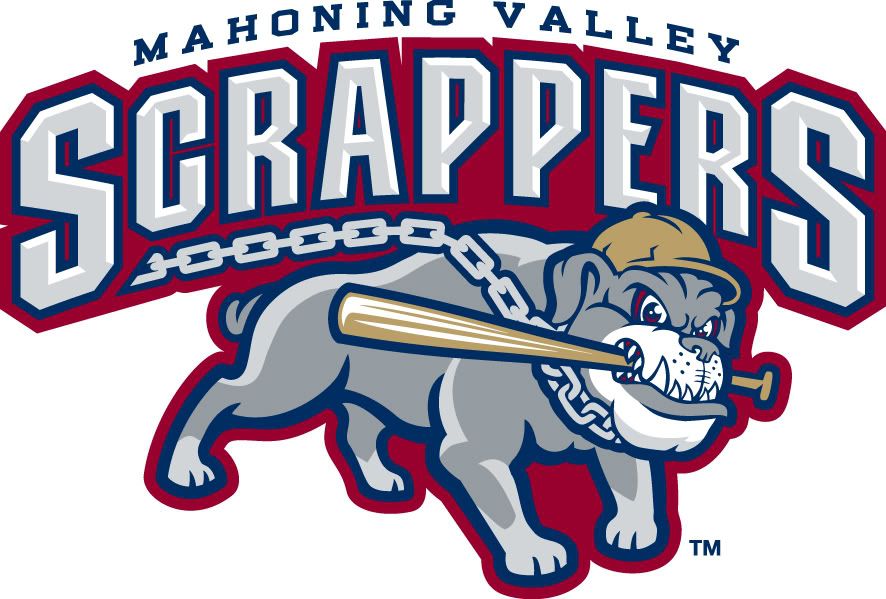 With the season in full swing, here's how the Scrappers looked in week five . . .
Where We Stand in Week Five:
Overall Record: 14-20 (3-4 this week). Fifth place, 6 games behind Williamsport.
Week Five Games:
16 @ Brooklyn, L 1-2 (WP: A. Cuan; LP: M. Rayl; SV: R. Fraser)
17 vs. Williamsport, W 7-4 (WP: C. Gaynor; LP: J. Sampson; SV: N. Kirk)
18 vs. Williamsport, L 3-4 (WP: C. Johnson; LP: D. Dickerson; SV: J. Borup)
19 vs. Williamsport, L 0-3 (WP: C. Fritsch; LP: K. Wetmore; SV: E. Pettis)
20 @ State College, W 4-0 (WP: A. Kaminsky; LP: Z. Von Rosenberg)
21 @ State College, W 6-4 (WP: J. Goryl; LP: J. Ramos)
22 @ Williamsport, L 2-7 (WP: D. Buchanan; LP: O. Dew; SV: E. Pettis)
The Transactions:
07/17/10: Joseph Mahalic assigned to Kinston Indians from Mahoning Valley Scrappers.

Note: This was simply a paper move.
Week 5 Offense:
Just when you thought the offense hit rock bottom, you get a week like this one. Last week, 25 runs crossed the plate (22 earned), while cracking 56 hits. However, this week, they managed only 23 runs (18 earned), picking up 56 hits along the way. 13 of those runs came from three games; they were shut out once, and scored two runs or fewer in the other four games. This team is in the basement in almost every offensive category you can possibly think of. They still rank last in the league in batting average (.230), sixth last in hits (266, although they only have 7 more than the last place team), fourth to last in runs (139), third to last in doubles (51), fourth to last in home runs (12), second to last in RBI (113), fifth in the league in strike outs (263), third to last in stolen bases (22), last in OBP (.308), last in SLG (.321), and last in OPS (.629).
Week 5 Offensive Player of the Week: Jonathan Burnette
This was probably the toughest week to choose an offensive player of the week. However, Burnette held on to his title for the fifth straight week. Burnette still leads the team in: average (.317), hits (40, which also ranks him fourth in the NYPL), doubles (7), triples (3), home runs (4), runs (18), OPS (.871), and SLG (.516). He also ranks second on the team in on-base percentage (.356) and RBI (17). For the week, he hit .385 (10-26), with a double, triple, and two runs batted-in, while scoring five times. He walked three times and struck out six. However, honorable mention goes out to Carlos Moncrief who hit .296 (8-27) this week, hitting a double and three home runs, while knocking in 5 runs and scoring three times himself. He walked twice and struck out four times.
Week 5 Pitching:
The pitching took a much needed step forward this week, esppecially when you consider last week when they allowed 41 runs (37 ER), while surrendering 65 hits. This week, they allowed 24 runs (15 earned), while giving up 52 hits. They also got quality starts in each of their seven games this past week. Not one starter allowed more than three earned runs and went at least five innings each game. In total, the starters pitched 37.1 innings, giving up 34 hits, 10 runs (9 earned), while only dishing out 11 walks and striking out 11. The team ERA also dropped from 4.80 last week to 4.25 this week, which still ranks third highest in the league. They have also allowed the second most hits in the league (316, one hit behind the leader), third most runs (178), second most earned runs (144), and second most home runs allowed (22). The pitching stepped up big time this week and it's unfortunate many of the starters don't have a win to show for their good performances this week.
Week 5 Pitcher of the Week: Owen Dew
In a week where all five starting pitchers pitched well, it was extremely difficult to just select one pitcher. In all honesty, all five starters deserve to be pitcher of the week. However, Owen Dew pitched just a little better than his fellow teammates this week. In two starts, he went 12 innings, allowing nine hits and three earned runs. He only walked one and struck out four. Unfortunately, he took the loss in one start and a no decision in the other.
Looking Ahead to Week 6:
23 @ Williamsport, 7:05 PM
24 @ Williamsport, 7:05 PM
25 vs. State College, 5:05 PM
26 vs. State College, 7:05 PM
28 @ Jamestown, 7:05 PM
29 @ Jamestown, 7:05 PM
Week 6 Promotions:
07/25/10: Webkinz Lil'Kinz Giveaway (Kids), PNC Family Fun Day, Christmas in July with Santa Appearance / Toys For Tots Drive
07/26/10: Salute to the Grape with Wine Tasting Charity Fundraiser, Ohio Lottery Power-Play Promotion, McDonald's Mondays

User Comments
No comments currently. Be the first to comment!