The Scrapperbook: Week Four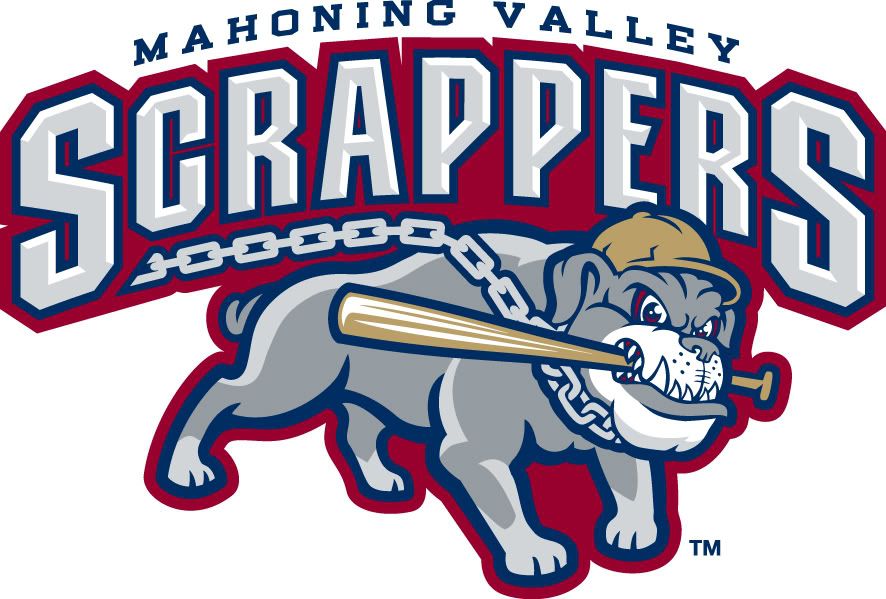 Where We Stand in Week Four:
Overall Record: 16-12 (3-3 this week) Tied for first place.
Week Four Games:
9 @ Williamsport, W 4-3 (WP: D. Jimenez; LP: L. Martinez; SV: E. Tejeda)
10 @ Williamsport, L 2-6 (WP: C. Kleven; LP: R. Nixon; SV: J. Gomez)
11 @ Williamsport, L 4-7 (WP: A. Brough; LP: C. Allen)
13 vs. Connecticut, W 2-1 (WP: J. Colon; LP: R. Woolley)
14 vs. Connecticut, W 9-6 (WP: N. Striz; LP: D. Gagnier; SV: E. Tejeda)
15 vs. Connecticut, L 4-7 (WP: M. Mercedes; LP: D. Jimenez; SV: D. Bennett)
The Transactions:
07/09/2011: SS Kevin Fontanez assigned to Lake County Captains from Mahoning Valley Scrappers.
07/09/2011: SS Evan Frazar assigned to Mahoning Valley Scrappers.
07/13/2011: RHP Jeanmar Gomez assigned to Mahoning Valley Scrappers from Columbus Clippers.
07/13/2011: Henry Dunn assigned to Mahoning Valley Scrappers from AZL Indians.
Week 4 Offense:
The offense by no means struggled this week, but weren't overly impressive either. In six games, they racked up 50 hits, while scoring 22 ER/25 R. They continue to plumet in the stats category, dropping to ninth in the league in batting average (.248), ninth in runs (123), tied for fifth in hits (236), sixth in doubles (47), tied for third in triples (9), tied for eleventh in home runs (9), seventh in RBI (104), sixth in total bases (2328), fifth in walks (100), third fewest in strike outs (172), and third in stolen bases (46). They also rank fifth in OBP (.338), ninth in SLG (.345), and eighth in OPS (.683).
Week 4 Offensive Player of the Week: Alex Lavisky
While Lavisky's overall numbers are unimpressive and his combined season stats are even more unimpressive, he had himself a fine week, hitting .350 (7-20), scoring three runs, homering once, and driving in two runs. He also improved his overall approach at the plate walking three times and only striking out four times. The past two seasons, Lavisky has had a major problem striking out, so it was encouraging to see the walks he earned.
Week 4 Pitching:
The pitching staff had another rough week, allowing 29 ER/30 R and surrendering 51 hits. It appears they're finally falling back to Earth with less than stellar prospects.It's also beginning to show on the stat sheet. They now rank eighth in the league in ERA (3.61), tied for sixth fewest in hits allowed (221), seventh in runs (119), sixth in earned runs (101), tied for forth most in home runs allowed (14), seventh in walks allowed (94), and fourth in strike outs (222). I also think it's worth noting this stat: our offense this season has scored 123 runs (104 earned), while our pitching staff has allowed 119 runs (101 earned). Pretty close.
Week 4 Pitcher of the Week: Joseph Colon
Almost by default, Colon wins in a landslide, considering the terrible week the pitching staff had. Colon pitched in relief of Jeanmar Gomez, throwing 5 solid innings of relief, allowing 2 hits and a walk, while striking out 4. He also picked up his second win of the season, improving to 2-2. Had Colon not been eligible, Nate Striz also pitched a solid 4 innings of relief this week, allowing 2 hits and 3 walks, while striking out 4.
Looking Ahead to Week 5:
16 @ Jamestown, 7:05 PM
17 @ Jamestown, 6:05 PM
18 @ Jamestown, 7:05 PM
19 vs. State College, 7:05 PM
20 vs. State College, 7:05 PM
21 @ State College, 7:05 PM
22 @ State College, 7:05 PM
Week 5 Promotions:
Tue, Jul 19: Tribute to Hair Bands, $2 Tuesday, KRAFT Singles Tuesday Night Tickets, Niles Community Day, Going Green Night
Wed, Jul 20: Road to Ground Zero Flag Tour, McDonald's McFamily Pack Night, Military Nights
Follow Tony and the Indians Prospect Insider on Twitter
@TonyIPI
. Also, his latest book the
2011 Cleveland Indians Top 100 Prospects & More
is
available for purchase
for $20.95 to customers in the US (shipping and handling extra).
User Comments
No comments currently. Be the first to comment!