The Scrapperbook: Week Four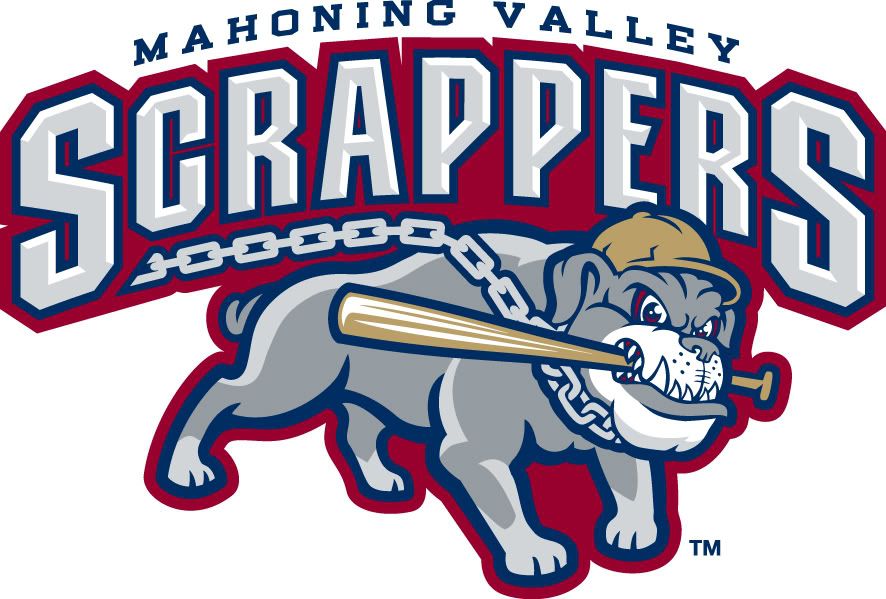 After taking one game in at Eastwood Field this past week, it was very obvious to me why this team hasn't been performing well. A few things specifically stuck out to me, all of which are very fixable; not aggressive on the bases, not knowing where to be in the field in certain situations, swinging at the first pitch, and not drawing many walks. The one other thing that I noticed towards the end of the game, which I'll have to pay attention to more closely the next time I go to a game is that the team didn't play with a ton of enthusiasm. It just seemed like they were going through the motions rather than having fun and wanting to win.
I put some of the blame on the manager, Travis Fryman. However, I give him a pass because he's not working with a lot of talent on the team and he's still learning the ropes as a manager himself. This team wasn't together very long before they were out there on the field for their first game. It just seemed that the team really lacked the basic fundamentals that you go through in spring training, little league, etc.
Asdrubal Cabrera looked healthy and ready to go. His first at-bat, he lined a ball into center, came about five feet from hitting it out. The second at-bat wasn't that impressive; he broke his bat and grounded out to short. But, his third at-bat was his best as he roped a double into right field, scoring a run. It didn't seem like he was firing the ball out in the field, but there was still no sight of pain. He said he felt "alright" and would "be ready to go in a week or two."
With that, let's take a look at week four of the season . . .
Where We Stand in Week Four:
Overall Record: 11-16 (1-5 this week). Fifth place, 6.5 games behind Jamestown.
Week Four Games:
10 vs. Vermont, L 4-10 (WP: M. Herrera; LP: J. Ehlert)
11 vs. Hudson Valley, L 4-6 (WP: O. Bencomo; LP: J. Goryl)
12 vs. Hudson Valley, L 5-10 (WP: M. Sierra; LP: O. Dew)
13 vs. Hudson Valley, W 4-2 (WP: D. Dickerson; LP: J. Dettrich; SV: J. Ehlert)
14 @ Brooklyn, L 4-7 (WP: H. Bennett; LP: T. Nakamura; SV: R. Fraser)
15 @ Brooklyn, L 4-7 (WP: S. Taveras; LP: J. Ramirez; SV: J. Figuereo)
The Transactions:
07/10/10: Wyatt Toregas assigned to Columbus Clippers from Mahoning Valley Scrappers.
07/12/10: Joseph Mahalic assigned to Mahoning Valley Scrappers from Kinston Indians.
07/12/10: Asdrubal Cabrera assigned to Mahoning Valley Scrappers from Cleveland Indians.
07/14/10: Asdrubal Cabrera assigned to Akron Aeros from Mahoning Valley Scrappers.
07/14/10: Julio Ramirez assigned to Mahoning Valley Scrappers from DSL Indians.
Week 4 Offense:
The offense can be summed up in by simply saying they're a disaster. This week, 25 runs crossed the plate (22 earned), while cracking 56 hits. They were consistent, though, this week, scoring 4 runs in 5 of their 6 games, and scoring 5 in the other. They also pounded out at least 7 hits in every game. But, then there's the bad news. This team is in the basement in almost every offensive category you can possibly think of. They're last in the league in batting average (.227), hits (209), stolen bases (11, while being caught 7 times), SLG (.313), and OPS (.622). They also rank fourth to last in runs (116), third to last in RBI (91), fourth to last in doubles (40), tied for second to least in home runs (9), and second to last in OBP (.313). They also rank sixth in the league in strikeouts (208, compared to 100 walks). It can go without saying that this offense needs a spark . . . and fast.
Week 4 Offensive Player of the Week: Jonathan Burnette
It's no surprise that Burnette has earned Offensive Player of the Week honors for the fourth straight week. In an offense that struggles night in and night out, Burnette has been the one bright spot for this team and still remains in the lead on the team in nearly every offensive category: average (.300), hits (30), doubles (6), triples (2), home runs (4), runs (16), OPS (.860), and SLG (.520). He also ranks second on the team in on-base percentage (.340) and RBI (14). He's been a pleasant surprise so far.
Week 4 Pitching:
Even more disastrous than the hitting was the pitching, allowing 41 runs (37 ER), while allowing 65 hits. While these numbers are down from last week, take into consideration one extra game was factored in last week. When your team is struggling to score runs, you need to rely more heavily on your arms to shut the opposing team down. But, it's just not happening right now. The team ERA jumped from 4.39 last week to 4.80 this week, which ranks second highest in the league. They have also allowed the most hits in the league (264), second most runs (154), second most earned runs (129), and tied for first in most home runs allowed (20). Bottom line, the pitching needs to get it done to give this team a fighting chance. Early in the season, pitching was winning games for this team. But now that it's gone south, the team as a whole has gone south.
Week 4 Pitcher of the Week: Alex Kaminsky
In a week that the pitching just looked awful, I actually considered three players for this honor: Alex Kaminsky, Mike Rayl, and Jordan Cooper. All three were impressive in their own ways this week, but I gave the slight edge to Kaminsky who started in two games, going 9.1 innings, allowing 5 hits, and 3 earned runs. He surrendered 6 walks and struck out 9.
Looking Ahead to Week 5:
16 @ Brooklyn, 7:00 PM
17 vs. Williamsport, 7:05 PM
18 vs. Williamsport, 5:05 PM
19 vs. Williamsport, 7:05 PM
20 @ State College, 7:05 PM
21 @ State College, 7:05 PM
22 @ State College, 7:05 PM
Week 5 Promotions:
07/17/10: Buffett Night with Post-Game Fins to the Left Concert, Kids Eat Free
07/18/10: Cedar Point's PEANUTS Snoopy Character Appearance, PNC Family Fun Day, Big Reach Center of Hope Canned Food Drive
07/19/10: Game Show Night, Ohio Lottery Power-Play Promotion, McDonald's Mondays
User Comments
No comments currently. Be the first to comment!