The Scrapperbook: Week Seven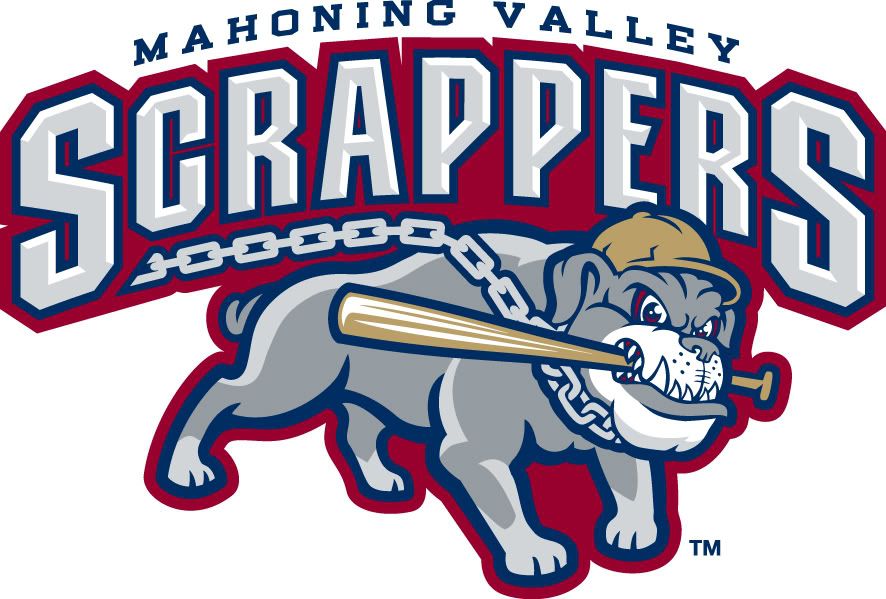 You know the start of your weekend is off to a great start when the first thing that happens on a gloomy, Friday morning happens to be that your laptop's motherboard burns out. With a hole in my pocket the size of Texas, I come to you from a new laptop. My apologies for this blog coming out a day late, but under the circumstances, my hands were a little tied.
Please note that Friday's game will NOT count towards this article.
With that, let's take a look at week seven for the Scrappers . . .
Where We Stand in Week Seven:
Overall Record: 18-30 (3-4 this week). Last place, 12 games behind Williamsport.
Week Seven Games:
30 @ Jamestown, L 0-5 (WP: I. Morales; LP: A. Kaminsky)
31 vs. Williamsport, W 5-0 (WP: K. Wetmore; LP: K. Angelle)
1 vs. Williamsport, L 3-5 (WP: E. Manzanillo; LP: G. Rosario; SV: E. Pettis)
2 @ Batavia, L 3-6 (WP: H. Summers; LP: T. Nakamura)
3 @ Batavia, L 1-8 (WP: C. Corrigan; LP: C. Gaynor)
4 vs. Tri-City, W 7-2 (WP: J. Cooper; LP: J. Robinson; SV: N. Kirk)
5 vs. Tri-City, W 3-2 (WP: J. Ramirez; LP: B. Walker)
The Transactions:
07/31/10: 1B Andrew Kinney assigned to AZL Indians from Mahoning Valley Scrappers.
07/31/10: 1B Jesus Aguilar assigned to Mahoning Valley Scrappers from AZL Indians.
07/31/10: 2B Justin Toole assigned to Akron Aeros from Mahoning Valley Scrappers.
08/03/10: C Richard Martinez assigned to Columbus Clippers from Mahoning Valley Scrappers.
Week 7 Offense:
This week was a much better week, in terms of production, than last week, although it's still nothing to brag about. Last week, in six games, they scored a mere 9 runs (8 earned), pounding out only 33 hits. This week was a different story, though. They scored 22 runs (21 earned), while managing 55 hits. However, the bad news is that this team is in the basement in almost every offensive category you can possibly think of. They still rank last in the league in batting average (.230), last in hits (364), last in runs (172), last in doubles (65), fifth to last in home runs (19), last in RBI (142), fifth in strike outs (335), third to last in stolen bases (34), last in total bases (506), second to last in OBP (.304), last in SLG (.320), and last in OPS (.623). The good news is that both Urshela and Burnette had nice weeks, as well as Aguilar.
Week 7 Co-Offensive Players of the Week: Chase Burnette and Giovanny Urshela
Arguably, both of these guys deserved offensive player of the week honors. Burnette was 8-30 (.267) this week, hitting two doubles and three home runs, while driving in four, and crossing the plate five times. He struck out five times and walked twice. Urshela hit 10-27 (.370) for the week, slamming two home runs and driving home four, while crossing the plate three times himself. He also struck out once.
Week 7 Pitching:
For the most part, the starting pitching was consistent, as it's been for the large part of the season this week. In general, though, the pitching really hasn't looked too shabby of late. The fact of the matter is that it's still not doing enough, though, to keep the team in games. The team ERA dropped to 4.24, which ranks third highest in the league. They have also allowed the fourth most hits in the league (429), fourth most runs (238), fifth most earned runs (198), third most home runs allowed (31), and third least in strike outs (325).
Week 7 Pitcher of the Week: Kirk Wetmore
Let me preface this by saying I was half tempted to do co-pitchers of the week, also, including Alex Kaminsky. However, in the end, Wetmore's one start looked more impressive than Kaminsky's two. In one start this week, Wetmore went six innings, allowing one hit and no earned runs, giving up only two walks and striking out five.
Looking Ahead to Week 8:
6 vs. Tri-City, 7:05 PM
7 vs. Aberdeen, 7:05 PM
8 vs. Aberdeen, 5:05 PM
9 vs. Aberdeen, 1:05 PM
10 @ Staten Island, 7:00 PM
11 @ Staten Island, 11:00 AM
12 @ Staten Island, 12:00 PM
Week 8 Promotions:
08/06/10: Friday Night Fireworks, Scout Night with Stadium Sleepover & Movie, FRITOS Family Fridays
08/07/10: Wrestling Night with George "The Animal Steele" Appearance & Hairiest Back Promotion, Kids Eat Free Courtesy of Pizza Hut, Game of Hope (4 pm)
08/08/10: Team Card Set Giveaway Featuring Luke Holko, PNC Family Fun Day, Mascot Mania with Jimmy Neutron Appearance
08/09/10: Senior Day (Special 1:05 PM Start Time), Day Care Day, Ohio Lottery Power-Play Promotion, McDonald's Mondays
User Comments
No comments currently. Be the first to comment!