The Scrapperbook: Week Six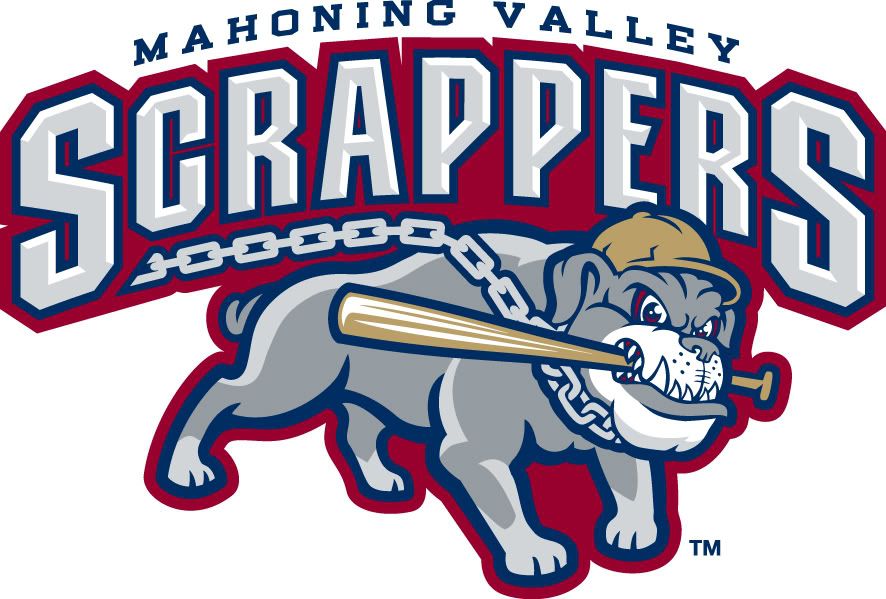 As the old saying goes, "When it rains, it pours," and that was exactly the case for the Mahoning Valley Scrappers this week. Amazingly, for as bad of a season as they've had to this point, attendance for home games ranks exactly middle of the pack in the league, averaging about 3,134 per game. With that, I'd like to thank all the great fans who continue to support this team win or lose. Hopefully in the coming weeks when the majority of this year's high draft picks sign their contracts, fans will have something to cheer about.
With that, let's take a look at week six for the Scrappers . . .
Where We Stand in Week Six:
Overall Record: 15-25 (1-5 this week). Last place, 9 games behind Williamsport.
Week Six Games:
23 @ Williamsport, L 0-7 (WP: M. Hollands; LP: J. Cooper; SV: J. Sosa)
23 @ Williamsport, L 0-7 (WP: M. Hollands; LP: J. Cooper; SV: J. Sosa)
24 @ Williamsport, L 1-7 (WP: C. Fritsch; LP: K. Wetmore)
25 vs. State College, L 0-1 (WP: B. Pounders; LP: A. Kaminsky; SV: J. Ramos)
26 vs. State College, L 4-6 (WP: Z. Dodson; LP: M. Rayl; SV: J. Townsend)
28 @ Jamestown, W 4-2 (WP: C. Gaynor; LP: A. Veres)
(Completion on 7/29/10 at 6:00 PM)
29 @ Jamestown, W 4-2 (WP: C. Gaynor; LP: A. Veres)
(Completion of game suspended on 7/28/10)
29 @ Jamestown, L 0-3 (WP: S. Gonzalez; LP: J. Cooper; SV: J. Conley)
The Transactions:
07/25/10: 2B Justin Toole assigned to Mahoning Valley Scrappers from Kinston Indians.
07/25/10: C Richard Martinez assigned to Mahoning Valley Scrappers from Kinston Indians.
Week 6 Offense:
The lack of offense on this team really shined brightly this week. Last week, they managed only 23 runs (18 earned), while picking up 56 hits along the way. This week was a nightmare; in six games, they scored a mere 9 runs (8 earned), pounding out only 33 hits. They were shut out three of their six games this week, while only scoring one run in another game. This team is in the basement in almost every offensive category you can possibly think of. They still rank last in the league in batting average (.225), last in hits (299), last in runs (148), last in doubles (55), fourth to last in home runs (13), last in RBI (120), seventh in the league in strike outs (294), third to last in stolen bases (29), last in total bases (413), last in OBP (.303), last in SLG (.311), and last in OPS (.614). There's very few, if any, players on the team right now who really catch your eye at the plate and make you think, "He's going to be a star."
Week 6 Offensive Player of the Week: Dan DeGeorge
The king (Jonathan Burnette) has been dethroned of his five consecutive Offensive Player of the Week thrown. In a week where the offense looked just downright awful, it was extremely difficult finding a player who deserved this honor. Dan DeGeorge only played in three of the Scrappers six games this week, and yet he earns the honors this week. He went 6-10 (.600), hitting a double and walking once, crossing the plate twice.
Week 6 Pitching:
The pitching was much similar to last week when they allowed 24 runs (15 earned), while giving up 52 hits. This week, they surrendered 26 runs (24 earned), giving up 44 hits along the way. The difference between last week and this week was the starting pitching. Last week, they got quality outing from each of their starting pitchers, whereas this week, the majority of them got knocked around a little bit. The team ERA jumped to 4.32, which ranks second highest in the league. They have also allowed the third most hits in the league (359), third most runs (204), second most earned runs (168), second most home runs allowed (26), and third least in strike outs (272). Pitching wins you ball games, especially when the team offense cannot be relied upon. If the starters don't give a quality outing for this team, it's highly unlikely they're going to win.
Week 6 Pitcher of the Week: Alex Kaminsky
Kaminsky has been very solid and consistent all season long. In his only start this week, he went six strong innings, allowing four hits and an earned run, while surrendering only one walk and striking out two. He ranks fifth in the league in ERA (1.96), ninth in the league in innings pitched (41.1), and eleventh in the league in WHIP (1.09). His four wins also ranks him tied for third in the league, which actually is a bit of a shame because he should have more wins to show for his outstanding performances so far season.
Looking Ahead to Week 7:
30 @ Jamestown, 7:05 PM
31 vs. Williamsport, 7:05 PM
1 vs. Williamsport, 5:05 PM
2 @ Batavia, 7:05 PM
3 @ Batavia, 11:05 AM
4 vs. Tri-City, 7:05 PM
5 vs. Tri-City, 7:05 PM
Week 7 Promotions:
07/31/10: Ladies Night Featuring Days of Our Lives "Rafe Hernandez", Kids Eat Free Courtesy of Pizza Hut, Breast Cancer Awareness Night / Susan G. Komen Race for the Cure 5K Race (8:30 am)
08/01/10: Chevrolet Cruze Night / Amazing Race Event, PNC Family Fun Day, Ohio State Parks & Lodges Getaway Giveaway, Akron Children's Hospital Mahoning Valley Change Bandit Kick-Off
08/04/10: Wendy's Wednesday / Military ID Night, One Hit Wonders Night
08/05/10: Plevin & Gallucci Buck Night, Jersey Demolition Night Featuring a "LeBronfire", Playboy SE Model Lisa Neeld Appearance
User Comments
No comments currently. Be the first to comment!