The Scrapperbook: Week Ten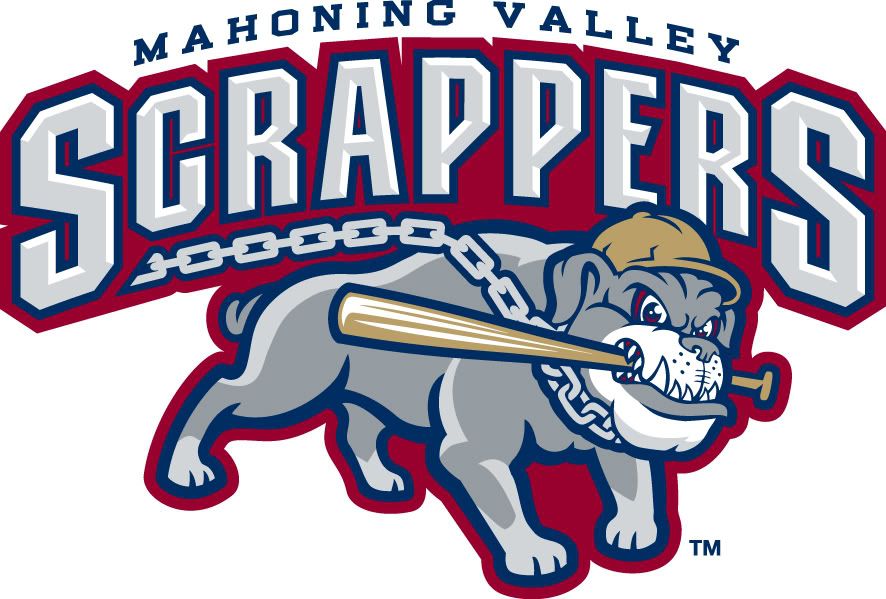 Where We Stand in Week Ten:
Overall Record: 35-31 (2-5 this week) Third Place, 6 games behind Auburn.
Week Ten Games:
20 @ Batavia, L 4-5 (WP: E. Cole; LP: H. Guerrero; SV: D. Miranda)
21 @ Batavia, Postponed: Rain
22 @ Batavia, L 2-3 (WP: R. Martinez; LP: W. Krasne)
22 @ Batavia, W 11-3 (WP: D. Jimenez; LP: J. Cornelius)
23 vs. Auburn, W 7-6 (WP: R. Cespedes; LP: C. Garcia; SV: E. Tejeda)
24 vs. Auburn, L 5-6 (WP: C. Bates; LP: W. Krasne; SV: A. Barrett)
25 vs. Auburn, L 1-4 (WP: N. Karns; LP: W. Roberts; SV: M. Rivera)
26 vs. Jamestown, L 3-6 (WP: J. Hodges; LP: N. Striz; SV: C. Wier)
The Transactions:
08/25/2011: Alex Lavisky assigned to Lake County Captains from Mahoning Valley Scrappers.
08/26/2011: Mahoning Valley Scrappers placed RHP Mason Radeke on the 7-Day disabled list.
08/26/2011: Josh McKeon assigned to Mahoning Valley Scrappers from AZL Indians.
08/26/2011: Francisco Lindor assigned to Mahoning Valley Scrappers from Cleveland Indians.
08/26/2011: Elvis Araujo assigned to Mahoning Valley Scrappers from AZL Indians.
Week 10 Offense:
The offense didn't exactly hit on all cylinders this week and while they didn't get blanked at all this week, they still really struggled. For the week they scored 27 ER/33 R and 53 hits. They now rank fifth to last in the league in batting average (.249), second in runs (322), tied for seventh in hits (551), fourth in doubles (121), tied for third in triples (17), dead last in home runs (19), second in RBI (282), eighth in total bases (763), first in walks (251), second fewest in strike outs (426), and fourth in stolen bases (84). They also rank fourth in OBP (.338), eighth in SLG (.345), and eighth in OPS (.683).
Week 10 Offensive Player of the Week: Bryson Myles
For the first week in a while, this was a no contest, slam dunk pick for offensive player of the week. Myles tore opposing pitchers apart this week hitting .417 (10-24). He scored 6 runs, doubled twice, and drove in 3 runs. He also walked 3 times and struck out 3 times, while swiping 2 bags. He ranks sixth in the league in batting average (.315), sixth in stolen bases (18), and tied for sixth in OBP (.397).
Week 10 Pitching:
The pitching by no means was great and they gave up their fair share of hits during the week. They were, however, able to successfully limit damage here and there. While I try not pointing the finger too much, the offense really didn't pick them up as much as you'd like to see. For the week, they gave up 30 ER/33 R and 63 hits. They now rank eighth in the league in ERA (3.79), seventh fewest in hits allowed (546), tied for sixth fewest runs (288), fifth in earned runs (244), third most in home runs allowed (37), fifth fewest in walks allowed (211), and fourth in strike outs (501).
Week 10 Pitcher of the Week: Danny Jimenez
There weren't many candidates for this award, though I will award one honorable mention. In one start this week, Jimenez pitched 6 innings, allowing 6 hits, 2 ER/R, 2 walks, and struck out 2. He picked up a no-decision in the game. He ranks seventh in the league in ERA (2.52). Honorable mention goes out to Will Roberts who started two games, pitching a combined 11 innings, allowing 7 hits, 3 ER/5 R, and walking none, while striking out 9. He also allowed one home run. On the year, opposing hitters have a .237 average against him.
Random Notes
Francisco Lindor will make his professional debut on Sunday and will play the first five innings of the game.
Looking Ahead to Week 11:
27 vs. Jamestown, 7:05 PM
28 vs. Jamestown, 5:05 PM
29 @ Williamsport, 7:05 PM
30 @ Williamsport, 7:05 PM
31 vs. Williamsport, 7:05 PM
1 vs. Williamsport, 7:05 PM
2 @ Jamestown, 7:05 PM
Week 11 Promotions:
Sat, Aug 27: Logo Ball Giveaway & Post-Game Team Autograph Session, Team Photo Giveaway, Ladies Makeover Giveaway,
Akron Children's Hospital Mahoning Valley Silent Auction
Sun, Aug 28: Baseball Brawl 2 Wrestling Event featuring Mick Foley, "The Mouth of the South" Jimmy Hart, Al Snow and the Necro Butcher, Mystery Ball Sale Fundraiser for Luke Holko
Wed, Aug 31: Unused Ticket Night, Thundersticks Giveaway
Follow Tony and the Indians Prospect Insider on Twitter @TonyIPI. Also, his latest book the 2011 Cleveland Indians Top 100 Prospects & More is available for purchase for $20.95 to customers in the US (shipping and handling extra). Use discount code 2Z6F362B to receive 40% off the book through the site store!
User Comments
No comments currently. Be the first to comment!