The Scrapperbook: Week Two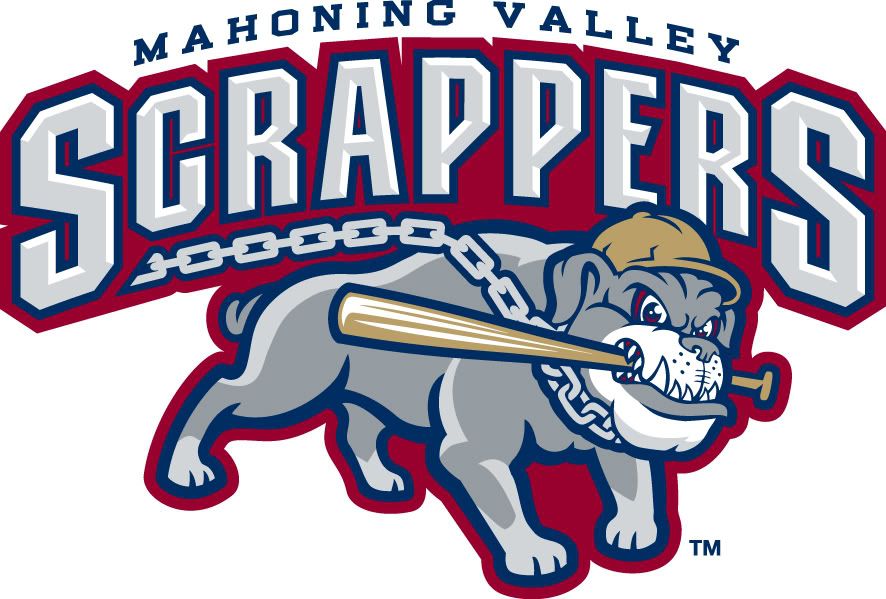 Wishing all of you a safe and enjoyable Fourth of July. May you enjoy fireworks, have a barbecue, and enjoy spending time with family and friends. I would also like to send many thanks to those who are serving in our armed foces for everything they do to keep this country safe.
Where We Stand in Week Two:
Overall Record: 10-5 (5-2 this week) First place, 1 game ahead of Jamestown.
Week Two Games:
25 @ Auburn, W 2-0 (WP: R. Nixon; LP: K. Lopez; SV: K. Petter)
26 vs. State College, W 8-1 (WP: M. Radeke; LP: M. Jefferson)
27 vs. State College, W 2-1 (WP: K. Petter; LP: F. Campos)
28 vs. State College, W 6-4 (WP: C. Allen; LP: R. Singh; SV: E. Tejeda)
29 @ State College, L 2-5 (WP: M. Benedict; LP: K. Wetmore; SV: M. Fienemann)
30 @ State College, W 7-3 (WP: W. Krasne; LP: J. Poytress)
1 @ State College, L 3-4 (WP: E. De Leon; LP: E. Tejada)
The Transactions:
6/27/11: Ryan Battaglia assigned to Mahoning Valley Scrappers from AZL Indians.
6/27/11: Will Krasne assigned to Mahoning Valley Scrappers from Cleveland Indians.
6/29/11: Drew Rucinski assigned to AZL Indians from Mahoning Valley Scrappers.
Week 2 Co-Offensive Players of the Week: Bryson Myles and Jordan Smith
This week, it was an extremely tough choice between Jordan Smith and Bryson Myles and each contributed in their own ways. Myles had a .409 batting average for the week (9-22), scoring six runs, doubling twice, tripling once, and driving one run in. He also stole five bases. Smith had a .379 batting average (11-29), scoring four runs, doubling twice, and driving six runners in. He walked three times and also struck out three times, while stealing one base. They were both offensive machines that powered the lineup.
Week 2 Pitching:
For a pitching staff that lacks high upside prospects, they really held it down this week, allowing 11 earned runs (18 runs) and 46 hits. Quite an improvement from a week ago. The pitching staff lowered their ERA from 4.19 to 2.94, (3rd in the league). They've allowed 110 hits (4th lowest in the league, previously 3rd highest in the league), 45 ER/55 R (5th lowest in the league, previously 2nd highest in the league), 7 home runs (4th in the league), while waking 46 (6th fewest) and striking out 132 (2nd in the league). Very impressed with the adjustments they've made and interested to see if they carry that over to week three.
Week 2 Pitcher of the Week: Kirk Wetmore
This again was also a no brainer. Although he started just one game this week and took the loss for it, by all means, it wasn't his fault and he deserved a better fate. His defense failed to pick him up. He pitched 5 solid innings, allowing 4 hits and a walk. He gave up three runs, none of them earned, and struck out 6. Opposing hitters hit a mere .222 against him this week and are hitting .154 off of him this season. With the bases empty, hitters had a .156 average against him, which lowered to .150 with runners on base. He's really matured this season and has exhibited much better command of his fastball to all parts of the plate.
Looking Ahead to Week 3:
2 vs. Batavia, 7:05 PM
3 vs. Batavia, 5:05 PM
4 @ Batavia, 7:05 PM
5 @ Batavia, 7:05 PM
6 vs. Williamsport, 7:05 PM
7 vs. Williamsport, 7:05 PM
8 vs. Williamsport, 7:05 PM
Week 3 Promotions:
Sat, Jul 2: Youth Jersey Giveaway, Kids Eat Free
Sun, Jul 3: Patriotic Night, Family Fun Day
Wed, Jul 6: DARE Day, Harry Potter Night, Ohio Lottery Winners Are Everywhere, Military Nights
Thu, Jul 7: Superheroes Night, Bennie's Comics and Cards, Buck Night
Fri, Jul 8: Friday Night Fireworks, Cedar Point's PEANUTS Snoopy Character Appearance, FRITOS Family Friday, Business Journal Night, Faith Night, Baseball Shaker Giveaway
Follow Tony and the Indians Prospect Insider on Twitter @TonyIPI. Also, his latest book the 2011 Cleveland Indians Top 100 Prospects & More is available for purchase for $20.95 to customers in the US (shipping and handling extra).
User Comments
No comments currently. Be the first to comment!