The Sunday Drive With the K-Tribe: De La Cruz, Kipnis Shine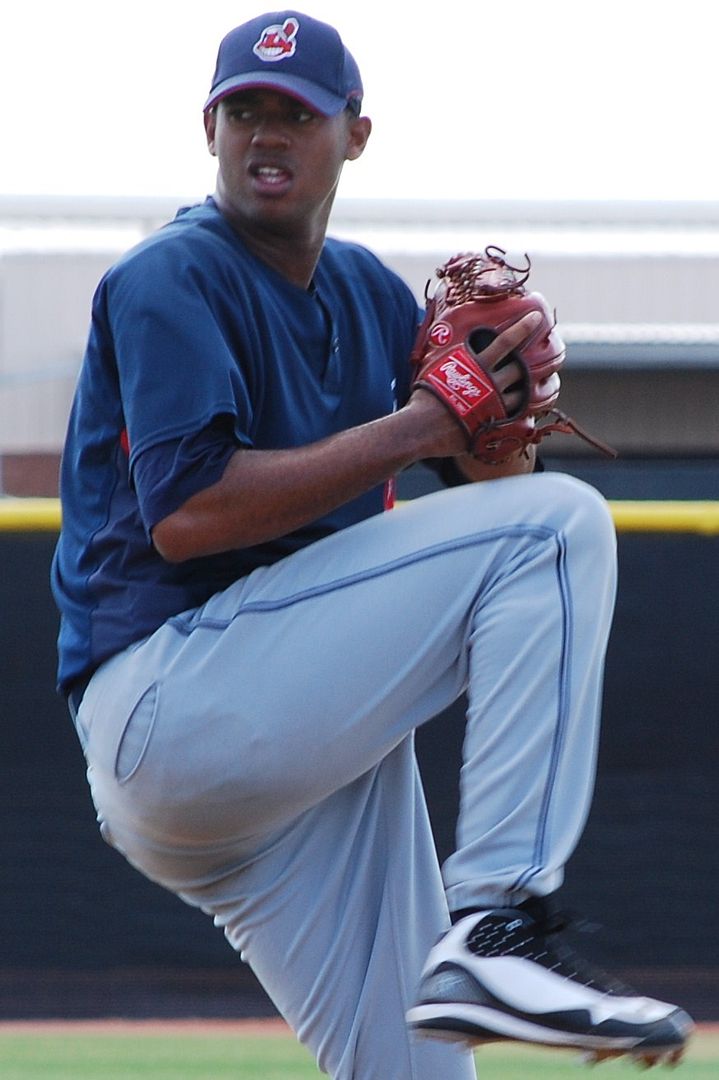 With most Cleveland fans focusing their attention on Joakim Noah's big mouth this afternoon against the Cavs, the K-Tribe will equally try to overcome some turbulence of their own from the past week. The Kinston Indians found their roller coaster both offensively and defensively in week three. Kinston's starting rotation came back down to earth this week, while the bats started to heat up. Kinston finished the week with a 3-4 record, but had the lead in every game. The bullpen cost the Indians in all four of their losses, turning what could have been a big week into something a bit more pedestrian.

Let's get this Sunday Drive rolling, so we can watch LeBron shove 40 points down the tennis punk's throat...

Week 3 Games:


April 18 @ Winston-Salem, L 6-7 (WP: G. Infante; LP: S. Smith)
April 19 @ Wilmington, L 1-4 (WP: B. Baumann; LP: S. Frias)
April 20 @ Wilmington, W 4-0 (WP: T. McFarland; LP: T. Melville)
April 21 @ Wilmington, Postponed: Rain
April 22 @ Wilmington, W 7-4 (WP: M. Langwell; LP: M. Baez; SV: S. Smith)
April 22 @ Wilmington, L 3-4 (WP: A. Caldera; LP: B. Brach; SV: B. Bowden)
April 23 v. Myrtle Beach, L 5-6 (WP: M. Crim; LP: T. Turek; SV: J. Chapman)
April 24 v. Myrtle Beach, W 7-4 (WP: K. De La Cruz; LP: R. Delgado; SV: S. Smith

Week 3 Offense:

The K-Tribe's average improved over 20 points from last week (.226 to .247), riding the hot stick of Jason Kipnis. The Indians also tripled their home run output, but considering they only rolled out one homer last week, the three they dropped over the wall wasn't exactly impressive, especially when you consider the fact that two came on Saturday night. Kinston nearly tripled their extra-base hits, with 10 doubles and three triples, to go along with their three homers. Still, Kinston remains last or close to it in every offensive category. The most disconcerting stat are their strikeouts. The Indians struck out in 30% of their at bats. The rest of the Carolina League strikes out at a 22% clip, and only 20% if you don't figure in Kinston's numbers. Yes, it was an improved week, but the Indians still have a rather sizable mountain to climb to become effective with the sticks.

Jason Kipnis carried the K-Tribe's offense this week. He batted .440 with a .760 slugging percentage. He had four multi-hit games, including two games with three hits each. Kipnis continues his resume for moving up as soon as possible. The good news for K-Tribe fans is that Cord Phelps in Akron and Jason Donald in Columbus are both playing fantastic ball as well. It looks like Kipnis will be here for a bit, unless Cleveland decides to shuffle the deck with regards to Luis Valbuena. It may yet happen this year, but not any time soon. Overall, Kipnis is hitting .316, with a .509 slugging percentage and an .853 OPS. The only area of weakness is that Kipnis didn't walk at all, and struck out eight times.

Nate Recknagel continued his hot bat, going 7-for-21, with a .333 average. He scored four runs, with a double, a home run and three RBI. Recknagel has been a pleasant surprise so far this season, taking a jump statistically from last season's numbers.

Abner Abreu didn't exactly break out this week, but he certainly put up better numbers than last week's debacle. Abreu went 7-for-24, for a .292 average. He had three doubles and an RBI. There was no other power to speak of, but it's good to see the highly-touted prospect pick it up. He generally takes a couple of weeks to put it all together. Look for Abreu to swing a heavier bat as we get closer to May.

Catcher Richard Martinez also had a solid week, going 6-for-17, with five RBI. Karexon Sanchez continues to be the glue that really holds the team together. He had a decent offensive week, with four RBI, five walks and a .263 average. He finds a place to play every game, and has been a steady offensive bat all season. Like Sanchez, Pickens has had a steady bat as well. He hit .273 this week in his limited at bats.

The rest of the offense was below the Mendoza line. If the fill players can find their sticks, this team will continue to improve.

Week 3 Bullpen:

The bullpen was involved in six of seven decisions, going 2-4 for the week. It's more because the Kinston starters have been under the watchful umbrella of a pitch count over the first two-and-a-half weeks of the season. Still, the four losses and three blown saves are cause for concern.

The relievers really fell into two categories, with not much grey area. The K-Tribe pen was either really good, or really bad. T.J. McFarland, Dave Roberts and Bryce Stowell put up goose-eggs for the week in multiple innings. A former starter, McFarland went 4 1/3 innings of shutout ball, to get the win in a 4-0, 3-hit shutout, in a start by Nick Hagadone. Roberts pitched three shutout innings in support of a struggling Alex White that led to another K-Tribe victory. Stowell continued his stellar 2010 in three appearances, going 4 1/3 shutout innings for the week. For those counting at home, he hasn't given up an earned run yet this season.

Matt Langwell also had a nice week out of the pen for the K-Tribe, going 3 2/3 innings and only giving up a run, pitching mostly in the eighth inning. Closer Steve Smith got blown up in his first outing for two runs. He's been struggling with control, walking four. He did save two games this week after the blown saves, but still put runners on base because of his lack of control.

Brett Brach, a 10th-round pick in last year's draft, struggled in his first outing out of the pen giving up two hits, a walk and a run in 2/3 of an inning of work. Travis Turek continued his struggles, giving up three runs in his 4 1/3 innings.

Overall, even with the struggles of Smith, Turek and Brach, the K-Tribe pen managed a 2.91 ERA, with two wins and two saves. Not too shabby.

Week 3 Starters:

The Kinston starters went 1-0 with a 2.97 ERA in 33 1/3 innings pitched. As mentioned before, they were on a strict pitch count, but still managed to pitch several solid innings. The starters gave up 27 hits, with only ten walks and 28 strike outs. Their performance was slightly down from last week, but the innings continued to rise, and the ERA only rose slightly. This staff isn't pitching at full strength, and it's still the best in the Carolina league. Hopefully it will stay together into the warm months.

Nick Hagadone continued to pitch well, even with a pitch count hovering in the mid-70's. He went 4 2/3 innings, giving up two hits and three walks, while striking out seven. Hagadone has gone 13 total innings without giving up a run. Watching the kid pitch leaves you with the impression that he's still not at his best. If he continues to progress, the sky is the limit.

Welcome back Kelvin De La Cruz, who was the only Kinston starter to figure in a decision, getting a big win in his first start of the week. De La Cruz went six no-hit innings, walking one and striking out four. He struggled a bit in his second start, giving up four hits, a walk and three runs, while striking out three. Even with the tough no decision, it's good to see De La Cruz throw out a start that shows a glimpse of the path he was taking last season. He's also leading the team in innings pitched, so he should improve as his arm continues to gain strength.

Alex White had his first rough outing of his professional career, giving up four hits, four runs, three walks, with only one strike out. TJ House went four innings without giving up an earned run with two walks while he struck out five. Joe Mahalic had an understated, yet steady two outings this week, striking out eight without walking a batter in two no decisions.

Offensive player of the week: Jason Kipnis (.440, 11-for-25, 6R, 1 2B, 2 3B, 1 HR, 5 RBI)
Bullpen pitcher of the week: Bryce Stowell (3 G, 4 1/3, 8 K, 3 BB, 0.00 ERA)
Staring pitcher of the week: Kelvin De La Cruz (2 G, 11 IP, 4 H, 2 BB, 7 K, 2.45 ERA)

Player of the week: Jason Kipnis

This Week:

April 25--v. Myrtle Beach
April 27--v. Lynchburg
April 28--v. Lynchburg
April 29--v. Lynchburg
April 30--@ Salem
May 1--@ Salem

The Rearviewmirror: I can't help but hope we've seen the last of Kelvin De La Cruz matched with struggles.
Jim is currently the senior editor and Columnist, as well as the host of IBI's weekly online radio shows, Smoke Signals and Cleveland Sports Insiders. You can follow Jim on Twitter @Jim_IBI, or contact him via e-mail at jpete@indiansprospectinsider.com.
User Comments
No comments currently. Be the first to comment!