Things Starting To Click For Greenwell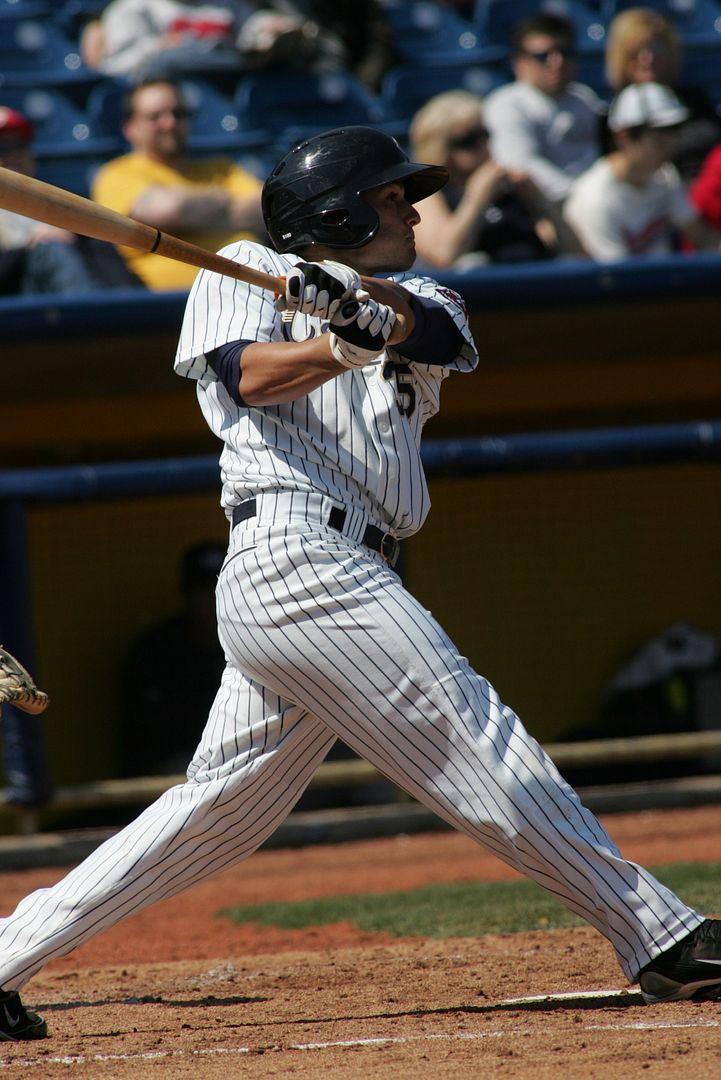 If a baseball player were to sit down in the offseason and diagram exactly how he would like to start his next season, that player would draw up the hot start Low-A Lake County outfielder Bo Greenwell got off to this season.
Greenwell had an amazing month of April where in 21 games he hit a blistering .405 (32-for-79) with 22 runs scored, 7 doubles, 2 triples, 3 home runs, 23 RBI, 7 stolen bases, and had a 1.142 OPS. He was at the top or near the top of almost every conceivable offensive category in the Midwest League at the end of the month, and while he has cooled some since then he is still performing and producing at a high level.
"Everybody wants to start off hot," said Greenwell in a recent interview at Classic Park in Eastlake, OH. "It's a big relief to come out and hit well and be able to look out on the board and see .400 or however I [was] doing. It is always nice as you don't feel like you are trying to squeak out a hit every time you are up there."
It didn't take long for the batting average to finally dip below .400 in the early part of May as hitting at a .400 clip is virtually impossible to sustain for even half a season. But Greenwell has continued to put up quality at bats, and the true test of how much of a prospect he may be will be how he makes adjustments now that the league is adjusting to him.
"I think that is what good hitters do," said Greenwell. "They don't just hit fastballs. They are able to hit changeups and are able to identify curveballs. They have good pitch selection. I have already experienced it a little bit because guys have wanted to pitch inside on me with the fastball and I have been able to get the bat head on it. Now I am seeing a lot more changeups and breaking balls and they are trying to get me off balance. It's how quick can you adjust to that and how quick can you identify what they are trying to do to you in order to help you succeed."
The hot start for Greenwell is something that was not a complete surprise as coming into the season he was considered one of the Indians better outfield prospects in the lower levels of the system, and a lot of people including yours truly had him pegged as a breakout candidate this year. He is an athletic player and a former football player who has major league bloodlines as his father Mike Greenwell had a very nice career with the Boston Red Sox from the mid 80s to mid 90s. In addition to those intangibles he brings a lot of raw ability with a good speed-power combo and an advanced approach at the plate for a player 21 years of age.
Greenwell actually played half a season at Lake County last year where in the second half of the season he hit .290 with 2 home runs, 26 RBI and a .761 OPS in 60 games. That said, no one expected him to show such a significant increase in his performance and production so early in the season this year. His development is encouraging, and is a byproduct of him maturing and also a lot of hard work in the offseason.
"I think it is me being another year older and another year developing," said Greenwell about his success in the first half of this season. "I was able go back last offseason and really just sit down and look at what I did, and really what it came down to was all I needed was more power numbers. All I needed was to hit a couple more home runs and I would have had one heck of a year. All of that comes with age. So I took that as a confidence builder and really didn't change anything I did in the offseason as I kept with what I did the previous year and it is clicking."
Last offseason Greenwell worked hard to enable himself to take the next step in his development and help him to ultimately achieve his dream of reaching the big leagues. He felt good with his approach at the plate so no mechanical adjustments were made in the offseason, so he instead concentrated on his conditioning and lifting weights to improve his strength and agility.
"I try to take about three weeks off," said Greenwell about his offseason. "I start my lifting program and honestly don't pick up a baseball bat until right after Christmas. There are a lot of guys I know who have to keep hitting at least twice a week in the offseason to keep their fundamentals where they need to be. Having my dad there and instilling all the fundamentals in me at a young age, it's there, so I don't really have to sit down and look at film of myself in order to get back up on that horse. I just pick up a bat and start slow, build myself up, and if I do it in the right order and give myself enough time I am able to get my swing back to where it was. There are adjustments to be made, but for right now it is clicking and I am just going to keep doing what I am doing and see where it goes from there."
In the offseason Greenwell returns home where he still lives with his parents in the Tampa, FL area. He uses the facilities from his old high school in Riverdale as well as another local high school to workout.
"I go back home with my parents as I am still young," said Greenwell about where he lives in the offseason. "I actually go to my high school that I went to [and workout]. They have a good coaching staff there, and the high school really supports what I do so their facilities are open to me and I do all my baseball work there. At another high school is where my personal trainer works out at and he does my speed and conditioning and I do my weight lifting with him also. So those two facilities combined help me get my stuff done."
In addition to the high school facilities Greenwell uses, he also has a ProBatter machine that he purchased and installed in his parent's basement to help him keep up on his hitting. The machine has a video screen which simulates the windup of a pitcher from the left and right side where as the pitcher on the screen releases the ball a ball shoots out of a tiny hole where it was released.
Pitches come in at a preset speed between 60-100 MPH, or can vary in speed if such a setting is chosen. Any pitch can be thrown except for a knuckleball and two seam fastball, and the computer interface allows the individual to select any setting they want. If a hitter wants to work on a slider low and away, they can select it. It they want to work on hitting high 99 MPH heat, they can choose that too.
"I have that ProBatter machine at my house," said Greenwell. "I hit off it for the first time when I went to Instructs with the Indians after I signed, so I told myself I had to have one. So I figured if I am going to spend my bonus money, instead of buying a big fancy car or a humungous house I might as well put it into something that will make me better."
Not only has Greenwell improved a lot offensively, but his defense has also shown much improvement. He was drafted as a first baseman, but upon signing the Indians moved him to the outfield. He is still very inexperienced and raw in the outfield, but he has steadily improved the past few seasons and this season has shown a noticeable improvement in his defensive play.
"Ever since I signed with the Indians I moved to the outfield," said Greenwell. "This is the year where it is all starting to click. I am learning how to throw a baseball. I was always short-handing the ball and rushing, where now I finally am able to trust my speed and my routes and trust my arm and slow everything down and make strong accurate throws. It is not just my bat; it's all aspects of the game which are starting to click."
With Greenwell's speed he has the ability to play center field, though because of his size he profiles more as a corner outfielder. Even still, his versatility to play anywhere in the outfield is yet another attribute which makes him an even better asset to the organization.
"I have played a few games in center," said Greenwell. "I have always enjoyed center field. I never full understood why they moved me out of center field, but I guess they figured at 6'0 200 pounds I am a corner guy even though I run a 6.6 60. It's out of my control and wherever [manager] Teddy Kubiak or any manager I play for needs me I can be there. I can still play some first base as I did that in high school. I'll pitch if they need me to. I may not be the best pitcher, but as long as I have a spot in that lineup that's all I can ask for."
Being a high school signee, Greenwell had to endure a couple years playing in the lonely environments of extended spring training and rookie level ball in the Gulf Coast League while he adapted to professional baseball. This year he is enjoying playing on a full season team to start the season for the first time. Now it is about moving up the ladder, developing, improving his play, and ultimately performing. If he keeps up his good play there is a good chance that at some point in the second half of this season he will eventually be promoted to High-A Kinston.
"I am looking forward to putting together a solid year," said Greenwell about his goals this season. "I have started out right where I wanted to as I am a .300 hitter in my opinion. I think I can definitely accomplish that. I also want the power numbers to be there as well, as I don't want to be known as a .300 slap hitter. I want guys to fear me when I get to the plate. So if I can hit around ten bombs and [pile up] doubles and get the stolen bases up there, I think it will help me be respected."
Yes, everything is starting to click. Now it just needs to continue clicking, and if it does the Indians may have a special player on their hands at the big league level for years to come.
User Comments
No comments currently. Be the first to comment!