Thoughts on the Fukudome deal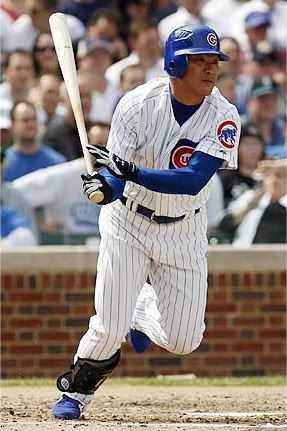 Kosuke Fukudome (Photo: AP)
The Indians on Thursday made what is expected to be their first salvo in the frenzy leading up to the July 31st trade deadline when they acquired outfielder Kosuke Fukudome from the Cubs for minor league prospects outfielder Abner Abreu and right-handed pitcher Carlton Smith. Here are some random thoughts on the deal:
- A lot of people are underwhelmed with the deal, but this is expected to just be a shot across the bow as the Indians are still hot and heavy after several bats and starting pitchers. When the dust settles after 4:00 PM on Sunday, the Indians are expected to have acquired as many as two to four more players. So before we get all upset at the move, let's see what else they do and THEN look at all the moves collectively before we go off the deep end.
- Fukudome is not an impact player by any means, which is why it cost so little to acquire him. But with a team starving for some stability in the outfield, he should provide it. Putting the likes of Travis Buck and Ezequiel Carrera in the outfield every night while Shin-Soo Choo and Grady Sizemore are on the shelf has been tough to watch, and Fukudome will be an immediate upgrade over Buck. The upgrade may not be seen in production numbers or batting average, but more in the quality of his at bats, more consistently putting the ball in play, getting on base, and less strikeouts.
- Everyone knows the Indians need a run producing bat, but they also need guys who can get on base too. They just are not doing much of anything on offense, and getting a solid on-base guy like Fukudome should help. Again, he will not be a huge upgrade, but he should be much better than Buck. Would you rather have Buck out there in right field the next month or Fukudome?
- A lot of people have pointed to Fukudome's poor RBI total this year (13), but you have to remember that as a leadoff hitter in the National League you do not get very many RBI opportunities because of the pitcher hitting 9th. As a leadoff hitter in the NL you actually lead off a lot more, something he has done in 125 of his 293 at bats (43%) which have led off an inning. In the few times he has had an opportunity to drive in a run this year and get an RBI he is hitting .311/.516/.467/.983 with runners in scoring position. To get an RBI you have to have opportunities. It is why it is not considered a very useful stat in the scouting world when it comes to evaluating talent and ability.
- If I gave you the 2011 batting line for Player A (.273/.374/.369/.743) and Player B (.275/.330/.385/.715) you would probably say Player A is having the better season, right? Also, if I gave you the career batting line for Player A (.262/.369/.403/.772) and Player B (.269/.321/.358/.679) you would probably say that up to this point Player A has had the better career, right? Well, Player A is Fukudome and Player B is Michael Brantley. Yes, long term there is no doubt that Brantley is the better player, but going strictly on performance and numbers, Fukudome has been as good or better than Brantley not only this year but over their career as well. So Fukudome is not exactly a
User Comments
No comments currently. Be the first to comment!