Three Indians Players Charged With Assault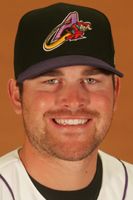 Three Cleveland Indians minor league players have been charged with felonious assault
per a report in the Akron Beacon Journal
.
Double-A Akron first baseman
Beau Mills
and infielder/outfielder
Jerad Head
along with Triple-A Columbus right-handed starting pitcher
Josh Tomlin
have been arrested per the report, an incident which occurred on June 3rd at a nightclub in Akron called Whiskey Dick's located on Exchange Street.
Reportedly, the victim in the assault suffered serious injuries which resulted in a criminal case being filed this past Tuesday June 22. Mills and Head both appeared in court this morning while Tomlin's statement was taken over the phone since he is on the road in Rochester, New York. All three players have plead not guilty and deny that they assaulted the victim.
The incident occurred on a rare off day for Columbus, which may help explain why Tomlin was in Akron that night. Akron had a 7:00 pm game that night, so he likely was in town to see some of his former teammates play since Columbus and Akron are less than two hours apart. Ironically, Tomlin also appeared on our Smoke Signals
radio show that night
around 9:45 PM EST to talk about his season so far.
Mills, 23, is in the midst of his worst season as a pro where the former 2007 first round draft pick is hitting .205 with 3 HR, 32 RBI and a .583 OPS in 54 games. He is currently on the disabled list for an intercostal strain, a move made on June 11. One has to wonder if the injury was a byproduct of the altercation that occurred a week before he was officially placed on the disabled list.
Head, 27, is a valuable utility player who has split time this year between Columbus and Akron. In 29 games is hitting .232 with 4 HR, 11 RBI and a .754 OPS. He was an undrafted free agent signing in 2005.
Tomlin, 25, is having a break through season as a starting pitcher in Columbus where in 15 games (12 starts) he is 7-2 with a 2.70 ERA. He pitched his way to another victory last night going six innings and allowed one earned run on five hits, one walk, and had six strikeouts.
The Indians have declined comment on the situation other than to say they it is a "personal matter" and they "will let the legal process take it's course".
User Comments
No comments currently. Be the first to comment!