Three Up, Three Down: 4/21-4/28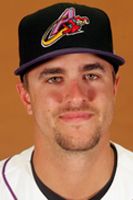 Welcome to another edition of Three Up, Three Down. This week, we'll look at the likely opening day 3B for the Tribe next year, a couple of hot Clippers and three pitchers in the system who are struggling as well as our weekly Bold Predictions update.
Three Up:
Despite not having a home run on the season, Akron 3B Lonnie Chisenhall keeps opening eyes across the prospect world. The Chiz is hitting a robust .347 with 5 doubles and 5 RBI. He also has walked 8 times against 10 strikeouts, compared to 9 walks and 18 K's in Akron last year. The increased plate discipline is a great sign for the 21-year old. Slightly less encouraging is his .393 BABIP despite just a 10.7% liner rate. A BABIP of .393 is high to begin with, but factoring in the average line drive rate makes it look even more abnormal. Look for Chisenhall's batting average to drop or liner rate to raise, because sooner or later those ground balls and fly balls will start finding more gloves no matter how pretty the lefthanded swing looks.
Columbus OF Jose Constanza is off to a sizzling start this season. The speedster is hitting .380 with 7 extra base hits and is 2nd on the team in OPS behind Carlos Santana. Constanza has 4 walks and has struck out just 3 times. He also has managed to swipe 4 bases without being caught. Constanza's BABIP is .391, but looking deeper into the numbers actually shows us that it is sustainable based on his splits. He has a 32.7 liner rate and 42.9 ground ball rate which is great to see for a guy with his speed. If he continues to make solid contact and keep from elevating the baseball, Constanza can sustain that lofty BABIP.
Middle infielder Jason Donald struggled through an injury-plauged 2009 that saw him fall off many experts' prospect lists. Donald is doing his best to show that the reports of his demise were greatly exaggerated, as he's hitting .324/2/13 to open up the 2010 campaign. Donald has 7 doubles in addition to the 2 HR's, putting his SLG at an even .500. On top of that, he even has 6 stolen bases in 7 attempts. Donald hit two home runs all of last year, so it is great to see him hitting for power this year. His split stats are similar to Constanza, with a high BIABP and a high liner rate to go along with it. Donald was a higher-regarded prospect than Luis Valbuena on most lists going into 2009, so I wouldn't be surprised to see him at 2B for the Indians at some point this year with Valbuena seeing some time in Columbus.
Three Down:
Hector Rondon has either been pretty good or really bad for the Clippers this year. In is two good outings, he has given up a combined 3 earned runs in 11 innings. In his two bad outings, he has given up a combined 14 earned runs in 6 2/3 innings. Rondon's K/BB rate isn't bad at 17/7, but he has given up 7 HR already this season. He only gave up 11 homers all of last year. Its still early, but it might be time to worry about Rondon's future as a starting pitcher. Some think that with only two good pitches, he is destined to the bullpen anyway at the major league level.
Continuing the Jeckell and Hyde theme, Lake County pitcher Rob Bryson is 3-0 with a 6.23 ERA in 5 appearances out of the bullpen this season. In his 3 wins, Bryson has pitched 6 innings without giving up an earned run. In his two other appearances, Bryson has given up 6 earned runs in 2 2/3 innings. He has am outstanding 13/2 K/BB rate, he just needs to avoid the big inning and stay consistent. Regardless of his struggles early on, its good to see Bryson back on the mound and striking out hitters.
Akron starter Scott Barnes has gotten off to a slow start this year with an 0-2 record and 8.80 ERA. Barnes has struggled with both his control and location, walking 11 batters in 15 innings and allowing opposing hitters to bat .297 against him. Barnes did have one outstanding start where he pitched five scoreless innings, but his other three starts for the Aeros have been ugly.
Quick Hits:
Catcher Doug Pickens has been raking for Kinston, leading the team with a .342 average and 2 HR; as a 24-year old in high-A, the 50th round draft pick needs to have a big season to put himself on the prospect map...Nick Hagadone has given up an earned run! His ERA is now 0.56 on the season...TJ McFarland has also given up just a single earned run in 13 1/3 innings for the K-Tribe...Cord Phelps and Nick Weglarz remain hot for Akron as both are slugging over .500 and hitting over .300, and have combined for 6 HR and 21 RBI...Bo Greenwell is showing no signs of slowing down, and is hitting .366 over his last 8 games.
As promised, here is our reguarly scheduled Bold Predictions update:
Zach Putnam has had back to back rough outings for the Aeros, taking a loss on April 28 against the Altoona Curve. Putnam has given up 13 earned runs in his last 7 1/3 innings after giving up just 2 in his first 15 innings.
Abner Abreu continues his April woes, as he is batting just .197 with 26 strikeouts. This is not at all dissimilar to last April, when Abreu hit .211 and struck out 28 times. Wait until May...the wiry Dominican will heat up with the weather.
User Comments
No comments currently. Be the first to comment!