Three Up, Three Down: 4/8 - 4/13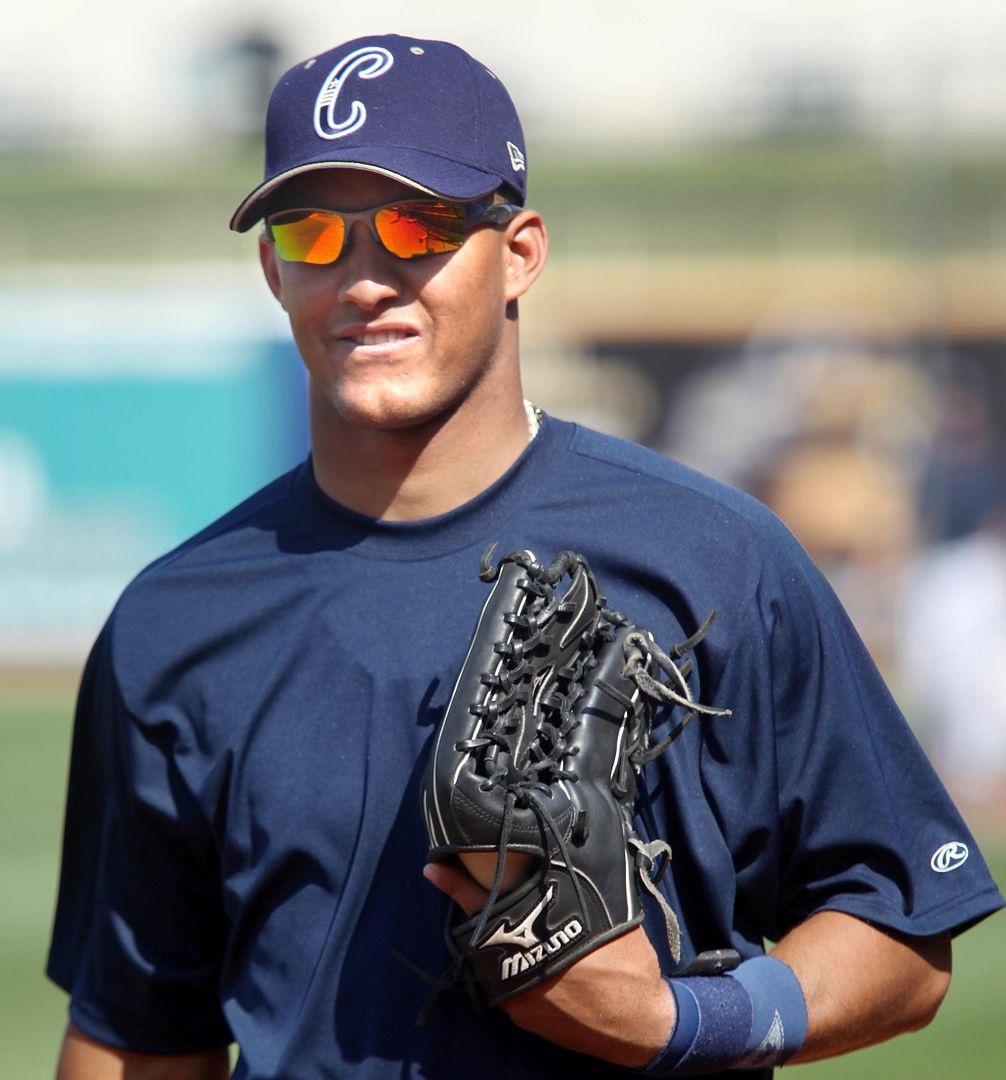 Welcome to 2010's
inaugural
edition of Three Up, Three Down. Minor league play for all of the full season affiliates started last week, and while it is still a small sample size, we have some players who are hot, and also some who are not
throughout
the Indians' minor league system.
We're going to add another feature to Three Up, Three Down this year; what I'll call the "Bold Prediction Tracker." As you'll recall, I made two somewhat bold predictions in the 2010
IPI
Roundtable
. First, that Abner
Abreu
would win the 2010 Carolina League MVP award. Second, that the "Wolverine Destroyer," Zach Putnam, would pitch in Cleveland at some point in 2010. After we take a look at a 6-pack of players every week, I'll also give a quick update on my Bold Predictions for 2010.
So without further ado, let's get to this week's installment of Three Up, Three Down.
Three Up:
Last April was a month to forget for Akron outfielder Nick

Weglarz

. The big Canadian slugger batted just .089 with a single HR. Getting off to a good start this season was important if

Wegz

hoped to be in Columbus this year. Consider that mission accomplished. In just 6 games,

Weglarz

has 2 round trippers and 5 RBI to go with a .381 batting average. Its great to see

Weglarz

healthy and hitting again, as he struggled with a leg injury last season, playing through the pain but seeing his overall numbers suffer as a result. If he can stay healthy, look for a huge rebound season from the

patient

slugger. He already has 6 walks on the season and leads the

Aeros

with 15 total bases.
Its no secret around baseball that Carlos Santana can hit. But I don't think anyone expected the offensive barrage that Santana has unleashed on International League pitching so far in 2010. In 6 games so far, Santana has a league-leading 4

HR's

and is slugging an even 1.000. He has 8 RBI, 23 total bases and has even doubled up on his 2 strikeouts with 4 walks. Santana has been getting rave reviews from across the prospect community for his bat, but his glove is also impressing scouts. I've seen him referred to as "Victor Martinez who can actually catch" more than once. Once Santana's glove catches up to his bat, we'll see him in Cleveland in short order. The tools are there as he moves well behind the plate and has a cannon for an arm, he just needs to shore up his mechanics a little bit and he'll be an impact force at the plate and in the field. Not a bad haul for Casey Blake and the $2 million that was left on his salary.
One of the top players to watch this season due to his draft position and a position change to 2B, Jason

Kipnis

has responded with a hot start to the season so far.

Kipnis

is batting .400, with the K-Tribe's only home run and an OPS over 1.000. Jason has 2 walks and 2 strikeouts, and about the only problem with his offensive game so far is that he has been thrown out on his only two stolen base attempts. Just as important as his performance with the bat,

Kipnis

has played error-free ball at his new position and has been part of several double plays turned by the K-Tribe infield.
Three Down:
Battling for the 5

th

starter position throughout Spring Training, Hector

Rondon

ultimately ended up in the Columbus rotation.

Rondon

finished 2009 in Columbus and was solid, if not spectacular there. His first start in a Clipper uniform in 2010 was nothing short of a disaster.

Rondon

gave up 7 earned runs and was touched up for 10 hits in just three innings of work. He gave up two home runs and also walked two. He did manage to strike out 4 hitters, so

that's

a plus. Put his 21.00 ERA down to small sample size and be patient...

Rondon

will be just fine. He starts for the Clippers today, and I wouldn't be surprised to see 7 innings of shutout baseball from the young

righty

.
Super-

utilityman

Chris

Gimenez

spent some time in Cleveland in 2009, showing he could play all over the diamond but never really got it going with the bat. He was in big league camp for most of the spring, but didn't make the final roster cut and ended up in Columbus.

Gimenez

is struggling to open the 2010 season, as he is batting just .154 in his four games for the Clippers.

Gimenez

does have 2

HRs

, but those are his only 2 hits on the young season. One of his home runs was in the bottom of the 10

th

inning and thus of the game-winning variety, so its not like he isn't helping the

ballclub

.
Speedy outfielder

Delvi

Cid is off to a slow start for Lake County this season, as he is hitting just .174 in 5 games. But despite having just 4 hits and a walk so far, Cid has managed to swipe 4 bases without being caught. Cid has been putting the ball in play, as he has struck out just three times in his 23 at bats. His batting average on balls in play (

BABIP

) is an extremely unlucky .200. Again, its early, and especially with his speed Cid will see his average start to climb rapidly once some of those balls start dropping and grounders start finding holes.
As promised, here is your Bold Predictions update:
Zach Putnam is 1-0 in his two starts for the

Aeros

so far. Putnam has an ERA of 2.00, has struck out 6 and walked just one in his 9 innings of work. He's given up just 6 hits in

addition

to the single walk, so his WHIP remains under 1 which is outstanding. Opposing hitters are batting just .176 off the Wolverine Destroyer.
Not quite so good is Abner

Abreu

. I thought that starting off in a warmer climate would help

Abreu

, but so far he's hitting just .111 with no extra base hits.

Abreu

has crazy power, and his wiry-strong frame will start hitting balls off of and over the wall sooner or later. He needs to work on his plate discipline (8 strikeouts to just 2 walks so far), and once he shores up that aspect of his game then everything else will fall into place. It's still very early, and I have faith that

Abreu

will turn in a solid 2010 campaign when all is said and done.
User Comments
No comments currently. Be the first to comment!