Three Up, Three Down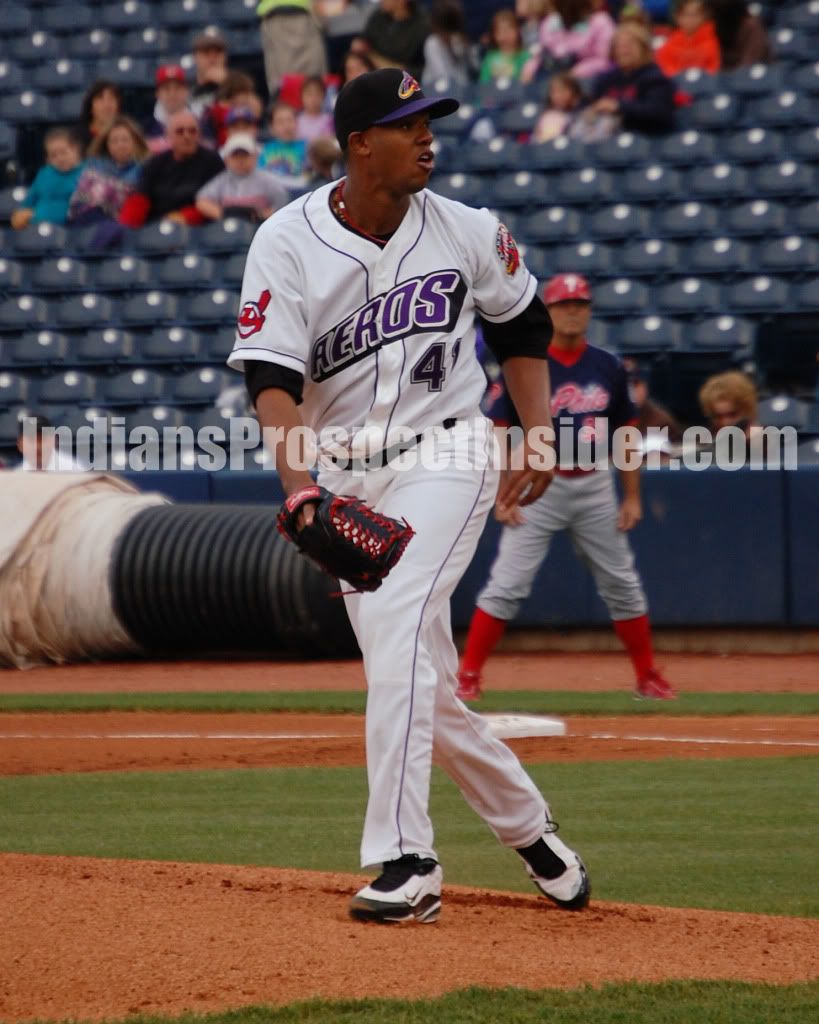 Welcome to this week's edition of Three Up, Three Down. This week, we'll take a look at a catcher who is hitting well, and a catcher who isn't as well as two pitchers trending in opposite directions, the injury-related struggles of a
premiere
3B talent and a speedy
leadoff
hitter who is getting the job done. And we will of course close with the weekly update on my 2010 Bold Predictions.
Three Up:
The Carlos Santana countdown clock is on. In a recent chat for ESPN.com, Keith Law suggested that a new word be invented to describe players like Santana, Brett Wallace, Stephen

Strasurg

, etc. A way to classify players who are in the minors to gain an extra year of club control and prevent the dreaded "Super Two" status from taking effect. So we will add "

Supergatwory

" to our glossary of terms. Santana has 4 home runs in his last 7 games, and is hitting .371 in his last 10. Overall, his OPS is still over 1.000 and he has 37 RBI in 39 games played this season for the Clippers. As frustrating as it may be to have Santana mashing in Columbus rather than in Cleveland right now, down the road we will look back to April/May 2010 and talk about what a brilliant decision it was to keep Santana in the minors for the beginning of a season where the

Indians

were not going to contend regardless. Look for Santana to be calling pitches on the corner of Carnegie and Ontario in a couple weeks.
Since being called up to AA Akron, lefty Kelvin De La Cruz has had two starts. In those two starts, he has given up 2 earned runs in 11 innings. In his last start, De La Cruz threw five

hitless

innings, albeit with five walks. He's struck out a batter per inning in AA, and his WHIP is also an even 1. As expected, De La Cruz is having success getting hitters to beat the ball into the ground, as 44% of the balls in play off the lefty are grounders. If he can limit his walks, he has a chance to move up to Columbus this year and become the top pitching prospect in the system.
Outfielder Jordan Henry has been a nice shot in the arm for

Kinston

, hitting in 8 of his last 9 games and stealing four bases. Henry is batting .406 over that span, and the

leadoff

hitter has also managed to draw seven walks. Henry has yet to hit a home run this season, but when your

OBP

is .477, the lack of power is excusable. The soon to be 22-year old is currently leading the K-Tribe in hitting with his .348 average and has a 17 walks to just 11 strikeouts on the season
Three Down:
The strange struggles of Hector

Rondon

continue. In his past two starts,

Rondon

has given up 7 earned runs in 9 innings pitched. This actually

brought

his ERA down to 8.53 on the season.

Rondon

has 33 strikeouts in 31 2/3 innings pitched, which is a very good strikeout rate. But when he doesn't miss bats, he is giving up hits at an astounding rate. the

BABIP

off

Rondon

is currently .379 on the season, and his HR/

FB

rate is an absurd 25%. These numbers almost HAVE to go down. It might be time to move

Rondon

to the bullpen to see if his stuff can play up in shorter outings. At this point, his future likely lies in relief anyway.
After a hot April that saw him hit .317, K-Tribe catcher Doug

Pickens

has come back to Earth in May, posting a .170 batting average so far this month.

Pickens

is struggling with lefties, as he is batting just .143 off southpaws. He's also much more comfortable at home than on the road, posting a dramatic .341/.136 home/road split. His liner rate went from 20% in April to just 5% in May. Once that normalizes around 12-17%,

Pickens

should see his batting average trend upwards accordingly.
Aeros

3B Lonnie

Chisenhall

has hit a rough patch, as he has been dealing with both injuries and ineffectiveness lately.

Chisenhall

was batting .097 in the month of May before being shelved with an injury, and hasn't played since May 12.

Chisenhall

is experiencing problems with his shoulder, and I can testify first-hand as to how much a shoulder problem can effect your swing. Even when he was hitting well this year,

Chisenhall

wasn't hitting for power as he has yet to hit a home run this year (despite a 41% fly ball rate) and his

SLG

was lower than his

OBP

throughout the season. Lets hope that whatever the issue is can be fixed with rest and rehab instead of surgery, because this is a big year in

Chisenhall's

development.
Quick hits:
Since being called up to
Kinston
,
Joe Gardner
has started three games and has yet to give up an earned run in 16 innings...
TJ

McFarland's
last start was a disaster by his standards, as he gave up an earned run; McFarland's ERA now stands at 0.75 on the season...
Nick

Weglarz
is slowing down after his hot start, hitting just .229 in his last 10 games...Catcher
Damaso
Espino
is 11-27 in his last 9 games for the
Aeros
...
Wes Hodges
is hitting .324 with 2 HR in his last 10 games.
And here's our weekly update on Al's Bold
Predictions
for 2010:
Zach Putnam has taken well to his new role out of the bullpen, pitching five scoreless innings for the

Aeros

since his move to the pen. In those five innings, Putnam has given up two hits, struck out two and walked just one. With the notable exception of two poor outings near the end of April, Putnam has been outstanding this year. Look for him in Columbus sooner rather than later.
As promised,

Kinston

OF Abner

Abreu

is heating up in May. Over his last 7 games,

Abreu

is hitting .344 with a HR and 6 RBI. The mini-streak has

Abreu's

average up to .237 on the season, and the HR was his first in 2010. Not exactly MVP type numbers, but I'm confident that June will bring about an even bigger improvement from the young Dominican.
photo courtesy of Lianna Holub
User Comments
No comments currently. Be the first to comment!