Three Up, Three Down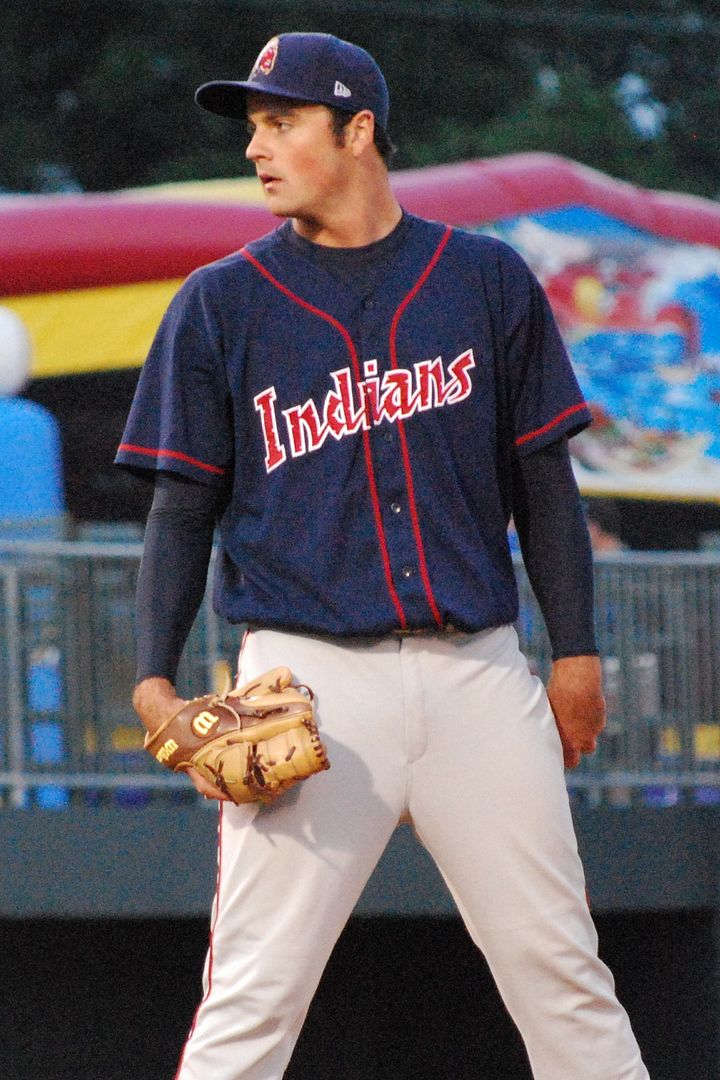 Welcome back to another edition of Three Up, Three Down. This week, we'll look at the minor league leader in ERA, a 3B getting a second go around through the Eastern League, a red-hot
utilityman
as well as a couple of scuffling outfielders, and the ongoing struggle that has become the
Kinston
lineup.
Three Up:
Akron 3B Jared

Goedert

started the season hot, and is still rolling with a .368 batting average in his last 10 games. He has 2 HR and 12

RBI's

in that span, giving him 3 and 23 for the season.

Goedert

will turn 25 this month and is repeating AA, so he needs to have a big year to put himself back on the prospect map. Always a solid fielder,

Goedert

only hit .224 with 5 HR and 37 RBI for Akron last year. He's well on his way to exceeding those totals already this season, and it is less than two weeks into May.
We have a rule here on 3U3D...when a player is leading all of minor league baseball in ERA, he gets mentioned. That is exactly what

Kinston

starter

TJ

McFarland is doing right now for the K-Tribe. Moved into the rotation this week, McFarland responded by throwing 6 shutout innings of 2-hit baseball without walking a batter. He also struck out 6. Clearly inspired by the presence of Tribe Scribe Tony

Lastoria

in the crowd, McFarland was masterful in his first 2010 start. On the season, McFarland has a 0.59 ERA, and has allowed fewer

baserunners

(26) than innings pitched (30 2/3). He's only given up 2 earned runs in his 6 appearances, and his record is a flawless 4-0. And the best part? McFarland won't even be old enough to legally buy himself a beer until June. Don't worry

TJ

, in honor of your early-season success, I'll drink one for ya.
After a slow start to

begin

the season, super-

utilityman

Chris

Gimenez

has been some kind of hot for the Clippers. Currently riding a 10-game hitting streak,

Giminez

has hit .457 with three round-trippers and nine runs knocked in since the streak began. He was hitting .231 after an 0-4 back on April 27, he has brought his average up over 100 points to .338.

Gimenez

has caught, played both corner OF positions as well as both corner IF positions. He had a rough go around in his first run with the big club last year, but he's still only 27 and with his versatility, he could still be a valuable bench player in the show.
Three Down:
Columbus OF Trevor

Crowe

hasn't been terrible this year, but he hasn't been great either.

Crowe

is hitting a ho-hum .274 on the season, with an OPS of just .662. He has a single home run and four doubles on the year. For a 26-year old in his 2

nd

stint in AAA, I expected more.

Crowe

had a nice taste of the big leagues last year, and even though he was the odd man out in the OF mix out of spring training, he had a chance to force his way back to Cleveland with a strong performance in Columbus. That hasn't happened so far, and

Crowe

is becoming more of a 1st round bust by the day.
Akron 1B/OF Matt McBride had an outstanding campaign in the Arizona Fall League this

offseason

, being named to the All-Prospect Team and hitting a huge home run in the All-Prospect Game. McBride had a decent start to his 2010 campaign, hitting .271 with 2 HR in April, but has really fallen off in the month of May. McBride is batting just .200 in May, and is just 6 for his last 28 at the dish. McBride does have more walks (7) than strikeouts (4) this month, so that is an encouraging sign. McBride turns 25 near the end of the month, and really needs to push his way to Columbus this year if he wants to be seen as a potential option in a young Indians outfield. With so many young players already ahead of him, McBride needs an eye-opening campaign to avoid being lost in the shuffle.
Sometimes its tough for me to pick three "down" players for 3U3D. This week, it was tough to pick just three. So we're going with the entire

Kinston

lineup here, with the notable exception of last year's 2

nd

round pick Jason

Kipnis

. The "highest" ERA for a K-Tribe starting pitcher is

TJ

House's 3.77. House is currently 0-3 on the season.

Kinston

as a team is just 13-18. With that kind of starting pitching, how is a team 5 games below .500? Probably because

Kipnis

is the only player hitting over .290. The recent struggles of the K-Tribe lineup were profiled extensively yesterday by

Boudreau

, so I won't rehash all of the gory details. Suffice to say the

Kinston

pitchers deserve better.
Bold Predictions Update:
Outfielder Abner

Abreu

still isn't putting up MVP type numbers for the K-Tribe, but he is heating up.

Abreu

is hitting .224 overall, and has hits in 7 of his last 10 games. He's still striking out too much, but had his best game of the season on May 9 when he went 2-3 with a triple, an RBI and TWO WALKS! Considering he's only managed to coax 8 free passes on the season, working two walks in a single game is a big deal for the 20-year old Dominican.
The big news out of Akron this week was the decision to move pitcher Zach Putnam out of the rotation and into the bullpen. Putnam had been the

Aeros

best starter, so the move can't really be seen as a demotion. To me, it is a sign that they see Putnam's long-term future as a reliever, and that his future could be nearer term than most of us thought going into this season. Putnam has yet to make an appearance out of the pen, as his last start was on May 9 where he went 5 innings, giving up one earned run and striking out four while recording a no-decision.
User Comments
No comments currently. Be the first to comment!