Timing was everything for Dick Jacobs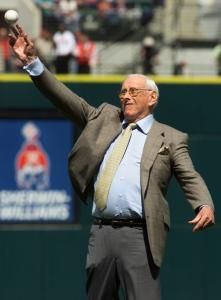 Jacobs helped build a winner in
Cleveland. (Photo: AP)
Former Cleveland Indians owner Dick Jacobs is widely considered a hero in the Cleveland area for being one of the main people behind the renaissance and success of the franchise in the mid-to-late 1990s.
He and his brother David purchased the team in 1986 at a time when the interest level and competitive nature of the franchise was at an all time low. Several years later a "Blueprint for Success" devised by former GM Hank Peters and then fulfilled by former GM John Hart had the Indians as the talk of the town and around baseball by 1994.
The Indians were a sight to see during that time period from 1995-1999. They had stars up and down the roster and at one time boasted an All Star at every position. They made the playoffs every year. They went to the World Series twice. Fans packed "The Jake" every night because it was the place to be. Indians fever had swept over a fan base because of 40 years of misery and the loss of the beloved Browns.
With the fervor surrounding the team at an all time high and expectations lifted to unsustainable levels, the value of the franchise was maxed out. Being the business man he was and understanding the situation with the franchise both short term and long term, Jacobs pounced on the opportunity to
User Comments
No comments currently. Be the first to comment!