Trade analysis: Breaking down the Choo, Bauer trade
Proposed Trade: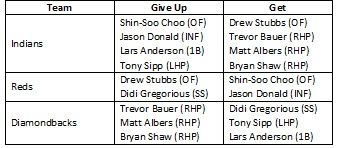 If I am a member of any of these teams, I am thrilled, but I'll focus on the Tribe's gives and gets:
Quick Summary: The Indians add a likely front of the rotation starting pitching prospect and address the team's most glaring weakness while shuffling the outfield and adding some usable relievers. The give up is one season of a 4-win outfielder, a replacement level reliever, replacement infielder and a once-shiny first base prospect. The long-term verdict is a huge win as long as Bauer and Stubbs remain in the Major Leagues and serve as a #4 starter or better and defense-first center fielder, respectively. Short term, the Indians potentially give up a win in 2013, but could come out ahead this year if Bauer makes a successful transition and Stubbs returns to his 2009-2011 form.
Tribe Acquires
Trevor Bauer (6-1, 185, R/R, 22yrs [in Jan]) is a well-known prospect due to his high draft selection in the 2011 Rule 4 draft and his unorthodox training regimen. He works with an explosive fastball that sits in the 92-94 area and can ramp up when needed. His #1 off-speed is a curveball in the 78-80 range and he also has a solid slider that works in the mid-80s and change-up in the low-80s. He was rated an A prospect by John Sickels over at Minor League Ball, and #9 overall by Baseball America prior to the 2012 season. Bauer dominated AA by striking out 29% of batters and posting a shiny 1.85 ERA and 'regressed' in AAA by allowing a 2.85 ERA while striking out only 28% of batters. He made four starts for the D-Backs in 2012 and went 1-2 with a 6.06 ERA. His walk-rate more than doubled, but he was the victim of bad-luck on fly-balls (15.4% HR/FB when average is 10-11%) and his LOB% was a miserable 58% when he has always posted nearly 83%. Backing this up, we see he has a .222 batting average against in the Majors which was actually lower than his .237 in AAA. Simply put, he got hit at the wrong times.
In addition to Bauer, the Indians add a right-handed power bat that also allows the Indians to shift Michael Brantley to left field where his glove is a plus and employ Stubbs in center field who is a big plus. For your reference, Stubbs was worth 1.3 wins last season despite hitting an abysmal .213/.277/.333. His previous three seasons saw him hit .251/.324/.406 over 1500 at bats so we can make a pretty good case that his bat just went asleep and isn't, in fact, dead. As this trade was leaking, Tony threw out a Grady Sizemore-lite comparison for Stubbs and I think that is pretty fair. Sizemore drew more walks and had a better knack for contact than Stubbs probably ever will, but the power and defense are similar.
Matt Albers and Bryan Shaw are capable relievers who both throw from the right side, both have peripherals that suggest ERAs in the mid-to-high 3's and both should throw between 50-60 innings for the Cleveland Indians in 2012 while making $1.7mil (Albers) and $0.5mil (Shaw). Shaw is arbitration eligible for the first-time following the 2014 season and should make less than $1mil given his lack of saves accumulated.
Tribe Trades Away
The Indians give up their best player over the past five years and, in doing so, lose one of the few players who could be considered an "established talent". Choo is a virtual lock to go .280/.370/.450 every year and flirt with 20/20 while covering average area in right while possessing a truly plus arm in right field. Choo is eligible for free-agency following the season and showed little interest in resigning with Cleveland. He is represented by Scott Boras and I will let you draw your own conclusions about that.
Jason Donald is a utility infielder that came over in the Cliff Lee trade and never panned out as a super-utility player spelling all three infield spots. He can hit for a decent average, but has no power or patience and is slightly below average at shortstop and second base and doesn't have nearly the bat to play third base. He is arbitration eligible for the first time following the 2013 season and almost certainly would not have been tendered a contract due to the Indians low-minors infield depth, control of Asdrubal Cabrera, Jason Kipnis, Mike Aviles and Lonnie Chisenhall through 2014 and beyond.
Tony Sipp is being called a "lefty specialist" by pundits, which is misleading because he is horrible against righties and merely average against lefties. Lars Anderson is a lottery ticket of sorts as he is a formerly renowned prospect. An additional give-up would be the compensatory pick the Indians would have received for offering Choo after the 2013 season and barely getting the offer out of their mouths before he rejected it and seeked a multi-year contract in the open market.
Final Analysis
The Indians absolutely knocked this out of the park. When it was all said and done, the Indians gave up one year of valuable right field major league talent and a compensatory pick (Indians would have offered Choo, he would have declined) plus some spare parts. In return, the Indians received six years of potentially elite starting pitching at a fraction of the open-market cost, drastically improved their outfield defense by shifting Michael Brantley out of center field where he was sub-par and putting him in left field where he is above average and his weak arm is further masked. The cherry on top is that this deal shifts the Indians outfield needs from cent field (where Brantley was always just a stop-gap) to right field where options are more plentiful and an additional big-bat can be added. Beyond opening up right field, this move probably doesn't make Nick Swisher any more likely to sign with the Indians than he already was. However, it can't hurt considering that Swisher, and all of the Tribe faithful, have a much more certain, and optimistic view of the next few seasons of baseball in Cleveland.
User Comments
Tony
December 12, 2012 - 5:55 PM EST
I'm going to agree to disagree on Perez simply because he has more value in a trade than an "A-ball" player. My position is simply that they should just not settle on trading him for that and getting less value in return simply to have a little extra money to sign someone. They have plenty of money before trading Perez to sign the guys they need to. They need to maximize assets and he is an asset. If you don't get the deal you want now, keep him because he helps the team in 2013, regardless of the $7.5M or so he will be paid.
Charlie
December 12, 2012 - 4:37 PM EST
Tony, I disagree with your tenet that trading Perez for a low-level guy is purely a salary "dump". A salary dump is typically a move that solely DECREASES overall salary, whereas the Indians liekly would be targeting other players with the additional funds.

Let's say the Indians trade Perez for a upside-arm that currently rests at low-A, but uses the $7.5 mil to move from the 4/50+ range to the 4/60+ range to entice Swisher. The result is essentially a "trade" where the Indians trade Perez for a low-A guy and Swisher and agree to assume $52.5mil of salary INCREASE over the next 4 years
Tony
December 12, 2012 - 1:17 PM EST
IronMike, I think Stubbs and Reynolds are definite upgrades over the players they are replacing: Kotchman and Damon/Duncan. Don't look at it as Stubbs replacing Choo just because he was in the deal because that is absolutely not what the Indians are thinking. The free agent they sign in the outfield would be that replacement for Choo and who is compared to him. So, yes, it is a big plus to add Stubbs over the likes of Damon/Duncan....though of course there was nowhere to go but up ha!

Also, unless Bauer is hurt or really struggles this spring, he will be in the opening day rotation. They view him as a guy that is ready to contribute now at the big league level. Still needs some finishing off, but that can be done in bigs.

If the Indians traded Chris Perez for an A-ball prospect simply to save money, I'd be fuming. That's not maximizing a guys value. Why trade the guy just to trade him when you can keep him and have a damn good bullpen. The money saved on him is not really going to change their course of action in free agency. Look, let's not go overboard here. The Indians are being active, but to expect them to trade Perez and then end up signing three more free agents is a bit much. At this point, going out and getting a starting pitcher and outfielder will be pushing it to the limit in free agency, and then maybe they sign a guy or two to a smaller deal to fill a lefty pen need or something else on the team. I just don't see any way they sign both Swisher and Ross as both on their own are not sure things themselves. Get the starting pitcher and outfielder....and keep Cabrera and Perez unless absolutely bowled over. Don't settle just to dump payroll.

As for the lefties in the pen, I go into detail on that in the piece I just posted. Yes, all of Hagadone, Barnes and even Huff are options for the pen, but they can't be considered primary setup lefties. No way. So the Indians are good with them as second lefties in the pen, but will need to make a trade or signing to get a more primary option.

As for Bauer's falling out with Arizona, I think the Diamondbacks simply are over-reacting. Jeff Passan of Yahoo Sports wrote about it today and was spot on. Yes, he may be stubborn and a little difficult to deal with, but the Indians know what they are getting into and Francona may be the perfect guy to handle him. Remember that malcontent that was Brandon Phillips with the Indians and how much they butted heads? He's been a saint and ambassador in Cincy. Maybe we have the tables turned in our favor for once, as someone else suggested.
Seth
December 12, 2012 - 12:10 PM EST
They still have Hagadone and Scott Barnes for the bullpen. I'd have taken them over Sipp anyway. Hagadone may crash and burn again, but, he should get the opportunity. Barnes was pretty good when he came back in September.
Rocky55
December 12, 2012 - 11:59 AM EST
Fall classic mentioned Hagadone as a LHRP & also might consider Huff who in a 6 IP pen trial gave up only 3 hits with 8 K's, 1 BB & a 0.667 WHIP. Worth a look.

Aviles was a big add too, as a guy who can get starter AB's while subbing at 2B, SS, & 3B, especially vs LHP's.

Add Jackson & Swisher/Ross to what was accomplished already & we're competing for the division.
SuperJoe
December 12, 2012 - 11:26 AM EST
What is interesting is reading about the "falling out" Bauer had in AZ. Had to be something pretty extreme for the to punt on him so quickly....seems like huge upside. He sounded resistant to coaching or changing his training methods.....really butted heads with guys there (walks, fluctuating velocity, etc.). I hope this is a Brandon Phillips boomerang where finally it is US that benefit from a high ceiling malcontent needing a change of scenery. Any color on the "why" side from AZ Tony? Thanks
fall classic
December 12, 2012 - 10:59 AM EST
Tony you mentioned 6 righties in bullen with NO lefty. Isn't Hagadone considered a viable option?
Homer
December 12, 2012 - 10:58 AM EST
I loved the deal even IF Bauer is just a MOR or BOR starter which he could be to start the season.
Albers adds a solid pen arm.
Shaw could become a Closer himself and is controllable long term. Also, another RH option in the pen.
Stubbs is good defensively, struggles with k's but adds some pop and speed to the lineup.
Overall, solid deal for the Tribe. Better if they land Swisher or Ross to man RF.
Tribe has bullpen arms overflowing too, and they kept ACab got to like it, IMO.
Charlie
December 12, 2012 - 10:20 AM EST
Iron Mike, I understand your concern given the Indians history with strikeouts and poor offensive performance. However, offense comes in many forms. A "windmill" such as Mark Reynolds is better than a high-contact hitter such as Jason Donald because he hits enough HRs to make all those strikeouts worthwhile. I, and the Indians themselves, preferred Youklis to Reynlds as well because he does many things well, but I, and the Indians themselves, greatly prefer Reynolds to the other options available to the Tribe. Namely, LaPorta, Anderson, McDade and McGuiness.

In regards to the rose-colored lenses I may be wearing: The only plus I said about Stubbs is that he is a better defender in CF than Brantley and though defensive metrics are tricky, they all agree that Stubbs>Brantley in CF. Mediocre pitching DOES get helped by having a better defense behind them. LF/CF/RF: Brantley/Stubbs/TBD is better than TBD/Brantley/Choo from a defensive standpoint.

Stubbs' offensive upside is apparent with one look at his performance from 2009-11 and his 2012 BABIP which sat about 40 points lower than his career BABIP and is coincidentally the same amount his batting average and OBP under-performed in 2012. As always, draw your own conclusions....my conclusion is that his luck will balance out at least a little and we will see something around the 240/320/420 range with 15-20 HRs. Not too shabby for an up-the-middle player who is above-average defensively.
Roger
December 12, 2012 - 10:00 AM EST
love the deal of concerned about the strikeouts but it is only one out like the upside of stubbs and bauer is incredible prospect. I still think joe smith for ogando which i still think makes sense. I am not concerned this opens up lead off spot for michael brantley and he deserves to know where he belongs in the lineup every day. I hope they find a RF who has the arm to prevent the extra base but that might be a luxury that they cant afford with the holes they have and the money to spend. choo was fun to watch throw a ball. but 6 and 3 yrs of control of critical pieces trumps one year control of shoo. and for the record shoo was nice to have here and is a class act with an agent that I wish he didnt have.
Seth
December 12, 2012 - 9:44 AM EST
Why not trade Chris Perez for an a-ball prospect? It would save them $7 million, just moving him for salary relief. They could use that money to get another free agent. If they think right now they can afford to make offers to Swisher and Edwin Jackson, if they move Perez they could afford both of those guys and Cody Ross. Or it would mean more money they can offer Swisher and Jackson. The Indians really still need 2 hitters and a starting pitcher if they are serious. They would be better with Ross than Perez, and Ross would cost marginally more or the same.
Iron Mike
December 12, 2012 - 8:57 AM EST
Tony, Edwin Jackson would be a big plus. We still need two more impact, professional hitters, not wiff machines to make this team whole. Getting excited about trades often blinds fans. Stubbs and Reynolds are journeyman, Russell Branyan clones. Herrmann is another RH pitcher who slots at least equal to some of those you rattled off. He did add a knuckle curve to this arsenal last year and keeps improving.

Dee Gordon from the Dodgers would be a great pick up, tremendous speed and would allow the Indians to move ACab to fill more holes.
Iron Mike
December 12, 2012 - 8:49 AM EST
Charlie, you should be writing about the stock market, Stubbs is hardly a big plus as you say. Reynolds and Stubbs equal more power for the windmill high above Progressive Field.

The rest of the deal is about pitching. Knowing the Indians, Bauer will need to be finished off in the minors so he won't be contributing right away. Relief pitchers are up and down and there is a huge difference pitching in the AL vs. NL. Don't see how you can call this a great deal, it will be an incomplete for quite some time, but at least they are trying.

Reynolds and Stubbs will not help our offense score runs consistently. Mediocre pitching needs great run support, we don't have it either, long season.

Manny Acta preached and had the Indians working toward making contact and cutting down on strike outs, he was correct. Antonetti goes the other way with Reynolds and Stubbs, two acquisitions he will regret. Although that is what happens when teams don't have a good farm system to plug in their own home grown talent. They get players other teams don't want and HOPE they turn around, most of the time they don't.
Tony
December 12, 2012 - 8:42 AM EST
Perez market is very quiet. Interest is cool. Indians are not getting anything close to what they would want. They want ML ready players or ML ready prospects, not prospects in A-ball 2-3 years away. I think there is a good chance Perez opens season with team. But, yes, they now have six good righties in pen: Perez, Pestano, Smith, Allen, Albers, and Shaw. With no lefty and only 7 spots in pen and in need of a long man in there, sounds like another deal is going to be made where they deal Perez, or maybe more likely they flip one of the other RHs not named Allen-Pestano for a lefty reliever or other need. They have unbelievable depth with right-handed relief pitching at big league and minor league level.
fall classic
December 12, 2012 - 8:31 AM EST
Does acquiring two veteran relief pitchers signal that perhaps a deal for Chris Perez may be in the works?
Rich
December 12, 2012 - 8:23 AM EST
I'm thrilled with the haul they got for Choo. I never would have predicted they could do so well.
Charlie
December 12, 2012 - 8:15 AM EST
I still think you deal Cabrera for more pitching help, though the main suitor for SS's (Arizona) is now done on that front. If more pitching is available, then the Tribe should go for it, the deifference between Cabrera and Aviles is a about 2 wins and unless Bauer is a #1 this season, and Masterson and Jimenez pich better, this team isnt sniffing post-season.

Perez should be traded no matter what, he is worse than Pestano and is going to make $7mil+...let someone else deal with that salary, we have relievers to spare and a legit closer waiting in the wings.
Tony
December 12, 2012 - 7:55 AM EST
And this is just the tip of the iceberg. The Indians are going to make more moves. They are being aggressive in talks for a free agent starting pitcher and outfielder. That's obviously Swisher though Ross could be fallback, and the starter is probably Edwin Jackson though the fallback could be Marcum. Cabrera and Perez may not even be traded now.
Gregor from Berlin, Germany
December 12, 2012 - 7:52 AM EST
Yeeeehhhhaaahhh! One of the first things to do over here in Berlin, Germany, every morning is to check the web for that big trade I was waiting for... and it never came. Until this morning, when I told myself, no, not yet, probably never... the dominoes aren't starting to fall...

And then this. I'm quite optimistic again. Or at least much, much more optimistic than I've been for a long time.

YEEEEHHHHHAAAAHHH!