Trend Spotting: A look at Danny Salazar's 2013 season
Danny Salazar's development has been profiled in great depth throughout this site over the past two years, yet his ascendancy feels almost unreal. Indeed, prior to this season, if one was to track the most frequent phrases used when discussing Salazar they would undoubtedly be "injury history", "pitch counts" and likely "bullpen arm".
In many cases Tommy John surgery suppressed the long term expectations for Salazar. For instance, he was ranked the 38th prospect in the Indians system on IBI prior to the 2012 season, perhaps more so than it has for other prospects because of the manner in which Salazar was handled post-surgery as well as the occasional cropping up of elbow tightness.
There were two final concerns outside of his arm health which we can now begin to discuss with some context from his first taste of the big leagues.
The first is whether Salazar has good enough secondary stuff to be able to play off his plus fastball to the point that he is a front of the line type guy. The other consideration was one that you hear with almost every starter: can he control the fastball adequately to create advantageous counts.
Recently, it has been bandied about that if the Tribe brings back both Ubaldo Jimenez and Scott Kazmir that Salazar should become the Tribe's closer. I find this suggestion interesting and it can be approached from a few different angles.
The suggestion for his movement to the pen rests on a few different assumptions: first as a tool to maintain his health, second because he has not developed an effective third pitch, and lastly because of his innings limitations in 2013.
Obviously, I cannot address the likelihood that he remains healthy with any sort of functional process. I do believe that his injury concerns have become overplayed because many in the prospect community need a reason to substantiate their lack of foresight when evaluating him. Of course the attrition rate for young pitchers is high; however, there exists excessive concern surrounding Salazar at this point.
Furthermore, the Indians willingness to take the restrictions off Salazar as the season closed speaks positively to the way they see his arm.
Thus, I will spend the majority of the piece discussing Salazar's first season in the big leagues and what it means about his future.
Statistic of note: 11.25 K/9, 2.60 BB/9, 3.16 FIP, 13.7% HR/FB
Three of these pieces speak to his strengths as well as his upside and one is a concern that pops up frequently. Time to dive into his splits with these in mind:
| | | | | | | |
| --- | --- | --- | --- | --- | --- | --- |
| Split | K/9 | BB/9 | FIP | HR/9 | HR/FB | OPS |
| RHH | 10.88 | 1.50 | 4.38 | 2.25 | 20.70% | .733 |
| LHH | 11.57 | 3.54 | 2.12 | 0.32 | 4.50% | .588 |
Outside of an elevated walk rate, Salazar has significantly more success against left handed hitters; which in some manners makes one question why opposing managers continued to do the classic approach of lefty heavy lineups. Granted this is a limited sample, however, it is fairly easy to explain the differentiation in splits for Salazar.
The differentiation is based almost solely on his repertoire, specifically his best secondary offering being his changeup. In order to discuss the difference, I inserted his pitch usage charts against both left and right handed hitters. An important note, Salazar's changeup is named a split-change in the graphics.
Salazar's changeup(spliter) had a K% of over 41% which is absolutely obscene. It was a special, special weapon against left handed hitters throughout the season. As you can see, Salazar used the split-change against lefties around 28% of the time. The effectiveness of this pitch is a major piece of his K/9 against left handed hitters, and is truly a plus pitch.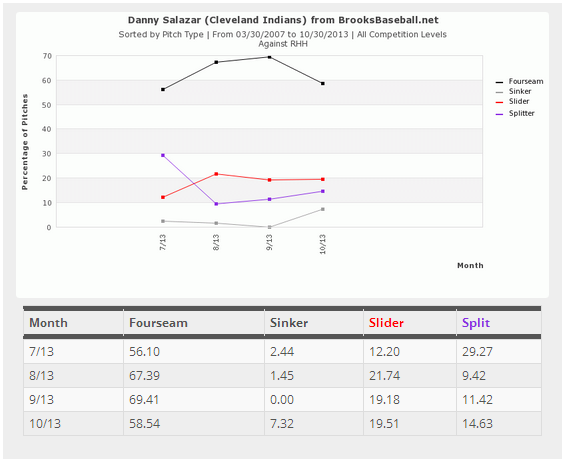 Obviously, the changeup is less effective against right handed hitters so Salazar leans more heavily on the slider. Salazar's slider is a solid offering, but he does not get nearly the swing and miss as he does with the changeup, which means longer at bats and a few more fastballs. I think the slider can continue to get better and really is the final step between Salazar being a finished frontline guy. I feel somewhat ridiculous pointing to this as a "weakness" because it has a 16% K rate and a .254 wOBA against, which means it is an above average offering.
In fact, I believe that next season we will see an increase in slider usage in order to decrease the reliance on his four-seam fastball.
The four-seam fastball is the next important piece of the puzzle for Salazar as it is the centerpiece of his dominance but has a tendency to leave the yard. Salazar's fastball has a HR/FB rate of 18.1%. This is a little higher than one would like, which has led to criticism that it can be inordinately straight at times. According to the most recent Hardball Times research I could find, the average right handed fastball had a velocity of 91 MPH, horizontal movement of -6.7 and vertical movement of 8.9. Salazar's average fastball velocity was 96 MPH with horizontal movement of -4.6 and vertical movement of 10.1. Obviously, the horizontal movement is below league average, which may mean that his fastball will always have a slightly elevated HR/FB.
However, that does not in any way mean that it is not a plus pitch, it has a 30% K rate and his control of the pitch is plus as well.
There is one piece I would like to highlight first, that is his first pitch strike percentage which is 7% higher than league average. This is an absolutely huge gap and shows Salazar's impressive ability to control his fastball. The second piece feeds off of his stuff and his ability to get up in the count.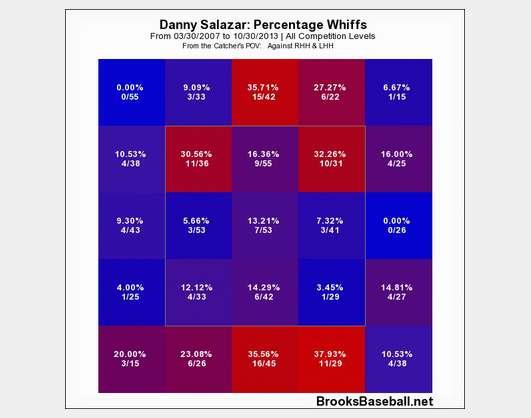 This graphic provides the opportunity to tether the entire discussion of his repertoire together. First Salazar has the control to get ahead in counts and he also creates 7% more swings on pitches outside the zone because of his elite stuff.
Salazar's ability to challenge hitters at the top and above the strike zone with his fastball and blow it by them is essential to his success. Secondly, he triggers above average swing and miss at his changeup-slider combo on the bottom of the zone.
In order to maintain some brevity and return to the case briefs which are calling, I will make just a few assertions to close.
The first is that Salazar is special against left handed hitters, his control is elite. Also his third pitch, the slider is often criticized but I believe it can function as an above average third offering.
Furthermore, I would expect Salazar to use the slider, as well as the two-seamer more frequently against right handed hitters. If those strides are made there is no reason to believe he cannot be the ace the Indians have been searching for.
As to the closer suggestions, I respect the audacity; however, I believe that it would be a waste of a high impact arm at its most productive stage. Without making any improvement, if healthy, Salazar projects to be a 3 fWAR guy. Which not only is far beyond the impact he would offer from the pen but a major upgrade over whatever starter would replace him.
Baseball is an entirely unpredictable beast. Injury and collapse can occur at any time. There is no perfect information. What you have in Salazar is a guy who right now is an above average two starter, poised to make the leap to ace.
When I say ace, I am not just talking number one starter, I am talking ace.
As always I enjoy feedback/criticism on any platform. I write these to create discussion and exchange ideas.
Interact with Michael by email at michael.hattery@gmail.com and on Twitter @MichaelHattery
User Comments
William
October 31, 2013 - 9:31 PM EDT
Very nice work here Michael. Enjoyed this a lot.
Tony
October 31, 2013 - 5:06 PM EDT
Carrasco is probably going to make the team as a long reliever.....and there is upside where if he pitches well he could move into more high leverage roles and potentially even be a closer option.
Walter
October 31, 2013 - 5:02 PM EDT
I think Carrasco will have a breakout year in 14. I believe he is ready to listen to Calloway and succeed. He had the chance to see how Salazar have success in short period time. See how mentally mature Salazar was compared to Carrasco. If Carrasco gets his head right the combination of Salazar/Carrasco could be awesome in 14. If not, I do see the Indians moving him.

Tony
October 31, 2013 - 3:27 PM EDT
I am really interested to see how Salazar does next season. There is no doubt that the fastball and changeup are very good offerings....he is known to have the best changeup in the org (and arguably the best fastball). The key is going to be that slider so he has a proper weapon to attack right-handers with rather than just rely on fastballs. The Indians believe the slider can become an average offering, and it may be that right now.....but the separator will be whether it becomes a plus offering and he has confidence to throw it more and in any count and of course gets swing and miss or weak contact with it.

The other thing is he has to prove he can log 180-200 innings, something he's never come close to doing. It will be interesting to see how his arm responds to the much heavier workload this year and if there are any setbacks or any arm fatigue next spring or during the season.
Canadian Joe
October 31, 2013 - 10:21 AM EDT
Interesting article Michael, showing how his pitch selection changed as he moved up, and saw major league hitters first and second time around.The way he progressed this year was almost scary. Believe he was behind both Carrasco and Bauer when the year started, but he sure moved to the head of the class by mid-summer. All those splits show how much he has matured, with both his pitch selection as well as between the ears. I'm sure Callaway had a fair bit to do with it. Could really be something if both Bauer and Carrasco took the same approach and matured along the same lines as Salazar. Would be a formidable staff with Masterson as well. And they would all carry a high K factor. I guess anything is possible. In the mean time we can all dream.