Trend Spotting: Drew Stubbs and his value as a sub
The Indians offseason is strewn with forks in the road. Yes, this is another path dependency discussion but in brevity. However, the most important fork may have three prongs being multi-year decisions on Justin Masterson, Ubaldo Jimenez, and Scott Kazmir.
Each of these starters have been analyzed in an in-depth manner be it Orbanek's confidence in Jimenez, Matt Rose's look at Masterson, or this foolish man's look at Kazmir.
Therefore, for the time being I have decided to divert my attention to a move that will inevitably have a smaller effect but yet still an effect. Beyond Drew Stubbs' boyish good looks is an enigmatic performer who seems to have impressively drawn ire from every corner of the state of Ohio.
At this point, not even the staunchest of Stubbs supporters can argue that he should be a starting outfielder; however, he does retain immense value as a fourth outfielder because of his ability to impact the game in many different ways.
In order to effectively talk about Stubbs and the role he could play, I believe it is important to consider his 2013 season and what we learned about him.
We will begin by analyzing his offensive rebound:
| | | | | | | |
| --- | --- | --- | --- | --- | --- | --- |
| Year | BABIP | HR/FB | LD% | GB% | K% | BB% |
| 2009 | .325 | 17.00% | 21.10% | 42.20% | 25.00% | 7.70% |
| 2010 | .330 | 15.90% | 15.50% | 44.00% | 28.80% | 9.40% |
| 2011 | .343 | 11.50% | 19.50% | 47.20% | 30.10% | 9.30% |
| 2012 | .290 | 13.20% | 14.90% | 51.40% | 30.50% | 7.70% |
| 2013 | .319 | 10.30% | 19.60% | 46.50% | 29.30% | 9.10% |
Offensively, in 2013 Stubbs actually took a step forward following the worst season of his career. This is including the fact that he saw a majority of pitchers for the first and second times, which also, in a very limited way, deflated his stolen base total.
The quality of Stubbs contact improved mightily from 2012; the spike in line drives being particularly valuable in terms of raising his BABIP.
In fact, the only decrease we saw for Stubbs was his HR/FB. This decrease was to be expected merely because of the shift in park effect from Great American Ballpark to Progressive Field.
Truthfully, as number nine hitters go, Stubbs is pretty solid especially if you do it based on matchups which we will get to in a moment.
First, we will take a look at how pitchers attacked Stubbs: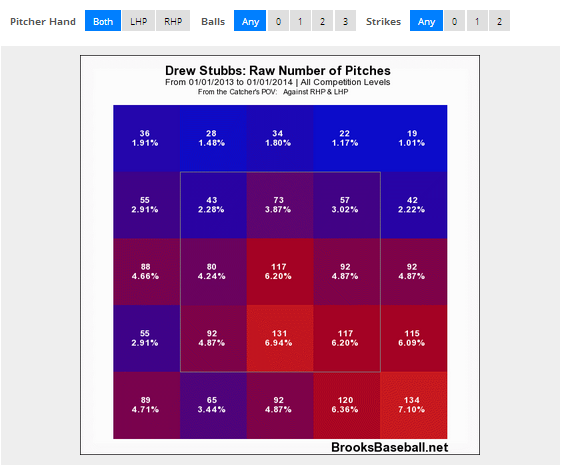 (Courtesy of Brooks Baseball)
At first glance this graphic is surprising because in terms of generating power Stubbs has had success driving balls on the inner half; which makes one question why he is pitched there. However, when looking at his success on pitches low and inside you begin to understand why.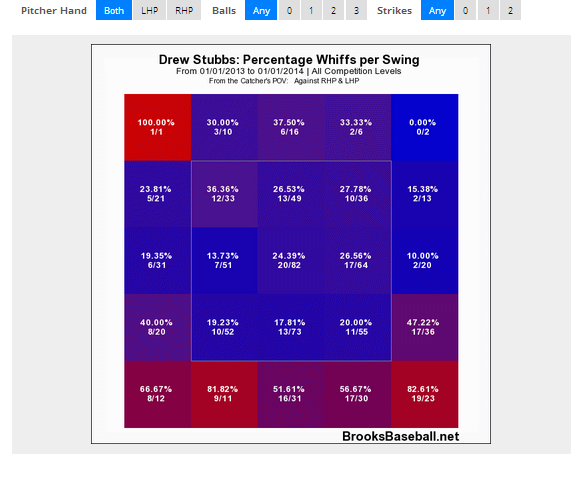 Stubbs' whiff rate on pitches on the bottom of the strike zone is very high, this comes from an astounding swing and miss tendency on breaking balls or chase pitches thrown at the bottom of the zone or in the dirt.
From a subjective memory, I can't count on one hand how many times I saw Stubbs just wave at off-speed pitches in the dirt, the frequency was positively irritating. Most importantly, Stubbs actually has an above average eye in terms of fastball discipline but his inability to pick up secondary offerings seems to have little potential of improving at this point.
The positive being that Stubbs does a good job isolating and swinging at pitches that he can barrel up in the strike zone: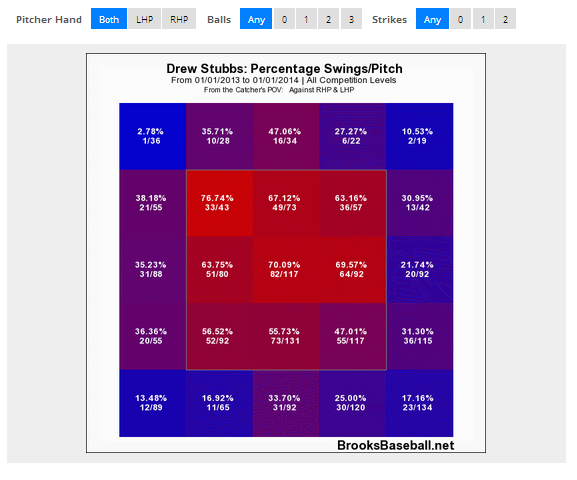 In terms of each of these graphics, we do see the evidence of solid plate discipline, unfortunately the frequency of his swings and misses on pitches below the strike zone as well as swing and miss on fastballs that are drivable leaves us with a speedy outfielder constrained by an abysmal contact rate. Well at least against right handers.
Which brings us to the splits of the three players manning center and right as well as some optimization suggestions.
| | | | | | | |
| --- | --- | --- | --- | --- | --- | --- |
| Player | Splits | Plate Ap | OBP | OPS | BB/K | ISO |
| Stubbs | Vs. Righty | 313 | .275 | .637 | 0.23 | .146 |
| | Vs. Lefty | 168 | .361 | .718 | 0.49 | .091 |
| Raburn | Vs. Righty | 153 | .320 | .806 | 0.37 | .243 |
| | Vs. Lefty | 124 | .403 | 1.020 | 0.54 | .308 |
| Bourn | Vs. Righty | 401 | .313 | .685 | 0.33 | 0.115 |
| | Vs. Lefty | 174 | .322 | .655 | 0.23 | 0.057 |
There are a few key points that I would like to draw out of this data surrounding Stubbs and the possibility of platooning. The first is that while Terry Francona optimized Ryan Raburn's production by finding him a lot of at bats against left handed pitching, it suppressed Stubbs' offensive value. Being that Raburn's other worldly splits made him a must start in right field against left handed pitching. Therefore, Stubbs lost at bats even though his best split is against left handers as well. Thus, Stubbs' stats improved this season despite having faced his worst split frequently.
Before I talk about Stubbs' value and retaining him for the sake of being a fourth outfielder platoon type, I am going to lay out a few assumptions.
The first is that I doubt that the Indians have the ability or are desperate to move centerfielder Michael Bourn. This is not to say that every piece is not movable in the right deal but I doubt they receive any sort of real value based on cost and his subpar season. Second is the idea that a 2 WAR player is tough to replace and the Indians have no piece waiting in the wings to replace him (A sound insight voiced by Seth in the comments section).
Furthermore, I expect the Indians to lock up one of Kazmir, Masterson, or Jimenez. If they lock more than one for a multi-year deal then their resources in terms of improving the offense substantially, will become limited.
I believe, that this is probably the best course of action because I believe that they can take a solid step forward by optimizing their production at third base, right field and center field via platoon or semi-platoon scenarios.
This model I suggest would require the Indians to carry five outfielders and eliminate a player like Giambi. While his efforts were valuable and memorable I believe that this could add significant value. I know when I suggest platoon, people immediately flash back to the era of Jason Michaels and David Dellucci playing left field.
If the Tribe was to bring in a left handed hitter with immense success against right handed pitching to play right field it would be a boon.
Then the Tribe could retain Drew Stubbs for the cost of around 4 million dollars, which is below his value based on the cost of a win, according to Lewie Polllis' new methodology. What could then occur is Stubbs plays 30-50 games in centerfield based on matchups against left-handed pitching where his OPS is over 60 points higher than Bourn's.
Then Stubbs and Raburn could both pickup time in right field, with a lefty platoon player starting against right handed pitching; unless Raburn or Stubbs have favorable histories against the starter.
In this manner, the Indians protect against a possible injury to Bourn by having Stubbs a capable backup and they allow Francona to play the matchups with his lineup which he does incredibly well.
Granted this entire point becomes moot if the Indians are able to acquire a full time starter for right field or third base, which is possible; however, I doubt their ability financially to retain even one of their free agent starting pitchers and add full time starters at both positions.
So if done effectively the Indians could solve one situation with a full time starter and another with a proven platoon bat, thus increasing the budget marginally for a legitimate net gain in terms of production.
Are there any bounce back bats you would target? Should they optimize via platoons in right or at third in order to resign pitching? Can the Tribe spend on both?
As always, I love to hear your feedback and names to consider.
Interact with Michael by email at michael.hattery@gmail.com and on Twitter @MichaelHattery
User Comments
DavidR
October 18, 2013 - 6:11 PM EDT
While Stubbs has substantial value as a fourth outfielder are we ignoring the fact that his relative value as a full time starter to a team in serious need for a centerfielder may be much greater? If the Tribe can obtain positive relative value in a trade based on this he can likely be replaced with a minor league deal signee and his $4MM allocated to the other areas of need.
shy
October 18, 2013 - 11:58 AM EDT
Does anyone know if Stubbs has had the Lasik? He's very athletic, he just doesn't see well at 60' and in.
Michael
October 18, 2013 - 11:51 AM EDT
Rich great catch, my apologies for the oversight.
Rich
October 18, 2013 - 9:06 AM EDT
The Raw Number of Pitches chart is from the catcher's POV, so it's actually the pitches low and away that Stubbs is whiffing on the most.

You'd think at some point he'd learn to lay off those breaking balls down and away. But it's clear from watching him hit that he just doesn't pick up the spin on the ball.

Raburn's numbers against both right-handed and left-handed pitching were way better than Stubbs. His OPS was 170 points higher. I'm not sure what the argument is for platooning these guys. I'd just use Stubbs as the 4th outfielder and a late inning pinch runner/defensive replacement for Raburn, as well as giving Bourn an occasional day off.
Hermie13
October 18, 2013 - 8:19 AM EDT
With the current roster, I think it's a no brainer to bring back Stubbs...

That said, if an OF/1B bat is added (depending where they use Swisher)...I think he could be a casualty. He's a good 4th OFer but if he's bumped further down the totem pole then $4M is a lot for a 5th OFer.
Edible14
October 18, 2013 - 4:49 AM EDT
I won't be surprised to see him back. He's a good defender who gives you insurance if Bourn goes down, can pinch-run and be a defensive sub. I think you pretty much pencil in Raburn as your DH against lefties with Stubbs in right, sitting either Gomes (if he needs the rest) or possibly even Brantley (who has some rather significant splits). Hell, if you can get either Gomes or Santana to play 3B (Gomes has played there in the majors), you can swap out Chisenhall.
Roger
October 17, 2013 - 5:41 PM EDT
i like stubbs but he does frustrate me. Bunting has become a lost art but if stubbs would become a prolific bunter he would get more doubles down the 3rd base line due to the 3b would have to honor the possibility of a bunt. bunting is a matter of knowing ALWAYS MAKE SURE YOU BUNT A STRIKE and use his speed to force mistakes. Spend the offseason working on bunting if he tried to bunt and gets strike one it is a good move cause it opens up the left side of the infield and a foul ball or swinging and missing is only one strike. Why so few baseball players today cant bunt is beyond me jason kikmis bunts well cause he is the complete player and stubbs and everyone else should aspire to be complete player
Hermie13
October 17, 2013 - 3:54 PM EDT
Question is though...is Stubbs your 4th outfielder right now...or 5th with Raburn around?
Hermie13
October 17, 2013 - 3:53 PM EDT
@Walter

Do you mean who led in terms of most total strikeouts or who led in strikeout rate?

Kipnis actually led in total strikeouts for the entire team (143)....of the guys you listed Stubbs had the highest K-rate (29.3%). However, Mark Reynolds had a higher K-rate while with the club (32.0%).
Tony
October 17, 2013 - 3:50 PM EDT
I'd be against keeping Carson as a bench guy. He's almost useless if you want to use him more than 100-150 plate appearances in a year. The fourth outfielder has to be usable for 300 or more plate appearances and be a legit option to replace at least one of the outfielders for an extended period of time if an injury comes up. Keep Carson around as extra depth to use if injuries crop up, but that's about it. Good guy, good teammate and all, but by major league standards he's not a very good player.
Walter
October 17, 2013 - 3:00 PM EDT
I would keep Stubbs and make him the 4th outfielder. Why would you have a career AAA player be your 4th outfielder? If there an injury this would weaken the Indians line up.

My question is who on the team led in striking out the most?

Stubbs, Cabrera, Bourn, Kipnis, Swisher, or Santana
Dino
October 17, 2013 - 2:07 PM EDT
I will be surprised if Stubbs returns. His salary should be prt of the package given to a 4 hole hitter or one of the free agent pitchers like Joe Smith ,Ubaldo or Kasmir. Crash Carson gives as much to the Tribe as Stubbs. Carson can play all three outfield spots, can hit, has some power and is decidely cheaper than Stubbs. In a big market, you keep Stubbs. On a mid market team, you move on.