Trend Spotting: On Larry Doby, Jim Thome and a statue travesty
I shall preface this column with the understanding that I don't wish to be excessively critical of Jim Thome or his career in Cleveland. Indeed, like many, he was my favorite Indian from the earliest years which I can recollect. Unfortunately, my tone or at least prose is unavoidably loaded with criticism and irritation towards the honoring of Jim Thome. If this note makes you immediately click off the page, I understand completely.
The irritation regarding this statue has more to do with those who haven't been honored by the Indians organization than Thome himself. The most egregious being the Indians near avoidance of honoring Larry Doby. There are a few others which I believe have legitimate stakes to being more deserving of a statue than Thome but in the majority of the space I am afforded, I will be attempting to make a comprehensive case for the recognition of Doby.
Recognition itself seems too meager a term to adequately remember Doby, as his character, talent are the model on which one would build a player. Before waxing about Doby's social and human impacts, I deem it necessary to take a look at his statistical production for a few specific reasons.
Whatever opposition one may have to Clarence Thomas and his jurisprudence, he has long opposed affirmative action legislation because he believes it has led to the degradation of what he rightfully earned as an individual. Unfortunately, this stigma exists at college acceptance time, when Caucasians deride the disadvantage of checking that box.
In many ways, this fallacious and bigoted approach has attached itself to Larry Doby's playing career and legitimacy as a hall of famer. While I believe a statue honoring the second or most influential of all time should be built because of his role in the desegregation of baseball and his role in the civil rights movements, his excellence on the field should not be tossed aside.
Thus, before touching Doby the human being, let us first appreciate Doby the Hall of Fame talent.
| | | | | | |
| --- | --- | --- | --- | --- | --- |
| Season | HR | BB/K | ISO | wRC+ | WAR |
| 1948 | 14 | 0.70 | .189 | 134 | 4.5 |
| 1949 | 24 | 1.01 | .188 | 130 | 4.3 |
| 1950 | 25 | 1.38 | .219 | 155 | 6.8 |
| 1951 | 20 | 1.25 | .217 | 159 | 6.3 |
| 1952 | 32 | 0.81 | .266 | 157 | 6.9 |
| 1953 | 29 | 0.79 | .224 | 138 | 5.0 |
| 1954 | 32 | 0.90 | .211 | 133 | 5.9 |
| 1955 | 26 | 0.61 | .214 | 131 | 4.2 |
| 1956 | 24 | 0.97 | .198 | 127 | 4.7 |
| 1957 | 14 | 0.71 | .175 | 131 | 2.4 |
Indeed, it is somewhat obvious that I cherry picked a bit, as I decided to use Doby's 10 year peak in order to demonstrate his elite skill. Of course, Doby makes it fairly easy, as during those 10 years he averaged a tick over a 5 WAR per year.
In terms of defensive capacity, we have fairly limited information mostly based on first person accounts, the eye test. Many deemed him to be an average to a tick above average defender. Of course the power production in center field was his defining characteristic.
Secondarily, one of Doby's key skills, on-base percentage, is one which was almost completely unconsidered and undervalued until at least the early nineties. Though in many ways, walk rate is still scorned for inefficient and sexy measurements like RBI.
Indeed, Doby is what advanced front offices dream about at night; an up the middle athlete with plus power and elite on base ability. Unfortunately, I can do little to speak of what he was in terms of subjective enjoyment, many who witnessed Doby are fading into the annuls of time much the way he has.
In order to create some contextual comparison, I inserted the following graphic comparing Doby to contemporary, fellow member of the Major League Baseball Hall of Fame, Duke Snider.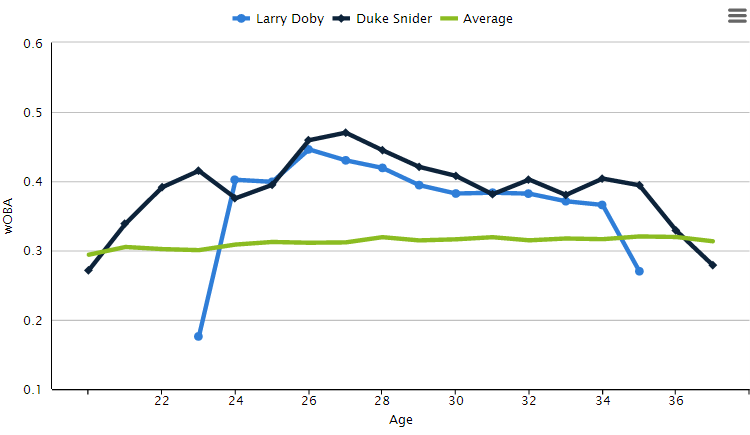 (Courtesy of Fangraphs)
Obviously, Snider was able to maintain his peak over a longer period of time, three years on the front end as well as two on the back end. These are not to be underrated with the proviso that Doby probably could have been productive at 21 or 22 if he had been allowed to play MLB. His 23 year old season should be tossed away because of a small sample as well as obvious challenges. When looking at wRC+ as well as wOBA, we see a player often producing 40-60% above league average. Secondly, his yearly WAR averages are between all-star and super star.
As for his role in the success of good teams Doby was one of the best position players on the Indians 1948 World Series winner, contributing a key home run in a 2-1 win in Game Four. In 1954, on arguably the greatest team to lose a World Series, he was the best or second best position player. This team had an impeccable if not ungodly collection of pitching talent which must be noted.
Indeed, we have a Hall of Famer on his merits purely as a baseball player, while he does exist on the lower bounds of WAR production; some is based on his constrained tenure, which was outside of his control.
A quick, tangent which I will permit myself; when discussing the Thome statue, many Indians staff and upper level management stressed that this was not based only on his skills as a baseball player but his qualities as a human being.
This sickens me, not because Thome is not of good character because of what we know he is. Indeed, if there was a list of Indians I would love to get a beer with, he would place near the top. Yet, how can we talk about honoring a man of great character, without building a statue of Doby? Is Doby not a paragon of the sort of person we would want to represent the organization?
Doby the Human Being
Once again a disclaimer, I am going to attempt to and fail miserably at properly stating the type of human being Larry Doby was as well as the challenges he faced. Simply because, experientially I will never face or understand such circumstances.
"He was a great American, he served the country in World War II and was a great ballplayer. He was kind of like Buzz Aldrin, the second man on the moon, because he was the second African-American player in the Majors." - Bob Feller on Larry Doby.
When delving deeper into his experience, Doby spent a portion of his time exhibitioning his skills, yet that does not undermine his service which included stationing in the Pacific Theater.
Feller frustratingly noted the great sadness in Doby's which stems from his entrance to the stage a few months later than Robinson. What Doby experienced off the field equaled Robinson as indeed the Indians were an equally unwelcoming team, not to mention crowds and opponents.
Yet, on the field while Robinson had an escape in his first season, Doby struggled mightily. He struck out in 33% of his plate appearances and played sparingly in 29 games. Doby was not only facing paralyzing, heartbreaking bigotry and hatred, he also was facing failure on the baseball field for the first time in his life.
To overcome and to push through his initial struggles which most of us cannot begin to understand is where Doby's legacy lies. Somehow, it feels as if the Indians are constantly running away from Larry Doby's legacy, when perhaps it is the greatest contribution the franchise has made to baseball.
Bob Feller's number was retired in 1957 the year after he retired from Major League Baseball. Larry Doby's was retired in 1994, 35 years after he played his last game. What is most deplorable is that the Indians are complicit with the fading legacy of Larry Doby as they make few efforts to build his image as the truly heroic man that he was.
I like many am beguiled by Jim Thome's wide infectious smile, though it cannot make me forget his exodus, or the fact that he was rarely the best player on those nineties teams. I must ask, how can we honor Thome's character and ignore the most virtuous of men?
While building Thome this statue when none exists for Doby is flawed, it is not a separate incident but merely highlights their lack of organizational respect for a champion who helped change baseball and the world in which he lived for the better.
Interact with Michael by email at michael.hattery@gmail.com and on Twitter @MichaelHattery
User Comments
Chris Stride
June 26, 2014 - 3:45 AM EDT
Interesting debate... I've been researching statues of baseball players for the past 2 years (see a full list at www.sportingstatues.com) and it's worth noting that Jackie Robinson doesn't actually have a statue at a current MLB park... he is honoured with statues in places where he lived/grew up/played barrier breaking matches early in his career reflecting his social impact, but MLB uses other methods to honour him (retired number, JR day etc). Similarly Doby does have statues in his town of birth (Camden SC) and his childhood city (Paterson, NJ)...
Justin Rusnak
February 1, 2014 - 1:22 AM EST
I like to make believe that I am a billionaire. I move back to Cleveland, and buy Progressive field for fun. I would rename it The Luke Easter Memorial Stadium.
Steve
January 31, 2014 - 3:20 PM EST
All this negativity as usual from Cleveland fans. No matter who the Indians would put a statue up for it would bring out the negative fans.

Can't we just be happy Doby DOES get recognized every year and has a street named after him.

Thome not only was one of the most exciting players to watch on the field, he gave his heart for years to the city of Cleveland off the field. You seldom see that in todays ball players.

Autographs never cost you a dime from Thome....Just a toy donated by you for "Toys for Tots". (Wow what a win-win event for you and a charity for needy children).

Don't bash a player that played his heart out for this city. Remember the ones who cared. That's what the Indians organization did.





Hermie13
January 31, 2014 - 12:47 PM EST
"Thome spent just nine full seasons with the Indians."

True...but Larry Doby spent just nine full seasons with the Indians as well. Two of the seasons in his 10-year peak were with the White Sox.
Tony
January 31, 2014 - 11:30 AM EST
Thome spent just nine full seasons with the Indians. He did play parts of three seasons with them from 91-93 for a total of 114 games, but his true time as an Indian was 1994-2002. And then he left as a free agent when he got more than a fair offer from the Indians in what was a ridiculous charade he carried about with the team (well, he and his wife and his agent). He's a great Indian and an all-time fan favorite, but as someone else said this reeks of an organization desperately trying to reconnect with a fanbase that lives on the success of the 90s.

Just not a fan of a statue. There are other ways they can honor Thome and his legacy, but for me, when you build statues, that is for the absolute elite people. Sorry, he is a no doubt elite Indians player. Feller was a no doubt elite Indians great....but after him there is a strong argument who is #2 to #20 in the organization. Putting up a statue of Thome implies he's the second greatest Indian....which to me is a slap in the face to so many other former Tribe greats who have as worthy a resume.
Joe Chengery
January 31, 2014 - 10:59 AM EST
And "organization" should be "organization's fans." (Should do more of my replies on my laptop, not my tablet).
Joe Chengery
January 31, 2014 - 10:57 AM EST
Last "Indians" should be "Indians fans."
Joe Chengery
January 31, 2014 - 10:56 AM EST
Hermie13,

I'm not sure I agree with that. If clearly better players from the Cardinals' early years or the Yankees' and Red Sox's early years didn't get statues before another player who wasn't as good or influential as those earlier players, I'm not sure the reaction would be much different. It's just the fact the Indians have only honored one player out of many great players from that era, then choose another who wasn't at that same level, from a later era, and he gets a statue first?

Honestly, I don't see any other passionate fans being any different, from any organization that does the same thing. Could you imagine if some of the Yankee greats from the same time period had not gotten plaques at Legends Park (think that's what they call it), then they add guys like Pettite, Posada, even Jeter and Rivera before those greats, do you think no Yankee fans would complain or question it? I doubt that- same with any organization.

As I said before, the real problem was that the Indians didn't add any statues, say of Doby, since the Feller statue was erected. Done soon enough, Doby may have been here to be recognized (he lived until mid-2003, plenty of time for the Indians to do so). But, to still not do it, and put a player who was not his equal in performance or impact, that's where many Indians are questioning the decision, and I think any organization would do the same.
Hermie13
January 31, 2014 - 8:35 AM EST
Cleveland Indians baseball has been around for 114 years now....

Over the first 57 years, Bob Feller was the best player and has a statue. In the last 57 years, Jim Thome has been the best player and is getting a statue. Seems reasonable to me. Doesn't mean others shouldn't get one, but again, only in Cleveland would fans get upset about one of the greatest players in team history getting a statue...
Bric
January 31, 2014 - 2:12 AM EST
Opinion is never unanimous, but I would like to have seen Larry
Doby's statute erected at the same time as Jim Thome's, Omar's, and other Cleveland greats whether they played for the Naps, the Indians, or the former clubs. Cy Young, Tris Speaker, Nap Lajoie,
Rocky Colavito, Bob Lemon, Early Wynn, Ray Chapman, and others all ought to be honored no matter how and where you place the statues.
Joe Chengery
January 31, 2014 - 12:01 AM EST
"In my options in my opinion"- just "in my opinion" - whoops!
Joe Chengery
January 30, 2014 - 11:59 PM EST
"Aboyput" should be "against" (Autocorrect issues- apologies).
Joe Chengery
January 30, 2014 - 11:59 PM EST
I can understand the point about reconnecting fans with the 90s Indians, which leads to two issues aboyput Thome having the statue now:

1. The 40s/50s Indians should have had statues up a while ago (Jacobs/Progressive Field has been around 20 years- plenty of time to have done this, including when they were still here with us so that they could have enjoyed it too).

2. In my opinion, Thome was NOT the best choice to reconnect with the 90s Indians- both Vizquel and Lofton had equally as strong, if not stronger, arguments than Thome did. Even Belle, Ramirez, and Alomar were as instrumental to those 90s teams as Thome was, but the first two were better options in my options in my opinion.

Oh, and I don't Thome is the only HOFer from the 90s Indians who gets in. Omar should get in, Lofton is more borderline, but possible. Oh, and I don't agree with Thome being better than Doby: Power is the only advantage he had; everything else clearly favored Doby:

-7 straight All-Star appearances
-placed 2nd in MVP (1954)
- placed 8th in MVP voting
- placed 12th and 29th in MVP voting 2 other seasons
-had .850+ OPS in 67/8 seasons (excluding his rookie season of 29 games in 1947)
-had .900+ OPS in three of those seasons
-had .468 SLG or higher in all of those eight seasons
-had higher than .500 SLG in four of those seasons

See more of Doby's stats here:
http://www.baseball-reference.com/players/d/dobyla01.shtml

Combine that with stellar defense in CF and the challenges off of the field (and winning a WS as well) makes Doby a better player than Thome in my mind, as well as a better candidate to have a statue of first.

Robert
January 30, 2014 - 11:32 PM EST
Yes, calling it a "crime" is the definition of hyperbole.

Seems to me y'all are taking this whole statue thing a little too seriously. I mean I love baseball, but a statue at the stadium is kinda like what rides they're going to have at an amusement park.

And hurt feelings (still?) because a baseball player left the Cleveland Indians baseball team and went to another team? Give me a break already...
Joe Chengery
January 30, 2014 - 11:24 PM EST
All the more reason why I think Thome was the wrong choice for a statue. I mentioned many of the 90s Indians, but truth be told, there were many great Indians from the time of Feller who should have statues up with Feller before any 90s Indians, and Doby is probably the first one for that group (or one of the first at least). Doby was great on the field and was as great or even better off of it.

I also agree that I think MLB has done a disservice with Doby, who endured just as much as Robinson did, since both came up, what, months of each other, in the Majors. Both of them endured hardships throughout their careers, but MLB can only focus on Robinson and not on Doby too, which I think is a travesty. Heck, they gave more coverage to McGwire AND Sosa when they both broke Maris' 61 HR record, but couldn't focus on both Robinson and Doby for an achievement that both accomplished and that was far more important than a HR record (never mind the fact that it's quite possible that both McGwire and Sosa were on steroids when they broke that record).

The Indians certainly should have made up for MLB's oversight and honored Doby's contributions to the Indians and to MLB by erecting a statue in his honor (should have done it many years ago). The fact they haven't and the fact they decided on Thome for the second statue shows that the Indians also suffer from the same oversight MLB suffers from. No way should Thome have had a statue before Doby (or many others, as I've mentioned elsewhere).
Mikey
January 30, 2014 - 10:38 PM EST
Agreed. Thome is my favorite Indian and player ever by a landslide but the historical significance of a great player and person like Larry Doby has me believe that he'll soon have a statue at the Jake with Feller and Thome.
allhailshapiro
January 30, 2014 - 9:15 PM EST
Really? A 'crime' that the team hasn't built a statue of a former player? Pretty shady definition of crime right there. Or misuse of the word. One of those two.

They named a street after the guy. Could they do more? Not sure. The question is: does he want more? Has he ever said he feels slighted by no statue? And all of this is besides the point- whether or not Larry Doby requires a statue on his street, a streaming marquee blasting his name, or a mausoleum on site, it has nothing to do with giving a future HOFer- and the only one of the 90s players who will go in with a Tribe hat- a statue.
James
January 30, 2014 - 8:22 PM EST
I hate to say it but Thome was a better player than Larry Doby. Doby deserves to be honored, and he is his number is retired, as you mentioned, and there is a Larry Doby day every year. You can make an argument for a statue, and I would support one, but I still don't think it has anything to do with Thome's statue
Rocky55
January 30, 2014 - 7:49 PM EST
My Dad saw Doby's first game in '48 and saw him play multiple games every year that he was with the Tribe. He always said that Doby got better every year. If anyone deserves a statue, Doby does.

Well, him & Rocky.
McIlroy
January 30, 2014 - 7:38 PM EST
This is a decision rooted in the now, not generations ago. The Indians want to re-connect with and build from the great teams of the 90's (which Thome represents) to foster a new relationship with younger fans for the future. Are others worthy? Of course. You just have to start somewhere and from the public reaction at Tribe Fest it is hard to argue.

Doby deserves recognition and will no doubt get it. So do Lajoie, Harder, Boudreau, etc. Subjective arguments about 'character' are simply that, subjective. As is comparing players from different time periods.

This is a smart move going forward with the great players from the 90's still around and engaged.


Joseph
January 30, 2014 - 6:31 PM EST
I like the idea of honoring Doby. I do not like the idea of rewarding Thome who was a very good player but who turned his back on Cleveland. Remember he even refused to wave his no trade clause so that the Indians could get something for him. The free afgency was his right. He earned it, but we don't have to reward him for it.
Jim
January 30, 2014 - 4:51 PM EST
Nicely put Mike. I do agree that MLB has an issue with not taking into account Doby in the same manner they do Robinson, or at the very least...acknowledging it with a day across baseball...but it is much more egregious to me that the Indians, Doby's home team, doesn't correct that on a yearly basis...every fourth of July weekend (which is likely why they don't play at home every year, although if they were Boston or New York...well...you know).

The Indians should make a big deal about it.

As per the street, yest...there is, but I think you sum it up best Tony: "...which I believe is Larry Doby Way or something like that..."

What should be done should be rock solid, and make Doby an honored and more importantly...remembered piece to the Indians culture.

Personally, I couldn't care less about any statue honoring anyone...but the fact that Doby is ignored is unconscionable. If the Indians had a Doby weekend every year, and didn't have a statue, I could care less....but to each their own.

Now as to where he ranks on that '54 team...that's another story altogether, and would make for a really...REALLY...fun discussion...
Hermie13
January 30, 2014 - 3:46 PM EST
Isn't there some artwork of him with his name/number in the upper deck? Or did they take those down this past year? Drawing a blank on that...
Tony
January 30, 2014 - 3:31 PM EST
The Indians did name a street after Doby, the one behind the stadium, which I believe is Larry Doby Way or something like that. But I agree, it is a crime that no physical statue or other type of art is present at the stadium.
Hermie13
January 30, 2014 - 3:17 PM EST
There's a much greater issue with Doby than just the Indians.....the way Major League Baseball has ignored Doby is an absolute crime.

July 5th should be Larry Doby day, the Indians should always play at home and every player should wear #14. The lack of a statue in Cleveland does stink, but he is one of a select few with their number retired. Definitely think he deserves a statue...think there are several guys that deserve them...would love to see something similar to what the Orioles have when you enter their park done in Cleveland eventually.