Trend Spotting: On Michael Bourn, Quick thoughts on pitching
Over the past three weeks, trading Michael Bourn has become a hipster approach both because of the market place that currently exists as well as his contract implications on the Indians over the next three possibly four years.
I must admit that I have fluctuated in between camps regarding whether or not he should be dealt. As well, answering a question like should the Indians deal Bourn, Justin Masterson or Asdrubal Cabrera is imperfect, irrational.
Because any certainty cannot exist unless we are able to see what the return would be, that said, the idea of trading Cabrera for any part is close to certainty for myself merely based on cost/production value.
Nevertheless, Bourn has become someone that many believe to be easily replaceable, which is understandably based on the Indians outfield depth.
The case can be made based solely on last season - and I emphasize solely - that with Michael Brantley, Drew Stubbs, David Murphy and Ryan Raburn they could cover his production loss in the aggregate.
Indeed, the marginal value gap between optimized platoons among the four outfielders and the outfield including Bourn's production from last year may be equivalent.
In order to provide context to a possible Bourn deal, I am going to attempt to discuss the value of his contract comparatively, attempt to project a baseline of future production and discern how valuable he is as a trade asset.
This inevitably begins with discussing his 2013 production, its implications and what he truly contributed.
First of value is an offensive look at Bourn:
| | | | | | | |
| --- | --- | --- | --- | --- | --- | --- |
| Season | BB% | K% | BABIP | OBP | O-Swing% | Contact % |
| 2013 | 7.00% | 23.00% | .338 | .316 | 26.30% | 77.20% |
| Career Averages | 8.50% | 20.60% | .342 | .335 | 23.60% | 79.80% |
(According to wRC+ Bourn sat at 91 which is a tick below league average)
I suppose it is fairly obvious where I am trying to go with this data, but the step back in offensive production is pretty obviously tied to plate discipline.
We have increased chase, which is always a bad indicator. The O-Swing shift is particularly concerning, the question being of course, will this trend continue?
In all possibility it might, but what if it had to do with the fact that he was playing in a new league for the first time. Could it be that 300-350 of his plate appearances were against pitchers he hadn't faced before might have affected plate discipline?
At the very least it is something to consider, however, we did see how he was targeted with secondary pitches as a lot of sliders and curveballs made Bourn look foolish. At points Bourn was in a funk and it could be that this shift will continue, but I doubt it.
I think Bourn's plate discipline bounces back a bit and his BB% reaches eight again, which while it may seem insignificant, is not in the slightest. If Bourn were to split the difference something that I expect between his career average and last year, he would have an average of .270 and an OBP around .330.
Why is that OBP number important for Bourn's value? As a table setter the Indians offense seemed to go as he went.
In the 70 wins in which he played: .339/.411/.750
In the 60 losses in which he played: .288/.300/.588
A career OBP of .335 returning to that note. Indeed, we see how incredibly valuable Bourn can be offensively when he is producing. At the top of the lineup he has the ability to be dynamic and I think he takes a step forward again in terms of plate discipline which will trigger an uptick.
Defense:
This is where a majority of Bourn's value has been derived from in the past, a talent that usually comprised a dominant piece of his WAR value. In three of Bourn's past four seasons he had been rated in double digits by the Fangraphs defensive value tool.
The problem being that it leans too heavily on UZR which while a metric we all enjoy, fluctuates too much to be used heavily in player value. Of course, over a three year sample it becomes a more effective piece to use, teaching us trends about defensive capability.
This season for Bourn it took a major step back, which along with the offensive struggles is why he took such a massive step back in WAR value. In order to show a more visual representation of his defense this season compared to last season I have inserted four graphics.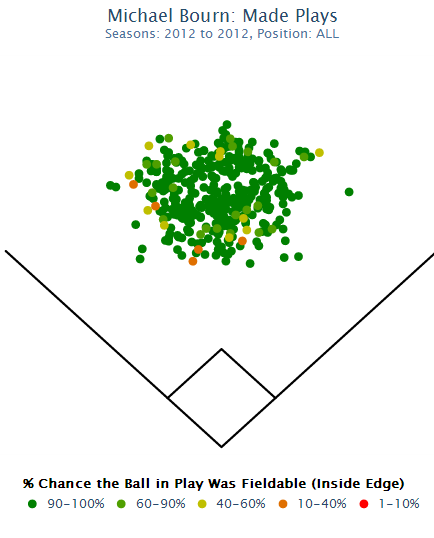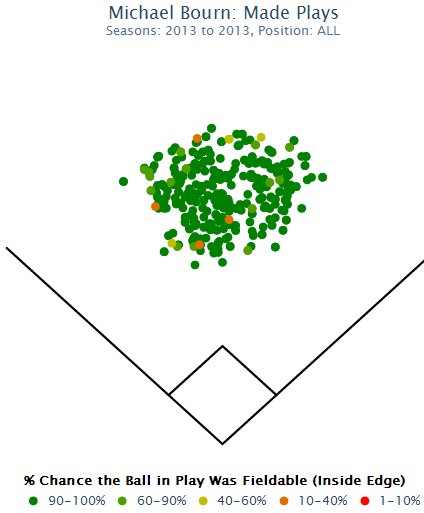 (Charts courtesy of Fangraphs)
These two defensive charts show the defensive plays made by Bourn in 2012 versus the defensive plays he made in 2013 in order to show any range differential. Secondly, the plays are plotted in colors based on the degree of difficulty.
The first difference is the overall area difference, which seems to decrease from 2012 to 2013. The second key differentiation is the degree of difficulty.
While the frequency of plays in 10-40% range does not shift in any way, the 40-60% balls are a huge change. Reading the plots the gap is a 12-3 margin but counting is unnecessary as it appears visually that his ability to track down more challenging balls has decreased.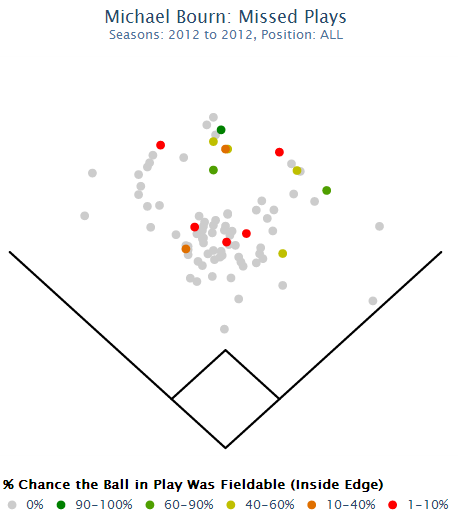 (Charts courtesy of Fangraphs)
These graphics are like the ones above but they display missed plays rather than made plays though the degree of difficulty keys are the same. The only difference being that in 2012 the most frequently displayed missed balls are ones with a high degree of difficulty while in 2013 the most frequent balls are ones with a low degree of difficulty.
This is admittedly not including balls with no likelihood of being caught; however, what these two graphics appear to show when each is placed side-by-side is that his range may be decreasing.
Of course this should be balanced with the eye test. Is he a good defender? Absolutely, he showed range that hasn't been seen in Cleveland since early Sizemore. Was he a special defender last season? A Gold Glove caliber player? Not from what I saw.
It appeared that last season, Bourn made the shift from Gold Glove caliber to above average, which while still valuable, decreases his potential WAR impact.
Value:
I generally have distaste for leaning on WAR but I believe when doing player and contract comparisons it can be very useful.
| | | | |
| --- | --- | --- | --- |
| Player | Michael Bourn | | |
| Age Entering 2014 | 31 | 31 | 30 |
| 5 Year WAR Total | 20.8 | 19.6 | 18.2 |
| Remaining Contract | 3 years $41 Million | Projected: 7 years $140 Million | 7 years $ 153 Million |
| AAV | $13.67 Million | $20 Million | $21.8 Million |
( This is under the assumption that Bourn's option vests, as well as projected Choo's market).
I will make the following concessions as to the flaws of this argument: 1) Bourn is coming off his worst season of the past five, so the 5-year WAR total may be somewhat cherry picked. 2) Different skills age differently, Choo has the most power, however Dave Cameron effectively made the case that speed does not decline at the pace many think.
What should be taken away is Bourn is an outstanding contract comparatively. While we will crack that Bourn is aging quickly we are overreacting to a single season where he appeared to play injured.
Second, Ellsbury is less than a year younger and has a comparable skill set, more injury issues in the past, and is getting paid $8 million more per season with an excessively long commitment.
Thirdly, the Indians got a bargain contract for Bourn. Kudos to Chris Antonetti, but unfortunately Bourn may be a commodity they can ill afford to hang onto for long.
His contract, while compared to market value, is strong and probably has to be moved before or after the season if the Indians wish to retain other core, young pieces a la Jason Kipnis, Justin Masterson, or even a Corey Kluber and Michael Brantley type.
Bourn is undervalued by fans because while we enjoy good defense we don't always consider its aggregate impact. In the end, making a playoff run is about having a positive run differential, whether that means limiting runs against or optimizing runs for.
Bourn has a positive impact on both. He will bounce back in 2014 by optimizing run production offensively and continue to be above average defensively. This is all avoiding a discussion of his skills running the bases.
I am willing to deal any player on this roster if the return is grand but the paranoia to move Bourn is devaluing how important he can be to their success and his contract makes him an immensely valuable trade asset.
Thinking Pitching:
When the Indians search for lower-tier starting pitching, finding a pitcher effective for this team I consider the following things:

Park factor: Progressive field is 97 for HR and 98 for fly balls.(100 is neutral, sub-100 pitcher friendly).
The Indians infield defense as currently constructed is below average, especially the left side.
The Indians outfield defense is average to above average in left (Don't believe Brantley's UZR), above average in center, above average in right.
So with both park factor being more favorable to fly balls and a better outfield defense, they should seek out pitchers with more of a fly ball tendency.
Beating a dead horse, one of my greatest skills, if the Indians spend more than $4 Million for a closer they are misallocating resources.

A bullpen should be built from within complemented by minor league invites or small deals.
It is one of the most cost inefficient markets as you are often paying $1 million for every ten innings of a closer.
Interact with Michael by email at michael.hattery@gmail.com and on Twitter @MichaelHattery
User Comments
Druce Brennan
December 12, 2013 - 4:33 PM EST
Axford sucks. He hasn't been able to throw strikes except for one season of his entire career (look at his minor league numbers). Plus, he's Canadian so he can mos' definitely buzz off.
Willie
December 12, 2013 - 4:13 PM EST
I'm not a Benoit fan, I'd prefer Balfour or Axford.

Odd, the Padres are so hot after him, then again Huston Street would seemingly become available via trade.
Roger
December 12, 2013 - 4:12 PM EST
if the tribe can secure john oxford for 5 million i would make the move. He has been an established closer who was very successful at milwaukee for a couple of years. MIght not be a bad move. Starting Pitchers are easier to ascertain as you can look at their numbers and not have to measure the intangibles that a closer has to have, so closers are a gamble. that i dont think you can take most successful teams over the years have had an established closer, Look it up the 2012 Giants are the only team i can think of. Bostons closer i would be was a closer in japan.
Hermie13
December 12, 2013 - 3:34 PM EST
Then again...one of Brantley, Bourn, Stubbs is almost assured to be moved, saving around $4M or $13M so guess stretching the payroll to $86M right now makes some sense. Gets down to at least $82M....

Not sure how you add a starter without trading Cabrera or Bourn then though...
Hermie13
December 12, 2013 - 3:23 PM EST
$7M a year for Benoit....not saying it's bad but stretches the Tribe payroll to $86M in 2014 by my count....I think that could be doable but would be even more than we finished at last year...
Druce Brennan
December 12, 2013 - 3:20 PM EST
I've got a hot tip from a friend at the WM that Benoit will sign with the Indians; 2 years, $16 million. Benoit prefers San Diego so Indians had to pay extra.
Tony
December 12, 2013 - 3:08 PM EST
Indians are hot on the trail of Benoit.
Willie
December 12, 2013 - 2:59 PM EST
Word is Chamberlain gets $2.5 M plus incentives from the Tigers. Also, Joaquin Benoit is being pursued by the Padres and Rox. He reportedly wants $7-10 M per yr.

Also, Balfour seems likely to sign with the O's. Another team (Indians???) are still in the mix, but IF it's money the O's get him - think they will throw more $$$ his way. It likely won't come down to yrs, bc the Tribe won't go beyond 2 for him and I doubt the Orioles would as well.

As I have said, I would not mind Axford at (presumably under) $5 M for at least yr 1. They would maintain control as he has 2 arb yrs remaining past this season.
Hermie13
December 12, 2013 - 2:43 PM EST
IRT Shaun Marcum....I can't imagine he gets more than a 1 year deal...and very likely may only get a minor league deal. Even if it's a major league deal, would imagine it would be a very low guarantee with incentives. He'd still fit into the budget as their are a couple million left to spend.
Willie
December 12, 2013 - 1:58 PM EST
Random thought...

IF the Yanks fail to land Omar Infante, would they have interest in ACab for 2b / SS? Hey, why not offer ACab for Brett Gardner... Save some money and have a surplus of OF to trade.

I'm convinced the Tribe is not done, but it seems like they are almost locked in bc of their lack of financial flexibility. I think we will see it give somewhat. But their aggressive approach appears to be a thing of the past. It seems like they should be bigger players in the trade mkt. I get they want to preserve prospects, and so do I, but they also need to look big picture...big picture is, they can't compete in their division without pitching. I like Carrasco and Bauer as much as anyone, but they simply can't expect them to produce at the big league level. They have shown little signs of ability to be locks in the big league rotation next yr.

This said, it may come done to a numbers game for the Tribe. There are several players that dealt with injuries and some still recovering hath at could impact this club later in the season, with that in mind it could equate to value and savings. Someone like Scott Baker, Shaun Marcum, Gavin Floyd or Clayton Richard, might be impactful pick ups for the Tribe at a low / more reasonable price. Tommy Hanson is another guy who might be a value signing for this club, plus Hanson would come with 2 yrs of control as a 2nd yr arb eligible.
Arabian Heavy
December 12, 2013 - 1:49 PM EST
Tony, so that means the Indians won't be signing Shaun Marcum?
Walter
December 12, 2013 - 1:12 PM EST
As of today potential FA agent SP for next off season are Masterson, Bailey, Scherzer, Lester and Shields. Better quality which means big $$$.
Hermie13
December 12, 2013 - 1:01 PM EST
Should add this though....only way Choo really makes much sense for the Tigers (or really fits)...if they were to deal Scherzer and Jackson. Would free up the money to fit Choo in. If the they did that deal though....I'd like the Tribe's chances even more of beating them. Maybe they could move Hunter too but haven't heard any rumors he is available (though doesn't mean he's not).
Hermie13
December 12, 2013 - 12:55 PM EST
I don't see any way Choo is a Tiger or a Royal.

The Royals payroll is currently at about $89M...that would be a team record. Adding in Choo puts them over $100M. They also just traded for a leadoff hitter/RFer...adding Choo after getting Aoki makes zero sense.

Tigers have similar issues, their payroll is currently at about $160M...which is $12M over last year's record breaking payroll...which itself was $15M over the previous record payroll. Tigers still need a bullpen arm too. No way they approach a $180M payroll by adding a bullpen arm and Choo, especially after paying Davis $5M.

Choo is probably heading to Texas or Seattle...my money is on Seattle still. They have an absolutely terrible OF right now...and no leadoff hitter. Really haven't improved the team much despite the big noise they've made.

Would love to see a non-Seattle team get Choo though....could maybe open Seattle to a Bourn deal. Ackley is in CF right now probably...and heck, may have to hit leadoff. Bourn isn't a good leadoff hitter but better CFer than Ackley and Mariners were reportedly in on Bourn last winter. Have the money to easily absorb the Victorino-like deal Bourn has remaining...
Walter
December 12, 2013 - 12:49 PM EST
The Royals are not going to sign Choo to 7yr 140 million dollar contract. Who ever agrees to Boras demands on Choo will regret it. Just like the Mariners will regret signing Cano.
Tony
December 12, 2013 - 12:41 PM EST
A few quick things. The Tigers are done shopping in free agency except for a small bullpen signing (possibly Joba Chamberlain). The Indians are also out of the starting pitching free agent market and not signing anyone unless on a minor league deal or 1 year and minimal money.

As for Bourn, compared to the market, his contract is not that much of an albatross. That's my point on why he could probably be dealt if the Indians were motivated to do so. He's a solid player, and a team with less budget limitations can certainly use him. But when you are a team like the Indians and need to stretch every dollar, blowing 1/7th of your payroll on a guy who is low impact and should be hitting 8th or 9th in your lineup....and potentially let your ace starting pitcher walk as a result....is a poor way of operating.
Dennis
December 12, 2013 - 12:19 PM EST
Most players press the first year of big contract and their stats go down. Some rebound. Let's hope that is the case with Bourn (and Swisher) can not see anyone assuming Bourn's contract. Like it or not think he will be in the Indians outfield until at least July.
Does the defensive evaluate mean the Indians should make an offer to Bronson Arroyo.
Looks more likely everyday and with each trade Choo could be a Tiger or possible a Royal next year his options are dwindling.
matt underwood
December 12, 2013 - 12:14 PM EST
i agree - i would love to be wrong on bourn. i hope he has a hug bounce back year.

re: tony, with all due respect, it still sounds like you are talking out of both sides of your mounth. you don't see the contract as an albatross, but if borderline similar players are being signed for $4m a season, i'd say we are stuck with the guy. if he is not going to be anyone else's lead off hitter, who wants to pay an 8 or 9 hitter $13m a year?

unless bill bavasi is back with the mariners, i'd say we are stuck long term. again love to be wrong, but I believe we are looking at seeing bourn the next few years in cleveland while masterson goes elsewhere.
Tony
December 12, 2013 - 11:46 AM EST
I don't think Bourn is a bad player, though I think he is miscast as a leadoff guy. He's more a guy who should be hitting 8th or 9th in a lineup to me....which obviously won't happen since he is being paid $13M+. That's my biggest problem. He's not a very good leadoff hitter, which is supposed to be where most of his value lies.
Mark
December 12, 2013 - 11:43 AM EST
Completely agree, Tony. I'd much rather have Masterson long term than Bourn. But in regards to those that are saying he was an offensive albatrose last year and will continue to be going forward, I disagree.

I'm with Matt, if Bourn could be traded, I think he would have already. And Shaponetti are too "nice" to do a salary dump (and getting nothing in return), so I doubt he's going anywhere. Though, I would love to eat crow on this.
Tony
December 12, 2013 - 11:43 AM EST
Bourn's contract is not an albatross. It is actually a below market value deal. But the problem is he is a luxury the Indians can't afford to have. I'd rather trade him and use that money on pitching, because as it stands right now the Indians budget is about tapped out. I disagree that there are not cheaper options as good. The Tigers signed Rajai Davis for 2 years $9M. Now, Bourn is a better player than Davis, but Davis is a pretty comparable player and for 1/3 the cost.
matt underwood
December 12, 2013 - 11:26 AM EST
it seems ever michael bourn mention/article talks of dimishing skills and being over paid. which is then followed by "let's trade him!". To whom?! Is everyone else in baseball not aware of his decline and albatross of a contract?

I mean vernon wells was traded twice after signing that contract which definitely says something, but i think it is much easier said then done.
shy
December 12, 2013 - 11:18 AM EST
Bourn's game is a speed game- he has to get on base more and steal more bases to justify retaining him- he had a poor year last year, probably wasn't in great shape and that's why his hamstring tore, he's at that age where if he doesn't work extra hard to stay in top shape, the speed game is lost. He's a good clubhouse guy, but the Indians have a lot of those. Nothing out there better for cheaper. The answer is to have a guy ready in Triple A that can take over. Right now the Indians have Tyler Naquin and Carlos Moncrief. One of them is going to have to make a quantum leap . Hopefully Michael comes in w an agressive post op rehab program and has a more productive year- kind of like Ellsbury did last year. I think if you put Ellsbury and Bourn in a 90' race when both are healthy, Michael is a little faster, perhaps hard training and a year to study the pitchers will translate to higher stolen bases this year. Then, you trade him in 2015.
Hermie13
December 12, 2013 - 10:24 AM EST
I agree Bourn's offensive numbers weren't that far off his norms...

Just shows that his norms were never that good. Career .335 OBP....that's Kipnis's worse OBP in a season. Bourn's had what, one season of OBP over .350? And zero at .360....Kipnis did that in his 2nd full big league season.

Bourn shouldn't hit higher than 6th in the lineup. We can find someone to replace a 6-9 hitter..have half a platoon already in Stubbs.
Tony
December 12, 2013 - 10:17 AM EST
Bourn is a value at his cost....but as Hattery points out, a luxury the Indians can ill afford. Who would you rather have, Bourn or Masterson? Because that's the decision that may be coming next offseason. If Masterson leaves, signs for $15-17M per....and Bourn is still an Indian.....I may be as livid as ever.
Mark
December 12, 2013 - 10:13 AM EST
I'll stand by what I said all year about Bourn's offensive numbers. They weren't that far off his norms. The increased chase percentage is most likely from not being familiar with AL pitching. I fully expect him to rebound after seeing the league for a full year.

Now, if he doesn't this year, we may have a problem. But I stand by the fact that he was nicked up a bit during the year and also switched leagues.