Trend Spotting: Quiet additions edition
Since the last time I opined in exacerbating detail the Indians have made three moves which will undoubtedly be impactful on the 2014 season. The three pertinent moves include the signing ofJohn Axford, Shaun Marcum's entrance into the fold, and the trade of Drew Stubbs for Josh Outman. This is of course conceding that the Matt Treanor signing to a minor-league deal will at best have the impact of replacement level production.
I will leave the Axford signing alone in this space because Jim Piascik wrote a detailed and insightful piece on Tuesday, which should be read as the definitive piece on Axford throughout the Cleveland Blogosphere.
Digressing, I would first like to touch upon the addition of Shaun Marcum. The details of course have become common knowledge but I will include them here: It is a minor league contract with an invite to spring training. If Marcum is to make the roster, he will make a million dollars with the incentives to drive the contract as high as four million.
Marcum is indeed the ultimate invite type, offering sizable upside with a fair contract, as well as zero risk for the Indians. Indeed, he appears to be in that slight way, Kazmir comparable.
I will no longer reference Kazmir in relation to any reclamation project because I believe it is dangerous to do so. Dangerous because this sort of success in a career rebuilding year should not be expected but a happy blessing.
The recent notion has been that with Mickey Callaway the Indians can merely plug and chug with minor league free agents and build a solid rotation. What has occurred is an immense hubris the reclamation. Which for every Kazmir, there are a handful of flops.
Secondarily, Callaway did an incredible job in his first season with the Indians, maximizing production from a collection of enigmatic talents a la Ubaldo and Kazmir as well as helping Masterson and Kluber take immense steps forward. While Callaway deserves respect for his major influence on this group it is too early to raise him to the Dave Duncan class of pitching coaches.
Returning to the Kazmir comp itself, Marcum is the type of guy who can create the same level of return. If successful the upside is comparable or better than Kaz's performance from last season but potential for success is equally remote.
Alas we have reached the moment at which one may checkout in order to avoid irritating data usage surrounding Shaun Marcum.
| | | | | | |
| --- | --- | --- | --- | --- | --- |
| Season | IP | K/9 | BB/9 | FB% | FIP |
| 2007 | 159.0 | 6.91 | 2.77 | 42.10% | 4.93 |
| 2008 | 151.1 | 7.31 | 2.97 | 39.60% | 4.46 |
| 2010 | 195.1 | 7.60 | 1.98 | 43.30% | 3.74 |
| 2011 | 200.2 | 7.09 | 2.56 | 42.80% | 3.73 |
| 2012 | 124.0 | 7.91 | 2.98 | 41.50% | 4.10 |
| 2013 | 78.1 | 6.89 | 2.41 | 41.50% | 3.64 |
The first and most obvious piece of importance is that he has a significant injury history, has not pitched 150 innings since 2011 and did not throw at all in the big leagues in 2009. Which means even if Marcum makes the club out of the gate, the expectation exists that the sixth and seventh starters will be relied upon in 2014.
The second piece is that his batted ball profile is fairly neutral, with a slight tendency towards fly balls. This offers both positives and negatives, while Progressive Field overall is pitcher preferential in terms of HR/FB, left-handed hitters face a batter friendly park. With a right-handed pitcher you would expect more left-handed hitters, which could have an effect on Marcum. On the other hand, the Indians outfield defense is average to above-average at every position.
In brevity, Bourn is very good in center, Brantley is above-average in left (his UZR figure should be ignored) andDavid Murphy/Ryan Raburn are average to above average in right. Thus, the outfield defense can positively affect things like BABIP, which has small but tangible effects on WHIP.
Thus, Marcum being slightly fly ball leaning is a nice fit for the park as well as the collection of defensive talent behind him.
Digressing to stuff and profile, Marcum is an incredibly interesting case, especially after observing his solid k-rate.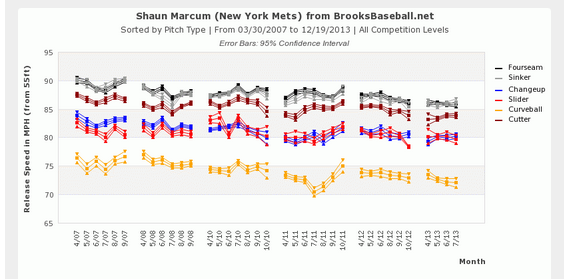 (Courtesy of Brooks Baseball)
Admit it, the first thing one thinks to themselves is "an average fastball velocity in the mid-to-upper eighties, how has he had this much success?" As an addendum, the next question becomes, "how has his k-rate been so solid and how does he create swing and miss?"
As a quick contextual comparison, Josh Tomlin's average fastball velocity in the big leagues is 88.8 MPH but his K/9 sits at 4.92. Marcum's average fastball velocity in the big leagues sits at 86.8 MPH but his K/9 is at 7.29.
The reason is that for Shaun Marcum his changeup is a truly plus pitch. In major league baseball we sometimes see the pitchers who have success not because of their peak velocity but because of their ability to manipulate velocity and control the strike zone. Marcum is one such pitcher.
To consider its importance we will look directly at two of Marcum's most productive seasons, 2010 and 2011. In 2010, Marcum was in changeup usage at 25.8% and in 2011 was 6th in changeup usage at 24.9%.
The usage is because of its dominance as his career K% of the pitch is 28.6% and BB% 3.9%. I know these are not compared to others so they are hard to consider but they are "wow" level numbers.
Of course when looking at the velocity chart in addition to Marcum's struggles in 2013, it is easy to blame his lack of success on a major drop in velocity. This is a reasonably accurate assumption, as swing and miss decreased on his fastball, as well as an increasing walk rate.
Indeed, it appears that Marcum's Thoracic Outlet Syndrome and other injury issues may have sapped him of the velocity necessary to walk the fine line on which he exists.
Yet the changeup was still plus and he was hurt by an escalated BABIP; however, expecting regression is not necessarily proper. But if a healthy Marcum can return that one-plus MPH he lost to work off his plus changeup combined with a solid defensive outfield and plus pitch framer in Gomes, he can have mutually beneficial time with the Tribe.
On a minor-league contract with limited incentives I believe this deal is a coup for the Tribe. The no-risk/high-reward deal that small market teams have to make.
The Outman/Stubbs Deal:
To me this deal is one with positives and negatives on the front office, which I will I address in relative simplicity.
First the positive. The retention of Stubbs by tendering him a contract, Antonetti smartly kept a chip on board who he knew could help them in some manner.
The second positive is that they were able to shed about $2.5 million in salary even with Outman coming back.
Indeed, in terms of retaining talent, receiving value back and clearing salary, this deal deserves credit.
Yet, in a market where Chris Young received $7.5 million and fourth outfielders are being moved for solid pieces, this was underwhelming.
I like Outman and his two years of control, but his splits have been pretty extreme at the big league level.
His K/BB against lefties is a robust: 4.36 with a K/9 of 11.02. Against Righties the K/BB is 1.23.
wOBA v. L: .237, wOBA v. R:.368
Indeed, while he might get the occasional full inning of work, he is a lefty specialist.
The good: Tito has yet two functionally lefty specialists that he can mix and match with.
The bad: the need to trade a fourth outfielder for a second lefty shows the inability of the Indians to develop bullpen arms.
Both Nick Hagadone and Scott Barnes' inability to seize the role has caused this type of move.
Alas, if I was to grade the move it is probably about a B. There are pieces to be proud of and others to have distaste for.
I believe that each of these deals are efficient allocations of resources which is necessary for a mid-market team, yet one cannot help but be underwhelmed. 'Tis the torture of a monetarily restricted front office.
Interact with Michael by email at michael.hattery@gmail.com and on Twitter @MichaelHattery
User Comments
LeaguePark
December 21, 2013 - 9:16 PM EST
The financially strapped Indians continue to sift through the garbage pile for cheap options. You'll never win a World Series with these retreads.
Rick
December 20, 2013 - 5:34 PM EST
Rich - one last note; Maybe we can get an autographed Jimmy Rollins bat if we give him to Philly so he can play catch with Lou Marson - on a minor league deal?
Rick
December 20, 2013 - 5:31 PM EST
RIch; couldn't agree more. I said this last year and hoped with the arrival of Tito I was wrong, but Nicky needs a new start elsewhere.

Which stinks, because we can't get a bag of balls for him, but I'd really like to see him find it.

Just not in the American League Central...if it can't be with us.

Because ever since he played like a druged-up Tom Petty and pounded his paw into an unkind wall ...it's been a rather sad soap opera here.

No confidence and no concentration despite repeated 2nd, 3rd and 4th tries and getting him back into the saddle.

Next to a certain 1st baseman who came from beer country, one of the biggest disappointment's in the mix of what we didn't get when we traded away Cy Younsters who went on to further glory.
BritDawg
December 20, 2013 - 9:02 AM EST
Have any other starting pitchers ever come back from Thoracic Starting Syndrome (TOS) to be productive as quickly as Marcum needs to if he is to establish himself by the end of Spring Training? Isn't it one of those surgeries which take two seasons for players to fully recover from?

TOS has apparently ended the careers of Chris Carpenter and Noah Lowery, and guys like Jeremy Bonderman and Matt Harrison basically lost the whole of the following season following their surgeries.
Tony
December 20, 2013 - 8:57 AM EST
Yeah, Hagadone has been a disappointment so far. The talent and stuff are both there, but it all comes down to consistency which he just has not been able to harness. He goes down to AAA and he pitches his butt off.....but then he comes to Cleveland and looks great one or two outings, then awful the next. Then good a few, then bad. I still have hopes for him and think he could still make the team as the 8th reliever and give them 3 lefties in the pen if Carrasco is the 5th starter.
Rich
December 20, 2013 - 8:31 AM EST
The most discouraging thing is that Hagadone turns 28 in a couple of weeks and he still hasn't established himself as a major league pitcher. He flamed out as a starter and now he's flaming out as a reliever, to the point where the Indians had to trade Stubbs to get a lefty who will basically be used to face one batter per game.

I had high hopes for Hagadone at the time of the Martinez trade, but so far he's been nothing but a tease and there's no reason to think he'll ever be a useful pitcher.

And now we signed Marcum, who is insurance in case Carrasco once again fails to establish himself as a #5 starter. This guy was a key to the Cliff Lee deal and several years later we're hoping he can beat out Tomlin for the last starting job. At least Carrasco has had his Tommy John and now he should be 100% healthy for the first time since we got him. It's now or never for Carrasco.

The Phillies did a nice job of giving us damaged goods in the Lee deal when you consider what we've been through with both Knapp and Carrasco. Hey, at least we hit it out of the park with Donald and Marson :(

Now we're looking at Knapp again. Can you say "Adam Miller'?
Tony
December 19, 2013 - 11:28 PM EST
By the way, nice piece again Michael. I'm cautiously optimistic on Marcum. I'm not banking on him, but I believe that privately the Indians are hoping he takes the 5th starter spot this spring away from Carrasco (like Kazmir did last spring with Carrasco). And I still think there is a remote chance they sign another starter to a ML deal.
Tony
December 19, 2013 - 11:27 PM EST
Not too worried about the Haley DFA. 50-50 chance he is claimed. Great arm, but the command really has not taken hold yet. Maybe he is a late bloomer.
Matthew
December 19, 2013 - 10:27 PM EST
Roger-

If you're worried about the 40th guy on the 40-man roster, you're doing it wrong.
Roger
December 19, 2013 - 6:42 PM EST
Tony, axford took a spot on the 40 man roster that i am concerned about trey haley may not clear waivers that is a big arm to expose to waivers.