Trend Spotting: The case for retaining Scott Kazmir
The Indians have a plethora of offseason decisions which are of seemingly equal importance, each one creating specific options or paths. The offseason is a lesson in path dependency, each decision opening and closing different doors. This means that there very well may be a path that I prefer which no one could conceive of before the Winter Meetings begin.
Perhaps, the last paragraph was an opportunity for me to hedge my bets or maybe, just maybe it is sufficient reasoning. Another important piece is that every option must be explored meaning that every player is worth signing for the right price or dealing for the right value, something benevolent editor, Jim Pete asserted in his Wednesday column. Meaning that there is always value to be found even in surprising avenues, thus almost any Indian be it Drew Stubbs, Ubaldo Jimenez or Scott Kazmir is worth signing semi-long term if the price is advantageous.
With this Hume like treatise of disclaimers (probably not fair to Hume), I will now digress to my argument in this piece. Retaining Scott Kazmir for two or possibly three years is an absolute necessity which could offer the Indians front office huge, huge dividends.
The Indians season was one marked by surprising performance after surprising performance which causes players who performed admirably most recently to outshine those who themselves were equally impressive. The level at which Ubaldo Jimenez and Yan Gomes performed this season was so unforeseen that it feels nearly impossible not to be swept into a trance that ignores other important performances.
In my opinion, Ubaldo's second half brilliance overshadowed an impressive season by Scott Kazmir and perhaps a good omen, that points to what Kazmir can do moving forward.
Kazmir's return season leads us to the following questions:
How good was his 2013 season?
What can it tell us about his future?
If the Indians pursue a contract what should it look like?
First is Kazmir's season line:
| | | | | | | | | |
| --- | --- | --- | --- | --- | --- | --- | --- | --- |
| W/L | IP | K/9 | BB/9 | BABIP | LOB% | ERA | FIP | xFIP |
| 10-9 | 158 | 9.23 | 2.68 | .324 | 73.4 | 4.04 | 3.51 | 3.36 |
An impressive line no doubt, which features the 11th highest K/9 among those with 150 innings pitched as well as the peripherals suggesting that he pitched even better than his already solid ERA would show.
What if we parse out the first half from the second half, how would that look?
| | | | | | | | | | |
| --- | --- | --- | --- | --- | --- | --- | --- | --- | --- |
| Half | W/L | IP | K/9 | BB/9 | BABIP | LOB% | ERA | FIP | xFIP |
| 1st | 5-4 | 86 | 8.37 | 3.14 | .305 | 74.7 | 4.60 | 4.42 | 3.84 |
| 2nd | 5-5 | 72 | 10.25 | 2.13 | .348 | 71.8 | 3.38 | 2.42 | 2.79 |
Well that looks a little different, doesn't it?
To put something in context, the second highest full season K/9 in MLB this season was 10.08 (Some guy named Scherzer). Yeah, he was special in the second half. Yes, as much as we lauded Danny Salazar down the stretch run, Kazmir may have been more impressive.
Indeed, if he had not been so unlucky surrounding his BABIP and in a connected manner strand rate, we would have talked about his second half much the way we gush about Jimenez.
So what do these splits tell us about Kazmir and how might they affect how we project his future production?
The first piece that is clear, is that some of his first half struggles can be tossed aside as we saw a pitcher who used the first month plus as extended spring training. Once in awhile we saw a glimpse, flashes of what could be but we also saw the work in progress, the prodigious talent, searching, fighting for his long awaited return home like Odysseus.
Then it clicked. Two specific pieces were involved in his second half transformation. First, control including both his fastball and his secondary offerings. This can be seen in his massive decrease in walks per nine as well as an increasing first pitch strike percentage in the second half.
The second piece was that his velocity improved, which allowed him to better use his secondary offerings off of his fastball and sinker. The continual improvement in velocity is worth looking at so I included it below.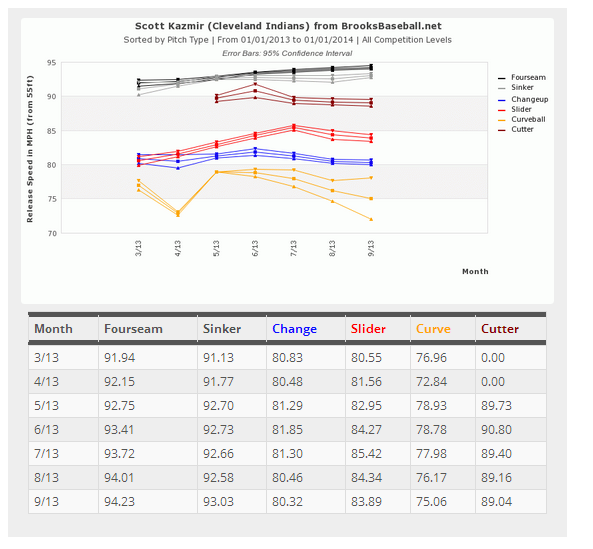 (Courtesy of Brooks Baseball)
The increasing velocity serves two uniquely important purposes to making my case surrounding Kazmir. First, it validates his K/9 increase, or more accurately that the spike is sustainable rather than a fluke entirely based on quality of opponent, although that is a small piece.
Second, while prognosticating arm strength and predicting injuries is a near impossibility at this point, it shows a starter who became more consistent, mechanically. Furthermore, while he skipped a start because of fatigue the velocity suggests that he did not have any sort of arm issues that would suggest a return to his struggles in Anaheim.
Pitch usage also offers some interesting insight surrounding Kazmir in 2013: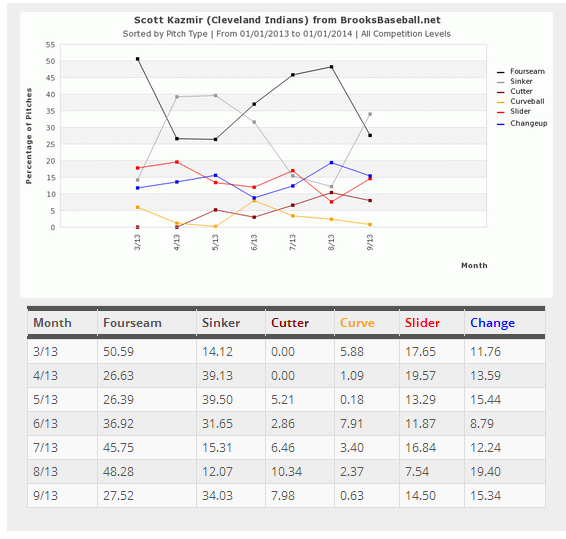 (Courtesy of Brooks Baseball)
There are two minor things which we can pull from Kazmir's pitch usage, both of which speak to his willingness to adapt as well as his improvement occurring as he grew more and more comfortable with using the entirety of his repertoire. The first was the implementation and later expanding usage of his cutter, helping him to increase success against right handed hitters.
The second part is Kazmir's decrease in curveball usage. Scott stopped sprinkling them in almost entirely, increasing his usage in the cutter, but more importantly the slider and changeup which had K%'s of 34.3 and 27.7 respectively.
Of course, Kazmir's curveball was just minor grip moderation on his slider but the success of his other offspeed stuff made it irrelevant.
One last graphic of interest from 2013: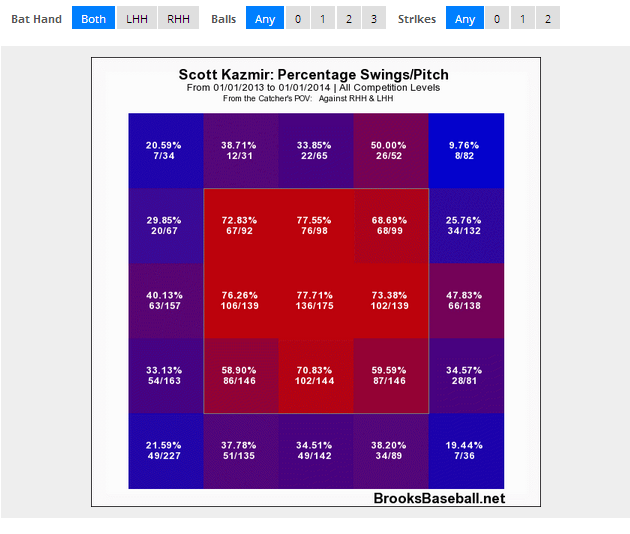 (Courtesy of Brooks Baseball)
This interested me because it denotes where the chases outside the strike zone occurred most frequently. Immediately one notices Kazmir's ability to create chases on pitches elevated outside of the strike zone.
The cold zones on top of the strike zone show Kazmir's ability to successfully challenge hitters with fastballs up, above the strike zone.
Though, it may be redundant it just shows the quality of his stuff, in terms of inducing chase and creating swing-and-miss.
Which brings us back to the first question: How good was Kazmir's 2013 season?
It was tremendous; Scott made immense strides and before it was all over, looked eerily reminiscent to the Kazmir of 2008.
What can it tell us about his future?
Unfortunately for us, in terms of arm health it tells us little. Projecting how many innings he can work, with strong arm strength over the next three years is somewhat of a crapshoot.
What if we made the following assumption: that Kazmir really rediscovered his mechanics, that his arm strength and health is sustainable for the next three years, his 30-32 year old seasons.
What if the pitcher we saw in the second half is what can be expected from a healthy Kazmir in the near future?
With his arm healthy, Kazmir has the upside of a two starter on a contending team and the floor of a four starter.
While we cannot assume the second half is a baseline of production, it shows us in detail that the upside still exists.
Sign him, but for how much?
In 2013, Scott Kazmir's financial value based on WAR production was $12.7 million. With health it is easy to project Kazmir sustaining or improving production over the next three years. Thus, expecting to sign this guy for under at least $9 million per year is unreasonable.
I would submit the following contract as the ideal scenario for both sides:
2 years
10 Million per season

Innings incentives at 150, 175, and 190 which can raise it to $12 million per season.
3rd year vesting option

The option vests if he does the following

Pitches 350 innings the two previous seasons
Passes a physical

The third year vesting option would be worth 15 million guaranteed.
The total of the deal with incentives and the vesting option could be worth $37 million over 3 years.
I like this sort of deal because it balances risk evenly on both sides. If Kazmir reaches the innings necessary to trigger the incentives, it will occur because he is healthy enough to pitch at a high level which would mean his WAR value would probably sit between 2.5-3.5, making him worth at least $15 million to the Tribe. Thus even if the incentives vest it is positive for the Tribe.
For Kazmir it provides him with enough guaranteed money to want to stay, in a situation he is comfortable, as well as with a pitching coach who has helped to stabilize his career.
Finally, it offers huge upside for the Indians. If you project Kazmir's second half production over a whole season, he is a 4 War player. This would easily be worth over $20 million.
Thus, if he merely plateaus, the Indians gain value, if he improves as he likely could, the Indians get a steal. If he gets injured the risk was low enough that it does not destroy the long term outlook, merely tighten it a bit.
These are the sorts of bets that small market teams have to make, they have to take risks. When a risk/reward scenario has this much upside you have to take it.
For those who think these numbers are garish, remember that the Tribe gambled $7 million on Brett Myers to be an innings eating #5 starter. Kazmir has #2 or at least #3 upside.
If you can sign Kazmir for the contract I drew up, put on some Bing Crosby, buy some eggnog and kick back because that would be a great Christmas present.
As I always do, I would love to hear what everyone thinks is a fair deal for Kazmir.
Interact with Michael by email at michael.hattery@gmail.com and on Twitter @MichaelHattery
User Comments
Jim
October 11, 2013 - 12:28 PM EDT
The balance with all these pitchers is what do you really offer them? The balance really is the numbers they put up this year vs. the numbers they put up last year? For Kaz, it was nothing...and the year before.

I look at it like Brett Myers. If you are willing to give him seven million, and have to move him BACK to the starter role, and knowing he's seen a drop in velocity...

What do you offer Kazmir?

His velocity is moving up...he's younger than Myers...hasn't really thrown much in two years...went over 150 innings...and improved.

and is a lefty...

That's why I bumped him up to nine million...Not a huge jump to say the least.
Rich
October 11, 2013 - 8:41 AM EDT
Great column. Try to get him to sign the deal you suggested. If that fails, make him the QO, then negotiate a longer deal.
Roger
October 10, 2013 - 10:51 PM EDT
i sure was happier a couple months ago when we were talking 20 - 22 million for 2014;2015; & 2016 but that elvis left the bldg. so i guess the numbers mentioned in the ariticle will have to be enough. maybe 27.5 over 3 yrs will work. however as much as i like scott kazmir even a few years ago i liked him a lot so i obviously would want him back in tribe camp. The big U would be nice to have but i am not sure at 14+million that is a lot of money for 2 aqnd a half months of good pitching over 3 yrs. Keep in mind he was 15-1 at the 2010 all star game so go back to all star game 2010 thru all star game 2013 and average it out and i dont see 14 million plus. Start by offering him the option money and throw in the one million he gets if he declines offer and see if 9.30 million is enough. I can dream cant I
Carl Edney
October 10, 2013 - 10:11 PM EDT
You are the best writer on this site. Great article
BrianM
October 10, 2013 - 8:49 PM EDT
What I would really like to see is one of the IBI guys write a piece comparing all the FA starting pitchers and the pros and cons of each guy and their expected contracts.

That should give us a pretty good idea of how Kazmir compares to others in the market.
BrianM
October 10, 2013 - 8:45 PM EDT
I agree with Hermie in that a QO needs to be offered simply to help our chances of bringing him back.

Kazmir had his problems, but people need to remember how good he really was a few years ago. GM's are going to look at the tape and see what we saw this year, especially in the 2nd half, and his price is going to rise.

To be honest, If I were a GM, I would see more value in Kazmir than other big name free agents like Lincecum, J Johnson, Haren, Arroyo, Santana, Hudson, Nolasco, Vargas, and Garza. Its not just the idea that Kazmir could be had for fewer years/less money, but its the fact that his recent performance is better than almost all of the guys on this list. Linecum and Johnson were aces, but they have both pitched like very average MOR starters. Haren and Hudson have obviously aged out of their 'ace' title, but their recent performance/injuries should put them way down in the pecking order. Arroyo and Vargas are solid, but hold very little upside. Santana and Nolasco both have good upside, but Santana's ability to pitch anywhere that favors hitters in the slightest is still an unknown, and Nolasco has still never really put it all together aside from this 3 month stretch with LA. Garza may seem like the most attractive of the bunch, but his history is filled with injuries and his performace after being traded to Texas does was very average.

When I see Kazmir, I'm just to tempted to view him as the same pitcher he was from 2005-2008. Hes still young, but should have plenty left in his arm after taking a couple years off. He pitched like the ace he used to be down the stretch this year, and his repertoire suggest that he could still replicate those fantastic seasons of the past.

Back to the point...I really believe the qualifying offer needs to be made simply because we are going to need every bit of insurance we can get to ensure we can sign this guy again. He may say he wants to stay in Cleveland, but if we don't make that QO, I would not be shocked to see his market grow very quickly and his price tag slide out of our range.
Walter
October 10, 2013 - 6:11 PM EDT
I would offer QO'S to Kazmir and Ubaldo. With new TV contract starting in 14 wont the Indians receive and additional 20 million to use. Based on last year FA market will many MLB teams offer QO's to there free agents in order to get a additional draft pick. If that the case the teams that have there pick protected would have the advantage to offer multi yr contracts to these FA.
Jim
October 10, 2013 - 3:04 PM EDT
Michael...would you come out of the gate firing that number at Kazmir? It's fair market, and you've come down from his likely sabr-worth...but might there be some play there?
Seth
October 10, 2013 - 2:09 PM EDT
I don't know that they would offer Kaz a QO. If you're willing to spend $14 million, I think that money could be better spent elsewhere. I think they'll sign him to a multi-year contract. The contract suggested here is fair, though I'd hope they could get him for a slightly lower rate. If they did make a QO, Kaz would have to take it though. No one's going to give him a better deal with a draft pick attached, probably would be tough for him to find a reasonable deal at all in that case. Which is something that works in the Indians' favor to negotiate a multi-year deal, even if they don't want to make a QO, there's always that option, and Kaz and his agent would probably also prefer more total guaranteed money over a longer term.
Devin
October 10, 2013 - 12:47 PM EDT
Okay... first of all, regarding QOs... yes. You offer one to both Kaz and Ubaldo. "Worst" case, they both accept and you're out 28M next year, but you retain one heck of a rotation. Best case, it gives you some leverage for negotiations and you are able to retain at least one of them on an extension while obtaining a first round pick for the other.

Any way you cut it, it's got to be a lock to offer both a QO.

As to Will's point... Masterson's contract will not be determined around Kazmir's contract. They are two very different pitchers at different points in their careers. The player comps they would use to determine Masterson's salary would not be derived from Kazmir's salary... so I wouldn't concern yourself too much about that.
Nick
October 10, 2013 - 11:58 AM EDT
Personally, I'd say thanks to Ubaldo and not even pursue even other than his QO. Pursue Kazmir as his second half numbers were just fantastic and you are not going to match the value with him. If you are worried about $ in the FO, maybe that pushes you to trade Drubs for a lesser return just to get out from under his $10 mill due next year, but possibilities are out there that Kazmir's final numbers shouldn't be a suspenseful/doom gloom scenario.
Hermie13
October 10, 2013 - 11:42 AM EDT
@Will

I get what you're saying...but let's say the Tribe stays away from Kazmir because they are afraid of the future salary demands it will cause with Masterson...

What then happens if you still can't resign Masterson? You're then stuck with no Ubaldo, no Kaz, and no Masterson.

Looking at future payrolls...the Tribe actually can afford to give Kaz ~$12M for a couple years and still afford a Masterson extension.
Will
October 10, 2013 - 11:24 AM EDT
Baseball salaries offer their own alternate dis-reality. That said, it is easy to play with these numbers in a vacuum. The real starting point should be the Indians' payroll box for next year: expected total payroll and free payroll dollars (after arbitration increases).

Also keep in mind the stair-step nature of baseball contracts. If you put a $ 12-14 million tag on Kazmir, what effect (increase) does that present for an extension with Masterson? Suddenly you have $ 30 million tied up in retaining just 2 players without addressing other needs.

Pitching is key and keeping Kazmir and/or Jimenez is important. However, I think the Indians want (and need) to lower that upward salary pressure.
Dennis
October 10, 2013 - 11:01 AM EDT
From the stories and projections regarding free agents, expected salary offerings, etc. a contract that calls for as much as $ 39 MM over three years or no less than $ 20 MM over two years.. would only need a pen to sign.. Kazmir has claimed he wanted to come back and this kind of offer is fair to him and the Indians..
OB
October 10, 2013 - 11:00 AM EDT
Very interesting regarding a qualifying offer on Scott Kazmir. If he's able to go to market and get 2 years and more than $20MM, the Indians have to consider offering him $14MM or whatever for next year. I wouldn't be shocked to see Kazmir accept a QO, though, so as Hermie mentioned it might not net a pick, but getting him back next year without creating a 2015 liability wouldn't be the worst thing in the world for the Indians.

A qualifying offer should be considered by Cleveland.
Hermie13
October 10, 2013 - 10:23 AM EDT
I think that's a very reasonable and fair deal all around for Kazmir.


One thing I'll throw out though...do you make a qualifying offer?

A QO is worth about $14M. So I ask, if you're willing to guarantee Kazmir $10M in 2014 already with your deal, and with incentives $12M...is $14M really that big an overpay?

I'd answer yes it's an overpay but not a big one. And what the QO does do for you...it basically guarantees Kazmir will be back. There is just absolutely no way he declines it. No agent in their right mind would recommend it. He missed all of 2012 and virtually all of 2011. No team will give up a draft pick no matter how well he pitched. Kazmir will be back with the Tribe if you extend a QO.

And just because he accepts the QO, it does not mean that he will get $14M in 2014. You could still work out the deal described in this article. Kaz could always gamble, take the $14M and try for a bigger deal in 2015...or could feel that taking $2-4M less in 2014 while guaranteeing a nice salary in 2015 is more worth it.

You brought up the Myers deal too..bad deal, but was only 1 year. Bad 1 year deals don't kill a small market club like Cleveland. So even if a 1yr/$14M deal is an overpay for Kaz, and even if he flops...it doesn't kill you. Sure it would suck for 2014 but protects you long term.

Maybe I'm crazy on this logic, but if I'm the Indians, I make a QO. Not to get the pick, but to just guarantee Kazmir is back. Still work on a 2 year deal similar to the one listed here (which again I think is very reasonable).