Tribe Fest triumphs in inaugural year
CLEVELAND – Large crowds and long lines. Usually those two things are associated with stress and frustration, but at the Indians' debut of their fan fest at Progressive Field, it's far from being a negative thing. It's a sign that the city is amped up for baseball again.
The two-day event known as "Tribe Fest" took place this past weekend in downtown Cleveland as fans swarmed the bowels of the ballpark hoping to meet and interact with their favorite players and personalities. The team offered everything from autographs and Q&A sessions with players to tours of the clubhouse all in an action-packed weekend any Tribe fan would enjoy.
Looking back at this time a year ago, fans were partaking in the Indians' underwhelming winter venture "Snow Days" at the ballpark while wondering if Grady Sizemore would be healthy in the upcoming season or whether Kevin Slowey would make the starting rotation. All ominous precursors of what would ultimately be a disappointing 2012 season.
This winter, however, fans can bask in anticipation of the approaching season following a much more busy and exciting offseason that saw the Tribe acquire noteworthy players such as Nick Swisher, Trevor Bauer, and Mark Reynolds as well as iconic manager Terry Francona. These factors and more all contributed to the newfound positive vibe amongst the fans pouring into Progressive Field for Tribe Fest last weekend.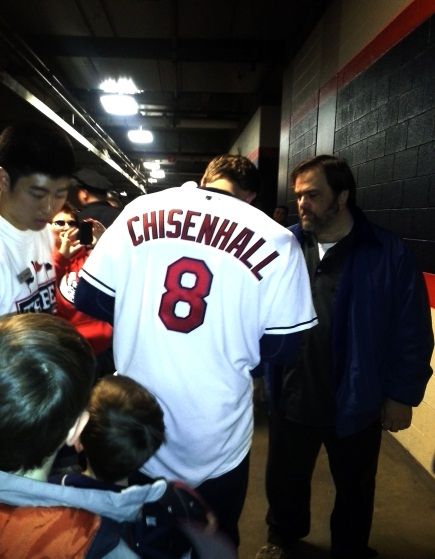 Whether fans wanted to meet players, tour the clubhouse, hang with Slider the mascot, or even get major league-style haircuts, this event offered them all. The festivities began both days at 12:15 pm with a welcome from the main event stage by radio broadcaster Tom Hamilton, who would remain on stage throughout the afternoon interviewing various players and personnel and taking questions from the audience. The opening festivities also included a flashback with Indians alumni Tito Francona and Jim "Mudcat" Grant.
Twelve Indians players were in attendance at Tribe Fest this weekend. Second baseman Jason Kipnis, relief pitcher Vinnie Pestano, and catcher Carlos Santana were among the players at the ballpark meeting eager fans.
"It's so exciting. I love being here," Santana said as he prepared to sign autographs as well as joining his teammates in giving younger fans pointers in the baseball clinics held at the team batting cages both days. Kids 12 years and younger had the opportunity to learn lessons in batting, pitching, and fielding from the pros.
The players weren't the only ones joining in on the fun.
Indians President Mark Shapiro and General Manager Chris Antonetti were also on hand meeting with fans. They even offered the opportunity of signing an "official" contract with the team as Lifetime Fans. Both Shapiro and Antonetti did Q&A sessions over the course of the two-day event, and among other topics of discussion Shapiro did receive a "Moneyball" question (alright, I admit it was me), which he enjoyed. Suffice it to say, it was clearly a much more tension-free meeting with fans for the GM and president who have dealt with scrutiny and criticism over the last several years up until this offseason, which has been something fans can look back on in a positive light for once.
New Tribe skipper Terry Francona was by far the center of attention over the weekend as he repeatedly voiced his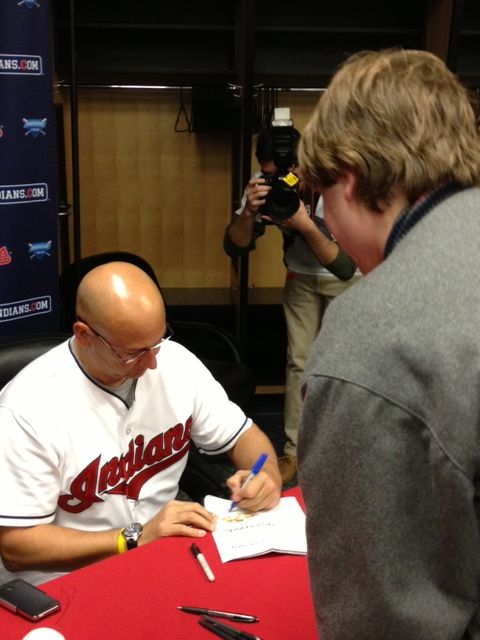 enthusiasm and excitement about managing the team in the upcoming season.
"It gets us revved up," Francona told Sportstime Ohio's Katie Witham when speaking about the event. "We start [spring training] in just three short weeks and this is a great way to kick it off."
Players also took part in Q&A sessions with fans. Questions ranging from 'what's your favorite city to visit during the season?' to 'what kind of car would be your dream car?'. And unfortunately for former Indians center fielder Grady Sizemore, it appears that Jason Kipnis has easily won over a large portion of the female fans. The young second baseman drew quite a following from the ladies during the event and even received a marriage proposal during one such Q&A session. All in good fun, of course.
Even players who couldn't make it to Tribe Fest experienced the excitement of the event. New Indians right fielder Nick Swisher took to Twitter:
"@NickSwisher: Bummed I can't be at #Tribefest I want a full report and pics from you guys! I'll RT my favorites! #RollTribe"
Overall, the team and fans unanimously agree that the debut of Tribe Fest was a major success and give or take a few improvements in organization of the event, should become an annual tradition in the city of Cleveland. Not only is it great for public relations between the team and fans, it also allows the players and staff to gear up for the upcoming season as they prepare for spring training.
Sure, all of the cynical fans can continue to argue and complain about the team's play, but for that one young child who gets an autographed baseball from their favorite player at an event such as Tribe Fest, this sport holds a lot of magic for them. It would be nice if more of us could sit back from time to time and remember that same magic so many find in this great game of baseball.
Jake Dungan is a communications student at Stark State College and an intern with the Akron RubberDucks. Follow him on Twitter @MajorLeagueJake.
User Comments
MacPhisto
January 23, 2013 - 8:58 AM EST
It's true that established events in other cities are free, but they have a history with predictable crowds. This allows for sponsorship to cover much of the cost.

Not sure how they did it up there, but many I've been to also have vendors. That also helps with cost, but it means that many people walk away spending much more than $10.

It seems that the Tribe gave quite a bit of access. I haven't been to too many events for other teams where the attendees get to ask questions of the GM, etc in a Q&A session. Those are not arranged because of the potential for fans to badger players, coaches, and management.

From this report and others, it appears that the Indians gave fans a pure experience without too much advertising & selling. I'd personally rather pay $10 for that type of experience than not pay for one where I have to navigate vendor booths and have no opportunity to ask questions of the higher ups.

But Indians fans will often find something to complain about, even should they win the World Series and end the generational championship drought.
Arthur
January 22, 2013 - 11:08 PM EST
Very good event. Well worth the $10 (especially when you consider the wide variety of events/activities included in the price of admission.

Only two complaints were not enough turnstiles open to handle the huge crowd and not publishing the activities/event schedule on the website in advance.

My only question is: Why did this ever go away in the first place (the old Wahoo Winterfest)?
Michael T
January 22, 2013 - 9:09 PM EST
We attended on Saturday and while frustrating at times trying to entertain our kids while waiting in the long lines, I anticipate that there will be positive changes in this event going future. It is truly an event long overdue for Indians fans.

I have had the privilege of working the Reds Fest in years past, and the ability to partake in activities with current/former players and executives is priceless. It is great marketing, and even at $10, is a steal of a deal considering the benefits of the event.

Just this year alone, for us, my son was able to attend the players clinic in a session with Kipnis, Stubbs and his favorite player (McAllister....my sons name is Zach and he likes that he shares that name with an Indians player). He was in the cages getting tips with these guys for a whole hour. You can't get that anywhere! Later I find my sons picture on the Plain Dealer website with Kipnis!

To top it off we got to see the clubhouse, get a few autographs and a picture with Carlos Santana! We would loved to had time to complete more activities during the afternoon, but those few items were priceless, and a memory we will share.

Kudos to the Tribe marketing team for taking this idea on and making it happen. We will be back in future years.
Adam
January 22, 2013 - 8:15 PM EST
Tony you took the words right out of my mouth as far as the corporate backing. I wasn't able to make it to Tribe Fest this year but it sounds like the turn out was great. Local businesses are going to take note of that and want to jump in advertising opportunities. If it continues to be successful for a few years, I could see corporate sponsorships covering enough of the costs to where the tickets are free for fans...which would be great from a public relations standpoint.
Tony
January 22, 2013 - 7:29 PM EST
As Justin said, it cost money to put on an event like this. Especially in the first year. I know there are some that are free, but a lot of those have been around for some time. I think Giants Fest was the 20th time this year, and was free.....but they have also had 20 years to get corporate backing and such to make it free for people. And really, is $10 gonna kill someone? This day and age it seems everyone wants everything for free. Sometimes it is not such a bad thing to reward hard work and a good "show" with a few bucks.
Justin
January 22, 2013 - 6:48 PM EST
I wasn't able to make it to Cleveland to go to Tribefest. I live in Cincinnati, and I have attended Redsfest... Which cost $18 this year. It costs money to put on a event like this. I'm starting to think that the Dolans aren't the only cheap people in Cleveland.
nick hagadone's punching bag
January 22, 2013 - 2:24 PM EST
im truly glad this was a success, however many teams do this event for free... dolans charge... just saying...