Tribe Happenings: An opportunity lost for Phelps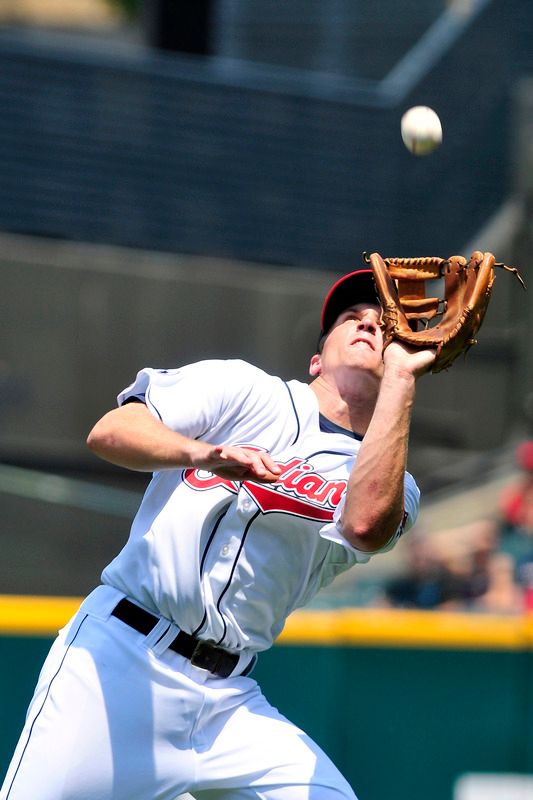 Phelps dropped the ball at an opportunity
which may not come again. (Photo: AP).
Some news, notes, and thoughts from my Indians notebook…
Struggling Phelps gets demoted
The Indians optioned infielder Cord Phelps to Triple-A Columbus on Thursday, almost exactly one month to the day when he was called up to Cleveland back on June 8th. It was a rough four week stint in Cleveland for Phelps as he came with so much promise, but exited with so much disappointment.
Phelps played in 19 games and hit only .196 with one homer, five RBI, and a .641 OPS. The struggles offensively were expected as it usually takes some time for a rookie to adjust to the big leagues, but the struggles he had defensively with the errors and mishaps were crippling to the Indians in several games. Because he was struggling so much both offensively and defensively, it was only a matter of time before he was sent back to Columbus.
Considering that Jason Kipnis is expected to eventually be the every day second baseman – possibly by the start of next season – Phelps really needed to come in and impress. The cold reality is he may have really hurt his chances at another big league call this year and possibly in the future. The Indians called up infielder Luis Valbuena on Friday and will give him a look to see what he can do, and then after that Jason Donald and Kipnis would be the next options before even considering Phelps again this year.
With Phelps' lack of versatility to play anywhere but second base, it is possible the Indians may consider trying him out in left field to add another skill set to his repertoire. He is not a Major League option at shortstop, and is only a third base option in a pinch, so right now he is suddenly a defensive challenged second baseman in an organization loaded with options at second base.
The struggles Phelps had at second base show that sometimes being Major League ready is not all about putting up good numbers at the plate in the minors. His defensive struggles are exhibit-A why Kipnis may not see time in Cleveland this year as he continues to develop and hone his skills as a defender at second base. For now unless the Indians have a drastic change of heart with Kipnis it looks like second base for the remainder of the year could be some sort of mix between Orlando Cabrera, Donald and Valbuena.
Hafner healthy, productive
There was some talk going into the season and even the first few weeks that if designated hitter Travis Hafner bounced back with a solid to good season the Indians should consider trading him to get out from under his contract. He is making $13 million this year and is guaranteed $13 million next year. The Indians have a club option on him for the 2013 season for $13 million.
In 48 games this year Hafner is hitting .347 with eight homers, 35 RBI, and a .995 OPS. His health issues and performance the past few years have made his contract an albatross for the Indians tight payroll budget, but now that he is healthy and performing as expected again, suddenly his contract does not appear to be too much of an issue. Over the course of the season he has shown how important he is to the Indians lineup, and provided one of the biggest hits of the season with his walkoff game-winning grand slam on Thursday night in a 5-4 win.
It now looks like a strong possibility that Hafner will stick around for the duration of his contract, and if he is truly back to his old self it seems plausible the Indians would even consider picking up his $13 million 2012 option when the time comes. Another thing that may happen is instead of picking up the option he and the Indians work out some sort of multi-year extension.
Hafner is in his ninth season with the Indians, and at 34 years of age and entering the twilight of his career it would not be a surprise to see him stick around after his contract runs out so long as he is still performing and the team is contending.
Injuries continue to pile up
The Indians suffered two more injuries this past week. The first one occurred last Saturday when right-handed pitcher Fausto Carmona tripped running to first base and ended up straining his right quadriceps. The other occurred on Thursday night when third baseman Lonnie Chisenhall was hit in the face with a pitch and he fractured a bone under his right cheek.
The Chisenhall injury put a brief scare into everyone when it initially happened and he caught a Carlos Villanueva fastball to the right side of his face, but it appears disaster has been averted. The result was a big shiner where he looked like Rocky Balboa after fighting Apollo Creed in the first Rocky movie. While he did fracture a bone in the cheek and it will take four to six weeks to heal, he will not have surgery and is not expected to be placed on the disabled list. He will likely sit out the remainder of this weekend, and then be back in the lineup next week possibly wearing some sort of protective mask on his face when play starts up after the All Star break.
The Carmona injury actually helps the Indians as it provides an opportunity for them to remove him from the rotation and shut him down for two weeks. He has struggled a lot this year where in 18 starts he is 4-10 with a 5.78 ERA, and in June was awful going 1-4 with a 7.62 ERA in five starts. There is no doubt that he has the goods, but he has struggled a lot this season so the minor injury should help give him a chance to catch his breath and maybe work on a few things in the bullpen sessions. He is expected to be activated on July 18th for the second game of a scheduled doubleheader with the Twins.
Start 'em up
With Fausto Carmona down for the count for two weeks and right-handed pitcher Mitch Talbot struggling, the Indians are going to have to make some decisions with the starting rotation. Carmona is too talented to put on waivers and risk letting go, so the Indians probably have to stick it out with him and hope he turns things around.
The same cannot be said for Talbot who is your typical fifth starter, journeyman type of pitcher who is easily replaceable. With Talbot now 2-6 with a 6.33 ERA in 11 starts, it may be time to make a change.
One option to replace Talbot is right-handed pitcher Zach McAllister who was called up on Thursday night to make Carmona's start (4.0 IP, 5 H, 3 R, 2 ER, 3 BB, 4 K). McAllister was noticeably jittery in his Major League debut, but he battled and even though he did not have his best stuff and his command was off he competed and kept the team in the game, something Talbot has not done a lot of this year. McAllister is an innings eater and often pitches deep into games, and is something the Indians can really use in the fifth spot.
The best option to replace Talbot based on experience and who is pitching the best for Triple-A Columbus is right-handed pitcher Jeanmar Gomez. In 14 starts for Columbus he is 9-3 with a 2.40 ERA, and is ready to be given a full time opportunity to pitch at the big league level. Another option with experience who is pitching well is left-hander David Huff who is 8-2 with a 3.84 ERA in 15 starts for Columbus.
Either way, whether the Indians decide to go with Gomez, Huff, or McAllister, the time is now to give one of them an opportunity in the big league rotation and let Talbot go.
Reyes update
Right-handed pitcher Anthony Reyes has been out in Arizona rehabbing from his surgically repaired right elbow as the result of Tommy John surgery back in June of 2009. He had another setback recently where he was having inflammation in his right forearm and weakness in his fingers which shut him down. After consulting doctors, he is going to give it another go and is expected to begin a throwing program very soon.
It has been a long road for Reyes as he has had setback after setback in his return from Tommy John surgery. Last year on two separate occasions he went on rehab assignments in the minors only to have them stopped because of a setback. He was resigned to a minor league deal in the offseason and came in this spring as starting pitching depth and an option for the fifth spot in the Indians rotation, but another setback occurred which shut him down and resulted in him spending the season to date rehabbing and waiting in Arizona.
With so many setbacks you have to wonder how much longer Reyes will continue to try to stay in the game. For now he is taking advantage of his contract with the Indians which allows him to rehab and cover his medical situation, but it does not appear the Indians will consider bringing him back after this season. With his health in doubt he may be hard-pressed to find another team willing to sign him in the offseason, so his career may be nearing an unfortunate end.
All Stars
The Indians had two players named to the American League All Star roster this week as shortstop Asdrubal Cabrera and right-handed closer Chris Perez were both named to the team. With Yankees shortstop Derek Jeter bowing out of the game, Cabrera has been named the starting shortstop for the American League.
Cabrera, 25, is making his first career All-Star appearance. Going into Saturday's game he was hitting .294 with 22 doubles, 3 triples, 14 homers, 51 RBI, 12 steals, and a .832 OPS in 86 games. His 14 homers are already a career high as he came into the season with 18 career homers, and he leads American League shortstops or is in the top ten of almost every offensive category imaginable. He has also been a nightly staple on Sportscenter with numerous web gems, and is ranked second in the American League among shortstops in fielding percentage (.985). He is the first Indians shortstop to be selected to the All-Star game since Omar Vizquel in 2002.
Perez, 26, is also be making his first career All-Star appearance. Going into Saturday's game he is 2-3 with a 2.23 ERA and is 21-for-22 in save situations. He has converted his last 15 save chances and his 21 saves rank third in the American League. He is also 10-for-11 in one run save opportunities. He is the first Indians closer to be selected to the All-Star game since Bob Wickman in 2005.
Follow Tony and the Indians Prospect Insider on Twitter @TonyIPI. Also, his latest book the 2011 Cleveland Indians Top 100 Prospects & More is available for purchase for $20.95 to customers in the US (shipping and handling extra).
User Comments
No comments currently. Be the first to comment!