Tribe Happenings: Brantley could see time at first next year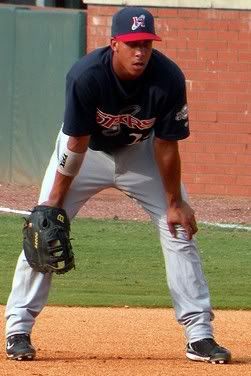 Brantley saw some time at first in the minors in
2007 and 2008, and could see some spot duty
there next season. (Photo: Huntsville Stars)
Some news, notes, and thoughts from my Indians notebook...
Brantley to first base?

The Indians are considering playing outfielder Michael Brantley at first base next season. They approached him about it at the end of the season, and he will likely get some work there in spring training to see if he could be an option there. He may also report to Arizona early to get some extra work and give the Indians' brain trust the ability to evaluate him in a one-on-one setting.

First off, Brantley is not being considered as the everyday first baseman. That is a job that will likely go to a yet-to-be-acquired first baseman or some combination of Carlos Santana, Matt LaPorta and Shelley Duncan. With Brantley as an option to play first base for 20 to 30 games next year it creates some much needed flexibility in the outfield in the event they pick up an outfielder in a trade or free agency. He is not being considered as the solution to their first base vacancy, just an option to add more versatility to their lineup and a way to get everyone at bats.

It is an interesting idea that the Indians are considering, and just another creative approach to filling some of the holes on the roster. Brantley has experience playing first base as he played there for a few games in 2007 (32 games) and 2008 (21 games) when he was in the Milwaukee Brewers system. The Brewers had played him at first base mostly because he was slowed by some leg and foot injuries.

Some fans have suggested that outfielder Grady Sizemore should play some first base since his defense has slipped the past few years because of all the injuries and because it may help keep him healthy. While the idea has merit, this is not an option because the main reason he agreed to resign with the Indians is they more of less promised that he would be their everyday centerfielder next season.

It was important to Sizemore and his agent that he go to a team this offseason that gave him the best chance to rebuild his market value for a big pay day next offseason. Playing him at first base is something he would probably be strongly against since it would severely hinder his chances for a big contract next offseason. If healthy he is an impact center fielder, but at first base he becomes just a guy. Sure, playing first base adds more versatility for him, but to get the deal he covets he has to play centerfield, stay healthy, and play well.

So cross off Sizemore as an option at first base, but definitely keep Brantley in mind.

Meeting minutes

The Winter Meetings in Dallas came and went this past week, and the Miami Marlins and Los Angeles Angels stole the show with some big free agent splashes. The Marlins signed shortstop Jose Reyes and left-handed pitcher Mark Buerhrle while the Angels swooped in late and signed first baseman Albert Pujols and left-handed pitcher C.J. Wilson.

The Indians on the other hand left the Winter Meetings without signing any free agents or making any trades, but as disappointing as that is to a lot of fans, they did lay the groundwork for numerous trade and free agent opportunities in the near future.

On the free agent front the Indians have been linked to outfielder Josh Willingham as one of four teams vying for his services. At the moment the Colorado Rockies and Minnesota Twins are his hottest suitors while the Indians and Seattle Mariners interest is a little cooler. The Indians interest in him goes back to July when they tried to acquire him from the Athletics in a trade, but even with their continued interest in him this offseason they are the clear third team in the mix to sign him.

This is because the Indians would need to move payroll before they can sign Willingham and they would probably pass on him if he wants nothing less than a three year deal. I get the sense that the Indians are keeping in touch with him and his representation to keep the line of communication open while they work out a trade with another team. He could be the second part of a move they make after they trade someone on their roster to clear salary and fill another hole on the team.

The Astros have reportedly offered first baseman/outfielder Carlos Lee to the Indians and pick up half of his $18.5 million salary. This is one to keep an eye on as the Astros may be requesting a little too much in prospect value in return and they are also not picking up enough of his 2012 contract. If the Astros agree to deal him to the Indians for one or two mid-level prospects and pick up about two-thirds of his salary like the Braves did with right-hander Derek Lowe, then there may be the potential for a deal.

The Indians have also been talking to free agent relievers - such as right-handed pitcher Dan Wheeler - though at the moment it does not appear they will sign anyone as they do not have a need in the bullpen. They are likely keeping in contact with free agent options in the event they need to sign one after trading someone like Chris Perez or Rafael Perez to fill a need in the lineup.

The Indians are also still tied to free agents such as Ryan Ludwick, Derrek Lee, and Carlos Pena, but they will probably once again need to clear payroll before moving forward on any of these players. They also have been linked to other free agents like Andruw Jones, Casey Kotchman, Mike Cameron, Kevin Kouzmanoff, Casey Blake, Mark DeRosa, and others. These are players that should not be too expensive to sign and would not require them to clear salary in advance of signing them.

Crazy spending

Major League Baseball approved a new CBA a few weeks ago. Apparently, it did nothing to help competitive balance as the rich still continue to get rich and the poor continue to get poorer. In fact, with the new draft and international guidelines in place, the poor suffer even more.

Everyone is wondering where in the heck the Marlins are getting all of this money to spend considering that they have annually been in the basement with their payroll. Just three years ago in 2008 they had a $21 million team payroll which was the lowest in the league. That same year the Indians were 16th in payroll at $79 million and the Yankees led all of baseball with a $209 million payroll.

The new money quite simply comes from a new state-of-the-art stadium which is opening up next season. Not only are the Marlins expecting a huge spike in attendance where they project that it will double from the 1.4 million fans they drew in 2011 to 2.8 million in 2012, but they are also getting a huge boom in revenues from luxury boxes, TV, parking, etc, which are things that they either never had before or received very little.

The Angels spending spree is hardly a surprise since they reside in Los Angeles, which is the second largest market in the country. But what has really helped is a new 20-year TV deal that they just inked which will pay them $150 million a year. They used to get $50 million a year under their old TV deal, one that still placed them in the top 10 in baseball for local TV deals. With the new $150 million a year deal, that is $100 million in extra revenue a year just for their local TV contract. This in turn is allowing them to be more aggressive than in years past on free agents.

I do not know what revenues the Indians get from SportsTime Ohio, but Forbes once declared back when SportsTime Ohio originally started that it could make the Indians about $40 million a year if they maximized the network. That was six years ago and while things have gone well for the network it has not come close to maximizing the revenues as originally anticipated, so my guess would be that STO makes somewhere between $20 to $30 million a year for the Indians.

It is just the sign of the times and the sign of a very unfair system in MLB. The only way a small or middle market team can compete now is by opening up a new stadium and living off the spike in revenues that it creates for a few years. We all saw it in the 90s with the Indians when Jacobs Field opened and the surge in interest the new ballpark and good team created, and the opportunity to spend that resulted. Then five or so years later even with a good team and winning how revenues began to free fall.

So to teams like the Marlins, Twins and others who are enjoying the benefits from a new stadium opening in the last two years or so, enjoy it while it lasts. Because it won't.

Rondon outrighted, injured

Right-handed pitcher Hector Rondon was designated for assignment on Tuesday to create a spot on the 40-man roster for Sizemore. He cleared waivers and has been outrighted to Columbus, and is still under the Indians control for the 2012 season as a non-rostered player.

Rondon, 23, just finished rehabbing from Tommy John surgery this summer and had been pitching in games this offseason out in Instructional League and in the Venezuela Winter League. Unfortunately, on November 5th he suffered a setback where he fractured his right elbow and had surgery on November 15th to repair it. He is expected to be out for six to nine months. This is a blow to the Indians pitching depth next season as it was expected that he could help the Indians at some point as a reliever or starter.

A lot of people were wondering what took the Indians so long to announce the corresponding move to add Sizemore to the roster. He had agreed to a one year $5 million contract with incentives the day before Thanksgiving, but because of the Thanksgiving holiday and the new CBA getting finalized the league did not approve his contract until Monday night.

More draft changes

A few weeks ago I noted several of the changes to the MLB Draft. Here are some additional changes which have surfaced.

Teams no longer have to sit on deals as they can announce them as they happen without worry of repercussions from the commissioner's office. The past few years teams would sit on overslot agreements with players for several weeks sometimes because the league would not approve them until closer to the signing deadline. It was just an absurd set up, so the new CBA helps in this regard.

Teams now get one extra year of compensation for unsigned picks in the first, second and third rounds. They previously only got one year. What this means is if for example the Indians do not sign their 2012 second round pick they will get a compensation pick around the same spot in the second round in 2013. If they do not sign that compensation pick in 2013, then they would get a compensation pick for a second and final time around the same spot in the second round in 2014.

The draft has also been reduced from 50 rounds to 40 rounds, and the signing deadline for the upcoming draft will be on July 13th as 5pm ET.

There is still a lot of concern by teams around the league about the new draft set up, especially with the spending caps and penalties that result where teams could be taxed heavily or lose picks if they exceed the mandated spending limit.

"It's fair in a sense that no team has an advantage," says one industry source. "It really is a hard slot system. The details reveal very little flexibility to go over slot. Even if you wanted to it would be a huge mistake as it does not take a lot to go over by 5.1% and lose your 1st round pick. There will be very few signings over $100K after the 10th round. If there are, they won't be by much. $100-200K tops. There is no way to make the numbers work. The draft will pretty much be over after 10 rounds."

Parting shots

On Thursday the Indians lost right-handed pitcher Marty Popham (Twins) and outfielder Donnie Webb (Marlins) in the Triple-A phase of the Rule 5 Draft. Both players are now the full property of their new teams. … Shortstop Asdrubal Cabrera made his winter ball debut in Venezuela on Wednesday night. In four games so far he is 3-for-11 at the plate with 4 walks. He is expected to only play for about three weeks. … Right-handed pitcher Ubaldo Jimenez will make his winter ball debut for Licey in the Dominican Republic on December 20th. He is expected to make four to six starts for them.

Follow Tony and the Indians Prospect Insider on Twitter @TonyIPI. Also, his latest book the 2011 Cleveland Indians Top 100 Prospects & More is available for purchase for $20.95 to customers in the US (shipping and handling extra).
Follow Tony and the Indians Baseball Insider on Twitter @TonyIBI. Also, his new book the 2014 Cleveland Indians Baseball Insider which profiles the Indians' Top 100 Prospects and more is available for sale.
User Comments
No comments currently. Be the first to comment!