Tribe Happenings: Carmona's future is in jeopardy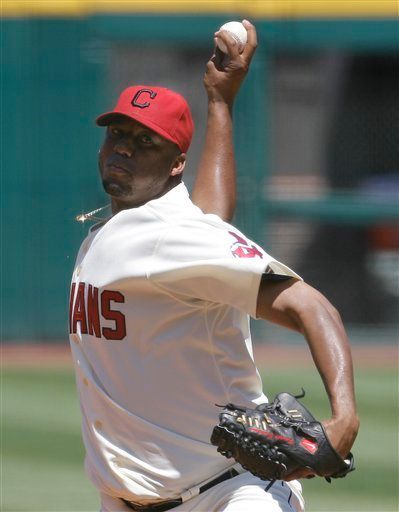 Some news, notes, and thoughts from my Indians notebook….

Identity crisis

By now everyone has heard the news from Thursday which caught the entire Indians' organization and an entire fan base by surprise.

Indians right-handed pitcher Fausto Carmona had just finished up his stint pitching in winter ball in the Dominican Republic and was getting ready to renew his visa so he could come back to the United States for spring training in a few weeks, something he has done for years without incident. But on Thursday he was arrested by Dominican Republic authorities for using a false identity.

According to a report by ESPN's Pedro Gomez, a comment made several weeks ago on a popular Santo Domingo radio broadcast by the mother of the real Carmona family is what led to the investigation. Apparently she said that Carmona had been paying the family hush money for years to use their identification, and after the Indians picked up his $7 million option this offseason he did not increase the payments to them. When the Dominican Republic government caught word of the comment on the show they immediately began an investigation and when he arrived at the US Consulate to renew his visa on Thursday they arrested him.

Carmona's real identity is being reported as Roberto Hernandez Heredia and he is actually 31 years old, which is three years older than he was always believed to be. He has since been released from jail on bail for $13,000, but while the investigation is being completed he has been ordered not to leave the country and his ability to ever get a visa again to come to the United States is in great jeopardy.

Carmona's future is on hold and there is a distinct possibility he has thrown his last pitch with the Cleveland Indians and in Major League Baseball for that matter. There is a chance his situation could be resolved at some point, but no matter what it looks like he is going to miss at least some time this season while the legal process plays out.

The Indians are gathering information and exploring all of their options on what to do in response to the Carmona situation. As things become clearer as to the timing of the legal proceedings and how long he may be unavailable, the Indians will likely at some point place him on the restricted list. This would allow them to still control his rights, but they would not have to pay him and he would not count against the 40-man roster. It is possible they could attempt to void his contract and let him go, but that appears unlikely.

The Indians signed Carmona back on December 28, 2000, just 21 days after what was thought to be his 17th birthday. Had he been listed at his real age of 20 years old at the time, neither the Indians nor any other Major League club may have bothered to sign him. Also, given his older age, as he progressed up through the minor leagues the Indians may not have been as patient with him.

Carmona broke onto the scene in 2003 at Low-A Lake County when he went 17-4 with a 2.06 ERA in 24 starts and became a top five prospect in the system. This was because of his performance and stuff at what was then perceived as a 19-year old pitcher. Had people known he was 22 years old at the time it would have been much less impressive.

Carmona's situation brings to light an ever growing problem in the Latin American countries. Players and their families are so desperate to get away from rampant poverty in their countries that identities are often altered to help their chances as a professional baseball player. Every year players that sign professional contracts as alleged 16-17 year olds are voided as teams find through the verification process that they falsified their information, and even for the ones who clear inspection there is always a feeling of uncertainty for teams.

A lot of people may fault Carmona, but he is a product of a bad system. Major League Baseball is doing their best to police the problems with age and name falsification and the rampant use of steroids. On top of that players are often bribed by buscones (street agents) where they are promised food, shelter, training, and help with getting a signing bonus in exchange for a pre-arranged sum of money. There is only so much the league can do to control it.

Carmona is just another example of a system out of control. He is not the only one either as several players have been caught recently – such as Miami Marlins pitcher Leo Nunez a few months ago - and more will be caught in the future as there are probably several players in the big leagues and minor leagues currently playing with false identities.

Filling a rotation vacancy

With Carmona out of the mix for the foreseeable future, the Indians now have to make a decision on what to do with the vacancy they have in their starting rotation. When they had picked up his $7 million option a few months ago and acquired right-hander Derek Lowe in a trade with the Braves, they thought the rotation was set going into the season with those two along with Ubaldo Jimenez, Justin Masterson, and Josh Tomlin.

Even after trading for right-handed pitcher Kevin Slowey (more on him in a minute) they need to decide if they are satisfied with him and the rest of their internal options to replace Carmona's spot in the rotation, or if they need to go out and sign a free agent or make another trade.

The pickings are very slim in free agency and on the trade market as anyone of real significance has already been signed or traded. There are some attractive free agent options out there, such as right-handers Roy Oswalt; however, considering the Indians have probably not had much dialogue with him this offseason they would be coming in very late in the game for their services.

One free agent that is out there that they may consider is right-hander Rich Harden. He will not cost a lot and is an injury risk, but when he is healthy he has proven to be an effective starter. The Indians had a lot of interest in him this past August in a trade, and is probably someone they have been in contact with throughout this offseason as starting pitching depth. He may be someone that could be signed to a very small guaranteed deal, or maybe even a minor league deal given his injury history.

The best solution for now is probably to use any available funds to get a bat for the lineup and to just go with their internal options for the rotation. All four of the candidates for the vacant fifth spot have a minor league option, so any one of Slowey, David Huff, Jeanmar Gomez or Zach McAllister can be sent to Triple-A to start the season and remain on hand there until a starting pitching need in Cleveland comes up.

Both Huff and Gomez showed flashes of brilliance last season in Cleveland, so the potential is there for either one to fill the fifth spot well, and were probably the frontrunners prior to the Slowey trade. McAllister could be a sleeper candidate this spring, and lefty Scott Barnes is someone who could be an option later in the year.

Slowey acquired

The Indians moved quickly on Friday and acquired right-handed pitcher Kevin Slowey from the Rockies in exchange for right-handed reliever Zach Putnam. The Indians maintain it was not in direct response to the Carmona situation and that they had been working on such a deal for Slowey all offseason, but the timing of the move was in no doubt catalyzed by the depth the rotation took after the Carmona news.

Slowey, 27, split last season between Triple-A Rochester, the Minnesota Twins and the disabled list. In 14 games (8 starts) with the Twins last season he went 0-8 with a 6.67 ERA (59.1 IP, 78 H, 5 BB, 34 K), and in seven starts at Rochester went 1-2 with a 3.55 ERA (38.0 IP, 44 H, 5 BB, 29 K). He has a career Major League record of 39-29 with a 4.66 ERA (532.2 IP, 606 H, 84 BB, 395 K) in five big league seasons. He won a career high 13 games with a career best 3.99 ERA in 27 starts with the Twins in 2010. The Twins had traded him to the Rockies back in early December.

Slowey is no doubt a solid depth starting option and the deal itself makes sense from the Indians' perspective. He does not cost much as the Indians only have to pay him $1.5 million this year since the Rockies are picking up the other $1.25 million of his $2.75 million salary for 2012. He also has an option left and is under team control for another season as he is not eligible for free agency until after the 2013 season.

It may be a buy low opportunity with Slowey, but coming off a very bad season with some health concerns is not going to do a lot to inspire confidence with him in the starting rotation. He no doubt needs to prove he is healthy this spring and even more importantly that he can be effective. If both ring true, then yes, it will be a good deal for the team.

I'm just not a big fan of picking up back of the rotation pitchers like Slowey with average stuff and with some health concerns, especially when I feel that Gomez, Huff and McAllister were ready for an opportunity. Those three will still get strong consideration this spring, but with the Indians paying Slowey more than what they will pay the other three combined, who do you think has a clear leg up for the spot in the rotation?

I'm also sad to see Putnam go. I felt he was on the verge of a Vinnie Pestano-like breakout this year for the Indians and could impact the bullpen in some way this year like Pestano did last year. He was one of the Indians' top three bullpen prospects, and after his trade and the recent losses of Josh Judy and Cory Burns in other moves the upper levels of the Indians' farm system is starting to get thin with true bullpen prospects.

Unless you are high on Putnam like me, then you probably like the deal, and in the long run maybe I will too. It is hard to argue against the idea of picking up an inexpensive, proven Major League starter that you get two years of control of in a deal. I just hope sending away Putnam is not a decision the Indians regret in a few years.

Arbitration update

The Indians came to agreements this past week on one year deals with five of their seven arbitration eligible players this offseason. Third baseman Jack Hannahan ($1.135M), outfielder Shin-Soo Choo ($4.9M), right-handed starter Justin Masterson ($3.825M), right-handed closer Chris Perez ($4.5M), and right-handed reliever Joe Smith ($1.75M) all came to terms on Tuesday.

Shortstop Asdrubal Cabrera and left-handed reliever Rafael Perez are the only two that have yet to sign. Right now Cabrera is requesting $5.2 million and the Indians are offering $3.75 million, and Perez is requesting $2.4 million and the Indians are offering him $1.6 million. If the Indians are unable to come to an agreement on a one year deal with either player in the next week they will go to salary arbitration for the first time since 1991; however, they are expected to come to one year deals with both players and keep their salary arbitration streak alive.

For those unfamiliar with how salary arbitration works, the Indians are not in danger of losing Cabrera or Perez for the 2012 season. Both are under team control through the 2013 season; they just need to come to an agreement on what their salary should be. Also, while Hannahan, Choo, Masterson, Chris Perez, and Smith all signed one year deals they are still under control for the 2013 season as well as long as the Indians offer them arbitration next offseason (they will).

Martinez injured

Even with the loss of Carmona for an undetermined amount of time, the Indians actually saw their chances to win the AL Central actually improve this week. The Indians did not go out and make a big signing or trade, instead their chief rival for the division the Detroit Tigers took a big hit when catcher and first baseman Victor Martinez was lost for the year when he tore the ACL in his knee while working out this week.

Martinez was a key cog to a very good Tigers lineup last year as his bat really protected Miguel Cabrera. When Martinez was out of the lineup no one pitched to Cabrera, and the Tigers were 7-10 without him in the lineup last season. The Tigers will now look to add a player to the roster to help offset the loss of Martinez, but it is will be very hard to replace his bat.

The playing field between the Indians and Tigers has been leveled some, and if the Indians are able to pick up a bat for first base it could level it even more. Health is usually the greatest determinant to the success of a team year in and year out. The Indians were unlucky from a health standpoint last year after a good start, so maybe they are finally getting a few breaks.

Signings, singings, and more signings

The Indians were very busy this week once again with the transactions. In addition to the Slowey trade, they also signed outfielder Fred Lewis, right-handed reliever Jeremy Accardo, infielder Gregorio Petit, and outfielder Ryan Spilborghs to minor league deals with an invite to Major League spring training.

Spilborghs is probably the most interesting pickup as played with the Colorado Rockies for seven seasons and in 619 games owns a career big league batting average of .272 with 42 homers, 218 RBI, and .768 OPS. He can play all three outfield positions, is a right-handed hitter, and a career .305 hitter as a pinch-hitter. He may not be on the Major League roster now, but he may very well end up on the Indians 25-man roster when the season starts as the fourth outfielder.

Lewis has lots of Major League experience, and with some good speed, versatility, and pedigree as a former high profile prospect he could enter into the Indians outfield mix at some point this season. In 519 career Major League games he has hit .267 with 27 homers, 136 RBI, 53 stolen bases, and .761 OPS.

Accardo is relief pitching depth that has made 235 appearances at the big league level. In 247.1 innings he owns a career 4.22 ERA and 52 saves. Petit missed last season with a knee injury and is a good defender that is mostly just minor league infield depth.

Follow Tony and the Indians Prospect Insider on Twitter @TonyIPI. Also, his latest book the 2011 Cleveland Indians Top 100 Prospects & More is available for purchase for $20.95 to customers in the US (shipping and handling extra).
Follow Tony and the Indians Baseball Insider on Twitter @TonyIBI. Also, his new book the 2014 Cleveland Indians Baseball Insider which profiles the Indians' Top 100 Prospects and more is available for sale.
User Comments
No comments currently. Be the first to comment!