Tribe Happenings: Deadline deal likely for Indians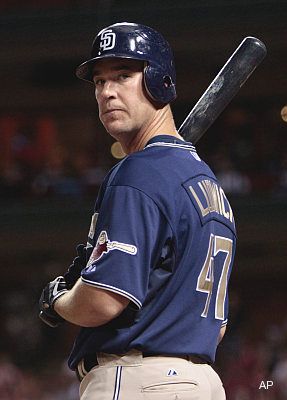 Could Ryan Ludwick be an Indian again
soon? (Photo: AP)
Some news, notes, and thoughts from my Indians notebook…
Time to make a deal
The Indians are in the thick of a pennant race in the AL Central, a race that by the day seems to add more teams.
In the middle of May the Indians appeared to be running away with the division as the nearest team was 7.5 games out at one point. Then the Indians got cold and the Tigers got hot and that lead evaporated and both have been neck and neck for the better part of two months. During that time the Chicago White Sox have gotten back into the mix, and of late the Minnesota Twins have as well.
With two months left to go still before the end of the season and with all four teams playing each other several times between now and then, the division is up for grabs and there could be a crazy finish.
Teams are already making moves to better themselves, something the Tigers did earlier in the week when they picked up third baseman Wilson Betemit from the Kansas City Royals for two prospects. The Tigers are supposedly not done as they are interesting in starting pitching and are also in the Carlos Beltran sweepstakes, and the White Sox and Twins are also actively seeking help.
Like their counterparts, the Indians are flawed. The Indians need to make a move not only to keep pace with their division rivals, but to also fix some areas on the roster which are now really thin thanks to the injuries to outfielders Grady Sizemore and Shin Soo Choo the past few weeks which will keep both of them out for a significant period of time.
The Indians have looked within for answers this year with starting pitching as starters Mitch Talbot, Fausto Carmona, Alex White, and Carlos Carrasco have all spent time on the disabled list, and for the most part the starters from Triple-A Columbus who have filled in have pitched well. In the few instances they have needed a bullpen arm they have gotten good performances there as well, and they have tons of options available to them sitting in waiting at Columbus.
The lineup is where most of the concern lies.
The Indians have now called up their three best hitting prospects at Columbus by adding third baseman Lonnie Chisenhall, second baseman Cord Phelps, and second baseman Jason Kipnis to the roster. Phelps has since been sent back to Columbus, and with the arrival of Kipnis and then Ezequiel Carrera when Sizemore got hurt, the Indians are now out of reinforcements in Columbus other than rehabbing first baseman Nick Johnson.
With really no more options left in Columbus along with two key injuries in the outfield, the Indians will almost surely make a move before the July 31st trade deadline to acquire an outfielder. There are lots of rumors flying around as to who they are after, but do not expect them to be players for the top outfield bats available like Beltran or a perceived to be available like Hunter Pence.
Instead, look for the Indians to pickup one or even two of the mid-level to marginal outfielders on the trade market such as Jeff Francoeur (Royals), Coco Crisp (Athletics), Kosuke Fukodome (Cubs), Ryan Ludwick (Padres), Mike Morse (Nationals), and Josh Willingham (Athletics).
The Indians appear to be making the most headway in a deal with the Padres, possibly for Ludwick. A deal with them may instead be for right-handed pitcher Aaron Harang, or may be a big multi-player deal for both Harang and Ludwick.
No matter what happens over the course of the next week as we reach next Sunday's July 31st trade deadline, there are sure to be lots of rumors but little action. The Indians will probably be tied to any available outfielder on the market, and when the dust settles they should acquire at least one.
The trading likely will not stop there as teams are expected to continue to be busy well into August making trades. The only difference in August is players that are traded on a 40-man roster must first clear waivers. Expect the Indians to make a move or two then if they are still in contention as more teams will be eliminated from playoff races and thus will be more apt to make a deal, and the teams who held out for the moon in July will probably settle for a lot less.
Sigh of relief
The Indians depth of starting pitching has shown itself of late with three different starters from Triple-A Columbus making starts in July. Right-handers Zach McAllister and Jeanmar Gomez along with left-hander David Huff all have come up and pitched well, and before them right-hander Alex White came up in early May and pitched well before being sidelined with a finger injury.
The Indians also have a lot of bullpen options at their disposal at Columbus, but because of the good health and performance of the bullpen in Cleveland they have not needed to dip into those options except for right-hander Josh Judy a few short stints here and there.
But the Indians have a truckload of bullpen talent waiting to be used in Columbus with the likes of right-hander Zach Putnam, right-hander Chen-Chang Lee, left-hander Nick Hagadone, and the aforementioned Judy. All four have the ability to be impact relievers in the very near future for the Indians.
In addition to the high level guys in Columbus, the Indians also have some very interesting bullpen prospects at Double-A Akron such as right-handers Adam Miller, Bryce Stowell, Rob Bryson, Tyler Sturdevant, Matt Langwell, and Cory Burns. All of them are expected to pitch in the big leagues some day.
That's an impressive collection of bullpen depth ON TOP of the bullpen options already in Cleveland apart of the "Bullpen Mafia". With bullpens being so volatile with their performance year to year, having so many options is a good thing and provides great insurance for the Indians going forward as well as excellent trade bait to fill other needs.
The Sizemore Decision
To pick it up or not to pick it up.
That is the question that Indians decision makers will need to make this offseason on whether to pick up the $9 million club option on star center fielder Grady Sizemore.
What seemed like a slam dunk of a decision a few months back to pick it up now is a very questionable decision the Indians have to make. With Sizemore struggling with so many injuries the last three years after being an iron man in the lineup from 2005-2008, his questionable health will surely give the Indians pause in making the decision this offseason. It may depend on how he comes back from his current knee injury.
The latest injury for Sizemore is a knee bruise he suffered last weekend in Baltimore while running the bases and sliding into second base. He had surgery this week for a sports hernia that will keep him out of the lineup for four to six weeks, an injury that came out of nowhere and shows how he has been playing hurt for about the last two months. With the length of time needed to recover from the hernia surgery it will also allow time for his knee to heal. He is expected to be back at the end of August or beginning of September.
With so many injuries of late and a rapidly deteriorating body, Sizemore's career may be in jeopardy. His chronic knee issues are a huge concern, and his rapid physical descent as a player is very similar to that of outfielder Darren Erstad, another player who had so much promise and was a star but because of his all out play style it took a toll on his body and his career fell apart.
The Indians will likely keep Sizemore next season, but they may opt to decline the option and work out a deal in advance where both parties agree to a one year contract at a smaller amount.
The Untouchables
As the Indians prepare to make a deal to acquire help for their struggling offense and maybe a starting pitcher to round out their rotation, there are four players that are off limits in trade talks: third baseman Lonnie Chisenhall, second baseman Jason Kipnis, right-handed pitcher Alex White, and left-hander Drew Pomeranz. Two other pitchers left-hander Scott Barnes and right-hander Jason Knapp are also pretty much untouchable partly because of their value to the team but also because both are injured and their value in a trade is very low.
The foursome of Chisenhall, Kipnis, Pomeranz, and White are untouchable because all four are expected to be building blocks for the immediate future for the Indians. Chisenhall, Kipnis, and White have already reached Cleveland this year and are expected to stay going forward, and Pomeranz could be with the team early next season. They are All Star potential talent, something the team just cannot acquire via free agency or trade.
With those four players out of play in a trade, it will likely force the Indians to look for some of the mid-level bats available in a trade and flip some of their "B" and "C" type prospects. Some examples of players that could be in play in a trade – though just mere speculation – would be players along the lines of right-handed pitcher Austin Adams, left-handed pitcher Nick Hagadone, left-handed pitcher Giovanni Soto, right-handed pitcher Clayton Cook, and first baseman Jesus Aguilar.
The Indians All Star type players must come from within. The meat of those teams from the 90s that had so much star power that came from the minors rather than in free agency or veteran trades. Albert Belle, Manny Ramirez, Jim Thome, Charlie Nagy, Richie Sexson, and Brian Giles all came from their own farm system, while Sandy Alomar Jr,, Carlos Baerga, and Kenny Lofton came in deals when all were still prospects.
It remains to be seen if any of the Indians current "untouchables" will live up to the star power of their 90s predecessors as all four could turn out to be stars or duds, but the Indians have to take that risk.
Kipnis up
The Indians promoted second baseman Jason Kipnis from Triple-A Columbus on Thursday. He joins third baseman Lonnie Chisenhall as two young players who are not yet finished products but players the Indians feel can help provide a spark to a team desperate for offense.
Just last week I noted that it appeared very unlikely that Kipnis would make it to Cleveland any time soon because of the presence of second baseman Orlando Cabrera on the roster. I am happy to say I was wrong as the Indians threw caution to the wind and promoted Kipnis even though they know that Cabrera will not be happy to see his playing time cut once again. Kudos to the Indians for doing what many thought they would not do after the Cord Phelps call up was such a disaster.
With Kipnis now up in Cleveland he should get the lion's share of playing time at second base. Since he is a left-handed hitter and Cabrera a right-handed hitter it is likely that some sort of platoon will result with Cabrera facing most of the tough left-handed starters. With no other middle infielder on the roster he will also be the backup at shortstop for Asdrubal Cabrera. Even though he played outfielder in college Kipnis is not expected to play any outfield except in emergency.
Parting shots
There is some talk that the Indians have contacted the Colorado Rockies about the availability of catcher Chris Iannetta. He is under team control through the 2013 season, and if picked up would probably mean Carlos Santana would move to first base and Matt LaPorta to the outfield. … Right-handed pitcher Alex White threw another good bullpen session on Friday and used his entire repertoire of pitches for the first time by throwing some sliders and splitters. He is expected to throw a simulated game on Monday. … On Thursday outfielder Shin-Soo Choo plead guilty to his May 2nd operating a vehicle while impaired charge. He received a $755 fine and has had his license suspended for 180 days. He is still expected to return to the lineup in about four to five weeks from a broken thumb.
Follow Tony and the Indians Prospect Insider on Twitter @TonyIPI. Also, his latest book the 2011 Cleveland Indians Top 100 Prospects & More is available for purchase for $20.95 to customers in the US (shipping and handling extra).
User Comments
No comments currently. Be the first to comment!