Tribe Happenings: Fryman Leads Young Indians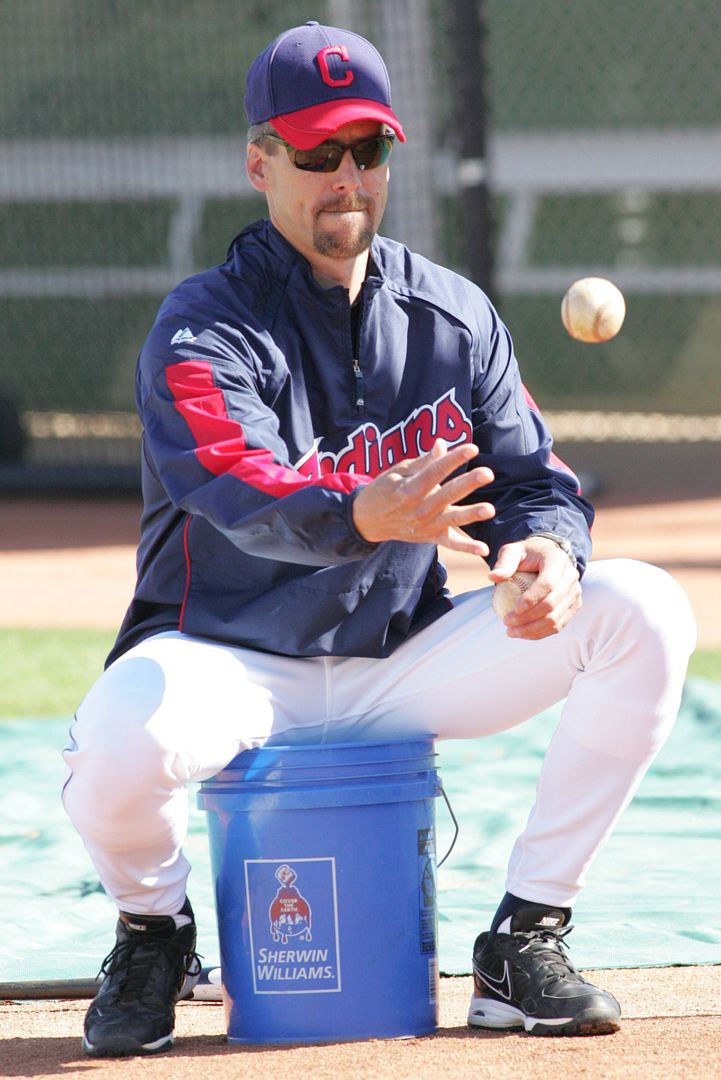 Photo credit: Ken Carr
Some notes from my Tribe notebook...
Fryman In Charge
Indians fans may know that since former All-Star big league third baseman Travis Fryman retired he signed on to be the manager of the Indians short-season Single-A affiliate in Mahoning Valley. While he has been in that role since 2008, his role with the Indians is much deeper than that and continues to evolve into a greater one from year to year.
From mid-June until the first week of September Fryman may be a minor league manager, but it is what he does during the other months of the year which should give an idea of how involved he is with the organization.
Fryman is one of the many coaches and instructors on hand from the start of spring training in mid-February. Once spring training breaks the first week of April he uses that time up until the start of the Mahoning Valley season to do a lot of special assignment work for the Indians going to various affiliates and observing and working with players, particularly third basemen.
When Mahoning Valley's season finishes Fryman goes right to Instructional League and has really become the guy who runs the four week program. Yes, there are lots of other coaches and coordinators present, but as he barks out instructions and commands the field action there is no mistaking who is the one running the show.
The Indians had interviewed Fryman for their vacant big league manager position last fall, but it seems like it was more out of respect and as a courtesy rather than as a real candidate for the job. Since taking the Mahoning Valley job he has been pretty vocal that he does not want the commitment of a full season job as the demands would take him from his family for about eight to nine months a year.
Fryman's current role where he bounces in and around all season allows him much more flexibility to balance his life between baseball and family. For instance, his kids have been with him at Mahoning Valley for a lot of his time there, something that is easier to do in the more relaxed atmosphere in the minors that would not nearly be as simple in a big league environment.
What role Fryman will have next year is a mystery as field assignments for the Indians minor league system will not be announced until around the first week of December. It is possible he could return to Mahoning Valley for a fourth straight year; however, the Indians have some other people they would probably like to give manager opportunities to.
With that in mind, don't be surprised if Fryman moves up to a higher level affiliate or takes on some sort of field role as a coordinator or special assistant. He looks to be someone that the Indians are grooming to be added to the big league coaching staff soon, and potentially as a big league manager some day.
Acta Still Working
While the season may have ended two weeks ago, Indians manager Manny Acta has yet to take any time off. As soon as the season ended he headed out to Goodyear, Arizona to the Indians' Player Development complex to observe the final week of the Indians fall Instructional League program.
Acta was not just an observer, he was in uniform and watched the games from the chairs in front of the dugout like the rest of the coaches. He interacted with several different coaches and team personnel such as coaches Travis Fryman, Anthony Medrano, and Phil Clark as well as assistants and coordinators like Minnie Mendoza, Jhonny Goryl and others. He mostly observed, though was not shy in interacting and assisting with a great many of the young players with positive feedback when they did something wrong or encouraging them when they did something right.
Acta even ventured over to Peoria on Thursday to catch an Arizona Fall League game before he left town on Friday. He was merely a spectator sitting in the stands with the scouts behind home plate, but he was able to watch second baseman Jason Kipnis play a full game and also got to see two potential relief options down the road in left-hander Eric Berger and right-hander Bryan Price pitch.
While no player said so, it must have been a treat to have the big league manager participate and be so involved. Considering that maybe only a half dozen from the 50-man roster in Instructional League may ever even reach the big league level, this was a unique investment of Acta's time. This is something you rarely see from a big league manager, but then again Acta knows the situation the Indians are in and that the talent will have to come from within their own minor league system.
There is no question that Acta understands that the lifeline of the organization is the farm system, and he is doing everything he can to learn about the players below who could come topside to the big league club in the next few years. Love him or hate him, this is another example of why he is received so well by people all throughout the game.
Miller Time?
Right-handed pitcher Adam Miller looks to be on the verge of giving his career another go this coming spring. He recently completed a full summer and fall's worth of rehab and a throwing program that saw not one setback with the middle finger on his throwing hand. He is pretty much shut down for the offseason and will continue to work out, but every indication is he will participate in big league camp this spring for the Indians and if he pitches well and has no setbacks could make the opening day bullpen.
There are still several obstacles in the way of that happening for Miller and the Indians as the finger has given out before, but the obstacles are far less than they were six months ago. On top of that there is a looming roster situation where if the Indians don't add him to the 40-man roster this November that they could lose him in the Rule 5 Draft.
Miller was a minor league free agent and quickly resigned with the Indians earlier this month, so now it is time to just wait and see. For a pitcher who completely missed the last two seasons with the finger injury, he still creates a lot of buzz and if he does come to camp healthy and his stuff is close to what it once was, it will make for one heck of a story this spring.
Phelps Coming Home
Indians infielder Cord Phelps is on his way home from Puerto Rico after Team USA finished up the Pan-Am Games qualifying tournament tied for third place. The Dominican Republic defeated Cuba in the first place game.
Team USA and Venezuela were supposed to play the consolation game for third place on Wednesday, but it was cancelled due to rain. Team USA finished the tournament 9-1 and qualified for the Pan-Am Games next year in Guadalajara, Mexico and also the 2011 IBAF Baseball World Cup next fall.
In nine games played, Phelps finished the tournament hitting .237 (9-for-38) with six runs scored, a double, two triples, six runs batted in, three walks, six strikeouts, and .661 OPS. He is now on his way to Arizona and expected to join his teammates in the Arizona Fall League on Monday.
Late Addition
The Indians added Low-A Lake County third baseman/catcher Adam Abraham to the Peoria Javelinas roster late last week giving them nine players now that are participating in the Arizona Fall League. He will not be playing much, but in the mean time can help fill in at third base while Cord Phelps makes his way to Arizona on Monday. Abraham will also serve as the third catcher on the roster and be the bullpen catcher.
Abraham is part of the taxi-squad (right-hander Travis Turek is also on it), which means he is only active on Wednesday's and Saturday's. The idea for the taxi squad is to have extra players in the event the team has an overworked pitching staff or some of the position players need time off so as to not over-expose any player to the risk of injury.
Crowe Has Surgery
Indians' outfielder Trevor Crowe underwent a right elbow arthroscopy in Los Angeles, CA on Friday. The procedure was performed by the renowned Dr. Lewis Yokum and done in order to remove some loose bodies from his elbow. He is expected to make a full recovery in the next six weeks, and then will get on with his offseason workout and conditioning program and be ready for the start of spring training in February.
Follow Tony and the Indians Prospect Insider on Twitter @TonyIPI. His latest book the 2010 Cleveland Indians Top 100 Prospects & More is also available for purchase on his site for a special year end closeout sale of $10.00 (including shipping and handling).
User Comments
No comments currently. Be the first to comment!