Tribe Happenings: Hagadone the next big thing in the pen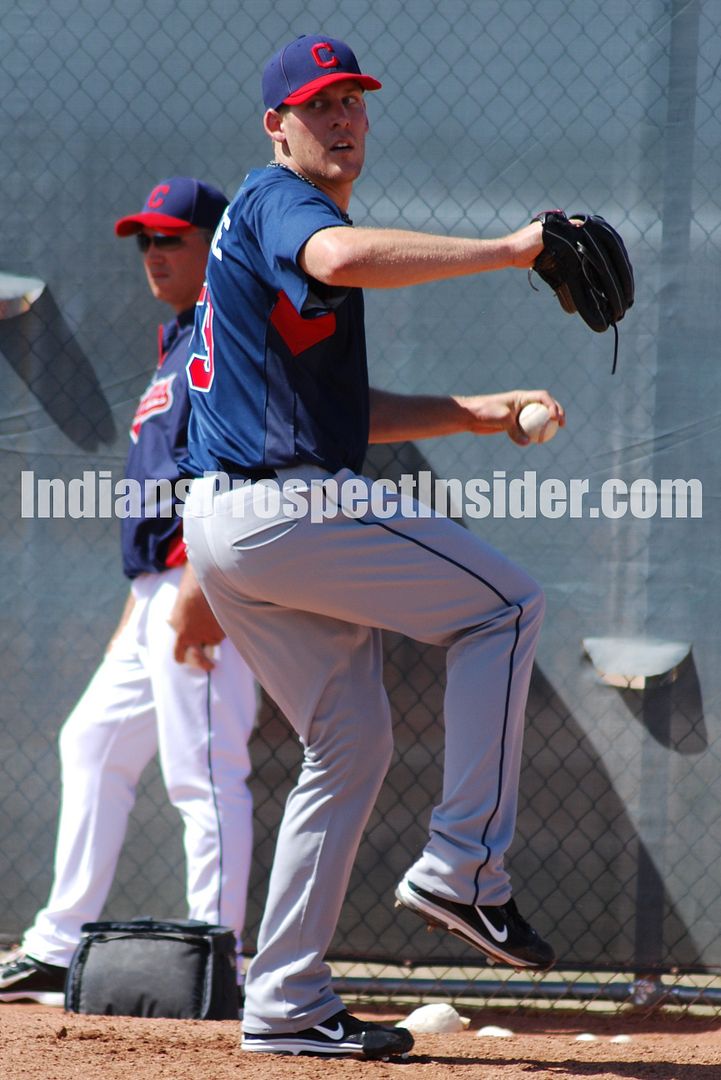 Hagadone could be a dominating late
inning arm in the near future (Photo: IPI)
Some news, notes and thoughts from my Indians notebook…
Hagadone back in the bigs
Triple-A Columbus left-handed reliever Nick Hagadone got his first call to Cleveland a week ago last Friday, but his stay was short as he was optioned out last Sunday so the Indians could call up Jerad Head to add some much needed outfield help. He was expected to be back in Cleveland at some point in September when rosters expanded, but because of an injury the Indians were able to bring him right back to Cleveland on Thursday.
Hagadone, 25, is now far removed from Tommy John surgery which he had in 2008, and it is showing. Last year in 29 combined appearances (10 starts) between High-A Kinston and Double-A Akron he went 3-5 with a 3.57 ERA. While the ERA was solid and he held batters to a .226 batting average and struck out more than a batter an inning (85.2 IP, 89 K), where he really struggled last year was with his command as he had 63 walks in those 85.2 innings.
Hagadone came back this year as strong as ever. In 46 combined games all out of the bullpen for Akron and Triple-A Columbus he dominated going 6-4 with a 2.79 ERA with a .212 batting average against and 77 strikeouts in 71.0 innings. The big improvement this year has been his command where he has lowered his walk rate from a 6.4 BB/9 last year to a 2.8 BB/9 this year. That improved command of his pitches gave the Indians the green light to call him up and use him in the bullpen down the stretch.
Hagadone's upper 90s fastball and plus slider are dominant pitches and have always been deemed as Major League caliber. It just always boiled down to getting him to hone in on that command and to trust in his stuff. The other thing that has helped is he is back in a relief role, something that suited him well in college, but because of his stuff the Boston Red Sox and Indians tried him as a starter first to see if he could be more.
Hagadone's starting days are now over. You never say never, but the Indians are firmly committed to him as a reliever going forward as they believe his stuff and aggressive mentality in a late inning role play well in the bullpen. The Indians believe he is a bullpen option for them now and for the foreseeable future.
Ubaldo continues his inconsistency
By now everyone is well aware of how inconsistent right-handed pitcher Ubaldo Jimenez has been since being acquired from the Colorado Rockies on July 30th. One start he will show the dominating stuff that made the Indians pay a hefty price to acquire him, but then the next start he looks like a mechanical and mental mess and gets knocked all over the field.
Jimenez showed the inconsistency once again in his last outing on Wednesday where in the first 3.2 innings he allowed three runs on six hits and two walks and had no strikeouts. Then for the final 2.1 innings of work he did not allow a run, hit or walk and had six strikeouts.
A lot of people want to pile on and already declare the trade a bust, which at this point is absurd. If the evaluation of a baseball trade were a nine inning baseball game, then we are but in the bottom of the first inning. Yes, the top of the first inning was pretty ugly, but the home team still has several outs to go before this thing can be declared a win or loss as far as the trade goes.
Remember, lots of people hated the Bartolo Colon trade in June of 2002 when he was lighting up radar guns and was Cy Young caliber for Montreal the rest of 2002 and was good for the White Sox in 2003. By the end of the 2003 season - a year and a half after the trade - many people considered second baseman Brandon Phillips a bust after he hit .208 with six homers, 33 RBI, and a .553 OPS in 112 games with Cleveland in 2003 and lefty Cliff Lee and outfielder Grady Sizemore were still in the minors.
Looking back on the Colon trade now, I think it is safe to say that it is one of the all time great trades in baseball history.
Of course, no one is expecting the Jimenez trade to have that kind of impact. There is no doubt that injuries have hurt his consistency and mechanics this year and he will be a big offseason project for the staff. Also, it's not like he was pitching great prior to the Indians acquiring him. But by the same token it goes without saying that it will take a few years before we ever really know if the Indians made a good or bad deal by acquiring him.
Training issues?
There was a time when the Indians training staff was lauded for their work of keeping the team healthy, most notably back in 2005 when they kept their starting rotation intact and healthy all season where five starters had 30 or more starts and made all but four of the teams starts all season (Jason Davis made the other four).
These days as the injuries mount up, people are beginning to wonder if the injuries are just part of the game, bad luck, or if some of the training methods should be questioned. The rash of injuries of late speaks for itself as players left and right are going down with various injuries, and some of late have occurred when stretching or in pre-game training activities.
The other thing that has been interesting over the past few seasons has been the handling of injuries. One day a guy is considered day-to-day and expected back in the lineup, but then the next day he is shuffled off for surgery and out for two to three months. No team is required to have full disclosure with injuries, and injuries are often kept vague on purpose by teams. But it is the injuries that are day-to-day where a player goes back out there only to reinjure himself which have drawn the fire from fans.
Lonnie Soloff and his staff as well as all the training staffs from Triple-A Columbus on down work their butts off and do a good job. But with the rash of injuries over the past few years the rehab and evaluation process with regard to injuries is something I am sure the team will examine this offseason to try and find a way to tighten things up and keep their players on the field at a much better rate than they have the past few years.
The "Baseball Man" myth
I often hear people talk about how the failures of the Indians organization over the past decade is the result of a lack of "baseball men" in the front office. That because they have several guys in the front office who have never played the game professionally they lack a feel for what it takes to build a winner.
It is true that the Indians front office contingent of Mark Shapiro, Chris Antonetti, and Mike Chernoff have never played a minute of baseball at the professional level. Also, only Chernoff has any real playing experience as an amateur as he played for Princeton's baseball team all four years he was there.
Sure, you would prefer that they have experience as a former player professionally, but that is more a luxury and not a necessity for a baseball executive. It would be one thing if a manager or coach never played professionally, but it is a completely different thing altogether when dealing with a front office executive as they are more into managing the roster and payroll where it does not necessarily require a lot of insight as a former player. In some ways being a non-baseball man can sometimes offer a refreshing perspective to the evaluation process.
Also, last I checked the front office for the Yankees, Red Sox, and most other teams are filled with "suits" as executives who are not "baseball people". Some teams do have former players leading their front office such as the Rangers and Phillies, but it appears whether a person is a former professional player or not does not really matter.
Bottom line, it comes down to feel and having the right people around you to make decisions. All of these people who are in the front office were not just thrown into the role. All of them often started in low level baseball operations roles and worked their way up to learn the ins and outs of organizing and managing the roster setup of a baseball team. And all of them rely on other "baseball people" to help make decisions.
Reality sets in for Indians
The Indians are hanging on by a thread in their chase to win the AL Central, but injuries along with a suddenly hot Detroit Tigers team has the Indians 6.5 games out with 26 games remaining. For the Indians to win the division it is going to take a combination of a hot finish by them along with the Tigers going into the tank – something still possible – but looks remote given the M.A.S.H. unit the Indians have become of late.
Even if the Indians fail to make the playoffs, as an Indians fan you have to be proud with how strong this team is finishing down the stretch. Even with all of the injuries this team has continued to fight every game and has been able to stay afloat over the .500 mark. If not for so many injuries to so many key players this year you have to wonder what could have been this year. But at the same time if should also give confidence of what could be in the future as the Indians have shown they are a team to reckon with in the AL Central the next few years.
Manager Manny Acta has been the big chief all season for the Indians; the guiding force even when he has lost players left and right all season. He has never given into the injury excuse, and neither has his team as the players they have plugged in from Triple-A Columbus or in trades have mostly played well. With all the experience the Indians youthful roster has gained this year, if they can maintain much better health next year they should be a strong favorite to win the division.
And there is still a sliver of a chance the Indians could still make some noise this year, though it will take a sweep of the Tigers this week in a three game set that begins on Monday. If that happens, then it should make for a very interesting final three weeks of the season.
Parting shots
The injury bug continues to hamper the Indians. Shortstop Asdrubal Cabrera left Friday's game with a right knee injury, and though it was not serious and he missed just Saturday's game, it hurts to lose any player at this point in the season when the lineup is already thin. … Designated hitter Travis Hafner is working his way back from the injury to his right foot. He hit soft toss on Saturday but is not close to returning. The Indians maintain that he will play before the end of the season, and when he returns he and Jim Thome will split time at designated hitter. … Outfielder Grady Sizemore started a rehab assignment in the minors on Wednesday where he played two games for Double-A Akron and went 3-for-6 at the plate, and then moved to Triple-A Columbus where started in center field on Saturday night and went 1-for-5. It looks very likely that he will be activated on Monday when the Indians return home to play the Tigers.
Follow Tony and the Indians Prospect Insider on Twitter @TonyIPI. Also, his latest book the 2011 Cleveland Indians Top 100 Prospects & More is available for purchase for $20.95 to customers in the US (shipping and handling extra). Use discount code 2Z6F362B to receive 40% off the book through the site store!
User Comments
No comments currently. Be the first to comment!