Tribe Happenings: Indians could be busy at Winter Meetings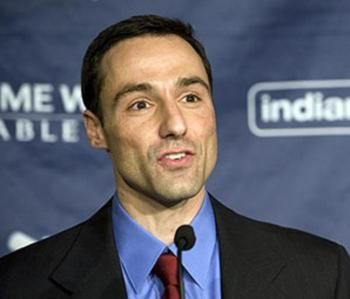 Will Chris Antonetti be able to make a deal
for a bat this week in Dallas? (Photo: AP)
Some news, notes, and thoughts from my Indians notebook…

The eve of the Winter Meetings

We are a day away from one of the craziest times of the year. No, not Black Friday and the holiday gift buying rush, but the yearly MLB Winter Meetings. Executives for every Major League Baseball team are already en route to Dallas for the meetings that will span over four days from December 5-8.

There will be lots of wheeling and dealing as teams look to add players to improve their rosters either via trade or free agency. This means not only lots of discussions between teams on potential trades, but also a lot of face to face discussions with agents as well. With all of these discussions it is a time when rumors will fly about in Dallas like snow in a blizzard.

The Winter Meetings are typically the height of the offseason activity where most of the big name free agents who have not landed a deal will have a new home by the time the meetings wrap up. Agents will sell their clients to every team interested and often use the media to inflate their clients' value. Lots of trade discussions that took place throughout the year are revisited and can result in a deal finally taking place.

In recent years the Indians have not really been a big player in all the hoopla that is the Winter Meetings. Since they have not often been in the market for some of the upper tier fee agents or some of the more notable players available in a trade they have often watched from the sidelines.

The one exception was three years ago when the Indians were quite busy at the Winter Meetings. During the meetings they made a free agent splash signing closer Kerry Wood to a two year $20.5 million deal and then a day later were involved in a big three-team 12 player deal with the Mariners and Mets that netted them Joe Smith and Luis Valbuena (they lost outfielder Franklin Gutierrez).

The same thing could happen this year.

The Indians have been doing their due diligence this offseason considering lots of free agent and trade options and once General Manager Chris Antonetti is able to sit down and talk more formally to a lot of agents and teams they could strike and make an acquisition or two during the meetings. It is a giant jigsaw puzzle which has yet to be solved, one where he and his staff may not have a good idea who they can even acquire. They are also likely to be blindsided with other free agent and trade possibilities that they have not yet considered which could shift the direction they go.

The Indians may or may not make a deal during the meetings, but they really want to add a bat – preferably at first base – and there are some options available in the free agent and trade market which they have varying levels of interest in. Because of this they are certain to be tied to a lot of trade and free agent rumors this week. They would like to pick up that coveted bat by the time the meetings end, but if not then the groundwork will be laid on several potential deals which could be completed later this month.

Lee, Kipnis honored

The Indians unveiled their top two minor league awards this week when they announced that right-handed pitcher Chen-Chang Lee was the recipient of the Bob Feller Award and second baseman Jason Kipnis was the recipient of the Lou Boudreau Award. The awards are given to the organization's top pitcher and position player from each season.

Lee, 25, is arguably the Indians' top minor league relief pitching prospect. Last year in 44 combined games between Double-A Akron and Triple-A Columbus he went 6-1 with a 2.40 ERA with a Nintendo-line 12.5 K/9 and 2.9 BB/9 in 71.1 innings. He consistently gets the ball into the mid-90s and has touched 97 MPH. He also has a nice breaking ball and throws from a sidearm slot, so he can be very tough on right-handed hitters. Dubbed as C.C. Lee for short, if he remains healthy he will get a shot in Cleveland at some point in 2012 and could be an impact reliever for next season and beyond.

Kipnis, 24, is probably the Indians' top position player prospect under 25 years of age. Last year in 92 games at Triple-A Columbus he hit .280 with 12 homers, 55 RBI and .846 OPS, and in his big league debut in Cleveland hit .272 with 7 homers, 19 RBI and .841 OPS in 36 games. He is an impact bat at a middle infield position that can drive the ball all over the ballpark and is a tough, hardnosed player. He is expected to be the opening day second baseman for the Indians next year and beyond.

Indians add catching depth

The Indians continue to stockpile depth at the catching position with the signing of free agent catcher Matt Pagnozzi on Friday to a minor league deal with an invite to Major League spring training.

Don't print your World Series tickets yet. Pagnozzi is simply a 29-year old journeyman catcher with nine years of pro experience, most of that in the minors. In 625 games in the minors he has a .220 batting average with 19 homers, 193 RBI, and .602 OPS, and has played in 33 games in the big leagues hitting .310 (22-for-71) with 1 homer, 13 RBI and .744 OPS.

With the signing of Pagnozzi, the Indians have now signed three veteran catchers to minor league deals this offseason. Earlier this offseason they resigned Luke Carlin and Michael Hernandez.

As to why the Indians have signed so many catchers to minor league contracts? After Chun Chen and Roberto Perez they lack any catching depth in the upper levels of the farm system. They also need extra catchers to assist with catching bullpens for all the pitchers that are in Major League spring training.

There is also a possibility that backup catcher Lou Marson is on the trading block and the Indians are adding depth to help fill a potential loss. This however appears remote at this time as neither one of Pagnozzi, Carlin, or Hernandez would be ideal backup options in Cleveland. They are better as depth in the minor leagues and as third or fourth options big league catching options. So if the Indians do trade Marson they would almost certainly have to pick up another Major League caliber catcher.

Minor league coaching roles finalized

On Friday the Indians announced their coaching assignments for the 2012 minor league season. Most of the coaching and coordinator roles remained unchanged, but there were a few changes up and down the system and some new faces added to replace coaches who has since departed or been promoted to the big league staff.

Two notable additions are first time coaches and former big league pitchers Scott Erickson and Steve Karsay. Erickson brings 15 years of big league pitching experience with him and will be the pitching coach at High-A Carolina. Karsay brings 11 years of big league pitching experience with him and will be the pitching coach at rookie level Arizona.

The Indians also announced the hiring of Rob Leary as their Minor League Field Coordinator, the highest role in the Player Development system below the Farm Director. He spent the last two seasons as a Major League staff assistant for the Boston Red Sox, and the seven years prior to that was the Red Sox' Minor League Field Coordinator. This is a great addition to the minor league staff as the Red Sox have long been considered one of the top teams at developing talent, so the Indians can maybe tap into that with Leary on board.

Other notable changes have Dave Wallace moving up from short season Single-A Mahoning Valley to be the manager at Low-A Lake County and Ted Kubiak moving down from Lake County to manage Mahoning Valley. Phil Clark has also moved up from his High-A Kinston hitting coach role and is the new hitting coach at Triple-A Columbus. Former High-A Kinston pitching coach Mickey Callaway has been promoted to the top pitching coach role as the organization's Minor League Pitching Coordinator.

Former Indians find new homes

It was a busy week for a lot of former Cleveland Indians as three players signed with new teams for the 2012 season.

Outfielder Jerad Head signed a minor league contract with the Detroit Tigers and right-handed pitcher Jensen Lewis signed a minor league deal with the Arizona Diamondbacks. Head was designated him for assignment on October 18th and as a second time outright he declared free agency and was free to sign with any team. Lewis was designated for assignment in March, cleared waivers, and was outrighted to Triple-A Columbus before being released on June 23rd.

Right-handed pitcher Mitch Talbot has also landed with a new team in 2012, but will pitch overseas after agreeing to a $300,000 deal with the Samsung Lions of the Korean Baseball League. The Indians designated him for assignment at the end of the season and as a second time outright he chose free agency.

The pride of Ashtabula returns home

While not necessarily Cleveland Indians related, the hiring of Urban Meyer as the new Ohio State Football coach this week does bring with it some northeast Ohio and baseball significance.

As most by now know, Meyer is returning to his home state of Ohio, a place where he was born in Toledo and lived most of his child and teenage years in Ashtabula. What many do not know is that in addition to being a star football player at Ashtabula St. John's High School he was also a star baseball player.

It was baseball - not football - that took Meyer down his first career path in sports. Upon graduating in 1982 he was drafted that summer by the Atlanta Braves in the 13th round of the Major League Baseball Draft. He was actually playing pro baseball and attending college at the University of Cincinnati at the same time where he was also a defensive back for the football team.

Meyer played two years of pro baseball as a middle infielder in the lower levels of the minors before leaving the game to concentrate on football. I think he made the right decision there.

Parting shots

According to CNNSI.com baseball writer Jon Heyman the Indians have inquired into the health of free agent infielder Mark DeRosa. … Outfielder Grady Sizemore had a routine checkup with Indians' doctors on Tuesday and he is reportedly progressing well. The Indians expect him to be 100% healthy and ready to go with little to no restrictions when spring training starts in mid-February. … The Rule 5 Draft is this Thursday in Dallas. The Indians are not expected to select anyone in the draft, but there are several players from within the organization eligible for the draft that could be selected. I will be profiling who some of those players are this week on my site at IndiansProspectInsider.com.

Follow Tony and the Indians Prospect Insider on Twitter @TonyIPI. Also, his latest book the 2011 Cleveland Indians Top 100 Prospects & More is available for purchase for $20.95 to customers in the US (shipping and handling extra).
Follow Tony and the Indians Baseball Insider on Twitter @TonyIBI. Also, his new book the 2014 Cleveland Indians Baseball Insider which profiles the Indians' Top 100 Prospects and more is available for sale.
User Comments
No comments currently. Be the first to comment!