Tribe Happenings: Indians have a rotation decision to make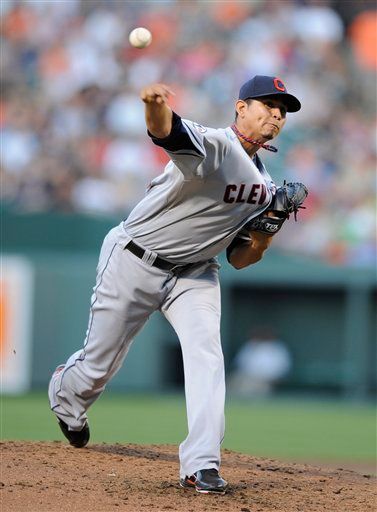 Carlos Carrasco (Photo: AP)
Some news, notes, and thoughts from my Indians notebook…
Who is #5?
The Indians will go about ten days without a fifth starter. Left-handed pitcher David Huff pitched on Wednesday and then right-handed pitcher Carlos Carrasco pitched on Thursday, but with newly acquired right-handed pitcher Ubaldo Jimenez being added to the rotation on Friday and an off day on Monday the Indians do not need either Huff or Carrasco to pitch again until next Saturday August 13th.
This is why it made sense for the Indians to make the two moves they made this past week by having Carrasco drop his appeal on his six game suspension and optioning Huff to Triple-A Columbus so they could add Jimenez to the 25-man roster.
Earlier in the week Carrasco, 24, was suspended six games by Major League Baseball for intentionally throwing at the head of the Royals' Billy Butler last Friday. He had appealed the suspension, but with the Indians not needing a fifth starter for awhile they advised him to drop the appeal and take it now when it won't hurt the team other than only being able to carry 24 players on the roster for six days. His suspension ends Thursday and he would be eligible to be in uniform on Friday, the day before the Indians would need a fifth starter again.
Huff, 26, has been sensational since being called up in July. In three starts he is 1-1 with a microscopic 0.51 ERA. He has been a completely new pitcher since returning by being more aggressive on the mound, has more life on his fastball, and his secondary offerings and delivery are all improved. Even after an impressive three game showing the Indians optioned him out after the game on Wednesday because they had to add Jimenez to the roster.
Optioning out Huff was not something they wanted to do, but because there would be no need for a fifth starter for ten days until August 13th plus they would already be down one roster spot with Carrasco serving a suspension, it made no sense for them to carry Huff around as an unusable player for so much time. While he was optioned out, he is expected to be right back as after his minimum ten day stay in the minors is complete the first day he would be eligible to return is August 13th, which is when the Indians need a fifth starter again.
This is all not just coincidence as the Indians obviously spent the week thinking all of this through in a way to circumvent some roster issues.
The question now will be which of Huff or Carrasco will make that start on August 13th. Huff has been great since his callup and a lefty in the rotation adds a nice dynamic to it. Carrasco pitched well against the Red Sox on Thursday, but he has really struggled since the end of June. Unless an injury occurs, I would expect Huff to be called back up on August 13th to make that start and for Carrasco to be optioned out.
For all those fretting the Indians using Carrasco's final option, there is a rule where if a player is optioned out but is called back within 20 days then the option is not used. This same thing happened to former lefty Aaron Laffey in 2007. With the roster expanding to 40 players starting September 1st, the Indians could call Carrasco back up well before the 20 days are up and not lose that last option on him.
Growing concerns with Perez
There are some growing concerns with right-handed closer Chris Perez. He has now blown two straight saves, one on July 19th in Minnesota and another on Friday night in Texas. The three week stretch between closing opportunities shows just how much of a struggle it has been for the Indians to win games consistently of late. Both blown saves were crushing losses for a team starving for victories any way they can get them.
Before anyone suggests a kneejerk reaction has occurred, the concerns with Perez are not just surfacing now after two blown saves. These are concerns many people have brought up since earlier in the year and lots of baseball people have been monitoring all season.
Perez, 26, may be 22-for-25 (88%) in save opportunities, but you have to look much deeper below the surface where lots of warning signs are firing. Almost all of the indicators and rates for him have gone in the wrong direction compared to last year.
Last season when Perez went 2-2 with a 1.71 ERA and 23 saves, he was dominant as he allowed just 5.7 H/9, 0.6 HR/9, and 4.0 BB/9, and also had a 8.7 K/9 and 2.18 K/BB rate. Those were all very good and it is why so many people were excited to have him as the closer for the foreseeable future.
But this season Perez has taken a noticeable step back in all of his numbers. He is still throwing 93-95 MPH, so the velocity is there, but he is getting hit a lot more and not missing bats this season as he is 2-5 with a 3.40 ERA and has a 7.3 H/9, 0.9 HR/9, and 4.3 BB/9, and also has just a 5.9 K/9 and 1.37 K/BB. The biggest concern is the jump in his hit rate where he is allowing almost two more hits every nine innings and the drop in his strikeout rate where he is striking out almost three less batters every nine innings.
Perez is a good pitcher and he has the mindset to pitch in late inning situations. Hopefully the drop in his performance this season is just a hiccup and not a sign of more problems to come.
Ubaldo time!
There was a sense of excitement around Indians Nation on Friday as fans awaited the debut of newly acquired right-handed pitcher Ubaldo Jimenez. The Indians paid a steep price for him and he has lots of potential, so fans were very interested in getting their first glimpse of him in a Tribe uniform. When all was said and done on Friday night, fans came away underwhelmed with him, at least for one night.
Jimenez, 27, was surely nervous and as a result his command suffered. He was all over the place the first two innings, but eventually settled in some and started showing signs of the dominant pitcher he is and the Indians hope will be. He consistently threw his fastball in the 96-98 MPH range, and he flashed a good splitter, slider, and changeup. There is no denying the stuff, as it looks like when he is on he can be dominating.
Jimenez finished the night going five innings and allowed five runs on seven hits, three walks, and had seven strikeouts. He left the night after throwing 108 pitches (63 strikes) in the tough Texas heat which at game time was above 100 degrees. Given that it was his first start and there were obvious jitters, he was facing a tough Texas lineup, and the high temperatures, it was an okay debut but one he will surely have to improve upon considerably going forward.
Crushing week
The Indians are in the midst of an absolutely brutal part of their schedule with a seven game road trip to Boston and Texas, and then follow it up with 12 straight games against AL Central rivals Detroit, Chicago, and Minnesota, six of which are against the Tigers. The next two weeks are going to make or break the Indians in their quest to stay in contention the rest of the season.
The Indians have played well all week and should have won every game in Boston and the opener with Texas on Friday night, but instead of being 5-0 or 4-1 on the trip they stand at 2-3 heading into play on Saturday. All three of their losses last week were in walkoff fashion as Jacoby Ellsbury of the Red Sox beat them twice in the 9th inning on Tuesday and Wednesday and Chris Perez blew the save on Friday which ultimately ended up in a loss. With time starting to run out on the season, these are games a team in contention simply can not lose.
The Indians are just not getting the big hits or big pitches in key situations right now. The starters continue to pitch well, but the Indians have had a big problem scoring runs late and suddenly their dominant bullpen is showing cracks in the foundation by giving up key runs late.
Youth brings inexperience and inconsistency, and the pressure of a pennant race this late in the season may be starting to wear on the Indians. It will be interesting to see how they bounce back from the Texas defeat and where they ultimately stand after they play the Tigers in Detroit on Sunday August 21st.
Final trade thoughts
Whether you are for or against the Indians' trade activity of late, I think all Indians fans will agree it is nice that they are in buying mode for a change rather than selling and blowing up the roster. It is very clear that GM Chris Antonetti saw a unique opportunity in acquiring Jimenez from the Rockies as he is a controlled pitcher through at least 2013, which coincidentally is when the control for other key players like shortstop Asdrubal Cabrera, outfielder Shin-Soo Choo, and designated hitter Travis Hafner comes to an end.
The Indians have a small window open with their current core of players, and it appears they want to take advantage of it. Obviously the idea is not to have the window close after 2013 as they want to keep it open with the flow of minor league talent and other pickups in trades and free agency, but if they want to win with the current crop of veterans on the team the time is now.
For those fretting the loss of right-handed pitcher Alex White and left-handed pitcher Drew Pomeranz, you are not alone as both are considerable talents. Both looked to be future linchpins in the Indians' rotation. However, there are never any guarantees with pitching prospects and injuries can happen at any moment, so the old saying of a bird in the hand (Jimenez) is better than two in the bush (White, Pomeranz) applies perfectly here.
Also, remember that two years ago at this time that White and Pomeranz were not even in the organization. A lot of people have raved about Amateur Scouting Director Brad Grant's work in the draft the last few years, so if you have trust in him you have to believe he will find another pitcher like Pomeranz or White in next year's draft or in 2013.
Parting shots
Outfielder Shin-Soo Choo continues to push his way back into the lineup as it looks like his return is right around the corner. He is now taking batting practice with the team, and may now go on a rehab assignment in the minors sometime this week before being activated next weekend or just after it. … Right-handed pitcher Mitch Talbot and outfielder Travis Buck were both designated for assignment recently to clear space on the 40-man roster for new pickups outfielder Kosuke Fukudome and Jimenez. Both cleared waivers, and as a first time outright Talbot had no choice but to accept the assignment to Triple-A Columbus. As a second time outright Buck had the option of refusing it and becoming a free agent, but accepted the assignment on Friday to Columbus. … Columbus right-handed pitcher Justin Germano - he of the perfect game fame a week ago - has left the Indians and signed a contract with the Samsung Lions of the Korean Baseball Organization.
Follow Tony and the Indians Prospect Insider on Twitter @TonyIPI. Also, his latest book the 2011 Cleveland Indians Top 100 Prospects & More is available for purchase for $20.95 to customers in the US (shipping and handling extra).
User Comments
No comments currently. Be the first to comment!