Tribe Happenings: Indians make roster decisions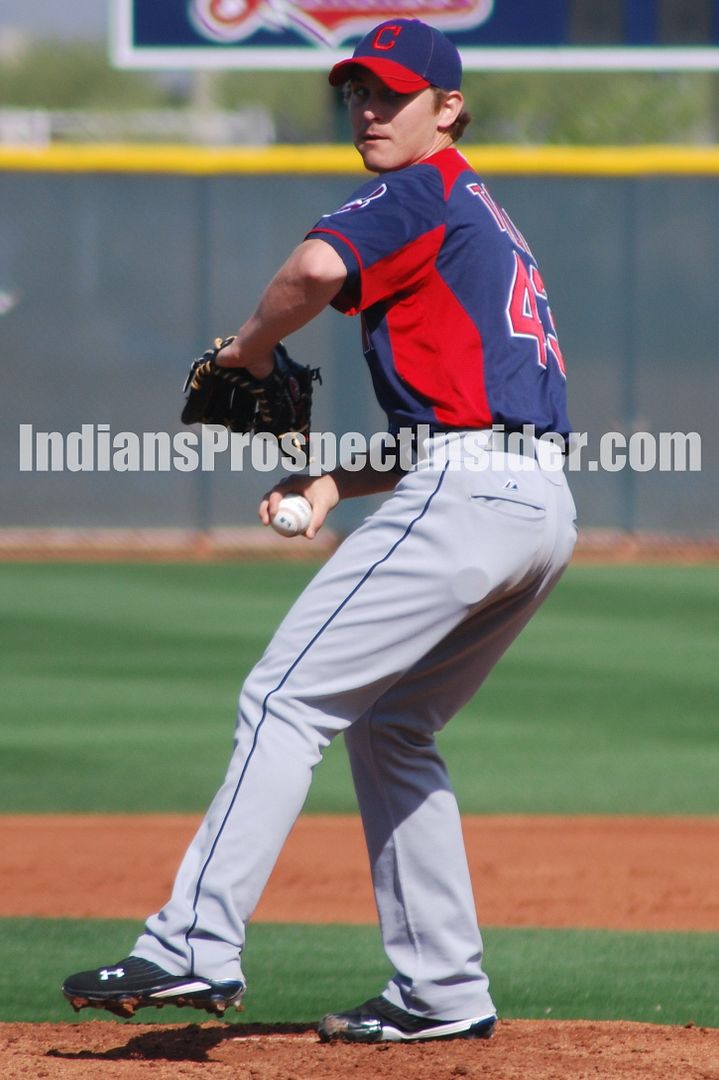 Tomlin won a rotation spot with a strong
showing this spring. (Photo: Tony Lastoria)
Some news, notes, and thoughts from my Tribe notebook…
Tomlin wins rotation spot
The Indians made several opening day roster decisions on Friday, and the big one was naming right-handed pitcher Josh Tomlin as the winner in the competition for the final spot in the rotation.

The other pitchers in the mix for the final spot were left-hander David Huff, right-hander Jeanmar Gomez, and right-hander Anthony Reyes.

All three of them were sent to minor league camp and should open the season in the Triple-A Columbus rotation.
Tomlin, 26, will actually be slotted fourth in the rotation ahead of right-hander Mitch Talbot who will begin the season as the fifth starter.

Tomlin pitched very well this spring, and if you base the winner of the competition strictly off numbers he no doubt won the job where he compiled a 1.13 ERA in 8.0 innings of work allowing nine hits, one walk, and four strikeouts.

Due to the presence of so many arms in camp needing innings he has been forced to pitch in three minor league game (or B-games) and has not allowed an earned run in 13 innings.
Huff, 26, pitched in six big league spring training games and went 2-1 with a 5.82 ERA (17 IP, 21 H, 3 BB, 8 K).

He only started two of his six appearances, and in both starts combined to throw eight shutout innings.

Five those shutout innings came in his best outing of the spring on Thursday night when he went five scoreless innings against the Giants.
Gomez, 23, pitched in six big league spring training games and went 0-1 with a 5.50 ERA (18 IP, 17 H, 7 BB, 14 K).

While he was in the mix for the final spot, from the start of spring training he was almost certain to open the season in Columbus because of his youth and some development opportunities still considered left in him.
In addition to naming the final starter in their five man rotation the Indians also announced that Jack Hannahan would be the opening day third baseman and that Shelley Duncan and Travis Buck would make the team.
Hannahan, 31, won the third base job because of a strong spring hitting .386 (17-for-44) and also because infielder Jason Donald has been slow to recover from a hand injury which will force him to open the season on the 15-day disabled list.

Even had Donald not been injured, Hannahan is a pretty good defender and has some versatility so probably would have still made the team as a bench option.
Buck, 27, will be the club's fourth outfielder in the early going though should get a lot of time in left field in a platoon with Austin Kearns.

He has been one of the hottest hitters in all of baseball this spring where in 17 games he is hitting .420 (21-for-50) with four homers, 12 RBI and a 1.213 OPS.

He is a former high profile prospect with the Oakland A's (ranked #1 in 2007) who has struggled with injuries the past several years, so if he can stay healthy the Indians may have found a bargain with a lot of upside.
Duncan
, 31, will be the primary right-handed bat off the bench and play first base, left field and designated hitter.

In 16 games this spring he is hitting .275 with one homer, eight RBI and a .735 OPS.

He adds some veteran leadership to an otherwise very young lineup and bench.

The Indians also like his ability to hit left-handed pitching which is where he will get most of his playing time.
The Indians still have to make decisions on who fills the final three spots of the bullpen, the backup catcher, and the utility infielder.
At the moment only four spots in the Indians seven man bullpen are locked up with right-hander Chad Durbin, left-hander Tony Sipp, left-hander Rafael Perez, and right-hander Chris Perez.

The main candidates for the final three spots are right-handers Frank Herrmann, Vinnie Pestano, Jess Todd, and Justin Germano.

Herrmann and Pestano look to have a great shot at landing two of the three spots, and the final spot probably will come down to Todd or Germano.
The backup catcher role is between Lou Marson, Paul Phillips and Luke Carlin.

Marson is the most valuable of the three and considered a long term part of the organization, but he is also just 24 years old and needs to play everyday in order to finish off his development as a hitter.

With that in mind, the Indians are still strongly considering having him open the season as the everyday catcher in Columbus and having one of Phillips or Carlin as Carlos Santana's caddy in Cleveland.

It is also possible that they pick up a veteran catcher in a waiver claim or minor trade just before the roster deadline on Thursday.
The utility role is between Jayson Nix, Luis Valbuena, and Adam Everett. Of the three Valbuena may be the one with the most upside and versatility, but he hits left-handed which may be a poor fit for the bench since Hannahan also hits left-handed.

The right-handed hitting Nix may have a leg up on Valbuena for the utility role since he can complement Hannahan's left-handed bat better, and he can also be an option for second base and left field.

Everett is a non-rostered player and appears to have little to no chance to make the club.
With so many non-rostered players making the team, the Indians have to make some tough decisions with regard to the 40-man roster this week.
Already non-rostered players Hannahan and Buck have made the team, and both will need to be added to the 40-man roster by Thursday.

In addition to them, the Indians may also need to add non-rostered players in the bullpen (Germano), catcher, and possibly even utility infielder (Everett).

That's as many as three to five spots on the 40-man they will need to clear to add these players.
The Indians roster was at the maximum of 40 players, but on Tuesday they designated right-handed pitcher Jensen Lewis for assignment to clear one spot.

He cleared waivers and has been reassigned to Triple-A Columbus.
They still need to create two to four more spots on the 40-man roster.

One solution may be to put outfielder Trevor Crowe on the 60-day disabled list as he has been slow to return from right shoulder soreness (rotator cuff).

With the Indians desperate for 40-man spots they may opt to shut him down for awhile and use his roster spot to add a player that is needed in the short term.
The cold hard reality though is the Indians may have to designate another player or two for assignment to clear room for the remaining players they want to add. The loser in the competition for the utility role (Nix/Valbuena) will probably be removed from the roster, and assuming Pestano and Herrmann make the team there is a chance Todd could be removed to add Germano.
Do not rule out a minor trade or two as the Indians have done this in the past at the end of camp.

They may trade some of their depth to clear roster space, or may also look to pick up a player in a trade or on waivers to fill any of those needs at catcher, the bullpen, or utility.
The Indians announced this week that they are diving headfirst into the realm of social media.

They are the first organization in Major League Baseball to have front office members join Twitter with President Mark Shapiro (@MarkShapiro) and General Manager Chris Antonetti (@IndiansGM) making their debuts earlier this week.

Their new social strategy is an attempt to better connect with their fans.
"Social media affords us the ability to create deeper connections with our fans and span generations," said Indians President Mark Shapiro in a statement released by the club.

"Its popularity – 600 million Facebook users overall worldwide and 300,000 new Twitter users per day – represents a fundamental shift in the way people interact and acquire information. We are incredibly cognizant of social media's growth and have developed a comprehensive social media strategy to address it."
In addition to the Facebook and Twitter initiative, the club also announced a new Indians Social Suite which as an entire suite at Progressive Field catering to social media users.

The new Indians Social Suite replaces the Tribe Social Deck from last year, and invitations to the new suite are distributed on a game-by-game basis.

Fans may apply online at www.indians.com/connect.
Some ticket discounts will also be exclusive to Twitter and Facebook users.
The Indians will hold a special Bob Feller Tribute during the pregame ceremony on opening day April 1st.

The tribute will include a special video and banner presentation, Anne Feller will present the "Silent" Ceremonial First Pitch, players will all wear #19 jerseys during pregame introductions, and the #19 will be on the back of the pitcher's mound.
The Indians will continue to honor Feller throughout the 2011 season with a special uniform patch commemorating his famous leg kick windup and #19 on all game uniforms, a #19 patch on batting practice jerseys, a July 4th celebration including a replica bronze Feller statue giveaway, as well as special signage at Gate C near the Bob Feller statue and throughout the ballpark.
On Friday the Indians made some roster cuts as they optioned Huff, Gomez, and outfielder Ezequiel Carrera to Triple-A Columbus and re-assigned Reyes, right-handed pitcher Doug Mathis, and infielder Cord Phelps to minor league camp.
The spring roster now stands at 37 players, and must be trimmed down to the 25-man limit by Thursday March 31st.
Right-handed reliever Joe Smith has been slow to recover from a strained abdominal muscle and is expected to open the season on the 15-day disabled list. … Right-handed pitcher Jose Flores was returned to the Indians by the Seattle Mariners on Thursday.

The Mariners had selected Flores in the Rule 5 Draft this past December, but because he did not make their opening day roster he had to be offered back to the Indians. … On Thursday the Indians signed left-handed pitcher Jesse English to a minor league contract.

He made seven appearances with the Washington Nationals last year (7.0 IP, 10 H, 3 R/ER, 2 BB, 4 K), and also made 16 appearances at Triple-A Syracuse going 2-1 with a 5.03 ERA (19.2 IP, 18 H, 11 R/ER, 10 BB, 14 K). … The Indians announced this week that the home opener at Progressive Field against the White Sox on Friday April 1st is sold out.

It is the 18th straight home opener sellout since the ballpark opened in 1994.
Follow Tony and the Indians Prospect Insider on Twitter @TonyIPI. Also, his latest book the 2011 Cleveland Indians Top 100 Prospects & More is available for purchase for $20.95 to customers in the US (shipping and handling extra).
User Comments
No comments currently. Be the first to comment!